This was a season of firsts for Bordentown wrestler Lexi Mazzella.
She advanced past the first round of the NJSIAA South Region girls' wrestling tournament for the first time this year, placing second in the 135-pound division. That led to her state championship debut—the first ever by a member of the Scotties girls' wrestling team. After a quarterfinal win followed by a loss in the semifinals, Mazzella battled back to finish the day 3-1 and placing third in her weight class.
"I was nervous, of course, going into it," she said. "Winning my first match was a big relief. Losing my second one, it just made me work harder for the next thing I could get, which was third place. From losing last year, it kind of just pushed me to work harder and push my abilities to where they could go."
And she got there—all at once, Mazzella became the first Bordentown girls' wrestler to compete and place in the state tournament.
Not bad for someone who just started wrestling two years ago.
That's a testament to Mazzella's work ethic, said coach Jimmy Gill.
"I think that's one of the toughest parts of this sport," he said. "There aren't too many sports where if you lose, you get a chance to come back. As coaches, we preach and talk about work ethic, but ultimately, you can't coach it and preach it. That's the kind of thing that comes from within. We can guide her, but she has that passion and mentality. Win or lose, it's on to the next best thing. What happened in the past is out of the way, and you can't change it, but you can influence the rest of your results that day."
Mazzella first joined the wrestling team last season—her brother, Sammy, was an accomplished Bordentown wrestler. He and then-senior Arianna Menna pushed her to give the sport a shot.
"Seeing [Menna's] success, it just made me want to try it out," she said. "Watching Sammy grow up wrestling was also a huge inspiration."
Also a soccer player, Mazzella transitioned to the mat after the fall season. It was a big change, she said.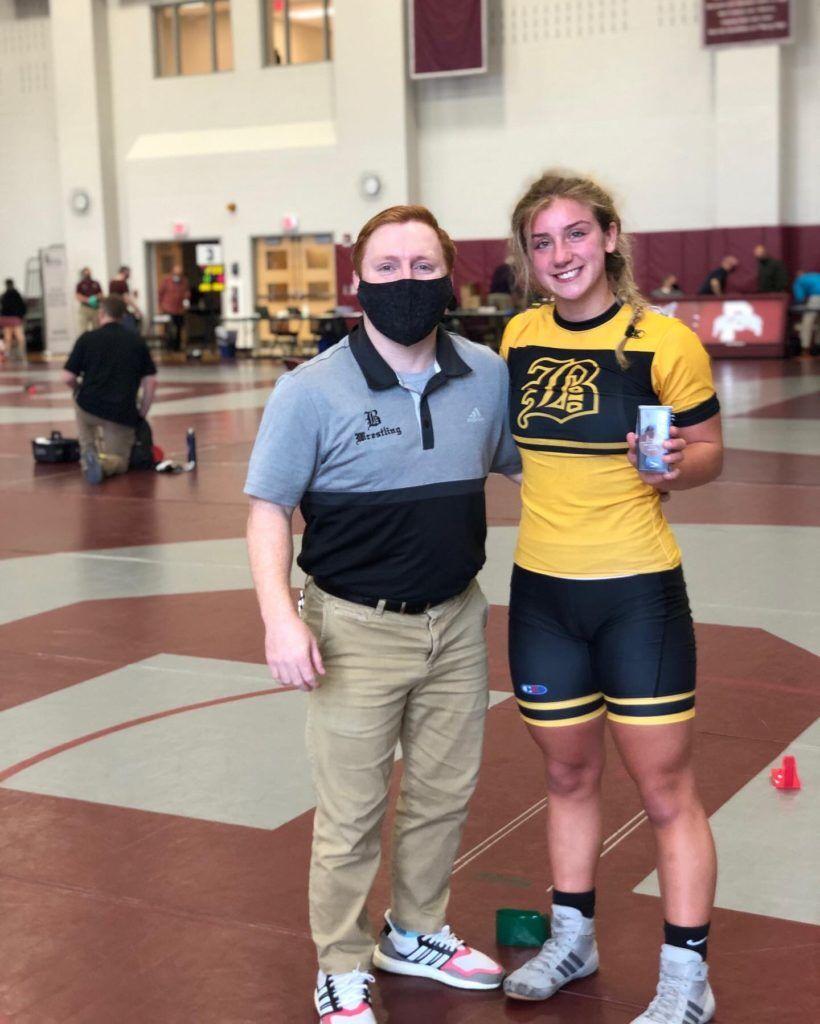 "You can watch it all day long, but until you get into the room and start practicing, it's a whole different world," she said. "Even little things like your stance or a shot are so hard to get used to. After a few practices, you start to get used to it. It's not easy for a first-timer."
Clearly, though, she adapted. But that's just how Mazzella operates, Gill said.
"Persistence is a big thing," he said. "Drive is hard to teach. You can see it in her as a student and watching her from across the field as a boys' soccer coach, as well. That's the mindset that separates her from others. Going from a newer wrestler, to an average wrestler, and then to the state tournament, that has a lot to do with being persistent and being able to push losses or bad results to one side and continue to move in a better direction after those results."
Some of that mentality does come from soccer, Mazzella said. The sports obviously have their differences, but she takes ideas from one and applies them to the other.
"I think being relentless is one of the words my soccer coach always taught me," she said. "Being relentless in both sports leads to good results and gets you where you want to be. Just keep pushing. Even if you lose, keep going."
That was especially important for Mazzella and teammates this year—after last season was cut short, they had to make up for a lot of lost time.
"I was pretty shocked at [regions] because last year, I lost in the first round," she said. "Not having much experience on top of a shortened season, it was a great feeling. It was weird at first being able to actually wrestle and have a season and postseason and everything. Just being able to get on the mat every single day to practice and compete in matches, it felt like you can't take anything for granted anymore. Making every day worth it was the main goal."
As for next year, Mazzella would like to return to the regional and state championships again, and maybe capture a state title.
She and Gill also hope to see the girls' wrestling program continue to grow, not only at the high school, but in the district as a whole. Mazzella has been recruiting friends the same way Menna did with her.
"Next year, I hope we can get more girls out and just bring more friends or sisters, whoever we can get, maybe other teammates from other sports," she said. "It'll be great to have a full lineup. That would be awesome. Starting from the rec ages, it would be great to get younger girls to start wrestling. Hopefully going onto middle school and high school is the goal from there."
Gill agreed.
"It's been great," he said. "We're really big on it. The administration, the athletic director and everyone in the building have been huge on trying to grow girls' wrestling. I'm a huge advocate for it. When Arianna Menna became the first girl to place in regions, that opened doors for us to expand the program. Since then, we've had two to five girls each season come out. Hopefully with the success of Lexi, it'll grow even more."