Nora Appleby has been playing ice hockey since she was 11, and there have been a lot of fun moments during that time. But the Princeton Day School junior never experienced the thrill she had on March 7.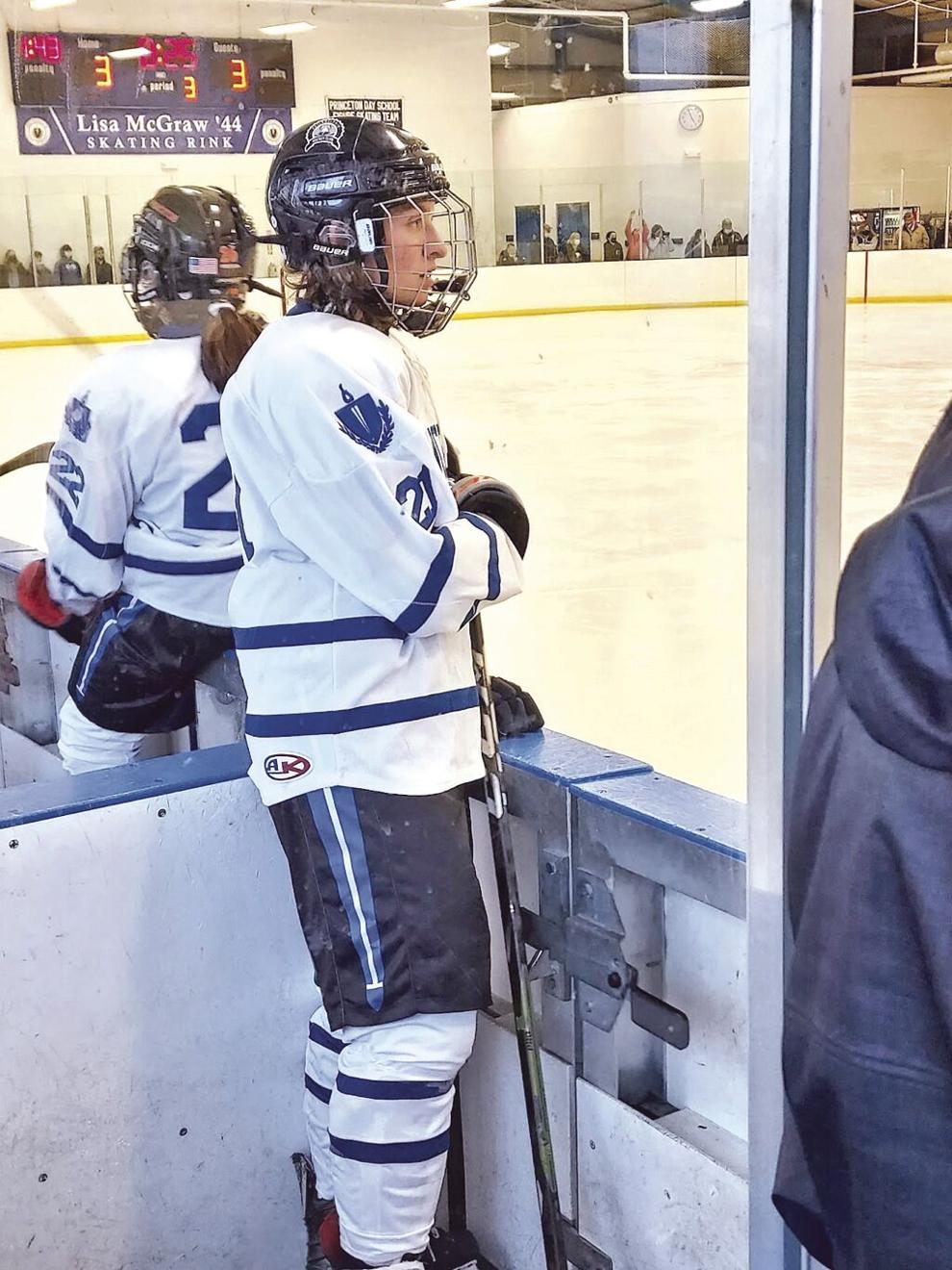 Despite the fact her Panthers would lose to Morristown-Beard, 7-0, in the NJSIAA Girls Hockey Tournament championship game, Appleby will always have great memories of the day. It took place at Newark's Prudential Center — known as The Rock — the home of the New Jersey Devils.
"I've been to many games at The Rock and played many games at the Devils practice rink, but to play on the actual ice was very different," the Bordentown resident said. "It was probably the coolest moment I've ever had playing hockey, especially walking out on the ice for the first time and warming up.
"Seeing yourself on the big screen and hearing them call out your name before the game is really something special. While it was really cool for all of us to be there, we are definitely aiming to be back again next year and to be the ones holding up the trophy at the end of the game."
If that happens, Appleby will most likely be a key component, just as she was this year.
A forward during her first two high school seasons, Nora was asked by coach John Ritchie to play defense this year. PDS already had a strong contingent of six forwards, and of their four defensemen, two were fairly young and inexperienced.
"We were trying to figure out what to do with her position," Ritchie said. "I asked her 'Hey do you think this year you would want to try D?' We slid her back and it seemed to be a really good fit for the rest of the year."
Appleby had no problem making the switch.
"Moving back to defense wasn't a very big adjustment for me because I've been moving back and forth every year," she said. "On my travel team, I played forward this year so I'd say I know all the positions very well. I played forward my first two years (at PDS), but I knew we needed some defensemen this year since we lost some, so I offered to play since I had in the past."
Ritchie actually felt it played more to her abilities, noting it was more natural for her with the way she sees the game. Nora also got a chance to display a strong shot that was not as frequently unleashed when she played forward.
"She seems to get better when she's got space, which you get as a defenseman," the coach said. "I think when you're trying to create space as a forward you don't always have the time to get it off. I think she thrived more as defenseman than she did as a forward. She struggled to adjust to some of the transition stuff, but overall, I thought she did a really good job this year."
Appleby also feels she is stronger on the blue line, saying "I think my skill set works better as a defenseman because of my ability to pass and my slap shot, which I worked really hard on by blasting shots at my garage door for many years. That helped me get some nice goals and assists this season."
Nora finished with two goals and four assists, which is almost identical to her stats playing forward. She had two and four as a freshman and two and five as a junior. The difference this season is, she was also helping to prevent goals.
Much of Appleby's skills come from her good ice vision, particularly when the Panthers are breaking out of their zone.
"She was probably one of our more accurate passers and one of our better defensemen just getting her head up and looking at what her options are," Ritchie said. "She doesn't necessarily have those first three quick steps to get up to top speed. But once she is at top speed, she can get going and pass people, which I think bodes well for being a defenseman versus being a forward. And she learned and grew and kind of became a little more comfortable playing on those transition plays coming back into our zone as the year went on."
Bordentown, of course, is not a strong breeding ground for ice hockey players. But Appleby had a few friends in town who dabbled in the sport. Not to mention, she grew up playing street hockey and wanted to try the transition to ice in sixth grade, which is later in life than a lot of talented players.
"I immediately loved it as soon as I stepped on the ice," she said. "I found as many opportunities as I could to play and I worked really hard to get good quickly."
Nora had long been an athlete. She played softball for the Bordentown Bombers and recreation basketball until middle school. Appleby was also able to play for a middle school co-ed hockey team, called the Riverfront Raiders, which consisted of players from nearby schools that didn't offer hockey She began travel at age 12 and is currently on the Philadelphia Belles.
Appleby will play on the PDS softball team this spring, but hockey is her first love, as she follows the NHL closely and is a hard-core Flyers fan.
"I also follow women's hockey," she said, "especially the U.S.A. national team, which was a big inspiration."
When it came time for high school, PDS obviously offered a quality education, but the hockey end of it came into play for Nora as Princeton Day is one of just a few area schools to offer the sport to girls.
"Hockey played a very big part in my decision," she said. "I wanted to play girls hockey in high school and it was one of the best decisions I've ever made because I love it there."
It was easy to love this year as the Panthers enjoyed one of their best seasons of the century. PDS finished 14-6 and won the NJISAA Prep B championship for the first time in 20 years. They also played their first NJSIAA tournament and knocked off Kent Place and Summit en route to the finals at The Rock.
"This season was one of the most fun and successful seasons I've ever had," Appleby said. "A lot of us have been playing together for a few years now and our team is really close. Getting so far was really special.
"I was one of our assistant captains this year so it was really cool to help lead our team through such a successful season, especially since it was the first time a PDS girls hockey team has gotten to play in the state championship game. I am just really proud of everyone on our team and will definitely remember this season."
And Ritchie will remember what Appleby did this season, as her willingness to play defense created a positive domino effect for the team.
"To be able to move someone who had a little more experience to defense kind of stabilized us and allowed us to pick and choose the kind of experience that we were exposing the other two (younger) defensemen to," Ritchie said. "Without her moving back, I think some of the line combinations that ended up working at forward and the D pairs we ended up with would not have happened. She was great for us this year and I don't think we would have had the success we had this year without her being willing, and then excelling at the position change."