Jennifer Sciortino is active in Bordentown City. She's a member of the Parks Committee, Elks Lodge 2085 and Bordentown City Cats. She's been a presence at the Cranberry Festival, Street Fair and Green Fair. This year, though, she decided to take it a step further and do something she'd been pondering for a while now—run for the Bordentown City Board of Commissioners.
And she won. Not only that, Sciortino was the top vote-getter in May's election. She was sworn in as mayor last month.
"We have amazing history, we have an ideal location, we have a fantastic business community, we have incredible volunteers unlike any I've ever seen anywhere and I just promise you that as mayor my door will always be open, I will always be here to listen," she said during the swearing-in ceremony. "I recognize my experiences may not be the same as yours, but because you've opened your doors to me, already I have a better insight into what your experiences are and also what your concerns are, and I promise to be here whenever you need anything."
Sciortino said she considered running last term but decided against it. This time around, though, she heard the call.
She has a background in government—she currently works as the director of communications for the New Jersey State Treasury Department—so the decision wasn't totally out of left field.
"I knew I had the background and resources necessary to jump in and hit the ground running," she said. "I'm looking forward to the exciting and challenging things that lie ahead."
Sciortino grew up in Middlesex County, where she graduated from Woodbridge High School. She went on to study English and journalism at Rutgers University and ultimately wanted to end up as a writer in some capacity. As college graduation loomed, though, a job opportunity opened up with the mayor of Perth Amboy.
"I pursued it," she said. "Job offerings were few and far between, and I wanted to get my foot in the door somewhere. I naturally learned to love government, but I hadn't envisioned it in college."
And it's something that has helped define Sciortino's life, both in and out of her career.
"The fact that you really have the opportunity to impact people's lives, make change and help them for the better is what makes it great," she said. "Some of the biggest gratification through work comes from connecting people to services they need."
That's been especially true throughout the pandemic, she added.
"Early on, it was harder to get a hold of people, so many people were struggling," she said. "Social media has really come into play, especially in the last year. As folks were working remotely, many people would message us on social media just as a last recourse because they couldn't get a hold of anyone. We were able to connect them with services. I would love to see Bordentown City embracing those technologies, too."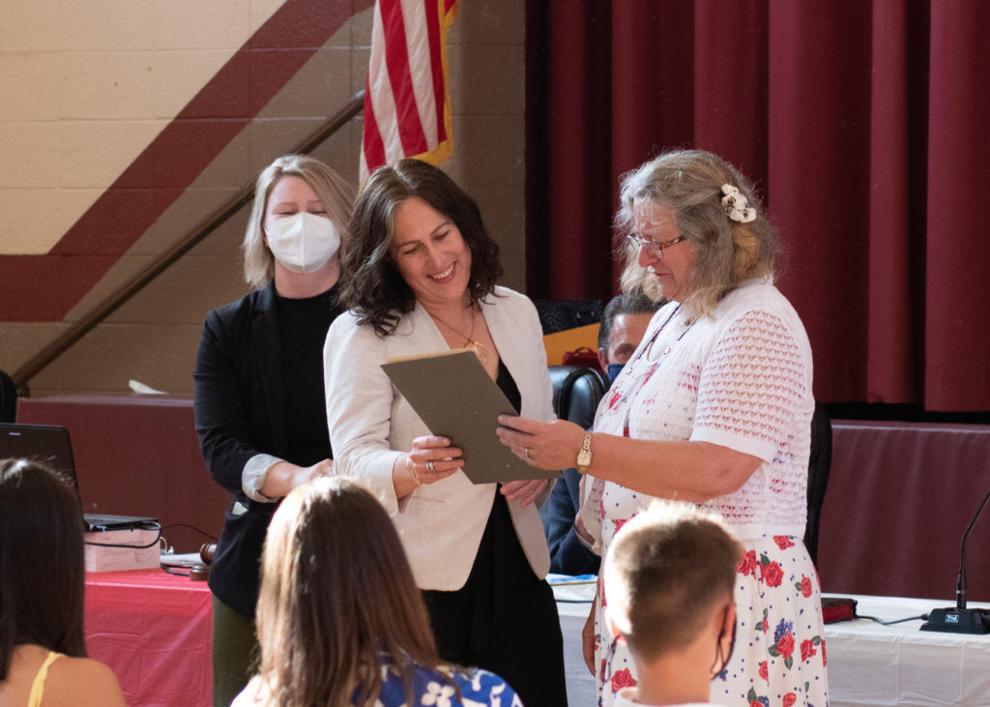 Other areas of focus include the Divine Word and Ocean Spray properties—two developments that really drew Sciortino toward running for local office.
"I love this city," she said. "I say this often, but I don't mean it lightly. The Divine Word property that Mayor Lynch was helpful in securing is especially exciting. There are so many possibilities. I'm excited to get involved.
"And the Ocean Spray situation, that property was sold to a new developer. At one point, Ocean Spray was the city's largest employer, taxpayer and water purchaser. When they moved out several years ago, it left a void. I wanted to jump in and help get this project back on track."
Sciortino said she has some other ideas about what she can bring to the city—namely, unity.
The city is growing—she said around 200 homes have been sold in town over the last five years—and she wants all residents to feel represented and welcomed.
"I've talked to a bunch of different neighborhoods over the last few months," she said. "Some feel more excluded than others. I'd like to see us bring the community together more. We all have common goals and a mutual love for this city."
As for the city's rapid growth—and her own love for it—she says there's not enough time in the day to go into all of the reasons why.
"We have a very hot real estate market," she said. "Homes don't stay listed for more than a week. It's like the rest of the state is finally discovering what we've known all along. It's unique, it's in an ideal location. We have the river and so many major highways nearby. There's amazing history as far as our country and its early foundings. It has walkability, which is such a prime quality that so many people are looking for."
She credits the city's business community, in part, with helping it grow.
"So many people are coming in from out of town," she said. "At first, it was very insular—businesses were propped up by the residents. Now, visitors are coming more and more, and you really have to credit the Downtown Bordentown Association with marketing."
To be a part of that, Sciortino said, is a dream come true.
"It's a tremendous honor," she said. "It's surreal at the moment. It's one thing to have the support of your friends and neighbors, but to have the support of people I may have just met or haven't met yet, that's a true honor. It's not something I take lightly. My door will always be open. I'm always here to listen. I recognize that my experiences may not be the same as someone else's, but I want to be an advocate for everyone who calls this city home."