Bordentown got a welcome addition to the restaurant scene late last summer when Christine Wendland, the owner, baker and chef behind the HoopHouse stand at the weekly farmers market, opened her first brick-and-mortar restaurant in the city.
Wendland's HoopHouse Bakery and Café is open five days a week for breakfast, lunch and dinner. It features the sourdough bread and pastries she was known for at the farmers market, as well as a variety of breakfast classics, soups and salads, hearty sandwiches, and comfort-food entrees, all made by a classically trained chef who has also won an episode of Chopped.
Wendland grew up in Barnegat. After high school she went to Florida Atlantic University to study zoology, with the intention of becoming a field research biologist.
After she got her degree, she stayed down south, working as a veterinary technician in Broward County, Florida. Six years later she returned to the Jersey shore, where she worked at the Jenkinson's Aquarium in Point Pleasant Beach and, later, Garden State Veterinary Specialists in Tinton Falls.
But she had always had a love for cooking and baking, and says 12 years working with animals had taken a toll physically and emotionally. When she started considering a career change, her husband, Sean, suggested she start taking culinary classes at Burlington County College (now Rowan College at Burlington County).
She took to it immediately. So well, in fact, that one of her chef instructors took her aside one day and told her that she already had all the skills she could learn in his class. He suggested she consider going to the Culinary Institute of America, in Hyde Park, New York, to get top-notch training.
She researched the school's programs and decided to go for it. "It was the scariest commitment," she says. "My husband and I sat down and looked at everything and our thought was, it's two years of investment in the rest of our lives. It would give us a whole different future. We decided it was worth it."
The commitment included living away from her family during the week. On weekends she lived at home in Browns Mills, still working at the veterinary hospital.
After two years of study and training, she had her associates degree in culinary arts, and began working in professional kitchens. She cooked in the kitchens of the White Dog Café, in Philadelphia, as well as Black Eyed Susan's Café, on Long Beach Island.
A new opportunity closer to home presented itself in 2014. For years, Wendland had been a member of the community-supported agriculture program at Fernbrook Farms, in Chesterfield, for years. After graduating from CIA, she had joined the farm's work share program to connect on a deeper level with the ingredients she was cooking with.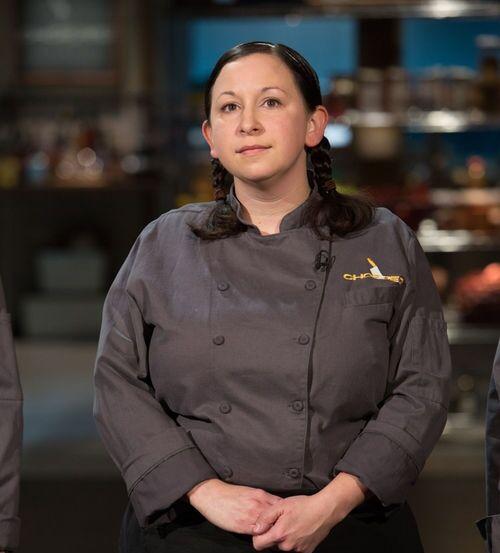 Around that time she got to know Larry and Susie Kuser, owners of the farm and the Inn at Fernbrook Farms, a popular wedding venue. After they learned about her culinary training, they asked her to develop some food products for the CSA farm shop and to give cooking demonstrations.
"That evolved to a point where it felt like a good fit for me," Wendland says. "I was very comfortable and they asked me to come on full time."
She was executive chef at the farm from 2014 to 2018. Each year from April to October, she worked with couples to plan the menus for their weddings, everything from cocktail hour hors d'oeuvres to the cake.
"It couldn't have been a better situation for a chef, to get to work with fresh, seasonal ingredients," she says. "At the beginning of the year I would coordinate with the farmers in terms of what crops they were growing. Every time we did a menu, I would encourage couples to take advantage of what we grew on the farm. Most people who were getting married there had a sense of the seasonality of a farm, and wanted to feature that as part of their wedding day."
In 2017, Wendland embarked on an adventure of a different sort when she appeared on an episode of Chopped, the popular Food Network Show starring Ted Allen. The theme of the episode was "Bangin' Backyard Cookout."
Wendland and three other chefs competed to make the best three-course meal, with their dishes being judged against one another by a panel of expert judges. The winner of each episode gets a $10,000 prize.
She says the experience was amazing and intense. Filming begins in New York City at 6:30 a.m. and competitors who reach the final stage of the contest can be on set for 20 hours. Which means Wendland herself did have a very long day — in the end she outlasted the other three chefs to win the competition and take home the ten grand.
"It's an incredible experience. There's great camaraderie among the chefs, everyone is so phenomenal, the staff, the judges, everyone. A lot of people think the show is fake, too, which drives me crazy," she says. "I'm telling you it's not fake. There is no staging in that show whatsoever. What you see on screen is what really happens."
A hallmark of the show is that the competitors are often asked to create tasty dishes out of odd and mismatched ingredients. Wendland's episode featured mandatory ingredients like hamburger-wrapped hot dogs and fruit salad in a watermelon bowl.
She spent the weeks prior to her appearance preparing to deal with such surprises. Prep included asking her husband or friends to buy her baskets full of mystery ingredients for her to experiment with. The planning helped her not only to cope with the format of the show but also to help her with time management.
"I have a good 20 or so recipes that I know I can make work with various ingredients. Time management is where people fail all the time on the show, but if you manage your time and you're well prepared with go-to recipes, you can do well."
Wendland also did some side catering jobs while she worked at the Inn at Fernbrook Farms, especially in the off season, and after the 2018 wedding season ended, she decided to strike out on her own as a private caterer. She named her business HoopHouse, in part to convey her commitment to local, seasonal ingredients. A hoop house is a kind of greenhouse commonly used on farms to plant crops especially when the weather is not ideal for growing.
The following spring, she opened up a stand at the weekly farmers markets in Bordentown and Mount Holly. Featured items included granola mixes, granola bars, cinnamon rolls and other pastries, and sourdough bread.
She also began teaching culinary classes at Rowan's Burlington County campus, where she was able to use the kitchen facility as a commissary for her market and catering business.
Going into 2020, Wendland was content. The markets and catering work were sustaining the business, and she was ready to expand to the markets in Marlton and Barnegat. She says life at home with Sean and their children, Colette and Benjamin, was great. She was even teaching cooking classes at mall store Sur La Table, and having fun doing it.
"Everything was going really well, and we had really big plans. I was in a really comfortable place," she says. "Then the whole world went upside down and we had to scramble."
Covid-19, of course, changed everything. The college shut down due to the pandemic, which took away her commissary kitchen. She tried out some other kitchen spaces, but none of them suited her needs.
It was then that she first had the idea to open the café, not because she wanted to, but because she needed to. Though she hadn't planned on opening one, she had plenty of customers who had told her that she should. And a restaurant of her own would mean a kitchen of her own, where she could prepare food for catering and the markets.
"When I just had the market stands, everyone kept asking me, 'When are you opening a restaurant?' People had been asking me to come to Bordentown for years. So I contacted some Bordentown locals and I said, 'Find me a space,' and that's how we ended up at the old deli. Just kind of fell into it."
She opened HoopHouse Bakery and Café in August at 353 Farnsworth Avenue, in the former Bordentown Deli location. At first, the café was open for breakfast and lunch only, and all food was to go. The theme of the menu was "urban rustic cuisine."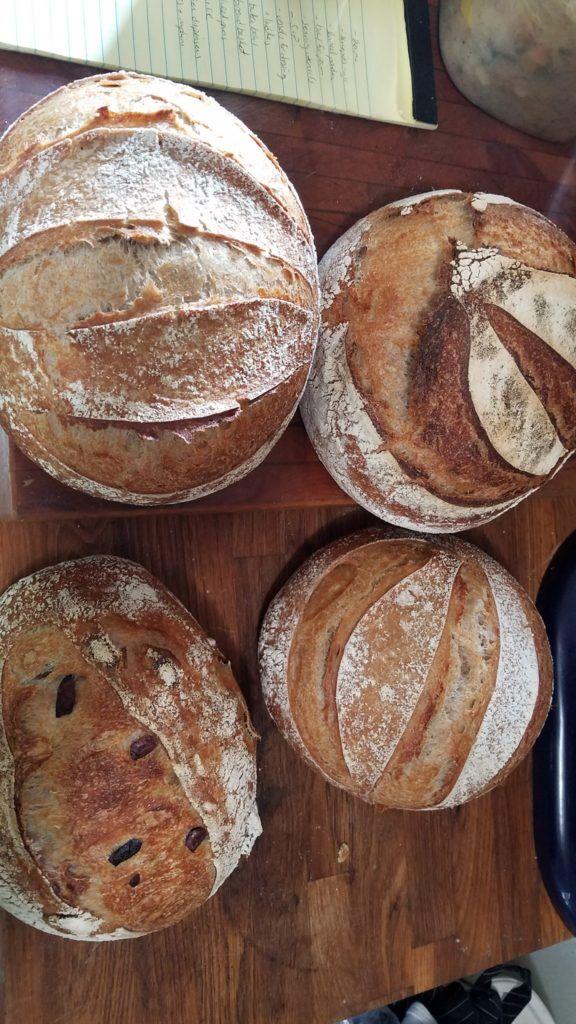 Breakfast items included chicken and waffles ($12), featuring a sourdough scallion waffle and buttermilk-brined boneless thigh, and the Jersey Classic ($8) of pork roll, egg and cheese on sourdough toast.
Lunch items included The Gambino ($17), a steak and provolone sandwich with griddled onions and tomato jam, and Christine Poutine ($10), a plate of hand-cut fries with smoky gravy, greens and mozzarella. All of those items are still on the menu today.
In 2021, Wendland has expanded the business to offer dinner Thursday through Saturday. Breakfast is served all day, and lunch from 11 a.m. to closing.
The dinner menu features entrees like butter chicken ($20), port-braised short rib ($20) and Thai vegetable curry ($22). Wendland says she has used customer feedback to fine-tune the menu to where it is today.
She also features regularly changing specials that take inspiration from whatever is fresh and available. Recent specials include shrimp etouffee, tacos with ropa vieja and beans and rice, and mussels with monkfish.
"I don't put anything on the menu that I wouldn't want to eat," she says of her chef's philosophy. "Because of my classical French training, there's a lot of classical French stuff on there, but it's French country comfort food. It's approachable food that's also done very well."
Wendland estimates that 80 percent of her business is still curbside take-out and delivery, but she does now have socially distanced seating available in the café, and she has some customers that she sees on a regular basis.
"I think as the weather gets nicer and the vaccine gets in more in peoples' arms, people will feel more comfortable (dining in)," she says. "We have an airy, open, comfortable space so people don't have to feel cramped. Our best business is actually Sunday brunches. People come here to relax, have the sun beat in the window and have some eggs benedict."
Wendland says that even with the café's success, HoopHouse will again feature at the Bordentown, Mount Holly, Marlton and Barnegat farmers markets again this year.
"It's fun," she says. "It's stressful fun but it's great, and it's the culmination of everything I've worked for. The goal I think of every chef is to have their own place. I just picked a really interesting time to start. But the community has been really been great and supportive and I'm grateful for that."
HoopHouse Bakery and Café, 353 Farnsworth Ave., Bordentown NJ 08505. Open Wednesday through Sunday from 8 a.m. to 2 p.m. with dinner hours Thursdays from 3 to 6 p.m. and Fridays and Saturdays from 3 to 7 p.m. Phone: (609) 400-5496.