If you had told Emily Ayers a year ago that she'd be running a successful candle business out of her home, she would have laughed in your face.
Now, though, it's very much her reality—Ayers is the woman behind Dancing Flame Candle Company, which sells both online and in Bordentown City at Mimosa Goods.
"I've always been a candle person," she said. "My mom, my grandmom, it's how you felt at home in our house. One of the first things we do when we get home is light a candle."
So you can imagine how many candles she went through while quarantining during the pandemic.
"I couldn't keep buying them every week or two," she said. "That's a little ridiculous."
So she took matters into her own hands last April. Ayers, a special education and science teacher, decided to combine her interests and craft her own.
"When I nerd about about something, I really nerd out about it," she said. "I spent time researching candles and thought, 'Let me make one or two. That might be fun.'"
But then she started to read about what goes into the candles she's used to purchasing—paraffin wax, phthalates, oils, other carcinogens, wicks containing zinc and metal—and that's when her science background really kicked in.
"I wanted to figure out how to make myself the healthiest candle possible," she said. "I wanted to make soy burning candles with all-cotton or paper wicks to make sure that's clean. Probably the part that took the longest was researching all of the fragrance oils, different toxins to avoid, just making sure you use the cleanest ingredients possible."
It started out as something she was just doing for herself, but she quickly developed a surplus—and a passion for the craft.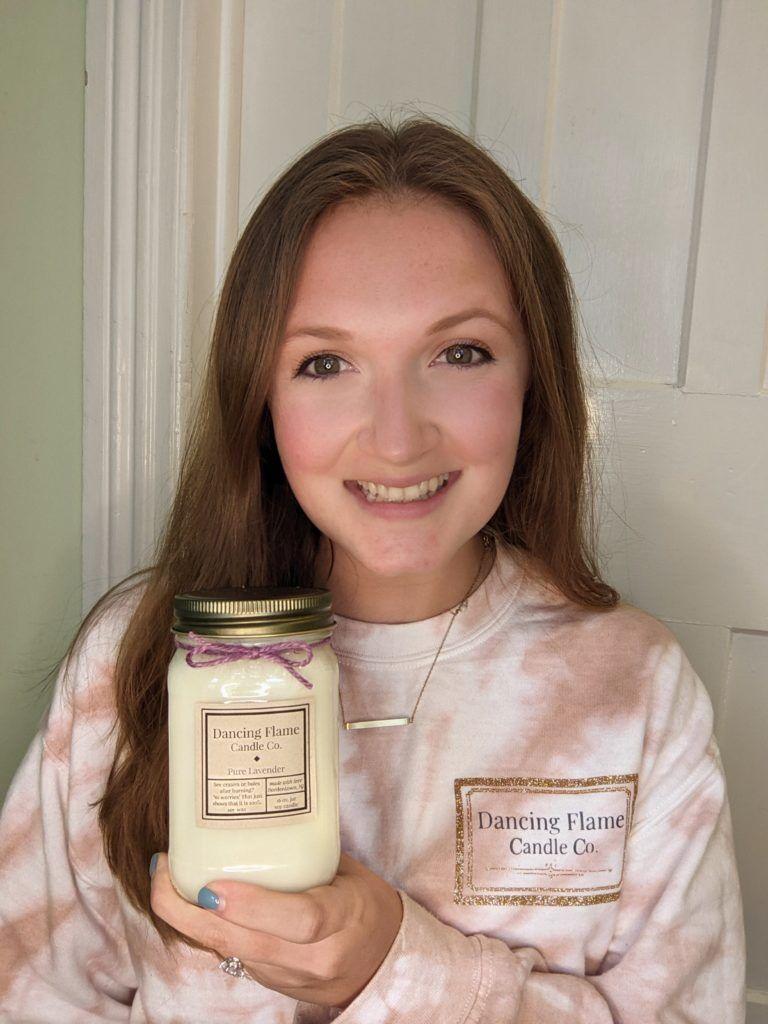 "I just kind of fell in love with making them and combining different scents to make new ones," she said. "It got to the point where I had too many candles, so I started giving them to my friends. Then it started to get a little expensive. So my friends were like, 'I love the candles, I love how clean they are. You can tell how clean they are when they're burning because they just feel better. I would be willing to buy it from you if that's what needs to happen.'"
Ayers gave it some thought, but she was leery at first.
"I'm a teacher," she said. "I'm not a businesswoman. But people were assuring me they liked the candles so much. Interest grew, and then Dancing Flame Candle Company was born."
And the company continues to grow. Ayers offers a number of collections—luxury, seasonal, "Vacation-in-a-Jar," scents based on a Zodiac sign theme—but one of her favorites is the Bordentown Collection.
"We take pride in our little historical city and thought it would be fun to make candles to honor our city, our history and our culture," Ayers says about the collection on the Dancing Flame website. "Whether you live in Bordentown, love to come visit our fun shops, restaurants and festivals or just appreciate a great smelling candle, you will love the charm that these candles bring into your home."
The Bordentown Collection includes five scents: Bordentown Cranberry, Clara Barton's Schoolhouse, the Farmer's Market, Bonaparte's Point Breeze and Common Sense.
Bordentown Cranberry, though, is the one that started the line.
"It started off in the fall/winter collection," Ayers said. "I had a cranberry smell, and I called it Bordentown Cranberry. I was thinking about the Cranberry Festival, the Ocean Spray plant and the history behind that, how Bordentown kind of associates itself with cranberries. I thought, 'I can make this a homage to the hometown and where it all started.'"
That started the nerd-gears turning in her head again.
"I noticed that a lot of people from Bordentown liked the fact that it said 'Bordentown' in the candle name," she said. "That got me thinking. I joined the Bordentown Historical society recently. I've always appreciated history. As I started learning about Bordentown, I thought it might be fun to make a candle to go with each little bit of history, so I can kind of add in the education angle. If you read the description on the website, it gives you a little snippet of history. I liked the idea of raising awareness, teaching a little bit and adding a little bit of hometown flair."
Ayers has lived in the area for about five years, starting in the township and then moving to the city last Thanksgiving. Her brother and her mom both live in town—good for a number of reasons, she said, but in part because starting Dancing Flame really became a group effort.
"I never really had any experience with small business before at all," she said. "My uncle is an accountant, and he gave me tips that were great. My fiance was a marketing major, so he was able to help a little bit. My brother works in sales. They all kind of helped me out, but mostly, I figured it out on my own. Luckily, I was home, so I had the time."
One thing she didn't have to worry about, though, was creativity.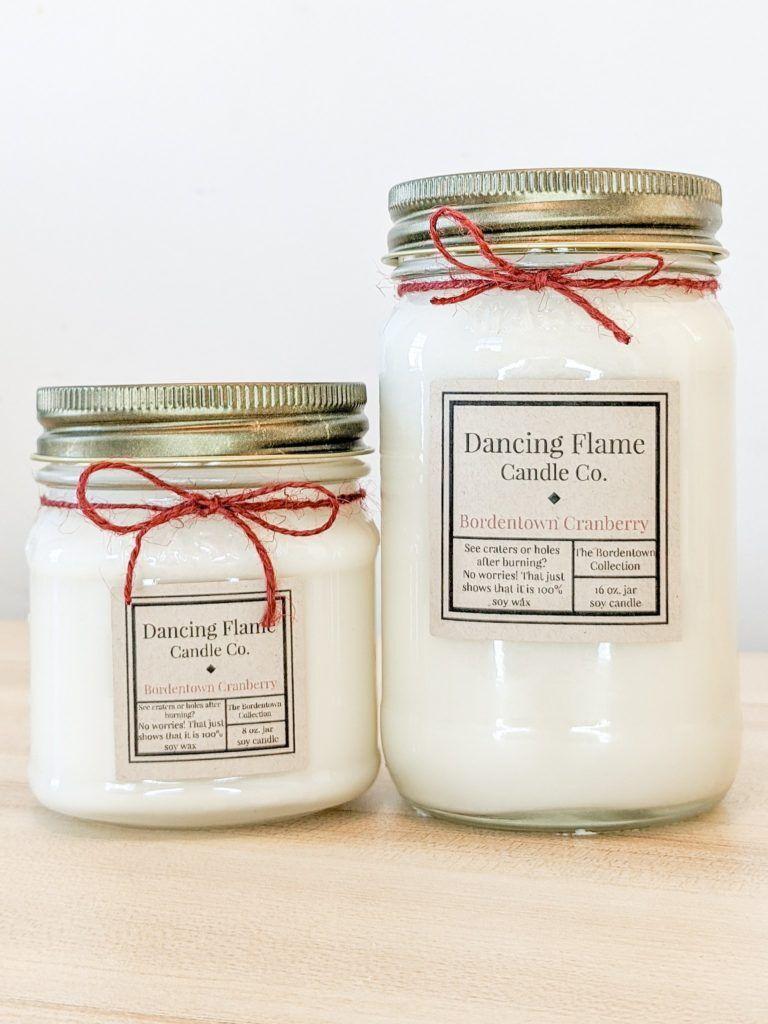 "I've always kind of been a crafty person," she said. "Even when I was little, I'd make friendship bracelets. As I got older, I would make things for the house. It doesn't surprise me that I got into it. I'm surprised I didn't get into it earlier."
That came in handy when she started experimenting with scents.
At first, she chose fragrances that appealed to her. Then, she started asking her friends for input during outdoor hangouts over the summer.
"I realized that there are a lot of scents that other people really like," she said. "I ventured to where I try to have a variety. I'll always have florals, clean scents, sweet baked goods, masculine scents, woody scents. I try to make sure I touch base on those in at least every collection."
That's also where her science background kicks in.
"Mixing scents is just experimenting," she said. "It's a pretty long process. I go through a lot of candles just testing them on myself, making sure it smells good when it's lit and not lit. Sometimes you can smell the oil, and then when it's put into the candle, it smells like something completely different. It's a lot of testing and a lot of trial and error."
In town, Dancing Flame products are available at Mimosa Goods, a partnership Ayers said she really values.
"Sarah is awesome," she said. "She's honestly been with me from the very start. When I first started this as a business, she was the first person I went to. I'm very, very happy to have my candles there."
In the future, she hopes to continue selling her wares at Mimosa Goods. She has other ideas, too, including a BYO candle making studio where guests can make their own candles with the help of employees with special needs. Her largest goal, though, is to produce the candles in a facility where adults with special needs can gain work experience.
For now, though, Ayers says she's taking everything one day at a time.
"If you asked me a year ago if I'd have my own candle company, I would have thought you were crazy," she said. "Reflecting on the whole experience, it's really meant a lot having my friends and family support me, having people support small businesses, not just my own, during such a tough time. Candle making brings me so much joy, and I just really appreciate it."
For more information or to order, visit dancingflamecandleco.com.