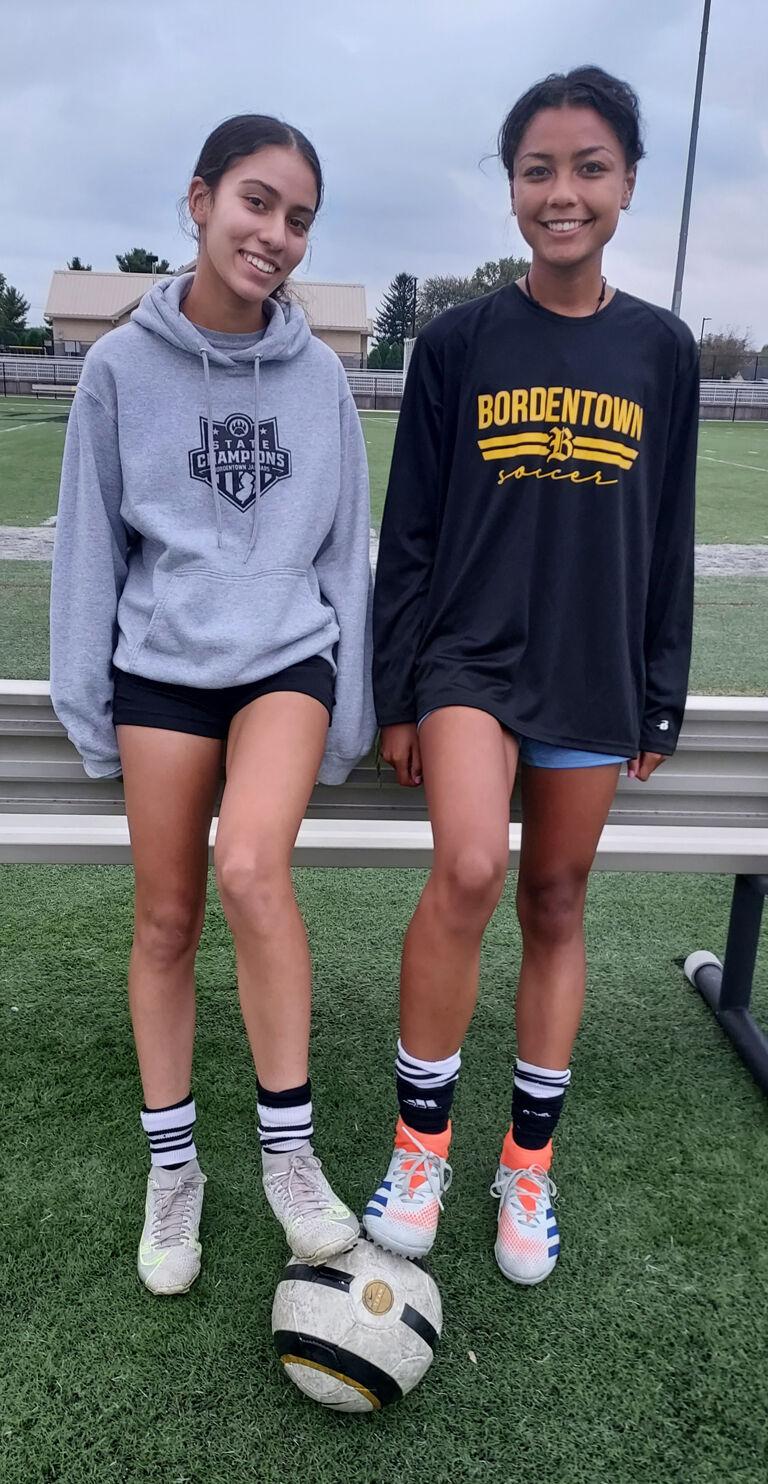 As the high school girls soccer campaign rolled into the final week of the regular season, Bordentown was sitting at an impressive 10-3-1 record overall and 9-0 in the Burlington County Scholastic League's Patriot Division.
There were several reasons for the Scotties success, with the most obvious being the scoring exploits of Lexi Mazzella and Oshynn Cosom.
But there was more to it than that. Through those first 14 games, Bordentown had allowed just 13 goals and posted six shutouts.
Senior goalies Rayna Hamden and Khushmit Sidhu get credit for the clean sheets, but they have been helped immensely by the defenders in front of them — junior Thalia Revy and senior Georgia Boberg at outside back, and the key to it all, junior Natalia Villenueva and senior Kaylee Blain at center back.
"I come from the old school, building that strong backbone right through the middle of the field," coach Dominic Castaldo said. "I've always done that. Right now that's what we have. You figure between those two playing center back, Victoria Wheeler at center half and Lexi more through that center up top it gives us a really strong backbone we can build off of."
And it all starts with Villenuva and Blain, who have formed a rock in the back through their cohesion.
"I think we just help each other out," Villenueva said. "I think if one of us was missing it wouldn't go well because our chemistry is just so good."
The two are in their second season of playing together full-time, although both have taken different roads to their positions.
Blain started her career as a forward before moving to midfield. As a Scotties freshman she moved from outside mid to center mid, usually in a defensive role. Last year Kaylee went to center back, where she has found a home.
"It's fun but sometimes it can be pretty frustrating at times," she said. "There was a little pressure, especially since our senior captain, Hailey Russell, graduated. It was a big role to take on and it's a lot of pressure being the last defender. But it's fun. Natalia kind of helped me a lot. She's more of a defender. She just told me where to position."
Villanueva is more of a natural defender. Growing up in Willingboro, she played travel for Mount Laurel at age 7 before moving to Bordentown in fourth grade.
"They kind of stuck me in the back but it's my best fit," Natalia said. "Ever since I've gotten here I've played center back."
Despite the fact Villenueva has more experience defending, Castaldo feels she can still learn some things from her partner.
"Kaylee, especially, can read the game really well," the coach said. "She's been a second mentor, to a degree, to Natalia, as time has gone on with some aspects of that. They don't have to say a lot to each other but they know exactly what they're doing.
"They play off of each other really, really well and they're able to read each other, almost as if they were one. They set the tone defensively from that middle out."
When Villenueva first arrived in high school, she admitted to having some growing pains.
"There's some things I had to learn, especially playing older players as a freshman," she said. "It was more difficult but it helped me grow. It helped me know how to read the game, talk more, just figure out people."
She figured it out well enough to be able to assist Blain when necessary.
"She's really fast," Kaylee said. "On breakaways she covers for me because I'm not as fast as her, so with the fast strikers she goes down and gets them."
That's not to say Blain lacks speed.
"Individually they're both really quick," Castaldo said.
And they both have the respect of their teammates.
"They basically lead by example," the coach continued. "They're not big talkers, they're not big yellers. They just go out and play steady. Skillwise, technically they're both very good. And they just grew into playing with each other. As time went on they became stronger and stronger to a point where I don't even need to worry about them.
"And then you have Georgia, she's been my outside back for four years. The three of them really set the tone for how we're gonna play defensively. Personally I think I have the best defense in our division and a lot of teams that we've played I feel defensively we can hang with anybody."
Villenueva won't argue with that.
"Compared to the past years, this year the defense is really good," she said. "I think just having another year together makes us better."
It has certainly made the team better, as Bordentown has produced its first season with double-digit victories since going 11-7-1 in 2015.
"I kind of expected this, being that we were undefeated in our eighth-grade year," Blain said. "Playing with the same people and against the same people you kind of expect it. But I am pretty impressed with how we're doing."
And they're doing it with a defense that helps lead the way.