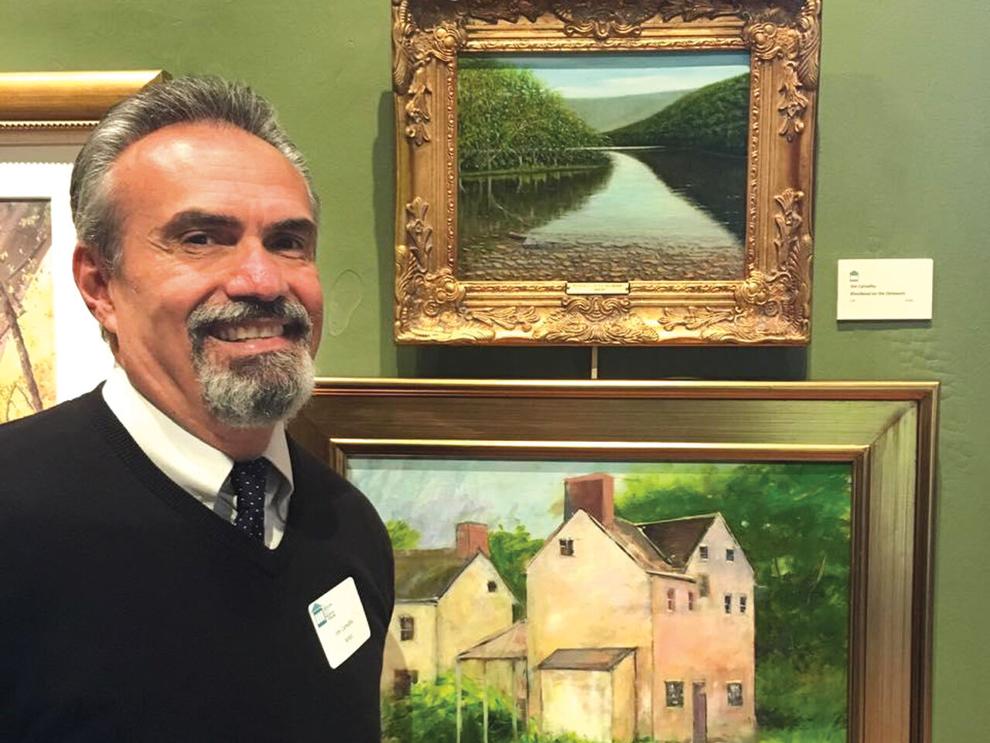 Most people around West Windsor and Plainsboro recognize Jim Carvalho as a former cop or member of security personnel at High School South.
And he looks to part, too. The kind of tough-looking guy with a cop demeanor who looks like he can bench press 200 lbs. on a bad day. But tell people that Carvalho is an accomplished painter and many would respond with skepticism.
Though he lacks formal training—he taught himself to paint mostly by watching Youtube videos, including a a tutorial by Bob Ross on the "Joy of Painting"—Carvalho's work has been exhibited in galleries across New Jersey and Pennsylvania, including the West Windsor Arts Center, Trenton City Museum and Phillips Mill in New Hope.
Carvalho, 58, was born and raised in Bordentown. He didn't take art in high school, though he admits he had some early elementary training: "When I was 7 or 8 years old, my mom would send me to this lady in Bordentown that did art lessons. All we would do is eat pretzels and drink Kool-Aid and scribble."
In short, it wasn't much. What Carvalho does say helped him was his industrial arts major at Trenton State College, where he studied to be a shop teacher. "You do a lot of mechanical drawing and 3-D plans. That taught me a lot about shapes and things of that nature. It's not like that I was a buffoon leading up to it and next thing you know I'm a savant, painting," he says.
Carvalho had also developed a keen eye for detail working in law enforcement for 26 years—most of them as a detective for the West Windsor Police Department. About a decade ago, Carvalho retired from the police force and got a job as a security aide at WW-P High School South, the same building where he first took the police test in the early 1980s.
Carvalho started dabbling in paints, quite literally, five years ago, after chaperoning a school field trip in Washington, D.C. It began with an off-hand remark to a colleague during a visit to the National Art Gallery, which was the first time Carvalho had stepped foot in an art museum.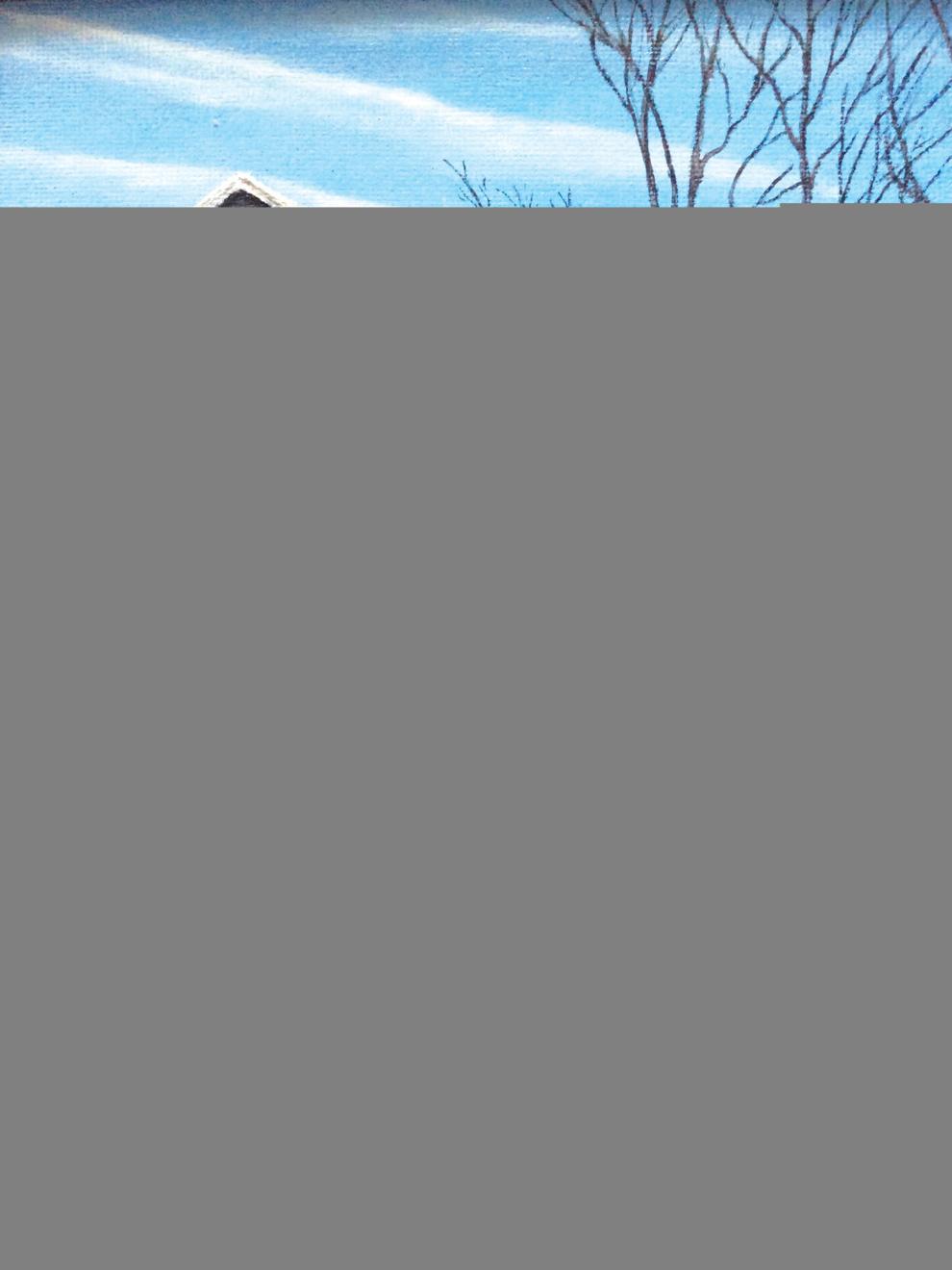 A prime example of his dry humor, Carvalho walked up behind a colleague admiring an Edgar Degas painting. He mused, "You think I could paint that?"
"I sort of like dared myself," he recalls, "It was a bit for shock value."
But what seemed like a joke lasted longer than a laugh. When he returned from the trip, Carvalho printed out a photo of the famous painting ("Achilles De Gas in the uniform of a Cadet"). Then, he made a trip to the art store.
"I went out, and got a canvas and some paints, and I painted it. Took me like a day or two," he says. "With that, it lit a fire in me. What else could I do?" he says, "I'll tell you another thing, once I sink my teeth into something, I'm obsessed."
He began sharing some of his work on Facebook, and his long-time friends and acquaintances were surprised. "When I first got into it, people were like, 'What? What, are you kidding? Where'd this come from?'" he says. "Typically if you see me in a police uniform, or you see me in the gym working out, you wouldn't think, 'This guy's is an artist."
In fact, it's still tough for Carvalho to hang the moniker, "artist," on himself. "I don't define myself as an artist, it's a hobby for me," he says. "That's just the way I am."
"Up until four years ago, you would never hear me say, 'I feel like going to a museum and checking out art.' I was too busy playing sports, or at this age, I have a house to take care of, grass to cut. I was a single father," he says. "There was no passion [in art] there. There was no interest."
His recent work is impressive. On example is a painting of the shadowy silhouette of a woman hanging laundry on a grey afternoon, the strong clean bones of an aging mill, soft sheep resting under a tree, with a forest backdrop.
Even so, Carvalho admits it took some courage to enter his first juried exhibit, especially as someone with no professional training. When he attended his first reception in 2015 hosted by the New Hope Art League, he didn't even go near his painting.
"I was afraid they were looking at my painting, thinking 'Oh man, who painted this?' Artists' are their worst critics," he says. But after a string of acceptances in the past three years, he's more comfortable risking the attention and sometimes, rejection.
"Some people might be reluctant to put a painting into a show, but you never know, you never know what a juror is looking for," he says. "When I think of Jackson Pollock splattering paint all over the place, that doesn't float my boat, but someone might think, 'That is one beautiful painting.'"
Though he's not a fan of abstract or modern art by the likes of Pollock or Picasso, Carvalho started off recreating famous paintings, like Johannes Vemeer's "Girl with a Pearl Earring." After two years of copying the greats, he mastered the skill of painting original portraits from photos (including one of his colleague from the National Art Gallery), learning the style of realism. He's now moved on to mostly landscapes, of which his favorite method of painting is plein air on a small 8-inch by 10-inch canvas.
"(Plein air) is a French term that means 'painting in nature,' or 'painting from nature'… it's painting outside, who cares!" He says in Carvalho fashion, pivoting to describe a sometimes overpowering compulsion to go out and paint.
He said he likes to explore on summer afternoons, driving around the Delaware Water Gap or quiet roads in Mercer County, seeking inspiration from the local landscape.
"I fell in love with the Delaware River scenes," he says. One of these paintings, titled "Riverbend on the Delaware," was selected for the Ellarslie 34 exhibit at the Trenton City Museum last May.
When the inspiration strikes, he'll set out an easel and his paints. After three hours or so, he'll drive away with a work of art—unless a curious stranger crosses his path.
"I like them to stop at the end of the painting because the beginning of a plein air painting looks like crap. If someone walks by at that stage, they'll be like 'What are you painting?" He chuckles. "I always tell them, it starts off like an ugly duckling, but if you come back in an hour and a half, you'll see a beautiful swan."
Though Carvalho's artwork sells at gallery shows, the extra income seems besides the point. He's given away some plein air paintings for free, turning astute observers into lifelong fans.
"I do this as a hobby and when I say that, I mean I don't paint something to put it up for sale. When I first started, there were many times I'd be like, 'Do you really like it?' [They'd say,] 'I love it.' And I'll give it to them right there."
For Carvalho, he makes someone's day. Meanwhile, a lucky hiker returns home with a fresh painting, and a memory of West Windsor's tall and talented "hobby artist" — tucking a delicate brush between his thick fingertips, as he guides tiny swabs of color into something that closely resembles professional art.