When it comes to evaluating Emma Dherbey's talent as a high school golfer, it's as much a case of what she didn't do as what she did do.
The Bordentown High junior did not play in eight of her team's 15 matches this season. The fact she could miss that much time and still make the Burlington County Scholastic League's All-Freedom Division team is telling, and a tribute to what she did in seven matches before an unfortunate swing caused a season-ending wrist injury.
Dherbey was the Scotties best scorer every match, finished third overall twice, fourth once and was the medalist in a win over Pennsauken. She shot a 43 and four 44s before carding 48 ad 45 after hurting her wrist. When it came time to pick post-season teams, her quality outshined her lack of quantity.
"The coaches got together and the guy from Cinnaminson—and they have always been the lead horse in our show—said 'Hey Ron, do you have anybody who averages under 45,'" Scotties coach Ron Jones said. "I said 'Well, I've got Emma but she's only had seven matches.' He said 'Hey, she beat three of my guys when we played them that's good enough for me.' The coach from Holy Cross said the same thing. He said that she would have finished third against them had she not double bogeyed the last hole hitting two shots into the water, but that just showed him that she was trying to win. So she really impressed the other coaches."
Needless to say, the good news was unexpected.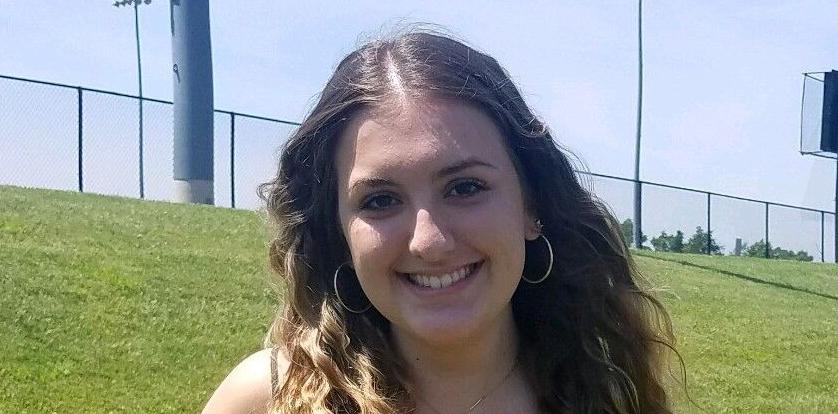 "I was very surprised but really excited," the engaging Dherbey said. "Just hearing from my coach about the other coaches and their experiences with me, and getting to know me even in the short amount of time, it warmed my heart. I would say I'm a perfectionist, so I don't always see me how others see me. It was very humbling and I'm very grateful for everything they said about me."
It proved to be a nice consolation prize, although Dherbey would have traded it in for a full season of golf. Even when she was shelved, Emma went to the matches and watched her team tee off, then waited until they returned to see how they did.
"I'm left there with my coach and I'm kind of sad because I wish I was out there with them having fun," she said. "But I still go out and live vicariously through them."
Golf is in Dherbey's blood. Her father, Jean-Pierre, and mother, Angela bonded over the game when they were married. Jean-Pierre took Emma to the driving range at Mercer Oaks in West Windsor at age 6, and playfully handed her a short iron to swing.
"I just had a natural, effortless swing and the first ball I hit probably went about 100 yards," Dherbey recalled. "I was probably like four-foot-something. I was tall for my age but I was a little thing. My dad was amazed how I was able to generate so much power at such a young age, not knowing how to even play golf. He just thought it was a little joke letting me swing -- 'Oh yeah, try to hit it,' probably thinking I'd hit it like 10 feet. I bombed it 100 yards out there and he's like 'What? Hold on!'"
And so it began.
Jean-Pierre quickly signed his daughter up for various leagues and tournaments. She settled in with the New Jersey Junior PGA League, where she played eight years before aging out. In 2017 Dherbey took second out of 200 golfers in a tournament outside of Newark, and was thrilled to be honored at the awards banquet.
"My family came to see me, which was great," she said. "My mom and dad and sister (Suzanna) and my friends have always been my number one supporters. My dad has always been my number one motivator."
Emma has also been motivated by a bevy of strong instructors.
"Junior PGA really set the foundation for my game," she said. "I was able to play at some very nice courses. I played Jasa Polana (in Princeton), Bedens Brook (Skillman), Cherry Valley (Skillman); all these beautiful courses. And you learn from the best of the best. I had PGA golf pros as my coaches. My home course was Springdale in Princeton and I love that course. I was able to learn so much from those players who were older than me, and when I got to the top of my age division I was able to teach those younger than me."
Dherbey also competed in the Junior PGA Drive, Chip & Putt tournaments, which are based on a point system. She consistently reached the third round but could ever quite make the fourth and final round. Along the way she competed against Holmdel's Megha Ganne, who in early June became just the second amateur to ever lead a round at the LPGA Women's Open by shooting a four-under after the first round.
"I met her when we competed in the Drive, Chip and Putt competition," Dherbey said. "My dad and her dad talked. I went up against her once and I lost by one point. It was cool that I met her a while ago then got to see her on TV. She was doing good for a while (at the Open)."
Shortly after meeting Ganne, Dherbey joined the Scotties as a freshman. Jones recalled that there were a few boys reluctant to accept her and were not too pleasant. But two years later—after she lost her sophomore season to the COVID-19 shutdown—Dherbey is completely accepted.
"We have a nice bunch of kids now," the coach said. "After her freshman year she said 'Things are gonna be better.' It was visible back then. I kept telling the boys 'If you want to be the best on this team, you're gonna have to beat a girl.' They weren't taking me too seriously at first but they all came around. They embraced her as one of the team. We had a competitive year during the time that Emma was playing."
It took an unfortunate turn during an Apr. 20 match with Holy Cross. After hitting one in the water on the 18th hole, Dherbey took a drop. When she swung, her club hit a hard surface causing a twinge in her wrist.
"I didn't really think that much of it because my mind was on the match, we were so close to beating Holy Cross," she said. "I said 'OK I have to finish this hole' We lost by a little bit, it kind of upset me. I shot a 48, I never really shoot that high so I was in my head about that, kind of beating myself up. I played bad and was having such a good round until I went into the water."
Thus, the wrist was an afterthought. When Dherbey awoke the next day she felt some slight soreness but chalked it up to sleeping wrong. It got worse, however, when she hit the driving range.
Initial x-rays showed nothing and Emma began to think she was over-reacting and using pain as an excuse for sub-par play. She played in one more match and shot a 45 before an MRI indicated that part of her bone was sticking out in a spot longer than it should be going up near her wrist, and she also had a torn ligament that's the connector in her wrist.
The options were to have it scoped, get a cortisone shot or give it time to let it heal. She has opted for the latter this summer.
"I'm trying to go out to the driving rage at least once a week to build up the strength," said Dherbey, who works as a ranger at Cream Ridge Golf Course. "That's the No. 1 thing I need before I go out and play in these long, four-hour tournaments. My main goal is to try and have fun in the summer. I'll play with my dad, it's a way we can bond together. We play more freelance and at the end of summer I'll really start getting back into the competitive aspect of it so I can try and qualify for states my senior year."
Dherbey had a low enough average to qualify for the NJSIAA Girls Individual Tournament this year, but not enough matches. Her strength is off the tee, as she has driven the ball up to 250 yards. That number is as impressive as her grade point average figure, which is 96 out of 100 unweighted.
Emma is also a solid putter and strong with her irons.
"My fairway woods and chipping may need a little work," she said. "I plan to build those up and come back better than ever, I'm hoping."
Her teammates and anyone who knows her are hoping just as much.
"She's a great kid," Jones said. " All the boys on the team enjoy playing with her. She was quick with a few tips here and there for them. When she was hurt she came out, hit a few balls on the range to see how it was, or went to the putting green for a while. She'd ride the bus with them, chat with them. She's just an all-around great teammate."
Not to mention a pretty good golfer.