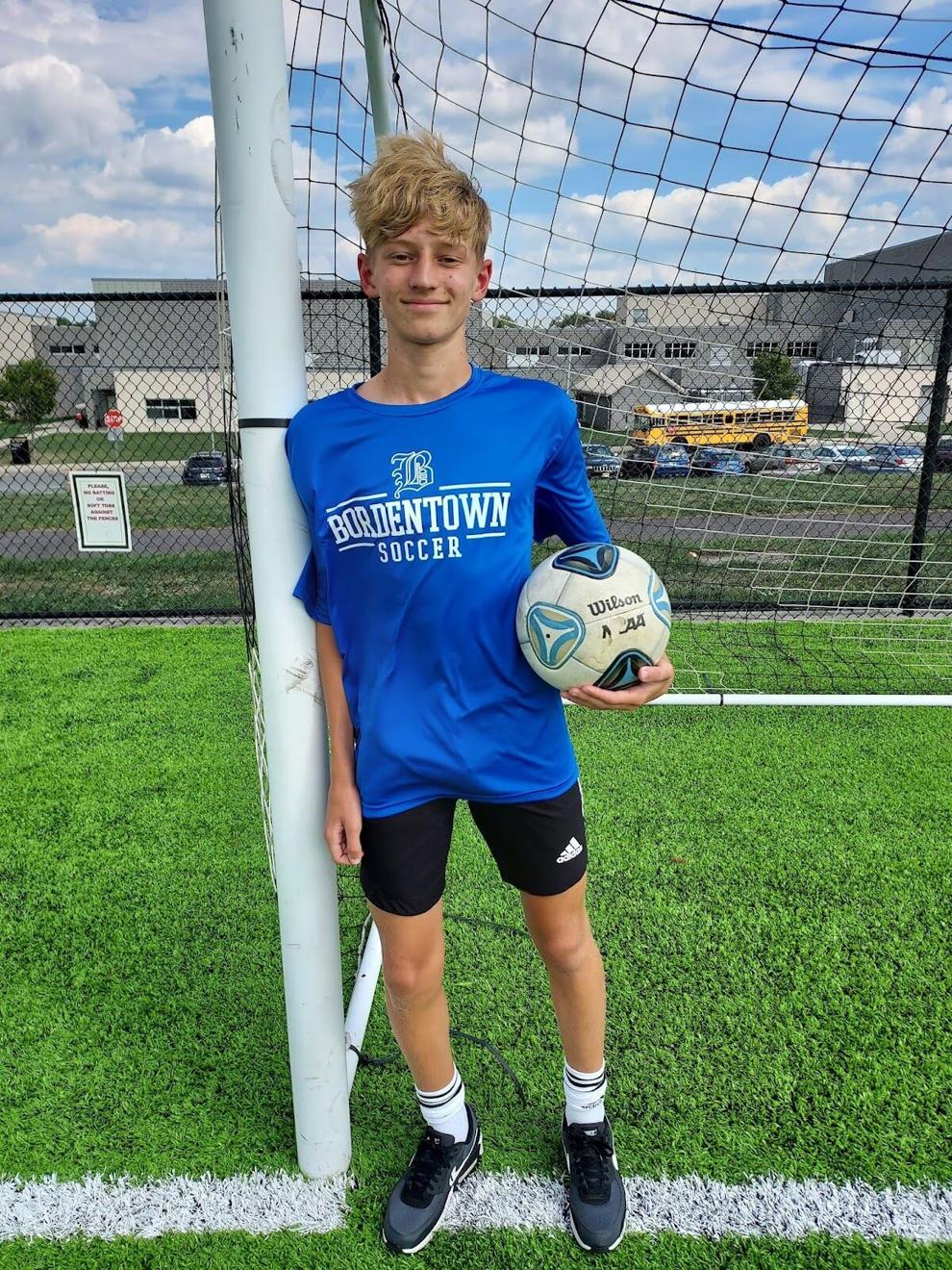 It didn't take long for Austin Thiel to understand the significance of playing varsity soccer as a 5-foot, 2-inch freshman.
"I remember in the Shawnee Tournament, it was my first varsity game and my mom took a picture of me next to a guy with a full grown beard," the Bordentown High junior recalls with a laugh. "She was on the sideline and I just matched up against this full-grown man. She sent me the picture after the game and I was like, 'Oh my goodness.'
"It hit me that the level went up immediately. I'm up there playing with people with three more years of experience than me."
And while mom's photo put it all in perspective, it did not intimidate Thiel, whose father, Kevin, and uncle Mike also played for the Scotties.
"He started pretty much every game as a freshman," coach Jason Zablow said. "Each year, we take one or two that can make an impact, but not necessarily start. He came on and he was playing midfield as a 5-2 freshman because of his ability, because of his talent and awareness. He knew what to do to handle playing against a 6-1 kid."
Zablow felt that Thiel's desire to play with his future teammates before even entering high school helped make a difference.
"We have summer sessions where we invite all the incoming freshmen in with the guys coming back," the coach said. "He went to all the sessions so coming in he got to adapt a little bit quicker. He got to play against all the returning guys and that helped him get up to speed as opposed to being in shock in the preseason."
It didn't hurt that the older Scotties welcomed him.
"Brandon Valeri was a senior, he took me under his wing and helped me with everything," Thiel said. "I got to know the guys better, so that helped a lot."
Thiel didn't exactly fill the stat sheet that year, as he collected just one assist. But he had other ways of helping, thanks in part to his slight size.
"I used to get a lot of calls going up for a 50-50 ball," he said. "I'd get knocked down and there was nothing I could do. I wasn't able to hold up with the opponent. (Assistant coach Mike) Brennan would always laugh, he always said it was perfect and we got a free kick from it."
The midfielder became a bigger presence as a sophomore, collecting two goals and three assists. This season, he had four assists through the Scotties 4-2 start. Although only a junior, Thiel is a team leader.
"When we walk through something, and we go through patterns, he's the first kid that once we start playing or scrimmaging after that, he's seeing the run, seeing the things we talked about, helping other guys," Zablow said. "We have backs and senior leaders that help do that but when you have a junior doing that it's big, and the guys listen to him. They understand he knows what he's talking about and he's right in the things he says. He's smart."
That intelligence comes from a lifetime of playing soccer. Kevin introduced his son to the game at age 3, when he started in Pee Wee ball at Friendship Field. He advanced to the Bordentown United and Liverpool F.C., and was looking to play PDA, but stuck with Liverpool when his friend did not make the team.
Back in his earliest days, Austin was adept at finding the back of the net, but slowly evolved.
"When I was younger I was a striker and I scored goals," he said. "When I got on better teams, playmaking was my priority. My job is to give people opportunities."
He is able to do that by having the God-given gift of seeing the field and knowing where everyone is.
"It's something I think I have an advantage with over other people," Thiel said. "I just see things. I don't know how it happens. I just see people open and I get the ball to them, and good things have happened so far."
Austin's talents have allowed Zablow to play him at outside mid, defensive mid and attacking mid. At one point this year, he even played outside back.
"He doesn't complain," the coach said. "The kid will just put his head down and go to work. As he's gotten older and more athletic, he's been able to be more versatile; now he can handle some guys when they're a little bigger, a little faster, and he's smart enough to take on those roles. He's now a focal point.
Thiel has grown to 5-foot-7, which still puts him on the smaller side. But at least he's farther from the ground than he was two years ago. And he uses that (lack of) size to his advantage.
"I can't change that, so just adapted to it," he said. "I feel like it makes me lower to the ball, and I guess that makes me a little better."
As a creator, Thiel has a choice of distributing to several scoring threats. Jay Beyers, Julien DeLorenzo and Patrick Redwood all had over 10 goals last year, and combined for 37.
"He can create and he's great on set pieces, so that gives him an added weapon," Zablow said. "And he can hit a ball. He's got a lot of weapons around him, and I would suspect he'll get a lot of assists this year."
That's not to say Thiel does not have the ability to score goals.
"He's good on the ball," Zablow said. "He strikes a great ball, hits it super clean. We try to show the younger guys you don't have to be the biggest, strongest guy to hit a ball well. Just commit time to getting better at it and getting those extra 10 to 15 yards. Now he's on free kicks from midfield, he's on our set pieces, on our corners. He does all that stuff."
Along with practicing and playing with teammates, Thiel also works at home with his sister Alexis, who is on the Scotties' girls varsity as a freshman. Austin also puts time in time with his dog Maui, who was given that name after the family had a trip to Hawaii cancelled due to Covid. Basically, if they couldn't go to Maui, they would bring Maui to them. Thus, a new practice partner.
"Sometimes I'll knock a ball around with my dog," Thiel said. "He'll attack the ball, so I try to keep it away."
Maui is one opponent who, Thiel does have a size advantage over. But as Zablow points out, that diminutive stature is not causing problems.
"In our games against Holy Cross and Burlington Township, they were bigger teams, and he's in the box at 5-7 winning headers for us," the coach noted. "As coaches we're like 'All right, Austin wants to get it done,' and we say to the other guys, 'If he can get it done, and you're bigger and more athletic, then you should get it done.' We kind of hold the other guys accountable.
"That's just Austin. He's still not the biggest guy but he can hang against bigger guys who are physically imposing. He's not afraid, he won't back down."
Just ask the guy with the beard from three years ago.