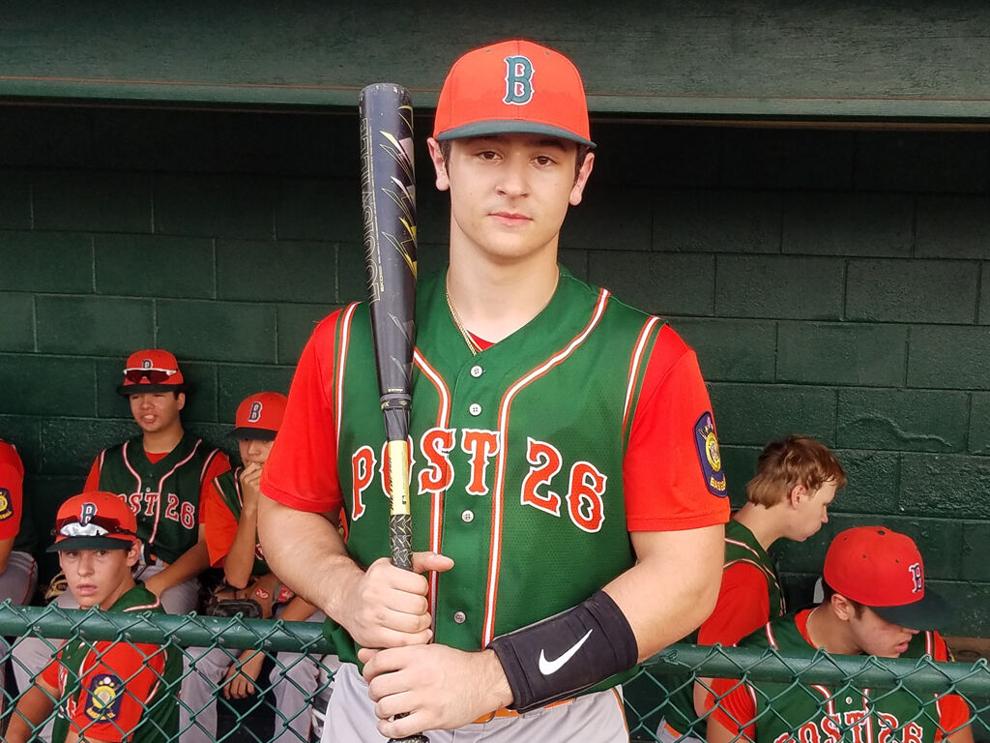 Things just weren't working out for Ryan Tomasulo, but the guy never stopped grinding.
And it finally paid off this year.
After the summer of his junior year at Bordentown High, the catcher was told by manager Doug Moore that he did not have a spot for him on the Bordentown Post 26 American Legion team. Bummed that he couldn't play with his friends, Tomasulo still kept plugging as he joined North Hamilton and got some time there.
The following year with Jack Parker having graduated, Tomasulo had a shot at the starting job with Bordentown High, and Moore also told him he had a spot for him on Post 26. Covid-19 shutdowns destroyed all of that, leaving Tomasulo and everyone else sitting on the sidelines.
But the catcher did not sulk, for his love of the game wouldn't allow it. He knew he had one more legion season left and was going to make the most of it.
"He knows he's not gonna play in college, but he went out and worked hard just to play his final year," Moore said. "This just shows what he's about and his work ethic and how much he wants to play.
"He played travel ball on our travel team (the Mid-State Mariners) from 10 to 15 and he wasn't even on our A team. He was on our B team. He caught for us, but he wasn't even the starting catcher with his high school team, he played second base and right field. But he definitely made himself a good catcher. He's got a strong arm and good blocking skills back there."
Tomasulo also improved his hitting skills thanks to some hard work with Hamilton West head coach Mike "Moe" Moceri.
"He got me more focused on driving the ball, using my legs more," Tomasulo said. "I've gotten very strong the past year. So I was just using my legs more instead of focusing on my upper body. I just hit more line drives toward the opposite field which has really helped me."
"In general he made better contact," Moore said. "He used to strike out a lot. He was a dead pull hitter and learned to use the whole field. He did a lot of work with Moe and it definitely made him into a pretty good ball player."
With one game left in the regular season, Tomasulo was batting .333 with seven RBIs, three doubles and four runs scored; and had not committed an error.
Despite the fact Bordentown finished 5-12 in the regular season (but did make the district playoffs), Tomasulo was happy to just be on the diamond.
"I've had a great time because I'm one of the role models for the younger kids," he said. "We're a very young team, I'm just trying to help them out as much as I can, make them become better players and better people."
Tomasulo's career started in the Hamilton YMCA League, which was the least known of the five Little Leagues in Hamilton Township. But he had a connection there.
"That's where my parents grew up, it was the thing they knew, so that's where we played," he said. "I went over to Bordentown when I was nine for my first year of Little League.
"I started at second base, but one of my teams needed a catcher. I decided to go back behind the plate and ever since then, I loved it. Everybody thought I was crazy, but you're involved in the game on every play. It really keeps your mind in it and you could really see everything going on."
From little league, Tomasulo went to the Mariners and was introduced to Moore.
"Doug coached the Black team and I was on the Gold team, I remember him calling and asking me to go up to his team for some games," Tomasulo said. "That's when he first started to see what I could do. He didn't see me for a couple years then he saw me this year and saw a whole different person."
That transformation was due to hard work. Aside from his time with Moceri, Tomasulo went to catching coach Eric Woodrow and also did weightlifting with his cousin to put on strength. His defensive skills were as improved as his hitting.
"I got a lot better with my footwork, my arm strength, stuff like that," he said. "It was just the little things, the mechanics. I feel like I've always had the baseball smarts, I just needed to put together better mechanics so I could be the best catcher possible."
Unfortunately for Tomasulo, Moore had a catcher two years ago, and when he wanted Tomasulo, there was no season last year.
"It was kind of tough to get into a new environment (at North Hamilton)," he said. "But once I got more involved in it, it was a great experience just to get my feet wet and just playing with some of those guys. They were all great role models for me. And then I got to come back over to Bordentown and play with some of those guys again, so it's just great to be back."
Tomasulo impressed Moore every step of the way this year. The coach marveled at him during a game with Princeton, when he pulled a hamstring on a hit but literally crawled into second base for a double.
"The kid is definitely tough as nails," Moore said. "He only missed one game after that. And I will say, I've been coaching a long time and I've never seen a kid put in more work to becoming a better player. He was a decent player back then, and he worked himself into being a very good player."
He played this year like it was last, probably because it was.
"It was great," he said. "I love playing. Unfortunately I'm not playing in college so this is it for me. I was trying to go out in a good way. I've played baseball since I've been five years old. I don't want it to end, but it has to come to it at some point."
At least it ended on a high note, thanks to an attitude that never let Tomasulo give up.