One of the nice things about Jay Beyers is that when it comes to scoring goals, he can be pretty or gritty.
"One thing we've been proud of is he's a kid who buys into (the fact) it doesn't have to be a pretty goal," Bordentown High boys soccer coach Jason Zablow noted. "He's scored a couple off of scrambles in front of the net. He's also scored on some creative plays where he beats guys one v. one and gets dangerous and creates his own chances. He probably does a little bit of everything. It's nice a nice quality to have in a player. If one of your top guys wants to do all the little dirty work, he's gonna get the other guys to buy in."
It's a mindset that allowed the sophomore to lead Bordentown with 10 goals this year. His five assists were second to Shane Ritter. As a club player for PDA South, Beyers knows what it's like to play attractive soccer but understands that there are times one has to grind it out.
"Playing for a high level club they understand the pretty part of soccer," Zablow said. "Sometimes high school soccer's not as pretty. But he realizes there's a time and place to be gritty and he's able to kind of draw on that."
Beyers feels when a player is hungry to find the back of the net, the way a goal looks shouldn't matter.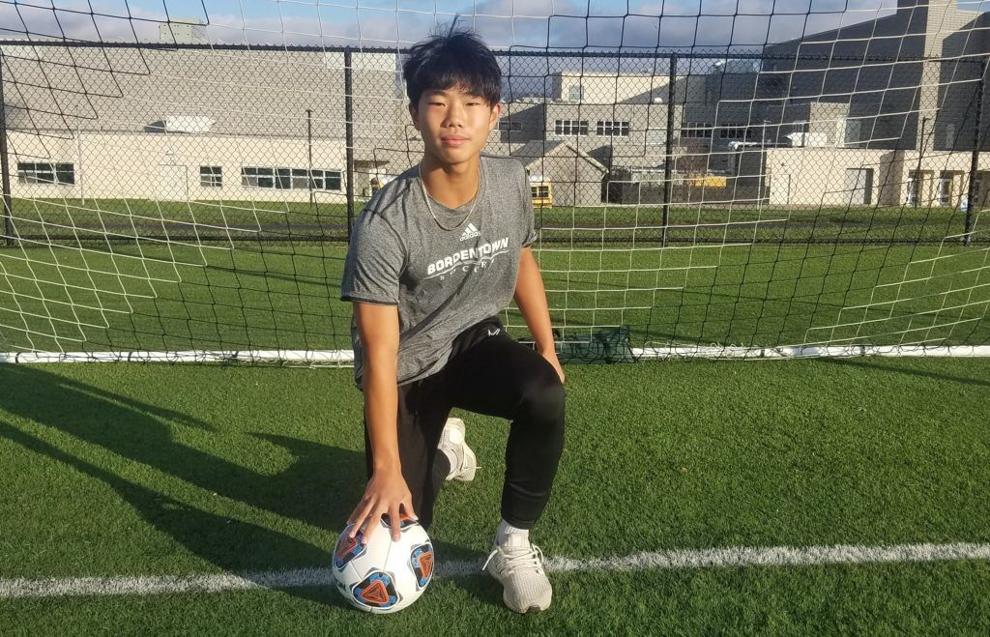 "It's just a mindset about how bad you want to score," he said. "Not all goals, especially in high school, are gonna be the prettiest but it's getting to that spot and being in the right space at the right time."
Beyers has spent his entire life learning how to get into those spaces. He started out in Bordentown rec before jumping to PDA four years ago.
"That was a big switch," he said. "They helped me develop as a player a lot."
His main position with PDA has been attacking midfielder, which is a role he embraced. Coming in as a 9th-grader, however, Beyers was moved to center defensive midfield.
"Cam Schroeder was one of our more dynamic athletes going forward so he was kind of featured there," Zablow said. "Jay and (Branden) Valeri were a tandem in the defensive midfield that allowed us to be creative in that back line. Being strong in that center mid spot kind of gives us that freedom."
And while Beyers was happy to become a freshman starter, the new position took a little work.
"I never played defensive mid in my life," he said. "I kind of got thrown in that spot but coach knew I could handle it. I was surprised but we needed another center defensive mid so I guess I stepped up."
The freshman must have done something right, as he started every game and pretty much played the every minute in most of them. His stats were modest with just two goals, but one was a game-winner against Delsea in the state tournament. More importantly he was stellar defensively.
"We knew last year he was special," Zablow said. "It's not easy to come in and play center-mid for all 23 games as a freshman and hold your own and not look bad. We never had a game where we had to hide him."
Beyers admitted to have the usual freshman jitters, but they soon subsided.
"I feel like I played well but I felt I could have played better," he said. "As a freshman coming into the season it was a lot. The first varsity start, first game of high school I played varsity was a big change. It was a lot more physical than I thought it would be. But after the first couple games I got used to it, settled in, and played my game."
As for Beyers' lack of scoring, his coach felt it was a combination of the position he played and some youthful hesitance.
"We had Cam Schroeder and Shane Ritter and Branden Valari who were all kind of upperclassmen around him in the midfield," Zablow said. "So every year when freshmen come in they defer a little bit. They don't necessarily take the shots when they have them from 20 yards out and they become a little more passive.
"Jay created for us and he had some great plays. He was consistently on the field for us 80 minutes every game but never actually had the stats to show for it. He did have the game winner in the second-half in our state game. It was a phenomenal hit from 20 yards out. To get the game winning goal as a freshman in the states, it doesn't get too much better than that. He had that ability and where he left off last year he started back up again this year."
He sure did. Beyers scored six goals in the season's first six games. He had either a goal or an assist in nine games during the Scotties' 8-4-2 campaign, and had two multi-goal games. After seeing his potential last year, Zablow felt it was time to make him an attacking midfielder, and also has him out on the wing at times.
"During preseason he saw I was an offensive threat and wanted to use me as much as he could so he put me higher on the field," Beyers said. "I'm definitely more comfortable up front. "
He's versatile enough, however, to play wherever is necessary.
"He plays a little bit of wing, a little bit of attacking mid; he'll play defensive mid if we need to clean things up a little bit," Zablow said. "He plays all around for us. He loves being on the wing because he loves being on an island with guys. It's kind of nice to bounce him around and fortunately we have some upperclassmen that give us the flexibility to move him around and make our team the best it can be.
"When we need to control the middle, play a little bit better soccer overall, win possession back, he can do that for us. He's a good ball winner. He's not just a one-dimensional goal scorer. He kind of brings all different elements for us."
The coach added that he expected a higher level of performance from Beyers this season with a year's experience behind him, but admitted "I don't think we thought he would be our leading goal scorer but when he did it was an added bonus."
Beyers had some pressure taken off him thanks to the effort of Ritter (4 goals, 7 assists); but defenders soon started to mark the sophomore as well. He had the ability to respond, and took his success this year in stride.
"It's not really a surprise to me," Beyers said. "It might be a surprise to a lot of people but I put a lot of work in the off-season and it paid off."