Almost thirty years had passed since the death of Col. Joseph Kirkbride at his beloved Bordentown home, New Bellevue. Overlooking Crosswicks Creek on a windswept bluff with lofty foliage, the site was where the Borden family constructed a home for their relative and prominent Revolutionary War patriot who served in the General Assembly from Bucks County during 1776-1778 and directed the formation of the county's militia, thus being elected to the rank of colonel of the First Battalion.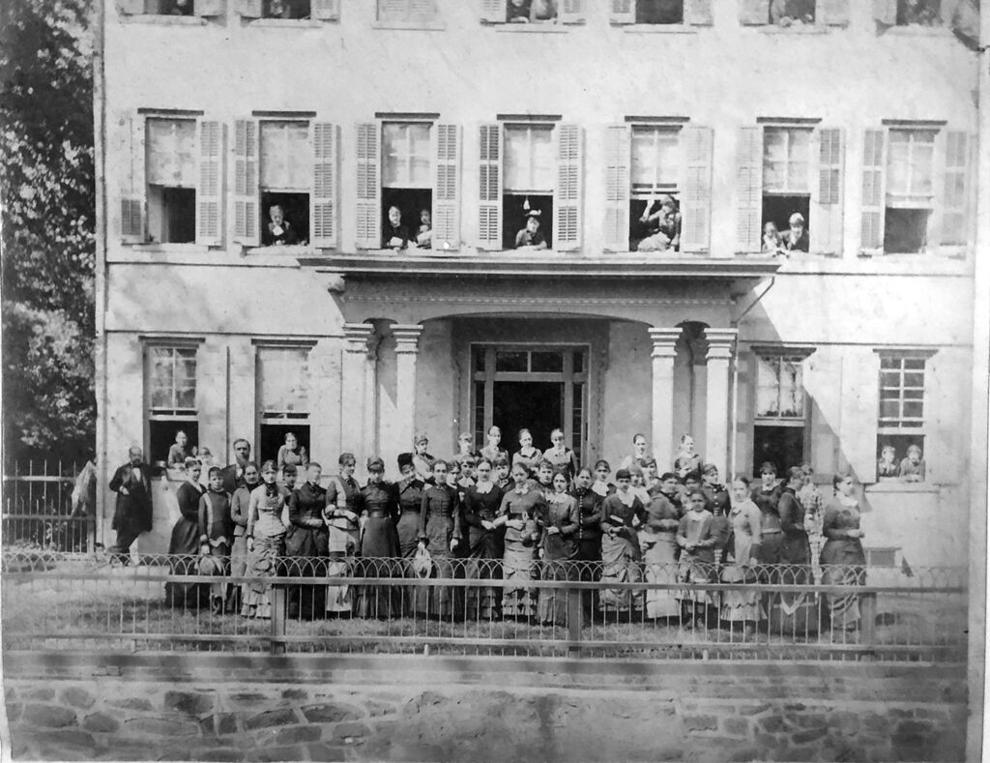 It was also there where firebrand pamphleteer Thomas Paine often enjoyed the company of his dear friend and gazed upon the most splendid sunsets while his own home was being built in town. Now the property was being reinvigorated as a seat of learning where students fathomed the same inspiration that attracted Thomas Paine. As with the eternal sunsets, the thought of obtaining diplomas were always within grasp of the promising horizon.
In 1834, Rev. George Washington Doane, the second Bishop of New Jersey, was instrumental in having Episcopalian minister, Rev. Edwin Arnold (1805-1874), establish a private boarding academy for boys on Kirkbride's former property. He served as principal for a period of five years before deciding to leave for other schools. In 1848, he and his family moved to Maryland where he became the principal of the Bel Air Academy until 1854.
During his tenure at this prestigious institution, he provided students a classical education steeped in almost every grain of fine literature as well as the fundamental basics of reading, writing, and arithmetic. For an extra cost, accommodations were made for students to receive room and board with Reverend Arnold and his family for tutorial instruction. One such student was Joseph Booth, the youngest brother of John Wilkes Booth. The latter also attended the academy as a child, but was considered a "day scholar" since he rode his horse from the family farm to school every day.
In 1851, after a series of individuals headed the academy in Bordentown, Rev. John Brakeley (1816-1897), a Methodist clergyman, was hired as its president. A graduate of Lafayette College in Easton, Pennsylvania, Brakeley's employment record included serving as professor of Languages and Natural Sciences at Wesleyan Female College in Wilmington, Delaware and president of the Pennington Female Institute in New Jersey.
Therefore it came as no surprise that a major decision was made by the Board of Instruction to transform the site into a female institute for learning. Two years later it was officially chartered as the Bordentown Female College.
Under Brakeley's tutelage, it became one of the premier educational locations in the country due to the simple fact that few female colleges existed during this period. Despite maintaining a busy schedule, he was occasionally confronted with the challenges of personal tragedy. Two of his four children died as infants and his wife, Esther, passed away in 1855 at the young age of 32. Eventually he remarried.
Indeed, the Bordentown Female College was often praised by visitors and scholars alike for its high standards and location. Expenses for those secured by the four-year institution of academia totaled $154 in 1860. By 1890, costs doubled to $320 a year.
Although it is not known how many day students attended classes, boarders living on campus were limited to 70 students. Individuals were required to furnish their own dinner utensils, toiletries, towels, bed linen, blankets, and umbrellas with marked identification as well as a bible and dictionary for study purposes.
Amenities provided entailed daily housekeeping and laundry, meal plans, the use of textbooks and supplies such as stationery paper, and accommodations for daily prayer sessions. For an additional fee of $1, specialty ordered meals were brought to the students' rooms. This also applied to any abundant need for washing garments. Charges were paid quarterly in advance.
Structures on campus were heated by steam furnaces, and bathroom facilities were supplied by hydrant water. Gas fixtures were appropriately displayed throughout hallways, the library, the chapel, and public accessible areas.
Every room was carpeted and spaciously decorated with fine furniture. Views from many of the windows exposed manicured shrubs and beautifully kept walkways beneath the shaded trees. Near the bluff stood (and still stands) an ornate garden gazebo that captured the imagination of wayward thinkers, and the billowing smoke from clamoring locomotives that rattled on the tracks below.
Courses of study were varied and extensive. They pertained to arithmetic, algebra, physics, chemistry, botany, grammar, spelling, reading, geography, penmanship, US history, English history, and natural history. Specialized courses were astronomy, English literature, Greek and Latin grammar, French language, mental and moral philosophy, hygiene, musical culture, singing, and art. This was evident by the selection of 50-80 different forms of framed art that adorned the walls of College Hall during their annual exhibit.
Monetary prizes were wholeheartedly awarded in order to "stimulate efforts and to maintain unflagging energy." Prizes were also awarded to students that excelled in essay writing, reading, music, botany, and hygienic appearance. Most importantly, school scholarships were awarded to students with an unbridled penchant for learning.
When Rev. Brakeley decided to retire from the college in 1875, this gave him the opportunity to pursue his favorite pastime which was studying entomology. However, when his health became afflicted as a result of severe asthma attacks, he sought the crisp air of the Pinelands wilderness by purchasing 200 acres of terrain in Ocean County. He built a simple-framed home for himself and his wife, planted fruit orchards, and constructed cranberry bogs for his outdoor experiments.
At the time of his death, he was the president of the New Jersey Cranberry Association. His loss was mourned by many including his younger brother Asher Brakeley (1828-1911), founder and president of the Brakeley Canning Company which operated for years on Second Street in Bordentown.
Following Rev. Brakeley's retirement, his position at the college was filled by Reverend William Bowen (1833-1891). A graduate of Wesleyan University in Connecticut, Bowen was blessed with a dynamic personality, as was his wife, Gertrude.
He added new energetic teachers that hailed from New York City to the faculty, renovated the buildings, and acquired a small 5-acre school known as the New Jersey Collegiate Institute on nearby Park Street in 1881. It wasn't long before this boarding school for boys was renamed the Bordentown Military Institute. Both schools garnered stellar reputations.
In 1885, Thomas Alva Edison's 17-year-old sister-in-law, Eugenie Stilwell, toured the campus of the Bordentown Female College with her mother as a potential site for her education. Putting pen to paper, she disclosed her observations to Edison in a letter, "My dear Al… I like it very much. The rooms are very pleasant, also well heated. The teachers, everything is the best. The boards are limited. The terms are very low for such a nice place…"
However, internal strife forced Bowen to resign his position as head of the military school in 1884. Rev. Thompson Landon was appointed to take Bowen's place and the school became an independent entity.
In 1889, Bowen initiated legal proceeding against those that he felt were negligent for the "break up." It was through this misfortune and others that the sounds of the female college's death knell eventually resonated out across its campus.
In 1891, Rev. Bowen died, leaving Gertrude to take control of the college. Although she did her best as president under the circumstances, the Panic of 1893 struck the U.S. economy with such ferocity that it affected every aspect of the financial market.
Two years later, there were no options left but to lock its doors. Gertrude and her daughter couldn't bear the sorrow and moved to Connecticut. Standing dormant, the property was auctioned at a sheriff's sale for $8,000. Out of necessity from the community, the college was resuscitated, but foundered again and was deposed of in 1899. Shortly thereafter, the buildings were torn down by its new owner, James Garfield Chamberlain, for the erection of his grand home.
As the college faded from the town's landscape, its ornate little gazebo remained. Soft hues of light from daily sunsets continue to radiate gently on its wooden frame and silvery dome like a brilliant beacon promising the way to hope and unity. It is not just an idle remnant from the past but gives meaning to our future as well.