Born in Philadelphia in 1770, Joseph Hopkinson shared his childhood years between the city and Bordentown where his parents bought a home in 1773. His mother was Ann Borden, the daughter of Joseph Borden Jr. and his father was Francis Hopkinson, one of the signers of the Declaration of Independence, a highly regarded satirist, composer, and designer of the American flag. In addition, he was chosen by the New Jersey legislature to create its Great Seal. Therefore, it seemed natural for Joseph to follow the same path of such a great patriot.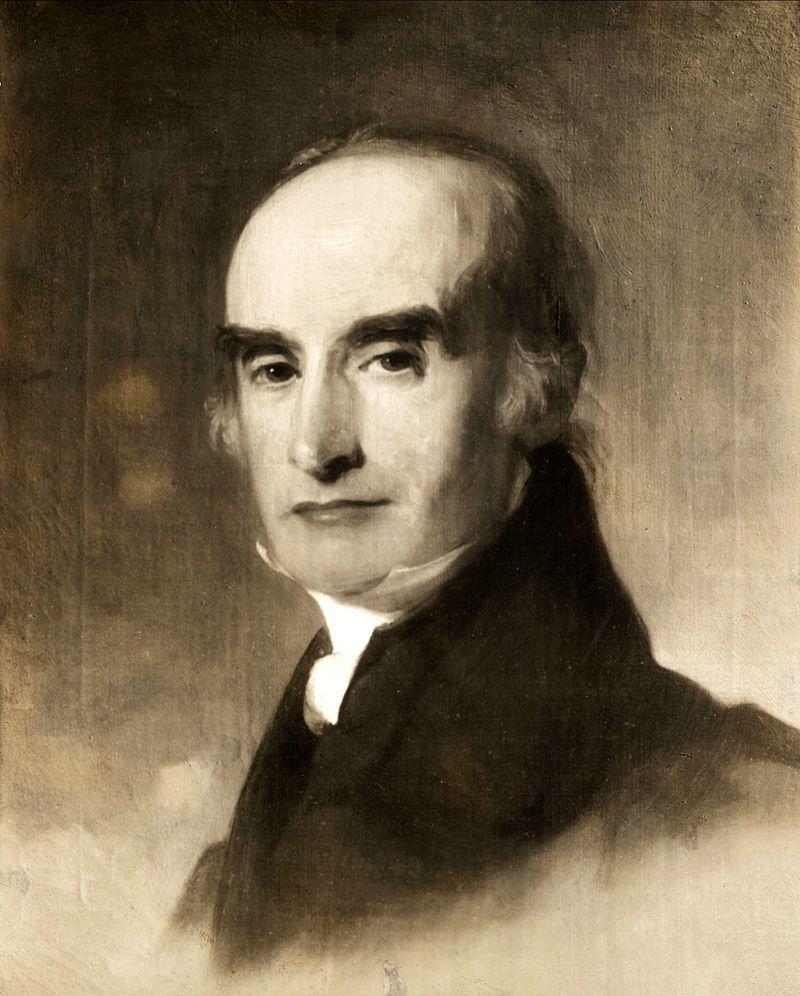 Furthermore, he attended his father's alma mater, the University of Pennsylvania, where he received his law degree in 1789. By the time that his father passed away in 1791, young Joseph entered private practice in Philadelphia as well as inheriting the family home on the corners of Main Street (Farnsworth Ave.) and Market Street (Park Street) in Bordentown.
Through his cultivated pedigree and alignment with other erudite individuals, he was given the privilege to court and marry a brilliant young socialite by the name of Emily Mifflin in 1794. As it so happened, she was the daughter of Thomas Mifflin, the first governor of Pennsylvania. Joseph's uncle, Thomas McKean, succeeded him as the state's second governor. Their home was located in the preeminent neighborhood of Society Hill, a few blocks within view of the Pennsylvania State House (Independence Hall) where Joseph's father and other delegates from sovereign colonies met and struggled over independence from British rule in 1776.
Joseph and Emily's marriage was extremely fruitful and produced 14 children (nine lived to adulthood). Their devotion as guiding parents wasn't just framed by their spirituality but by Joseph's passion in multiple interests as well. In 1798, that passion was thoroughly tested as an undeclared naval war with privateers erupted between the United States, France, and England in the Atlantic. Known as the Quasi-War, Congress was in session in Philadelphia deliberating on how to quell the hostilities.
As public concern spread through the towns and cities, many individuals chose not to be idle but proactive with their call for patriotism. Such was the case when a young theatrical singer that was well acquainted with Joseph, decided to pay him a visit to his residence one afternoon with a favor in mind. He asked him to compose a patriotic song for one of his performances after several attempts by troupe members proved unsuccessful.
Being the son of a composer, Joseph couldn't resist the challenge. That evening he feverishly put quill to paper by candlelight. When the young man returned the following day, the song was ready. It was a fine representation of the American spirit that neither mentioned malice nor disdain. Entitled "Hail Columbia," the song was our country's de facto (and first) national anthem until 1931 when Congress officially proclaimed "The Star-Spangled Banner" as its replacement. "Hail Columbia" is now recognized as the Vice President's anthem.
During this period, George Washington retired from the presidency and returned to his beloved Mount Vernon for only a short time before the Quasi-War prompted President John Adams to nominate him for the position of commander-in-chief of the armies again. Washington accepted. Thankfully no military engagements transpired.
As a fierce Federalist and staunch supporter of George Washington, Joseph met the general on many occasions when he was president and resided in Philadelphia. He also bonded with members of his family, including Bushrod Washington who was the son of the general's older brother, John. Like Joseph, Bushrod maintained a private law practice until he was sworn in as an associate US Supreme Court justice in 1799. While Joseph served as statesman for two terms in the House of Representatives from 1814 to 1819, he gradually grew weary of the exhausting pace between Congress, the Court, and life in the nation's new capital but not regarding the lasting friendships that were forged.
Bushrod was considered one of those true friends. Almost a year after his death from an unspecified illness in 1829, it was Joseph's eloquent speech during a meeting of the Philadelphia Bar Association that eulogized the loss of Justice Washington with compassion and grace.
Following his departure from Congress, Joseph eventually settled to a small farm in Bordentown. It was 1820 and Joseph Bonaparte, his closest neighbor, contemplated rebuilding his mansion that was destroyed by fire a few months earlier. Gradually the two men developed a lasting bond as they discussed interests in art, literature, and politics. Despite cultural differences and a language barrier that involved interpreters, they highly respected the company of one another.
Since Joseph Bonaparte owned the largest private art collection in North America at the time and Joseph Hopkinson was the president and guiding force behind the Pennsylvania Academy of the Fine Arts in Philadelphia, it seemed logical to persuade "the Count de Survilliers" to lend many of his paintings for their annual exhibitions.
In addition, Charlotte Bonaparte, an artist in her own right, influenced her father to part with his magnificent oil painting of Napoleon Crossing the Alps at the Great Saint-Bernard Pass by Jacques-Louis David which was displayed at the Academy from 1822 to 1829. It is worthy to note that in the succeeding years under Joseph Hopkinson's directorship, the Academy's financial state increased dramatically, thus increasing needed facilities for exhibiting its expanding art collection. It became the most reputable art institution in the country.
Throughout his life, Joseph regarded his career in law as a serious profession molded by extensive reading, writing, and the ability to analyze judicial cases upon which to formulate necessary conclusions. In 1828, five years after establishing his permanent residency in Philadelphia, he received an appointment from President John Quincy Adams to serve as a federal judge for the eastern district of Pennsylvania. Adams, who was a close friend, visited Bordentown when he and his wife, Louisa, stayed with Joseph Bonaparte at his Point Breeze estate.
As a judge, Joseph Hopkinson cemented his legacy with the ruling over the first case heard in the US pertaining to copyright laws. Known as Wheaton v. Peters, Joseph's ruling in 1834 against Henry Wheaton was appealed to the US Supreme Court, thus serving as the basis for those protection laws today.
Prior to being a judge, Joseph Hopkinson tried many cases before the courts. He even represented War of 1812 naval hero and Bordentown resident, Charles Stewart, as his lawyer during divorce proceedings involving his wife, Delia. In the 1830s, he was asked by Joseph Bonaparte to manage all legal matters of his estate, not knowing when he departed for Europe in 1832 that he would be returning to the United States. After the ex-king sailed for Europe for the final time in 1839, he wrote in his will that many of his personal belongings would be bequeathed to Joseph Hopkinson and his family.
Like Bonaparte, Joseph Hopkinson never forgot his neighbors or his origins. Although he spent most of his life in Philadelphia, he enjoyed the surroundings of his farm in Bordentown. It was simple and quiet. His career kept him away more than he would have liked but returned as often as he could.
When he died in January of 1842 at the age of 71, he wasn't buried in Philadelphia with his parents but rather in the Christ Church Episcopal Cemetery in Bordentown next to his grandparents and other relatives. As family, friends, and neighbors gathered on a winter's day to mourn his loss with the final rites, he took his place of eternal rest alongside his fellow ancestors. Any traces of footprints on the powdery earth in due course were blanketed by thousands of newly formed crystallized flakes.
Hail Columbia.
Doug Kiovsky is the vice president of the Bordentown Historical Society.