Joseph Bonaparte was the oldest child in a family of eight siblings. Raised on the island of Corsica near the coast of Italy, his parents, Charles and Letizia, owned a sprawling farm and vineyard with a picturesque vista of the surrounding terrain. When his father passed away in 1785, Joseph became the head of the family and looked after the affairs of the property. His passion for nature and working the soil appealed to him as much as his love for the arts.
Joseph was a year and a half older than his prominent and notorious brother, Napoleon. They were very close in their relationship and followed the same career paths to some degree. But his younger brother had a restless personality who didn't trust many individuals outside of his realm of his family. When Napoleon became First Consul of France, he relied on Joseph when it came to deciding legal matters. However, Napoleon later decided that family members would be best served if their roles were prominently expanded beyond the boundaries of France. Reluctantly, Joseph's loyalty to his illustrious brother landed him with the authoritative roles as the King of Naples and later Spain. His measure of tranquility to become a country gentleman and watch the sun set on his native land in Corsica seemed like a distant glint of light.
When the Napoleonic Wars collapsed and his brother was captured by British forces, Joseph had no choice but to go into self-imposed exile. Although his light shined brighter as time went on, it wasn't on the land that he loved. It beaconed across the ocean to America. It was a place that he scarcely imagined.
Embarking aboard the small American brigantine Commerce with a disguise and modest fortune in hand, Joseph arrived in the port of New York and then in Philadelphia, contemplating the next stage of his life. His wife, Julie Clary, was physically unable to join him on the voyage across the Atlantic. It would be more than two decades when they would embrace again.
Missing his wife deeply, Joseph threw his energy into finding property where he could build a palatial country estate. In the summer of 1816, thanks to the recommendation of a friend, he bought a 211-acre farm outside of Bordentown for $17,500 through his agent and interpreter, James Carret, since laws at the time prohibited non-citizens from purchasing land. Located prominently on a 60 ft. bluff above the waters of the Crosswicks Creek, the farm was characteristically known as Point Breeze. For the next four months, another 300 acres were added, and for the next nineteen years, landholdings were expanded to 1,800 acres of farms, fields, woods, and marshland to form an agricultural and environmental oasis.
Reminiscing about the years spent at his regal chateau, Mortefontaine, which was located almost 20 miles north of Paris and, Prangins, the manor that he left behind near Geneva, Switzerland, Joseph set out to create a grand spectacle like no other that America had ever seen. Restoring the gardens of his former homes ultimately inspired him to transform his new property into a majestic park. He used landscape paintings that he had shipped from Europe as templates and hired workers for the heavy labor. He planted formal gardens around the main house and created twelve miles of carriage and bridle paths winding along the edges of pastures and over stone bridges. The views were accentuated by a half-mile long lake created by damming the adjacent Thorntown Creek with wagonloads of earth. Swan-shaped pleasure boats were frequently used for leisurely jaunts whereas in the winter, Joseph could be seen rolling oranges to local children skating on the frozen lake.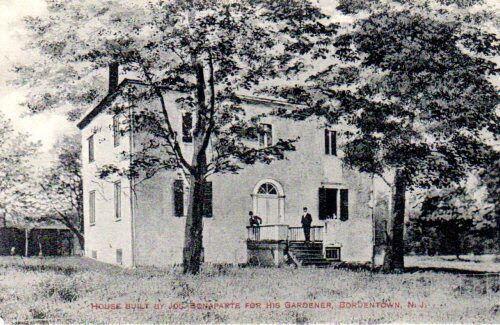 Joseph's close friend, Stephen Girard, who was considered the richest man in America at the time and lived among Napoleonic exiles in Philadelphia, sent him raspberry bushes, hydrangeas, and other assorted plants. Aside from plants received from Girard, David Landreth, a well-known nurseryman from that city, installed roses, camellias, rhododendrons, azaleas, and magnolias that were shipped by boat. Poplars, lindens, weeping willows, locust trees, and an osage orange that was grown from seed and brought back by Lewis and Clark on their expedition were selected by Joseph for delivery by wagon. Nostalgic for the Old World, Joseph also ordered apricot, peach, and other fruit trees from France.
It was quite a paradise to see native spring wildflowers thrive among the stone bridges and rustic seats as water fountains were viewed from the magnificent lawn. Each fountain composed a different theme. One was edged with tulips. Another was edged with andromeda.
Statutes of lion and deer made from Carrara marble and mounted on brownstone bases complimented the fountains. Life-size historical figures such as Richard the Lion-Hearted and Ivanhoe also welcomed guests as did semi-nude figures of women. This was quite an uncommon site in a community that was founded by and inhabited by moralistic Quakers. Above it all, gardeners played a prominent role on the estate. They made sure that the grounds were kept immaculate in addition to feeding everyone from a fine selection of vegetables grown in plots of rich soil. Surprisingly, the two-story living quarters were quite spacious for such hired labor. Not surprisingly, the layout of Point Breeze with its European asymmetric design probably represented the first picturesque-style landscape in North America. Residents commonly referred to the property as Bonaparte's Park.
Joseph loved to entertain guests in his mansion which was reported to be the second finest in the country after the new Executive Mansion in Washington, DC. Conversations resonating from the wall-papered rooms didn't just focus on the news of the day but also on his fabled collection of artwork, elaborate furnishings, and literary tales verbally extracted from his vast library of 8,000 books. He had the largest private library in the country, surpassing the Library of Congress by 1,500 books, most of which were donated by Thomas Jefferson.
As a patron of the arts, Joseph filled his thirty-room home with original paintings by Rubens, Rembrandt. da Vinci, Gerard, David, and others. The well known oil painting of Napoleon Crossing the Alps at the Great Saint-Bernard Pass by Jacques-Louis David was an enormous masterpiece that measured 8 ½' x 7'. Its awe inspiring image of Napoleon on horseback pointing to a greater future was so impressive that the Pennsylvania Academy of the Fine Arts formally requested its loan for an annual exhibit from 1822 to 1829. Reluctant at first due to the arduous task of transporting it, Joseph was persuaded by his daughter, Charlotte, who was an artist in her own right. Many other paintings from the Point Breeze galleries were also loaned to the academy and art institutions.
As fate would have it, all of these treasures would've been destroyed in a raging fire that consumed the mansion if it weren't for quick action of local citizens. On the morning of January 4, 1820, Joseph was on his way home from New York when he saw columns of smoke and fire in a distant. By the time that he reached the property gates, he heard a crash as the walls and roof collapsed under the intense heat whipped up the northwest wind. As the hot embers smoldered above the snow, not much remained of the structure except for a stone belvedere that was built close to the bluff. Although his beloved mansion was gone, the townspeople formed a brigade to remove the majority of his family possessions before they were tragically lost. In expressing his undying gratitude, Joseph penned a letter of sincerity regarding his faith in mankind that was published in many newspapers.
Within two years, he converted his large horse stables at Point Breeze into his new home. Located closer to the New York Turnpike (Park Street) and away from the howling winds, 40 tradesmen (including French refugees) under the direction of French master cabinetmaker, Michel Bouvier (great-great-grandfather of Jackie Bouvier Kennedy Onassis), created a majestic and comfortable place to live. In addition, all of Joseph's salvaged belongings were installed in the home including the famous painting of Napoleon that graced the wall of the billiard room. Soon after the home was finished, a smaller home aptly called the Lake House was erected on the bank of the man-made lake for Joseph's newly married daughter, Zenaide and her ornithologist husband, Charles Lucien Bonaparte.
In more ways than one, the grandeur of the site was now complete. The landscape formed a bond between Joseph and his family that chose to live in Bordentown, including his two daughters, nephew Lucien Murat, and devoted personal secretary, Louis Mailliard. But as the years passed and his daughters moved back to Europe, Joseph yearned to see his native land again and embrace it in eternity. Although his desire was never quenched, in 1839, at age 71, he decided to set sail from his adopted homeland for the third time in seven years. Eventually finding his way from London, England to Florence, Italy, he was finally reunited with his wife Julie for the last five years of his frail life. In the end, it wasn't the priceless treasures that this former king grew to admire the most. It was the priceless treasures of family and country that filled his soul.