The Waughs were an extremely gifted family of artists that spanned three generations. You might say that if paint were in their blood, it would be viewed in many colors and shades of the rainbow.
Two generations played a significant role in establishing Bordentown as an early artist colony along with the presence of Joseph Bonaparte and his magnificent collection of art that was second to none.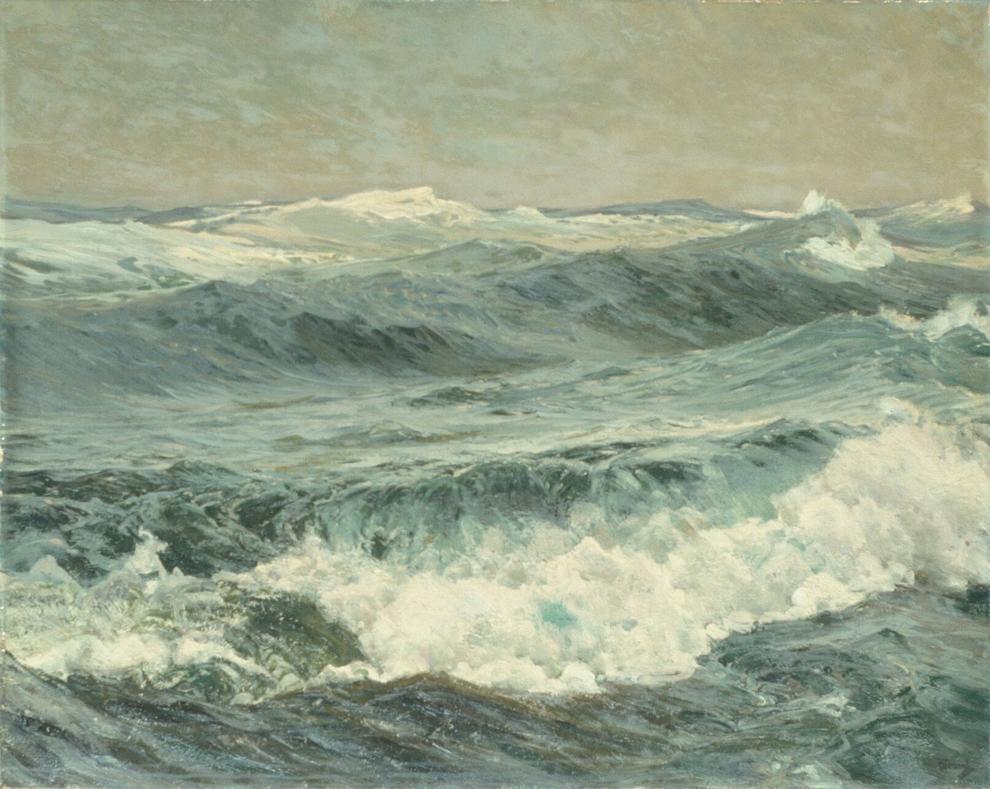 The patriarch of the family, Samuel Bell Waugh (1814-1885), was considered Philadelphia's preeminent portrait painter during the mid-1800s. Born in New Wilmington, Pennsylvania, this self-taught artist completed his first painting, a portrait of his family, at the age of 13, using an old bed sheet and house paint that he confiscated from his father's general store in town.
Several more portraits followed over the years, with accolades received from judges at exhibitions. In 1836, he decided to hone his talent by traveling to Rome and Naples.
Fascinated by the intoxicating scenery and vibrant colors of the landscape, he set up residency and a studio, catering to the whims of the European elite. After spending six years refining his reputation as an accomplished artist, he felt that he was ready to conquer the American market.
Settling in Philadelphia, Samuel became acquaintances with painter James Edward Freeman and sculptor Thomas Crawford who helped him launch his business as a portrait painter. On occasion, he would prominently have his work displayed at the Pennsylvania Academy of Fine Arts, the Boston Athenaeum, and the National Academy of Design in New York.
In addition, his success was elevated by his marriage to a supportive woman by the name of Sarah Lendenhall. In 1846, they were thrilled by the birth of their daughter, Ida (1846-1919).
With his stellar reputation, Samuel was afforded the luxury to search for a summer home in quieter surroundings away from the distractions of the city. He chose Bordentown for its serene location and John Notman (1810-1865) as his architect.
Credited with introducing the Italianate and Gothic Revival styles to this country, Notman worked from his firm in Philadelphia, designing many country homes and churches. This included Samuel's Tuscan Villa home in Bordentown with the awe-inspiring feature of a towering belvedere that overlooked Crosswicks Creek.
It was completed around 1845, and Samuel painted Notman's portrait as a gift for his services. That same year, Notman also finished building the Athenaeum, Philadelphia's first Italianate structure.
For the next four decades, the Waughs graciously entertained family and friends with games of croquet on the lawn of their home in Bordentown. Its style invoked wonderful memories of Italy that formed the epicenter of Samuel's panoramic masterpieces, "Mirror of Italy" and "Italia," which toured major US cities from 1849 until 1855. In the 1860s, U.S. Presidents Abraham Lincoln and Ulysses S. Grant were among the notable dignitaries that were willing to sit for his portraits.
By this time, Samuel's wife had died, and he was remarried to Mary Eliza Young. Their son, Frederick (1861-1940), was born at their residence in Bordentown. As their only child, Frederick grew up in the shadows of the art studio, whether it was in Philadelphia or at their home in Bordentown.
In 1880, he enrolled in the Pennsylvania Academy of Fine Arts where he studied for three years under artist and sculptor, Thomas Eakins. This was also where he met his future bride, Clara Eugenie Bunn.
He continued his education in Paris, France at the Academie Julian, shipping back many of his works to be exhibited in the US as well as the Paris Salon. Although he enjoyed painting the breath-taking scenery across France, in 1885 he was notified by letter that his father had suddenly died while visiting his sister in Janesville, Wisconsin.
As an obligation to his family, he returned to Philadelphia to settle affairs, including the sale of the summer home in Bordentown. For the next seven years, he painted portraits and landscapes until he married his girlfriend, Clara.
His life changed not only from this experience, but also from the honeymoon, during which they traveled through England and France. It was on a visit to Sark in the British Channel islands where Frederick fell in love with its crashing waves, thus turning his attention to painting seascapes. From 1893 to 1895, they sustained a humble existence there with the birth of their first child, Gwenyth.
The following year, they moved to a popular English artists' colony known as Cornwall. As Frederick delved into his oil creations, his wife gave birth yet again to a son named Coulton (1896-1973). Shortly thereafter, the family moved near London, where Frederick supported his family for the next decade by illustrating articles for the London Graphic.
He maintained his studio in Cornwall for the purpose of painting marine scenes. Two of these paintings were submitted to the Royal Academy where Frederick was a frequent exhibitor, but were ultimately rejected. Outraged, the family decided to return to America.
Settling in the affluent community of Montclair, in New Jersey, Frederick set up a studio in New York City and concentrated on his seascapes. Presenting several to the Metropolitan Museum of Art after spending summers painting on the beach in Bailey Island, Maine, he was successfully recognized by the public as a marine painter. In 1909, he was elected an associate member of the National Academy of Design. Two years later, he became a full member.
Success also meant moving from place to place. From 1915 to 1927, he moved to Kent, Connecticut and bought a small farmhouse with a large barn for his studio. During World War I, he was commissioned to design camouflage for U.S. Navy vessels. Through team effort, many ships were painted according to his instructions. Proudly, only one marked ship during the conflict was lost at sea.
The last 13 years of Frederick's life were spent close to the ocean in Provincetown, Massachusetts, where Coulton lived. He inherited the creative juices that made him an artist as well as a cartoonist. Although Frederick did not seek publicity in the last years of his life, he was considered famous, and even designed the architecture for the town's Episcopal Church of St. Mary's of the Harbor church. After his death in 1940, he was buried in a cemetery at North Truro, within sights and sounds of the sea that he came to admire.
Frederick's half-sister, Ida, was another force of nature. Like her brother, she excelled in the art world by formally attending the Pennsylvania Academy of Fine Arts and the Academie Julian in Paris.
Some of her best known work, "Hagar and Ishmael," was exhibited at the Paris Salon in 1880. It was so well-received by the public and critics alike that the Pennsylvania Academy of Fine Arts purchased it for the intent of permanently gracing their galleries.
She was gifted as an illustrator as well. At a young age, she bonded a lifelong friendship with Frederick's childhood tutor, Amy Blanchard. A native of Baltimore, Maryland, she was a literary genius, composing rhymes for children's books that Ida illustrated.
This collaboration between them was so lucrative that it led to the publication of fictitious books for adolescent girls in mind. For a time, they lived together in a charming Italianate residence in Philadelphia until success prompted them to move to New York City in 1880.
Known as the literary capital of the country, Ida slowly became reacquainted with former Bordentown resident Richard Watson Gilder, who was the editor of Century Magazine, one of the best American periodicals of its day. They shared many interests as his wife, Helena de Kay, was an established painter and he had a strong admiration for poetry.
They also conversed about their New England summer cottages as he owned one in Marion, Massachusetts and Ida and Amy owned adjacent bungalows on Bailey Island in Maine. This was their refuge from the stressful demands of the city.
Ida died at her home in New York in 1919, and was buried next to her father at Woodlands Cemetery in Philadelphia. Across the tombstones lies the resting place of painter Thomas Eakins who had died three year earlier. As for Ida's dear companion, Amy Blanchard, she died unexpectedly at her Maine bungalow in 1926, and was buried next to her younger brother in Baltimore.
While the Waugh family has left us, including the removal of their palatial Bordentown estate, the essence of their creativity and talent on the world stage of art is still captivated in private homes and public galleries like the Pennsylvania Academy of Fine Arts, the Edwin Ulrich Museum of Art in Wichita, Kansas, and the Smithsonian Institution's National Portrait Gallery in Washington. It is from these hallowed halls and many others that they honor a family that painted powerful images of nature and man for more than a century.