When someone in Trudy Atkins's family starts something, they stick with it. Always.
Atkins's mother was a longtime elementary school teacher, her father, an electrician, HVAC contractor and firefighter. Both of her brothers spent 20 years each in the Air Force and Navy, respectively. Tommy went on to teach ROTC at Neptune High School for another 22 years, and Eddie served as the director of emergency services in Chester County until his death in 2014.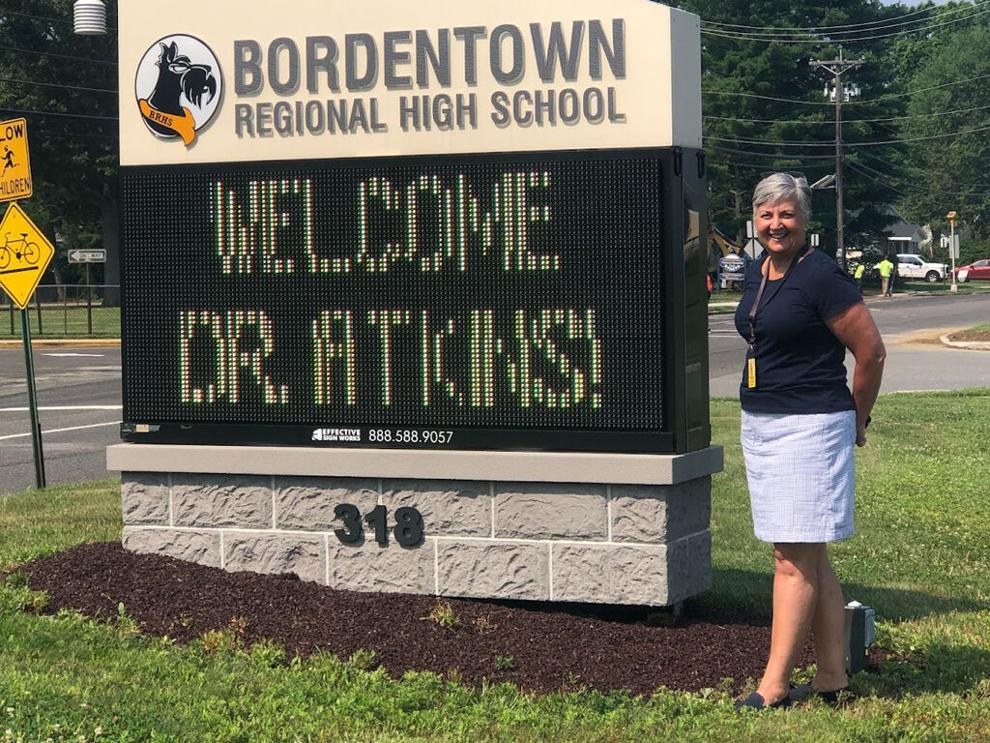 And just look at Atkins herself—after 33 years of experience in the education field, she was hired as the new Bordentown Regional School District superintendent earlier this year. Her time officially started in July, with the retirement of outgoing superintendent Edward Forsthoffer.
"The role models that I had growing up were in roles of service, so I know that's where it comes from," she said.
Atkins, a Groveville native, has spent over three decades as an educator. She graduated from West Chester University with a bachelor's in education and a master's in molecular biology. She earned a doctorate in education from Rider University.
She previously worked as a biology teacher for 19 years and as a department chair for seven years. She comes to Bordentown on the heels of a 14-year stint with the East Brunswick district, where she worked as the vice principal at East Brunswick High School, K-12 supervisor of science/gifted and talented education, director of community outreach and academic support and the director of professional learning, evaluation and assessment.
"At East Brunswick, Dr. Atkins led a team of administrators, teachers and support staff and leaves an overwhelmingly positive legacy with the educational community," the BRSD said in a statement. "She has an established record of working with teachers and building administration to improve student achievement in the East Brunswick Public Schools not only by utilizing a data driven approach, but also by spending the time and effort that's necessary to build strong relationships with the wider community."
Her first month was full steam ahead, Atkins said. COVID-related uncertainty has plagued schools for the last year-plus, so it's been an interesting time to start in a new district.
But she knew she had to do it. And Atkins wrote a letter to the school board during the application process explaining exactly why.
"Over the last year our nation has seen tragedy and triumph and our students witnessed history making events through their very own eyes," she wrote. "As educators, we must assist students in understanding all that is going on around them as we build their agency as young people to grow towards the changemakers they are destined to become. They are our future, and we must do everything in our power to support their academic, artistic, and athletic growth and development so they move with confidence into the next phase of their lives."
Atkins hopes to see that through, and she's already off to a good start.
Her first objectives include meeting as many people as she can and getting to know them both as a leader and as a person. She's also focusing on student safety, a passion of hers—Atkins wrote her doctoral dissertation on school safety protocols.
"Physical safety, emotional safety, social safety—I want students to be safe," she said. "I want students to feel as though they belong in the school community, whatever that belonging means to them. I want children's dignity to be preserved as they go through their schooling here."
Though it was busy, her first month has lived up to Bordentown's reputation.
"It's been great," she said. "I've been welcomed by the community and staff and school board in very kind ways. I really felt like I belonged. That's really special. After 19 years in my first firstrict and 14 years in my second, having that feeling of belonging from the beginning is very special."
She specifically mentioned Forsthoffer, who she knew back in high school through marching band, and Chifonda Henry, the BRSD business administrator and board secretary.
"I'm grateful and humbled by the opportunity," she said. "The kindness that board president and the entire board showed me throughout the process allowed me to get a glimpse of Bordentown, and I haven't been disappointed. The kind nature that they exuded throughout the interview process has been present since I walked through the door."
Atkins isn't new to Bordentown. Her eye doctor and her dentist are in town, her pediatrician was in town, her favorite restaurant is Marcello's. She graduated from Steinert High School and is a lifelong resident of nearby Groveville.
"When it came down to it, to be an educational leader of this stature, I've always wanted to do it in my home community," she said. "When I saw a job was open in Bordentown, I was like, 'I want to do that for my home.' Even though I don't live here, it's close enough that I can be a part of the community at large. Twenty-four hours a day, seven days a week, 365 days a year, from now until the time I leave—which I hope is a long time—you don't get a day off. You're always the superintendent, whether things are going well or going lousy."
It's that local upbringing that shaped Atkins into who she is today. Her dad spent many years with the Groveville Fire Company, working his way up to chief and then service on the fire district's board of commissioners. Her mother was a PTA member, president and eventually a life member of the Yardville School PTA.
"It's just the model," she said. "It's what you do. When you start something, you do it until you get to the end."
Her brothers both were Eagle Scouts as teenagers and went on to serve in the military—Tommy was a commander in the Navy, and Eddie was a colonel in the Air Force.
"I saw them both earn wings on their military uniforms," she said. "We had Colonel Atkins, Commander Atkins—I had to be Dr. Atkins so I could have a title, too. It was just a fabulous place to grow up."
Atkins hopes to keep that same kind of connection with Bordentown.
"I had great leadership around me, and I wanted to offer what I felt was great leadership in an area that is close to my own home," she said.
And closer as a district, too. Atkins comes from a district of 9,000 students in East Brunswick.
"I could have the entire senior class over for dinner here," she said. "I think it's a nice size. You have the different areas of Fieldsboro, the township and the city, but then you also have a closeness even though you're a regional school district."
She also hopes to take in a little more Bordentown history.
"I'm a real history buff," she said. "I think the positioning of Bordentown between Philadelphia and New York in the colonial days is so interesting. The tradition of the African American school that was here and the role the area has played in New Jersey history and American history has been very intriguing. I want to learn more about it."
All in all, she's ready to immerse herself in her new role.
"I had great support and guidance in my two previous districts," she said. "I was surrounded by great mentors and great educational leaders. They invested in me, and I owe it to the profession to invest in those who will come after me. That's kind of the feeling that I have."