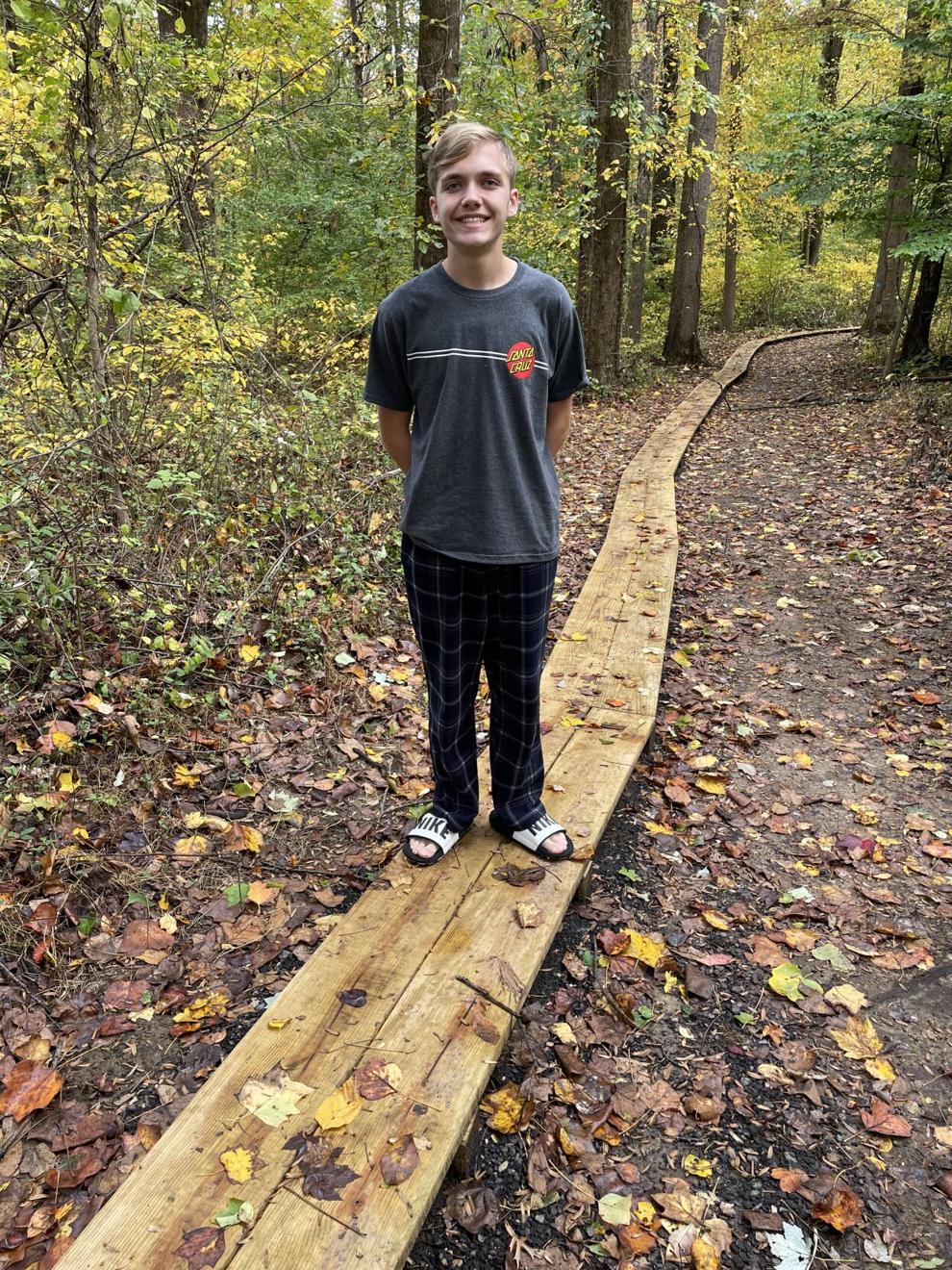 Over the last few years, three Bordentown residents have reached the pinnacle of the Boy Scout experience: each completed the community service projects that earned him the right to call himself an Eagle Scout.
Matthew Reiter, Ryder Samsel and Sam Cranmer of Bordentown BSA Troop 13—friends since they were Webelos at age 6—all finished their Eagle Scout projects with the help of friends and family, as the Boy Scouts of America require. And of course, they helped one another, because that's what friends and Eagle Scouts do.
The scouts, all 18, conceived and prepared their own projects. Reiter decided on an ecological restoration project in Crystal Lake Park. He identified a path that was often difficult to use in wet conditions because it tended to become muddy, and came up with a plan to make the path easier to traverse.
He hoped to have it completed by summer 2020, but as was the case for so many projects, the Covid-19 pandemic scotched those plans. Undaunted, he postponed it until last summer, completing the project in August.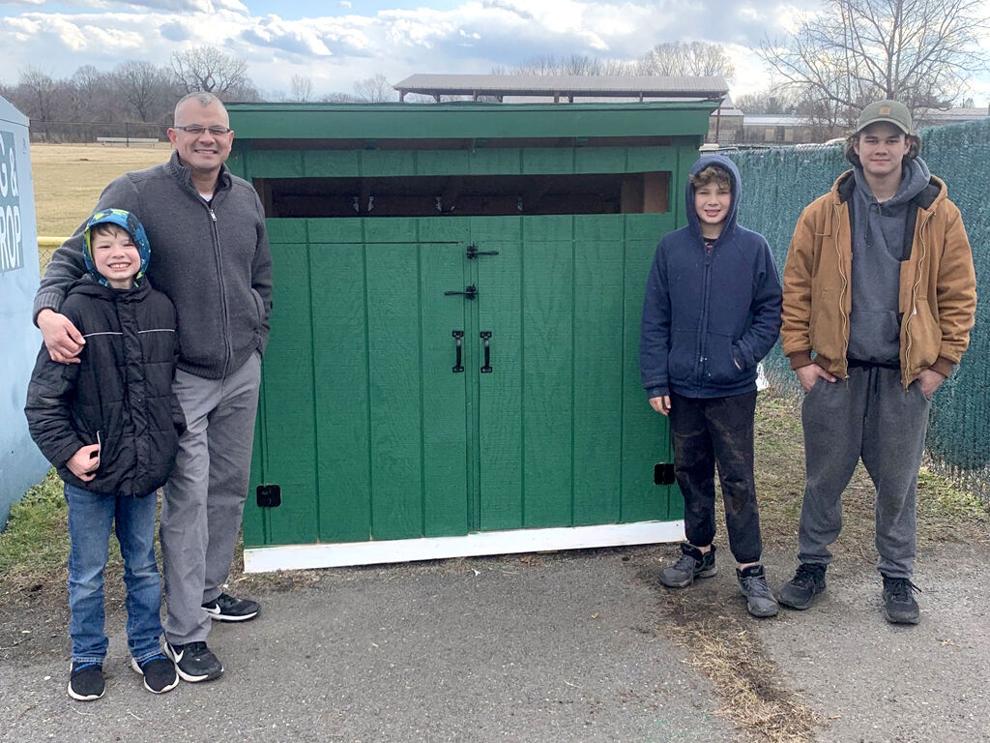 He used pressure-treated lumber to construct a 200-foot-long boardwalk offsite. When the day came, around 12 family and friends, including other Boy Scouts, met him at the park to help him assemble the final product. Eagle Scout tradition holds that the scout cannot put the final pieces in place — instead he is tasked with supervising his group of volunteers.
"I didn't really know how the ranks worked when I joined the Boy Scouts," Reiter says. "When I saw the older scouts get Eagle Scout, it motivated me. It's cool to work on something, to use your hands to build something."
Cranmer and Samsel were among those who helped Reiter complete the project. Cranmer says he was in the park recently and the boardwalk still looks great.
Reiter, a graduate of Bordentown Regional High School, is currently a student at Mercer County Community College, where he studies computer science.
Cranmer's own project was to design and build a pizza box recycling bin. He got the idea from a manager at Piccolissimo Italian Grille in Columbus.
"She was like, 'We need something like [a pizza recycling bin] in our community, and I was like, 'Oh my gosh, this is perfect' — it fits all the criteria for an Eagle Scout project," Cranmer says.
Although pizza boxes are made of cardboard, they cannot be recycled because they come into direct contact with food grease, which renders them unsuitable for recycling.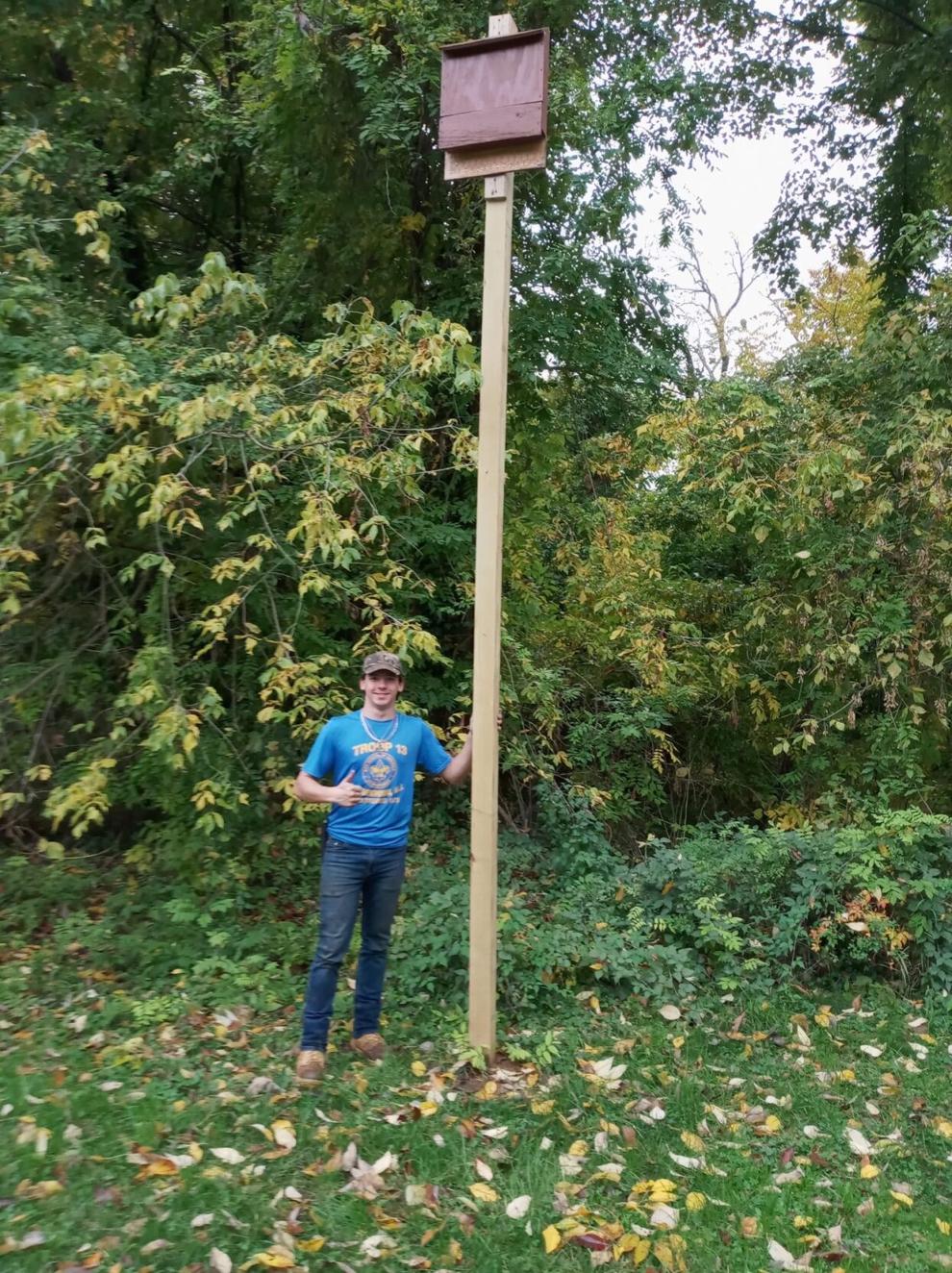 But Cranmer says local farmers have found a use for the boxes. They lay them around crops as
"sheet mulch," where they prevent weeds from thriving. Some say the cardboard retains irrigation moisture better than traditional mulch as well.
The bin is constructed similar to a shed, but modified in front with two slots for pizza box disposal and two doors for retrieval. It's the farmers who retrieve the boxes to take to their farms.
The bin is located at the old municipal building in Columbus. Cranmer pre-built it in sections at home and then one day this summer, he and his team of 8 to 10 volunteers shuttled the pieces over to the site for assembly.
Cranmer attended BRHS for a year before transferring to Burlington County Institute of Technology, where he studied to become a welder. He is working full-time as a welder now.
Samsel has also studied welding at BCIT and has plans to start his own welding company some day.
For his project, Samsel designed and pre-constructed three bat boxes to be erected around Bordentown. One is at the end of Oliver Street, one is at Second Street Park and the third is on Willow Street.
Samsel, an avid outdoorsman, said he sees bats all the time when he is hunting and fishing, but noticed that there were no bat boxes around. Bat boxes are similar to birdhouses, but with slits cut into the bottom of the structure rather than a circular hole on one side.
Bats are known predators of mosquitoes, and Samsel says a bat box in a damp or swampy area can attract the bats needed to noticeable reduce the mosquito population in the area.
Samsel prebuilt the bat boxes at home. In July, with the help of 16 or so volunteers, he erected the boxes around Bordentown. "It went as planned, no one got hurt," he says. "People were looking out for each other. All I really did was give a few tips here and there. Two to three hours and we were done."
He says being a Boy Scout is like having a brotherhood of a sort. "We were with each other through the whole thing, helped each other finish the projects," he says.
And now, like his friends Matt Reiter and Sam Cranmer, he can call himself an Eagle Scout.
Pete Reiter is Matt's dad and also the scoutmaster for Troop 13. He believes that the scouts were only able to complete their projects because they helped each other along the way.
"Take any two of them out and I don't think they would have been able to do it. They're such close friends and were able to rely on one another for support," he says.
For more information about Troop 13, go online to facebook.com/BordentownBSATroop13.