As Jason Zablow rolled out the balls for the first day of Bordentown High boys' soccer practice, the coach knew very little about who would play where and what kind of alignment the Scotties might play.
But one thing was certain.
Lucas Fryc would return at center-back.
What filled in around him remained to be seen as the Scotties graduated six starters from an 8-4-2 team.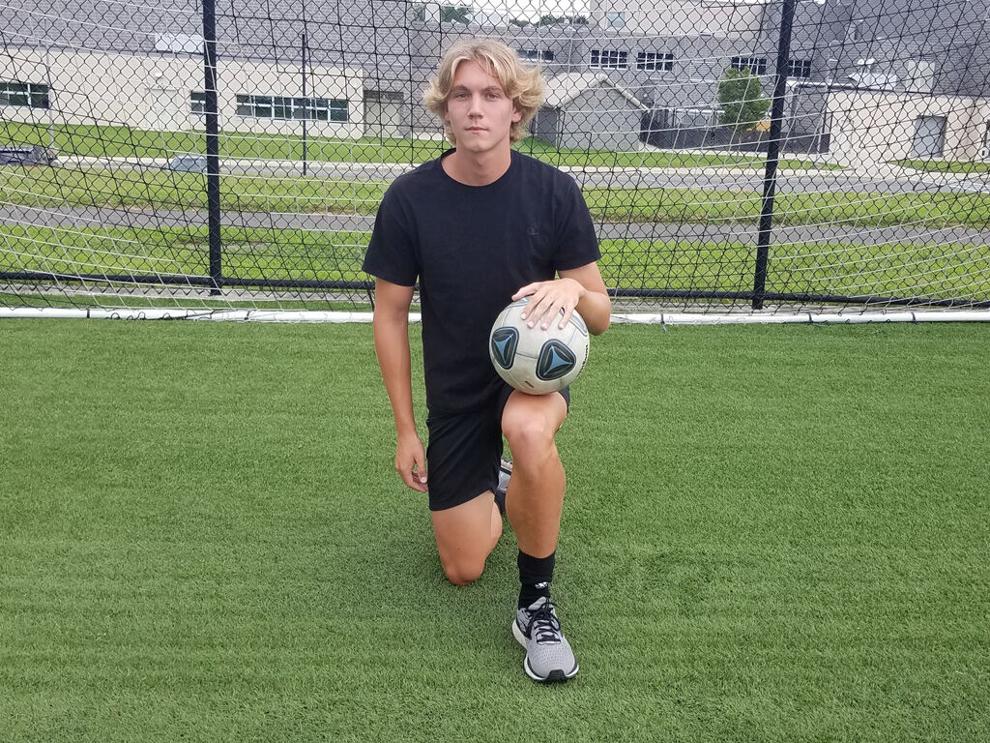 "We're looking to see how things play out," said Zablow, whose team opens against Pitman Sept. 7. "We have to see who ends up being healthy, who ends up earning spots next to him and up top as well. If we're gonna be a team that can score three or four goals we can take more chances. If we're gonna be a team that's struggling to score we have to be super strong in the back because that means we'll be winning a lot of 1-0 games."
As for his alignment, the coach said "We've kind of rotated through probably three, four different formations the last few years. We have our ideas. We throw down a 3-5-2, we put out a 4-4-2, a 4-3-3. Usually those things get scrapped at some point and we throw out a new one. Those things all play out in scrimmages, which is why we go out and play four or five scrimmages in the preseason so we can try things against a ton of different teams and a ton of different looks."
As an outside midfielder and outside back, Fryc saw firsthand how fluid things could be just by where he was positioned in ninth grade.
"Zablow just flung me around the field wherever he needed me to go," the junior said. "If he needed me to run 90 minutes on the sideline, I would do it."
It never quite came to that, and last year Fryc found a home at center back alongside the now-graduated Brandon Valeri. It was a key position to place a sophomore, but Zablow knew the lanky Lucas could handle it. His performance cemented him as a central defender.
"Some of it comes down to size and athleticism," the coach said. "Some of it you can see when we're doing our pick-up sessions over the summer that he's the guy that talks more and communicates. Sometimes guys will just put themselves in spots. I think he kind of picked up on it from last year that he played well there and that he could see himself being a leader and a staple on the back line for the next couple of years. We're kind of hoping he does that."
At 6-foot, Fryc is still growing, so he has the height to play in the back. He also added some necessary muscle to aid him in 1v1 match-ups.
"I was a skinny center-back and needed to get in the gym and get stronger, so that's really what I did over the past year," he said. "It's working. I gained about 10 pounds but I'm looking to put on some more after soccer. I just made sure not to put on 30 pounds to slow me down."
Fryc began playing rec soccer in Bordentown at age 5, then switched to travel around 9 years old. He went from Bordentown to West Windsor, to Match Fit Academy, where he has been for the past 18 months.
"I love it there," he said. "They help me so much."
Zablow will vouch for that.
"I think that's taken his game to the next level, playing at a higher club and kind of getting more confident on the ball," he said. "He's playing the prettier soccer but also knows how to do it the ugly way in high school too."
As he came up through the ranks, Fryc mostly played in the back due to his height, so he was happy to move to central defender last year.
"I do like it," he said. "It suits me very well. I'm more of a defensive minded player. I like to play defense and I like to have time on the ball. Center backs have a lot of time on the ball."
"Also," he added with a grin, "It's less running."
Zablow loved the way Fryc performed at a young age, and feels he has gotten even stronger.
"This summer he looked really good," the coach said. "He looks really confident on the ball, and he also has the biggest size on the team, which is gonna help us. He's kind of stepped up as a vocal leader so we're expecting big things from him in the back."
His maturity level has helped him embrace the role of a leader.
"He's always gotten along with the older guys," Zablow said. "You can see the better players coming up and see the way they gravitate to those junior and senior studs and the alumni when they come back. He followed in their paths, he knows what it takes."
Having an experienced guy in the back will help this year as Bordentown attempts to sort out its goalie situation. Three players entered the preseason battling for the starting spot.
"When you have a strong back line you're expecting not to give up a ton of shots or a ton of super dangerous chances," Zablow said. "But we have faith in these goalies. They were just unlucky to play behind some really good guys."
The Scotties have just three seniors this year and Fryc is one of a strong nucleus of juniors returning. They include Chris Tonzini and Adam Wieczkowski, who also saw time in the back.
"It's a young team, but I know we can push through," Fryc said. "I have confidence. Especially with the younger guys, they've shown they have talent. The older guys, including me, are gonna have to step up to show them what to do."
Fryc can also be an offensive threat, as witnessed by his two goals and two assists last year. He has a strong leg that can rocket a ball over top of defenses. But defending is his first love.
"Whenever you make a defensive highlight it feels a lot better to me than scoring a goal," he said.
Fryc feels that defending comes down to "physicality foremost, and probably just awareness on the field. You can't really dive into everything. If a guy is dribbling at you, you can't just rush at him, you have to know what to do with him."
And Fryc usually has a pretty good idea of what to do.
"He reads the game well," Zablow said. "He's patient, but at the same time it's kind of a weird combination, because you also have to be able to be aggressive and go after it and win your battles. He has no problems against the alumni who come out and play with us, or taking on some of the top guys here, or some of the coaches who jump in and play. He can also hit a ball real well so he's a guy that might be on our free kicks if we're not setting him in the box. He's kind of well rounded."
Which makes him one of the few known quantities in a rebuilding year for Bordentown.