For Sedona Orlow of Bordentown, kindness comes naturally. At only 9 years old, she shows a deep sense of empathy for those around her, especially those in need.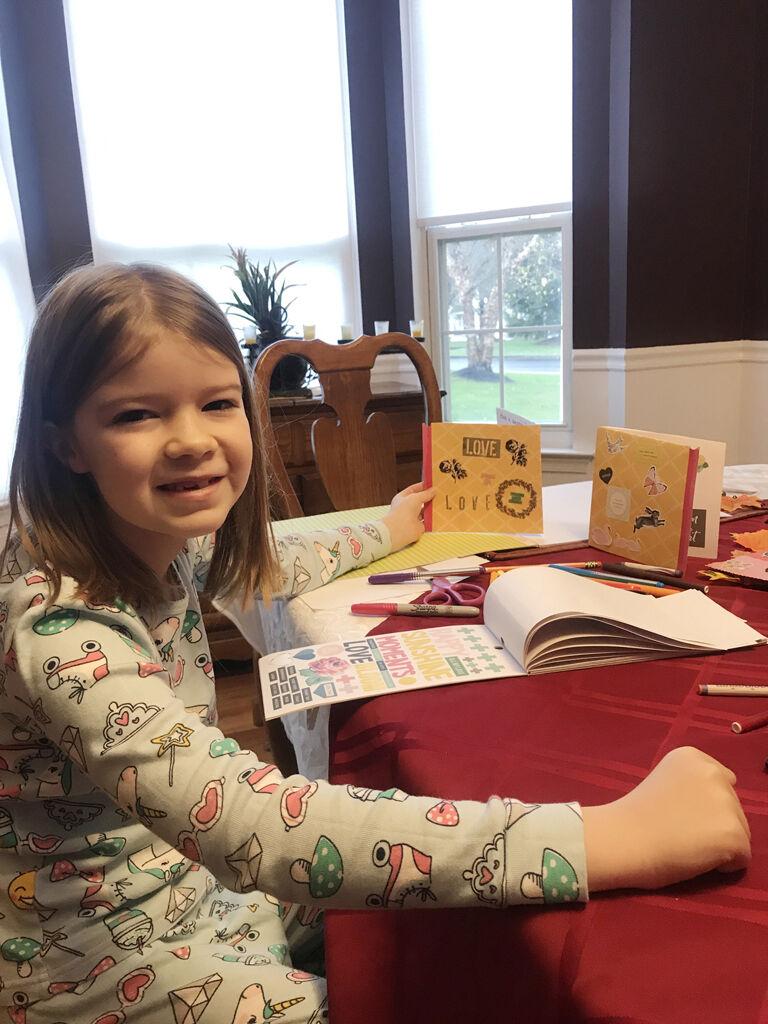 When Rachel Bennett, Sedona's father's girlfriend, started the Nursing Home Card Project, an initiative in which she sends cards to residents of nursing homes, Sedona was at her side, involved from the very beginning.
Bennett's mother was only 53 when she had to move to a nursing home due to Alzheimer's. "I know firsthand how difficult nursing homes are," she says. "They're very lonely. People don't realize."
There is also, says Rachel, the loss of a sense of personal freedom. During the early days of the Covid-19 pandemic, when visitors were temporarily barred from seeing their loved ones, Bennett felt she had to do something to improve the lives of the residents of nursing homes.
"People who are old, sick, dying, or have dementia—they live for those moments," she says, referring to visiting hours, when they see their loved ones. It is difficult to explain to someone with lessening cognitive function why no one is coming to visit.
Bennett remembers hanging cards all over her mother's room, "trying to transport this unglamorous home into something that was beautiful and full of love. The staff would always comment on these cards. It cheered everyone up."
In April 2021, Bennett started the project while living with her boyfriend, Rich Orlow, and Sedona. She asked Sedona if she wanted to help. Sedona's own great-aunt was in a nursing home at one point: "I remember how happy it would make her when I came to her nursing home, and she would always give me some beaded bracelets that she made. I also remember how happy it made the other residents to have visitors," she says.
Rachel and Sedona began to work on the cards and spread the word about what they were doing. There is no particular method to the card-making; they ask only that the cards be filled with love and kindness.
People with dementia in particular benefit from tactile experiences, so gluing feathers, gemstones, and other items is a good idea. Although homemade is preferred, there is also nothing wrong with sending a store-bought card, if that's what is accessible.
Due to HIPAA laws, card-senders do not have access to names of residents, so Bennett encourages the use of phrases like "Hello special person," "special soul," "dear friend."
So far, the Nursing Home Card Project has corresponded with 13 nursing homes in the United States and one in the United Kingdom, after someone from London found the initiative's Instagram. "We're trying to find a nursing home in each part of the United States," Bennett says.
One of the homes, Hamilton Grove Healthcare and Rehabilitation Center, is located in nearby Hamilton and is an excellent way for Bordentown residents to get involved with the project. In general, Bennett tries to choose nursing homes that may be underserved, in order to bring love and joy to those who need it most.
Her goal is to give a card to every resident at the nursing homes they sponsor.
The experience has been personally healing for Bennett, whose mother passed away in 2016. She refers to three virtues she has been working on, guided by her yoga teacher: sympathy, empathy and compassion. Sympathy, she says, is recognizing someone's pain or sadness; empathy is feeling oneself in that person's shoes; compassion means action.
The Nursing Home Card Project is Rachel and Sedona's way of taking action.
"It feels so good to not feel helpless," says Bennett. "When you watch someone be sick and be taken care of by other people because you don't have the means, that is a very hard thing to even accept. It's a horrible way to feel."
Bennett says it's easy for healthy people to take their freedom for granted, while residents of nursing homes have diminished personal autonomy. "They rely 100 percent on the kindness and the good grace of those around them. I can't tell you how many people have no one. There's nothing in the room except a TV and medical equipment," she says.
That's why, she says, it is so important to send a card, no matter how small it may seem.
"I think we sometimes underestimate small acts of kindness. A little flame can become a big fire if we're steady. We all need to be surrounded by beauty," she says.
As for Sedona, she has been delighted to help with the project and to brighten residents' days with her creativity.
"It makes me feel good about myself because I can feel their happiness. I sometimes imagine them opening the cards and seeing a small smile appearing on their faces, making them feel loved," she says.
"Sedona is the most empathetic, gentle, sweet girl and she feels the world very deeply," Bennett says. "We're very proud of how kind she is."
Sedona exudes kindness wherever she goes; the guidance counselor at her school asked Sedona to help a little girl in her class, knowing how empathetic she is to her classmates. A lover of animals, Sedona attended horse camp this past summer, and received the Best Hands award, indicating she was the most caring toward the horses.
Bennett says that she, Sedona, and Rich love the local community. They donate to St. Mary's Church every year, and have been visiting Fernbrook Farms on Georgetown Road since Sedona was a baby.
Bennett says that she loves to visit T-Bone the cow, pet the other animals there and pick fresh fruits and vegetables with her father and Rachel.
Rich Orlow is an Emmy-nominated voice actor who has worked in theater, film and television. He grew up in the Philadelphia area. Rachel, an actor and yoga teacher, was born and raised in New Hampshire, and later moved to Glens Falls, New York before settling in Bordentown.
To get involved with the Nursing Home Card project, visit caringbycard.com, send an email to caringbycard@gmail.com, or check out the social media pages (Instagram: @NursingHomeCardProject; Facebook: @CaringByCard).