As the losses accumulated for the Bordentown High field hockey team, it would have been easy for Lily Mount to lose her enthusiasm. She was a senior in her final year of playing the sport and, as the Scotties were losing their final nine games to finish 2-16-1, she could have cashed it in and gone through the motions.
But she didn't.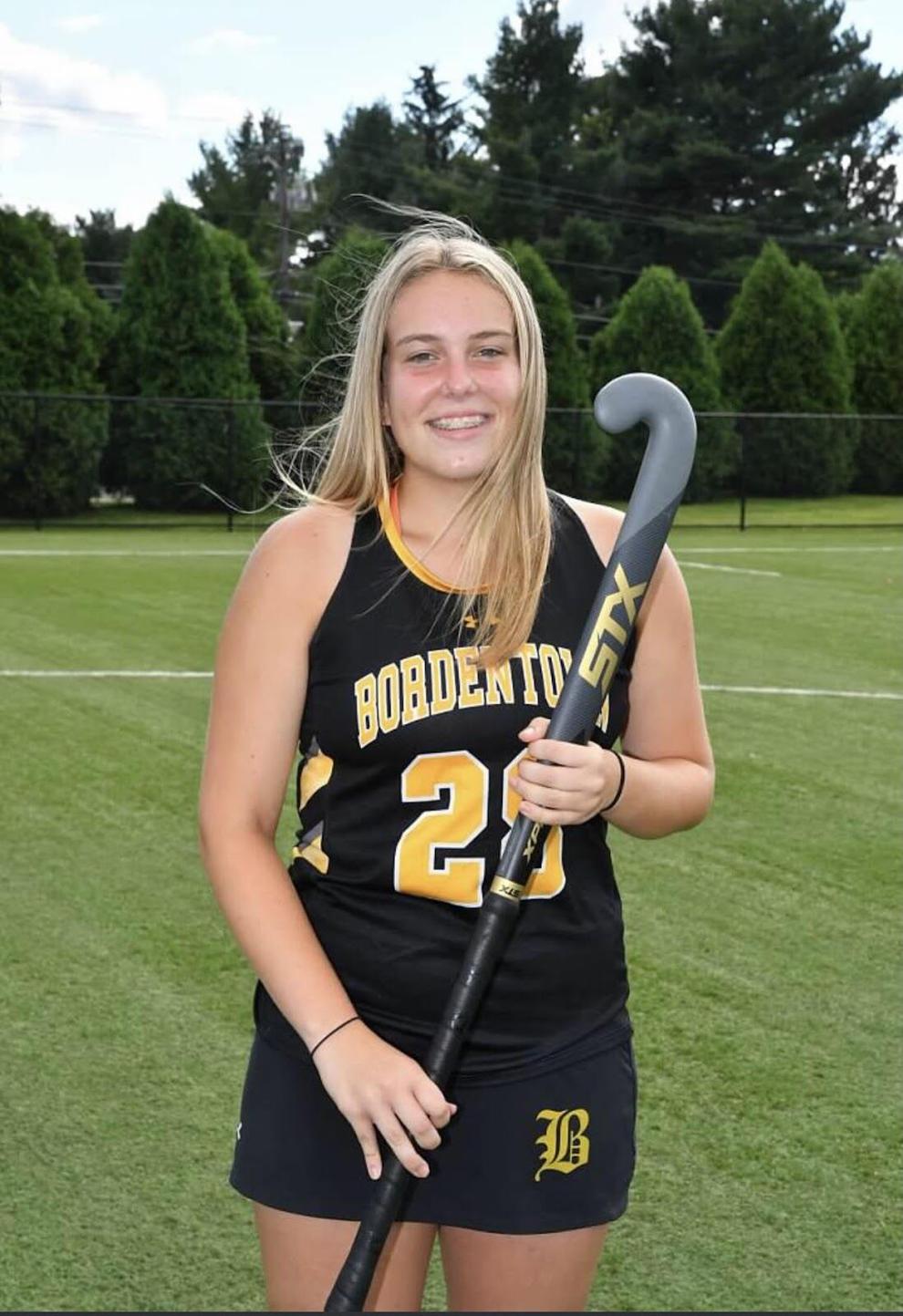 "She was never one that got down on herself or our team," coach Amy Fisicaro said. "She always wanted to get better and improve every day. That was really nice, especially for the younger kids to see. I had a really good group of seniors in that respect."
Mount felt that as a captain, she was responsible to set the tone, no matter what the circumstances. But she was quick to note that the entire squad made sure no one gave up on each other.
"Only winning two games was quite challenging," she said. "But I think as a team our focus kept us going. After every game, we talked about what we could improve upon and then we all agreed to go out there and try our best. I think the confidence my teammates and I had in each other, whether the result ended in our favor or not, kept us going. Our coaches also pushed us to try our best and give everything we could give in each and every game."
Giving her best was something Mount has done since making varsity for the first time as a junior. As a center back, it was her job to stop the other team's offensive threat. It was something she did with a great zeal, but not in a flashy way.
"It's not heroics," Fisicaro said. "She's not diving for the ball, she's just always in the right spot and the right moment. Lily is one of those people that never looks for the recognition, she just goes out and works hard every day and does the best for our team.
"She would never be one that would stand out necessarily on the field. She's not a flashy player, but she turns heads because she comes up with these huge stops just by being consistent in her play."
Much like a goalie, a defender can make things easier for themselves by understanding the situation and, as Fisicaro pointed out, being in the right place when it matters most. That mental capacity is as important as physical attributes at times.
"I'd like to think I read the game well and have good field vision," she said. "I try to pick out things that forwards or mids do in practice that I can capitalize on and then transfer that into my game."
Lily has gone from watching and learning as a JV performer, to taking action and directing the flow on varsity.
"I think the key to being a good defender is using your voice and leading the team," she said. "In the back, you can see the field and I think it's my job to get loud and lead everyone in whatever way I can. I also think to be a good defender you have to be patient and know when to make your tackles."
Mount has come a long way from when she first started the sport in seventh grade, and there's no doubt who got her involved."
"A big shout-out to Jenna Gray and her family for encouraging me to try," Mount said. "I haven't looked back since."
But Mount saw confusion everywhere she looked when she first started. Which is fairly common for first-year hockey players.
"I didn't know any of the rules when starting," she said. "I remember it would hit my feet all the time and I'd be so confused why they kept blowing the whistle. It definitely took a little while for me to understand some of the rules and, to be honest, I still don't know all of them."
That has not stopped her from ruling her area on the field, thanks to a strong desire to get better. Mount did not sulk when she played JV games her first two years at Bordentown (despite being on the varsity team as a sophomore). Instead, she used that opportunity to learn.
"She's definitely a student of the game," Fisicaro said. "She came in as a junior and we had to rely on her. She stepped up big and we needed her back here all the time. She's reliable. But she spent those first two years as a freshman and sophomore really watching and learning from those who came before her. She worked toward bettering her skills and bettering her play."
Mount said her only frustration during those first years were with herself for not being able to play varsity. But, as the old saying goes, she made lemonade out of lemons.
"I learned a lot those years from watching the older girls on the team," she said. "I tried to mimic their style of play and look to improve areas of weakness in my game. It was a big wake-up call. I realized then that I needed to work on my fitness and develop my skills. I knew I had to put in work during the off-season to play on varsity so it was somewhat of a motivation factor for me."
Mount's emergence came just in time. The Scotties had graduated a slew of defenders after her sophomore year, and Fisicaro needed some new girls to step up. The coach was impressed at how well Lily worked on her fitness and noted "that helped improve her play as well."
While most players would prefer to be goal scorers and get their names in the headlines, Mount enjoys the dirty work of playing in the back end of the field.
"I love playing defense because I think it's what keeps the momentum up in a game," she said. "When we play good defense, it generates good offense and it's what can win you a game in the end. I love playing in the back because I'm surrounded by other great defenders and goalies. I like to try and make the players on the other team frustrated and get into the gritty plays in a game."
What's interesting is how un-gritty she is off the field. Fisicaro praises her friendly disposition and the way she takes the younger players under her wing while pumping up her older teammates. But the coach warned that no one should be fooled by that once the game starts.
"She's definitely not a pushover," Fisicaro said. "If you would talk to her one on one, she would never give that impression. But she does not back down from a challenge. She likes going up against tough players on the offense and takes pride in getting the ball away from them or off the stick and denying them."
And yet, when she lays down the stick and enters the real world, Mount is all about helping people and getting good grades. A member of the National Honors Society, Lily takes part in Bordentown's Math Club, Health Occupations Students of America Club and Red Cross Club.
She plans on going to college and hopes to be accepted by Temple University.
"I'm not completely sure on a major yet," she said, "but I am leaning towards something in the public health field."
As she proved while playing with the Scotties, there's nothing healthier than having Lily Mount on your side.