They don't call us the Garden State for nothing.
Groups all across the region are planning outdoor garden tours to mark the transition from spring to summer. Here's your guide to flowers, flora and greenery, throughout Burlington and Mercer counties.
Roebling
The Roebling Museum's annual Garden Tour is back. The town, famous for building some of the country's most iconic bridges, will celebrate warm weather and bright blooms June 5 from 10 a.m. to 3 p.m.
"When the Roebling steel plant was open and homes in the company town were owned by the company, many of the workers and their families grew gardens with flowers as well as food," says Lynne Calamia, Roebling Museum executive director.
The Roebling Company itself often sponsored competitions to encourage residents to tend their gardens and keep their properties looking put-together.
"Continuing this tradition with our Garden Tour builds pride in our community and gives residents a chance to show off their green thumbs," Calamia said.
The Roebling Museum tells the story of the origins and growth of Roebling, a company town built in 1905 by the Roebling Company. The village of Roebling, including 700 homes, is a historic district listed on the National Register of Historic Places, and every one of its buildings has a story to tell. Exhibits, tours, and programs document the majority immigrant workforce that built the iconic suspension bridges of the American industrial age.
The tour will start at the Roebling Museum, located at 100 Second Ave. After checking in, participants will receive a map of locations included on the route, plus some added historic highlights. The tour is appropriate for walking, driving or biking, and a guided tour is also set for 1 p.m.
Tickets cost $15. Proceeds support the museum. Register at roeblingmuseum.org, in person on the day of the tour or by calling (609) 499-7200.
Trenton
The Old Mill Hill Society, in collaboration with residents of the historic neighborhood, will host its 30th annual Garden Tour June 12 from noon to 5 p.m., rain or shine.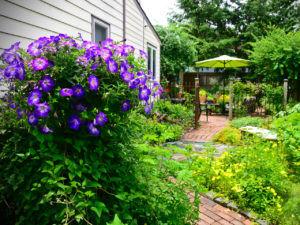 The neighborhood, composed primarily of 19th century row houses, will welcome guests in-person to the self-guided walking tour through 15 gardens—attendees will see the intersection of nature and city living, coupled with residents' personal style.
Settled in 1679, Mill Hill is one of the oldest neighborhoods in Trenton and the site of both battles of Trenton in 1776, where George Washington defeated the British Army and turned the tides of the Revolutionary War. Annual re-enactments take place in Mill Hill Park. The neighborhood of Mill Hill was added to the National Register of Historic Places in 1977.
"Following last year's virtual house tour, the Mill Hill neighborhood looks forward to once again welcoming new and returning guests," said event co-chair Amanda Chevalier. "We can't wait to reconnect with visitors, share our welcoming and diverse community, and return to the annual tradition that hundreds look forward to each year."
COVID-19 safety protocols will be in place, including capacity limitations and advanced timed ticketing. Masks will be required at check-in, while visiting gardens and whenever physical distancing is not possible.
Tours will start at Artworks on Stockton Street, where guests will also be able to park. Tickets are $20 and can be purchased online at trentonmillhill.org/events. Funds raised will support historic preservation in the neighborhood. More information can also be found on Facebook at facebook.com/millhilltours and on Instagram
@millhillhouseandgardentours.
Bordentown
The Bordentown Historical Society will host its annual History in Bloom Garden Tour June 26 from noon to 5 p.m. Guests will take themselves on self-guided tours of Bordentown City's gardens, parks and historical sites. The society says this year will be its biggest ever—20 gardens will be open to visitors.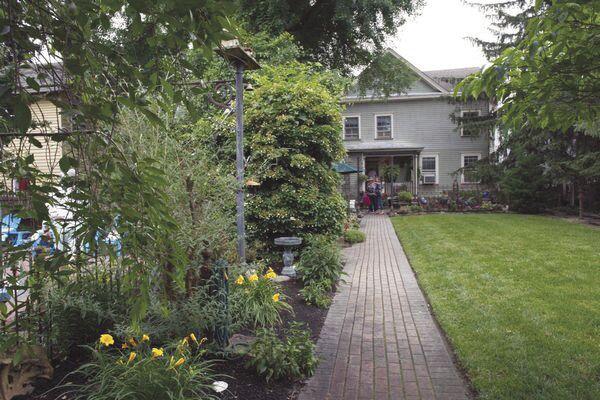 In addition to the tour, plein air artists will be painting landscapes at some of the locations. A landscape architect—with expertise in trees and plants native to New Jersey—will also be stationed at the 4 E. Chestnut St. garden from 2 p.m. to 4 p.m. to answer gardening questions. A children's art event will be held all day at Hilltop Park, and refreshments will be available at a number of locations. CDC guidelines regarding masks and social distancing will be followed.
Tickets are $20 for nonmembers, $18 for members and $10 for children 8 to 16 and can be purchased online at bordentownhistory.org. Tickets will also be available at the Bordentown City Green Fair, Bordentown City Farmers Market, Shoppe 202 and on the day of the tour starting at 10 a.m. at the Friends Meetinghouse, 302 Farnsworth Ave.
Shuttle service will be available from the Carslake Community Center parking lot and at a number of stops throughout the city.
Hopewell
The Hopewell Public Library will host its Hidden Gardens of Hopewell tour June 26 from 10 a.m. to 3 p.m., rain or shine.
Tour highlights include an 11-acre farm, a one-acre garden made up exclusively of native plants and residential gardens—guests will be able to visit five gardens and three rain gardens in all.
The tour is self-guided and can begin at any of the following locations: Kraaihof at 105 West Prospect St., featuring exotic trees, a moss garden, perennials, bulbs and native plants; 115 West Broad St., where perennials, veggies and fruits crop up; 1 Eaton Ct., which draws influence from the English gardens of Hidcote and Sissinghurst, where "outdoor rooms" are prominent; Flutter By Meadows on 9 Ringoes Mill Dr., Skinny Trees Farm at 41 Aunt Molly Rd.; and the three rain gardens at 65, 84 and 86 E. Broad St.
Tickets are $25 in advance and $30 on the day of the tour and can be purchased online at redlibrary.org.