It is just over a century since the dawn of the Roaring Twenties, a decade known for jazz, flappers, bourbon, and of course, speakeasies.
In 2021, it feels fitting to pay tribute to the culture of the 100-year-old decade, and I got to do just that through food, drink, and entertainment when I visited Farns & Rail, a secret upstairs compartment of Old Town Pub (formerly The Farnsworth House) on historic Farnsworth Avenue in Bordentown.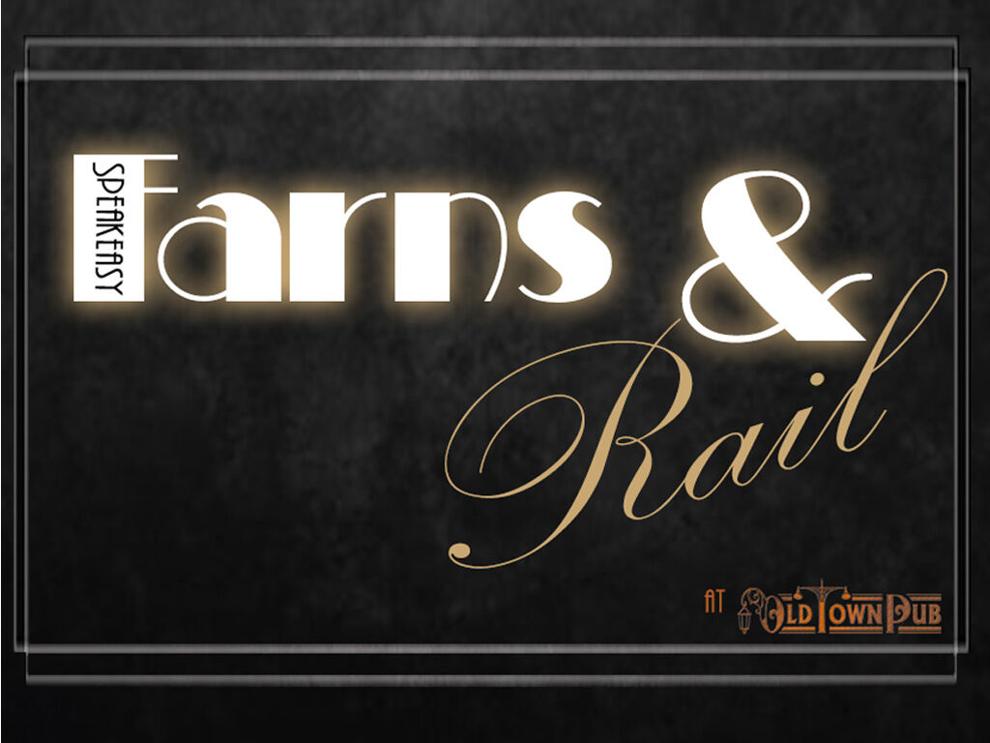 The pub's location is fitting for a restaurant with a vintage theme; walking through historic downtown Bordentown, lined with colonial architecture, is reminiscent of taking a step backward into the past.
Owner Michael Scharibone, who is from Hamilton Township, says he was "born and raised in the restaurant industry." He started at Jojo's Tavern, his family's restaurant, when he was 18, and worked there until opening Old Town Pub in 2017.
Since before the COVID-19 pandemic began, Scharibone, bar manager and events coordinator Lexi Collins, and Joe Chianese, another manager at Old Town Pub, had been entertaining an idea to do something unique, creative, and exciting with the room above their restaurant. When they closed during the quarantine, they suddenly found themselves with enough time to bring their dream to life.
It was Scharibone who originally wanted to create a speakeasy. He likes the atmosphere of these vintage-style venues, where "food and drinks are the focal point." There are no televisions to distract patrons from each other's company — just good music and conversation. Scharibone has enjoyed visiting old bars and speakeasies in cities, but says he hasn't seen many in New Jersey.
Once the trio settled on the speakeasy theme, Colline ran with the concept, designing the entire cocktail menu and coordinating the decor alongside Chianese and Scharibone. Collins, who started working for Old Town Pub in September of 2019, became a manager after the restaurant reopened after the quarantine. Aside from the regular drink menu, Farns & Rail offers a secret selection of drinks for customers who are not quite sure what they want, or who want to try something different. "Someone might say, 'I want something with gin, but I don't know what,'" Collins says. "We help people create their own experience."
In addition to a cocktail menu with 14 drinks with names like Ruby Lady, Bees Knees, and Dr. Mike's Medicine, as well as beer and wine, Farns & Rail serves a variety of small plates, curated by Scharibone and chef Harry Hewitt. Crab Cake, Mahi Tacos, and Jersey Salad are just a few of the available options.
Farns & Rail is not open every day, or even every weekend; it is a reservation-only event that is announced in advance. It launched on Wednesday, July 14, and was a roaring success, bustling with vendors and liquor distributors who offered constructive criticism so the team could perfect their brand.
On Saturday, August 14, I had the opportunity to experience the mysterious Farns & Rail above Old Town Pub. My guest and I arrived at 7:30 p.m., dressed in casually elegant attire. We were given a password ahead of time (ours was "Texas Malone") to provide upon entry, and were led through a door — which neither of us had noticed before it opened — upstairs to a dark and atmospheric room filled with music and the clinking of cocktail glasses. The bartenders, servers, and patrons were all dressed to the nines, many of them in sparkling cocktail dresses or suspenders and bowties evoking the 1920s flapper and her male counterpart. Prohibition-era prints and images lined the walls.
Our server, Olivia, seated us at a booth and offered food and drink menus, recommending the Surf and Turf, Eggplant Stack, and Short Rib Ravioli, which we gladly ordered. Drinkwise, my guest, Pennington resident Alyssa Sanford, ordered the F. Scott Fizzgerald, comprising Gray Whale Gin, Spiced Pear Liqueur, and club soda, which she called "perfectly balanced." I requested the Lavender Lemonade, a drink off the secret menu containing edible glitter and Empress gin, which is purple in color. The food and drinks, Scharibone says, are subject to change.
Alyssa and I enjoyed the music — a live singer playing the guitar — and admired the table decor — a bourbon bottle filled with water for the table, and glass jars filled with candles, flowers, and fairy lights — while we waited for our refreshments. Olivia brought out popcorn in a cardboard basket that looked like it was made of newsprint.
The small plates were delicious; the Eggplant Stack, eggplant with tomato and fresh mozzarella and a touch of pesto, was creatively presented, as was the Short Rib Ravioli, a large dumpling topped with short rib and shitake mushrooms in a mushroom demi glaze. The Surf and Turf, made of filet medallions, scallops, and shrimp served with compound butter and spinach, was larger than expected, and all three dishes were suitable for sharing between two people. We also had the opportunity to try the Lobster Fettuccine, a generous serving of sundried tomato pasta topped with lobster tail, served with a blush lobster sauce; this was definitely my favorite, though Alyssa is torn between the Eggplant Stack and the Short Rib Ravioli.
After we cleared our plates and drained our glasses, it was time for dessert: the Cupcakes Trio, which included a red velvet, pina colada, and espresso brownie cupcake, each topped with icing and various sweet morsels.
When our evening at Farns & Rail came to an end, we were sorry to leave the upstairs room, with its flickering candlelight, soft murmur of guitar and muted conversation, and nostalgic ambience. It was like stepping directly out of a bygone era and back into reality.
"I just loved the exclusive nature of it, dropping a password and being escorted to a private staircase off the main dining room," Alyssa says. "It just added an element of adventure that I've been missing from dining out during the pandemic."
For more information on Farns & Rail and how to make a reservation, please visit Old Town Pub's website or @farnsandrail on Instagram.
Old Town Pub, 135 Farnsworth Avenue, Bordentown. 609-291-9232. oldtown.pub.