Brenna Jobes may be the unofficial cheerleader of Bordentown.
Jobes grew up in Bordentown, Allentown and Hamilton. She now resides in Bordentown and knows a lot of people and they know her.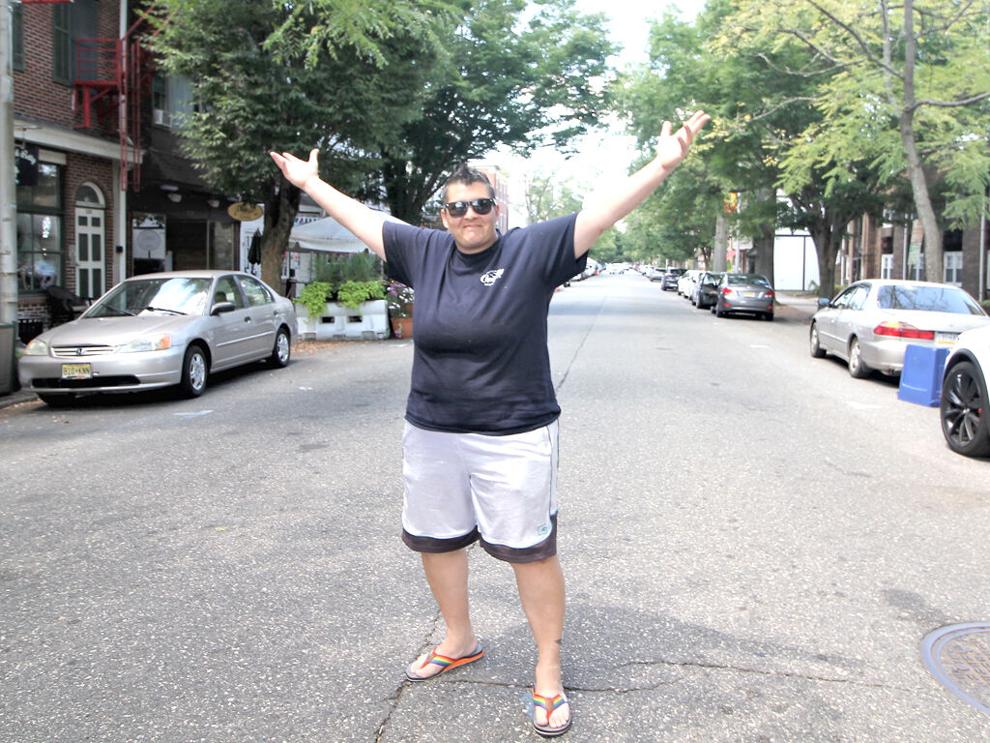 Jobes has deep roots in Bordentown, with both sets of grandparents living in the one-square-mile city. Her grandfather met his bride in Japan after World War II, and they both returned to Bordentown.
Her grandmother learned the language, became a citizen and worked at the city's largest employer, Ocean Spray, for 30 years. Her grandmother was also a very large influence on Jobes in many areas.
Today, Jobes works at the Heart of Bordentown Tavern, also known as the HOB, and has for the past 10 years. She cooks at the HOB, but loves to come out and say hello to the patrons.
"I love working at the HOB." says Jobes, "It is where all the locals go. I used to frequent the tavern, it was a friendly place with always someone to talk to. After a while, the owner Mary Barnes, asked me if I would like to work there. I began cooking at the HOB soon after."
"My Japanese grandmother taught me how to cook, as I was always hanging around in her kitchen. She learned how to cook American style from the old school Betty Crocker cookbooks that were so popular during that time. I still love that style of simple foods, comfort foods."
"My grandmother became a U.S. citizen when she was in her sixties. She didn't have to, but because she appreciated this country, it was very important to her."
Jobes' family moved to Allentown when she was in middle school. She remembers times when kids saw her mom, who is half Japanese, and they poked fun and threatened to throw eggs at their house. Young Brenna told the kids that that was her mom, and asked them, "Why would you want to harm someone who looks different than you?"
Her eyes soften when telling this specific experience, and Jobes said that the situation really formed her and caused her to really respect others and encourage others to do the same.
This spirit carries through today. Jobes is living her life out loud and is a founder of the Bordentown Pride Parade, now in its second year. This year's event drew a reported 300 participants and was a family-friendly success.
Growing up playing sports, especially soccer, was a good way to get to know many people in the surrounding areas. Attending high school at Notre Dame in Lawrence, then finishing her final two high school years and graduating from Steinert High School in Hamilton, Jobes was always outgoing but caring.
"My Japanese grandmother taught me a lot about tolerating people, especially people who may be a little different. I learned a lot from her. She also sent me to school with sushi for lunch! In the eighties, sushi was still quite unknown in these parts," she says.
Being personable has also helped Jobes in another area of her life. She is a reporter of area news, mostly in Bordentown and mostly on social media. Jobes is a co-administrator of the Bordentown City Facebook page, which has more the 10,000 followers. That is impressive, as the city itself has approximately 4,000 residents.
Her real resident-facing page is Btown Live: News with Brenna, which is on Instagram. She describes this blog as "News and happenings around Bordentown City, Township and Jersey with a touch of humor. Just keeping it positive, happy and real" with the "news" being hyperlocal Bordentown happenings.
It all started when a small fire in downtown Bordentown, had people texting Brenna and asking her what was going on.
"I lived downtown, and people are curious. So I got a multitude of texts asking for the scoop. I responded to all when someone said you may need to do a news blog."
"That was in the summer of 2019, so I started the Btown Live News page." Posting at least a few times a day with comic memes and Bordentown news, the Instagram page has more than 1000 followers. "I am a huge admirer and consumer of memes," says Jobes.
She also does live reports about what is going on in Bordentown. "I like to spread positivity, information and peace," she says. "I focus on the positive. Social media can turn so negative with the keyboard warriors and complainers. I wish the Btown News to be all positive and a place where people can have a smile or a laugh."
While Jobes is quick to poke fun at herself, she also provides useful information to the town's people. She gives shout outs to the municipal workers, police, fire and first responders. She provided insight into the candidates' positions for the last election cycle.
"Some people thanked me for getting and sharing the candidates' positions. They say they voted with more knowledge of the candidates."
Community clean up days, suicide prevention hotlines, pet safety, pride events, town concerts, and nonprofit fundraisers and more are all shared on Jobes' news channel.
She is also a huge cheerleader for the police and local government. Jobes lauds the police support for the Pride Parade this year and last.
"Both township and city cops were so supportive that day. That's one important thing I wanted to say. So many people said how safe they made us all feel. Our city government was also so supportive. There were a handful, I think six, white supremacists in masks and camouflage, protesting the Pride Parade this year. They were basically drowned out by the parade supporters. They were also drummed out by participating musicians, so the kids wouldn't have to hear their hateful rantings.
"I feel that Bordentown is on par with Lambertville and New Hope in terms of acceptance, inclusion and diversity awareness. It has always been this way. A small town trying to get along and everyone trying to collaborate."
Upcoming events that Jobes is spearheading are a Community Clean Up Day and the second annual Lanternfly Murder Pub Crawl, scheduled for Sept. 18. Last year the tongue in cheek but environmentally aware event, drew around 80 Bordentown City residents who participated in the friendly competition of going around the city to kill as many lanternflies as they could for prizes donated by local businesses.
Every other minute of this interview she is touting a business in Bordentown, saying how much they contribute to the town.
"I like to post and report on the small businesses. They are the backbone of the town. I live over one of Bordentown's many fabulous restaurants. I live right downtown, and this is my spy perch. I see what goes on. I love to report on the small businesses and what they are doing. They need it. They worked so hard during the pandemic to keep things going. Bordentown has the small town vibe that everybody is searching for. People come to the restaurants, or shopping, the street fairs, Halloween parades and other events. They see how nice it is, and they wish to be a part of it," she says.
One new business owner cannot say enough about Brenna Jobes and the positivity she brings. Steven Fonseca of Turtle Beans Coffee Roasters on Farnsworth Avenue appreciates the work Jobes does to boost the town.
"She is amazing,' Fonseca says. "She is the most selfless person you will meet. She is not religious or political. She just wants to help people succeed and for Bordentown to be happy and thriving. She encouraged us to open a storefront, and even helped us find our current location. Brenna is terrific. "
Jobes says that since she has been interviewing people, she has learned much that she never knew. "I have learned that people like to get involved and to help each other. I have many followers from outside of Bordentown City. I hope they feel the same way that I do. That getting involved can bring a smile and make a difference," she says.