In an atmosphere rife with misinformation and political divisiveness, confusing messages have spawned concerns about mail-in voting—a process that has proven safe and secure in the several states where it is now the norm.
The western states of Utah, Arizona, Montana, Nevada, Oregon, Washington, Hawaii and Colorado have for years conducted their elections entirely or mostly by mail-in ballot. New Jersey will join them for this year, after Gov. Phil Murphy issued Executive Order No. 177, mandating all active registered New Jersey voters receive a mail-in ballot with prepaid return postage for the Nov. 3 general election. In Mercer County, ballots began to be mailed to voters in the last week of September.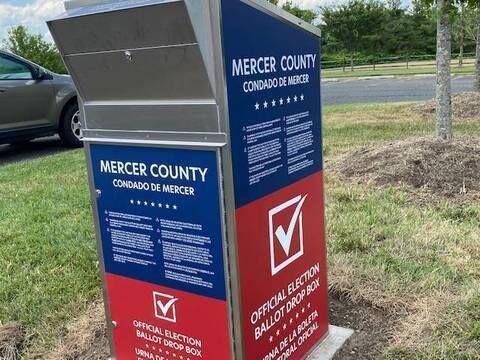 This switch has not sat well with some, and disinformation about the process and safety of vote-at-home elections started to spread as a result. One piece of disinformation—one that could land voters in jail—came from President Donald Trump, who suggested to North Carolina citizens Sept. 2 that they vote twice, once by mail and once at the polls, to test the security of the system. Anyone who follows the president's suggestion would be committing voter fraud, a third-degree crime that could lead to a felony conviction.
Mercer County Executive Brian M. Hughes, in a September 18 email, called Trump's suggestion "absurd." In the same email, Hughes offered reassurances about the safety of voting by mail.
"Don't be distracted by baseless claims that seek to undermine the voting process," he wrote. "Studies have shown that voting fraud in the United States is extremely rare, and states where voting now is done almost entirely by mail are said to report very little fraud."
In fact, New Jersey compares signatures on mail-in ballots to those on file in the Statewide Voter Registration System. The Board of Elections also has processes in place to flag ballots for voters who are not registered, have passed away or do not live in the county or state.
"So we can set those aside for investigation and if need be rejection," Board of Elections chairman Anthony Francioso, a Republican, wrote in an email.
Mercer County clerk Paula Sollami Covello, who is responsible for issuing vote-by-mail ballots in the county, said there has never been an incidence of fraud in Mercer County involving vote-by-mail. In fact, the number of voters who wish to permanently vote by mail has grown "markedly" in recent years, Sollami Covello said.
Voting fraud is exceedingly rare in the United States, whether for mail-in ballots or otherwise. Conservative think tank Heritage Foundation, which maintains a database of fraudulent voting incidences, found 204 cases of fraudulent use of mail ballots among the 250 million votes cast by-mail ballot nationally. Of these, 143 resulted in criminal convictions.
Overall, there were 1,200 cases of voter fraud, or 0.000006 percent of total votes cast. It equals about one case per state every six or seven years. According to the database, New Jersey has seen 16 instances of voter fraud since 2003, with nine criminal convictions.
Another piece of disinformation used to denigrate voting by mail comes again from the president, who claimed in April that if the United States switched to all-mail voting "you'd never have a Republican elected in this country again." In an Aug. 26 article in "Science" magazine, Warren Cornwall reported on two independent studies that refute this claim. The studies found no statistically significant difference in voting levels by Democrats versus Republicans in states that had switched to mail-in ballots.
National Vote At Home Institute national policy director Audrey Kline works with election officials to optimize administrative processes and laws for both mail and in-person voting. She's noticed a cultural divide between the eastern and western United States, where mail-in ballots have been far more common than in the East, more so than a partisan one when it comes to mail-in ballots.
"We have some very staunch Republican supporters," Kline said. "A lot of them are the election officials themselves; they are public servants; they are doing the Lord's work; and they're just trying to make it easier for people to vote."
She cited in particular Kim Wyman, a Republican and Washington's Secretary of State as someone who "loves preaching the mail ballot gospel."
* * *
If voting by mail feels overwhelming, be reassured that all you have to do is complete the ballot by carefully following instructions and then choosing one of several ways to ensure its arrival at the Board of Elections.
Below is a guide to voting in Mercer County in the Nov. 3 election, where we explain the process, as well as providing details on how to register or update your registration and how to check online to ensure your ballot has arrived.
Who can vote?
To vote, you must be a U.S. citizen, 18 years old on election day, and a resident of Mercer County for 30 days before the election. New Jersey citizens on parole and probation may register and vote in all elections, although currently incarcerated individuals may not.
Make sure you are registered
Voters in the Nov. 3 election must be registered by October 13, 2020. Active, registered voters began receiving mail-in ballots the week of Sept. 28.
But what if you are not an active voter? "Inactive voters"—those for whom official election mail was returned to election officials or those who have not voted in two consecutive federal elections—are still considered registered. If you do not receive a ballot, contact the Mercer County Clerk's office at vote@mercercounty.org or by phone at (609) 989-6465. Alternatively, complete a provisional (paper) ballot at your polling place on Election Day.
To register to vote (or to submit a name change, an address change, a signature update, or a change in political party affiliation or non-affiliation), you must either complete a paper voter registration application and return it to the Superintendent of Elections, 640 S. Broad Street, PO Box 8068, Trenton, NJ 08650, or register online at voter.svrs.nj.gov/register, where you can click on "Register to Vote!" to access both of these options.
Sollami Covello is also advising residents to update or verify their voter registration information with a current physical address. If a voter will be away between late September and Election Day, please apply to vote by mail ahead of time, noting the special temporary mailing address required.
Complete your ballot carefully and on time
Along with your mail-in ballot, you will also find an outer envelope with prepaid postage that will allow delivery to the Mercer County Board of Elections and an inner envelope with a detachable flap (do not detach this flap but be sure to sign it; election officials will detach it later as part of the secure counting process). After you complete your ballot and sign the flap, you will place your completed ballot inside the envelope that has the flap; the last step will be to insert the entire inner envelope inside the outer envelope.
Make sure to use only blue or black ink when filling in the circles by the candidates of your choice—because the computer scanner that reads the ballots and tabulates the votes will only read blue or black ink; it does not read red ink or pencil.
Submit your ballot or vote in-person
After completing your ballot, you have four options for submitting it:
(1) Mail it via the U.S. Postal Service; check mail pick-up times on the post-office box where you submit your ballot, which must be postmarked by Election Day, Nov. 3, to be counted; however, the ballot will be counted as long as it is received by Nov. 10.
(2) Drop it in a secured drop box (monitored 24/7 by camera) by 8 p.m. on Nov. 3 at one of 15 Mercer County locations. A complete list of drop box locations appears at the end of this article.
Given recent issues in the news about the U.S. Postal Service, Kline says, "Drop boxes are a really important option because it gives people a little bit of an extra option but also they get that confidence level a little higher."
(3) Hand-deliver your ballot to the Mercer County Board of Elections at 640 South Broad Street in Trenton. This option will not be available initially, but Francioso said the board will accept in-person drop offs at their office closer to Election Day.
(4) Hand-deliver your ballot at your polling place on Election Day. The Board of Elections will mail residents the location of their polling place via postcard at least one week prior to the election; each municipality will have at least one polling place open on Election Day.
If none of these four options do not work for you, you may go to your polling place on Nov. 3 and complete a provisional (paper) ballet between 6 a.m. and 8 p.m. Provisional ballots will be checked against the records of mail-in ballots to ensure that people do not vote twice.
Ewing councilwoman Jennifer Keyes-Maloney said there is a need for matching signatures—both because of potential fraud but also because double voting may be unintended.
"My father had Alzheimer's," she said. "I could see him filling out vote-by-mail and then he knows he needs to vote on Election Day and goes to [his polling place]," she said.
If you're voting in person, check to make sure where your polling place will be; there will be fewer polling places this election, Keyes-Maloney says, both because the election is mostly by-mail and because poll workers, who are often seniors, have been harder to come during the pandemic.
If you have a documented audio or visual impairment, voting machines will be available as an accommodation under the The Americans With Disabilities Act.
What if your signature has changed over time?
Mercer County Clerk Paula Sollami Covello recommends that New Jersey voters make sure the signature they registered with looks the same as the one they use today—noting in particular elderly people, those with Parkinson's disease or even people who registered at age 18 and are now 35. If you are concerned that your signature has changed over time, you need to update your signature on file by submitting a voter registration application and checking "signature update" on top of the application.
If your ballot signature does not appear to match the one on file, the Board of Elections will inform you of this by mail and give you a chance to correct your signature—but you must complete and return their letter within the permitted time frame.
Track your ballot online
If you are worried that somehow your ballot might get lost either in the postal system or in a drop box, you can ascertain online whether your ballot has arrived where it belongs. But this requires a little advanced preparation.
Before you can register for the Public Access, where you can check to ensure that your ballot has been received and recorded, you will need your Voter ID number if you registered before 2005 or you will need either your driver's license number or social security number if you registered after 2005.
To get your Voter ID number, contact Catherine DiCostanzo at (609) 989-6750 or cdicostanzo@mercercounty.org.
To actually register for the Public Access system, go to voter.svrs.nj.gov/auth/sign-up, where you will need to provide your name, date of birth, as well as the ID number appropriate for you. The system will also allow you to see your election history, mail-in ballot history, and provisional ballot history, as well as information about your polling place, upcoming election dates, voting district information, and county election officials.
Counting the votes
The Board of Elections and an outside vendor supervise the scanning of ballots, according to Francioso. The board asserts that "the scanning system is a secure and private system."
First, the Board of Elections ensures that your signature on the flap of the inner envelope matches the signature contained within the Statewide Voter Registration System. Only then is the flap detached, saved and archived, and your vetted ballot is placed with other ballots, grouped by municipality. This ensures that your vote will remain anonymous.
The mail-in voting process still has the potential for problems, although New Jersey has taken steps to avert these. Princeton University computer science professor Andrew Appel, an election security expert, has explored the vote-by-mail process and what might go wrong in three posts on the Freedom to Tinker website, hosted by Princeton University's Center for Technology Policy.
New Jersey, which is facing its first general election using largely vote-by-mail ballots, has had to adjust its laws, Appel writes, to allow processing of the envelopes in the weeks before Nov. 3. This is critically important to ensure that all ballots are counted safely and on-time. States facing large numbers of mail-in ballots, Appel writes, "can't process all the ballot envelopes on November 3rd—it's just too labor intensive."
This early processing of ballots allows some ballot problems to be fixed; for example, if the signature on the envelope flap does not match the signature on file, the voter can be contacted and allowed to fix the ballot.
At a time when postal service has been unusually slow, New Jersey will be counting mail-in ballots that arrive by Nov. 10, as long as they are postmarked by Nov. 3. States that do not accept ballots that arrive after Election Day—even if they are postmarked by Election Day—"may disenfranchise many voters," Appel writes. On the other hand, he adds, states like New Jersey that do count ballots as long as they arrive before a preset date may face a different type of problem if the late-arriving ballots shift the election to a different candidate.
These are issues states will have to work through, as Kline suggests that mail-in voting may be the way of the future. In West Coast states, which have used mail-in ballots more, Kline says, "People like it. It is seen as a convenient option. It's seen as good government."
Once a state shifts to 60-70% usage of mail-in ballots, it becomes more effective to proactively mail ballots to all voters, Kline said. Both Montana, where any registered voter may vote by absentee ballot, and Arizona, where any registered voter may make a one-time request to get a ballot by mail for all future elections, reached this level of mail-in voting before the pandemic.
In Nevada, election law states that any registered voter may request an absentee ballot for a particular election or may ask to receive an absentee ballot for all elections at which they are eligible to vote. Kline said she spoke with a member of the League of Women Voters in Nevada after the state had done a mostly vote-by-mail election for the first time, and while the state experienced "little hiccups," officials were generally pleased with the process.
New Jersey has been trending toward a mostly vote-by-mail election the past few years, even without the pandemic. New Jersey voters can get a ballot for any reason and can be put on the vote-by-mail list permanently. But the state isn't at the 60-70% participation level that experts like Kline look for yet.
"We were really, really excited to see New Jersey take the full step and just say, 'You know what? We think that we have enough information, we have secure enough processes that we are going to proactively mail ballots to everyone. And then create other options to handle any issues that come up from that,'" Kline said in June, before New Jersey's primary.
To further guard against fraud, Kline's organization is recommending risk-limiting audits for the state, statistical audits that were piloted in New Jersey in several county-level elections in 2019. The audits were piloted as one measure to force New Jersey to abandon its decades-old, paperless touchscreen voting machines in exchange for a voting process that included a more-secure method of voting and a paper trail. Election security experts, like Appel, have been raising the alarm about New Jersey's voting machines for 15 years now, and urging the state to move to a process that produces a paper trail and can be audited.
Thought it isn't what anyone envisioned when the year started, the state's vote-by-mail 2020 general election does just that: produces results with an auditable paper trail.
"Vote-by-mail is very secure," Kline said. "[Fraud] is just deeply, exceedingly rare. I heard somebody say from the Brennan Center…that you're more likely to get struck by lightning than to commit voting fraud."
List of ballot drop boxes for Mercer County
East Windsor Police Station – 80 One Mile Road, East Windsor
Ewing Municipal Building – 2 Jake Garzio Drive, Ewing, in front of the building, to open Oct. 5.
Hamilton Golf Center – 5 Justice Samuel A. Alito Way, Hamilton
Hamilton Municipal Building – 2090 Greenwood Ave., Hamilton, to open Oct. 5.
Nottingham Fire House – 200 Mercer St., Hamilton Square, to open Oct. 5.
Hightstown Fire House #1 – 140 N. Main St., Hightstown, to open Oct. 5.
Hopewell Township Administration Building – 201 Washington Crossing – Pennington Road, Titusville (at the intersection of Scotch Road).
Lawrence Municipal Building – 2207 Lawrenceville Road, Lawrence (right side of building), to open Oct. 5.
Princeton Municipal Building – 400 Witherspoon St., Princeton
Robbinsville Municipal Building – 2298 Route 33, Robbinsville, to open Oct. 5.
Mercer County Courthouse Annex – 209 S. Broad St., Trenton (in front of County Clerk's Office).
Trenton City Hall – 319 E State St., Trenton (in back, near Municipal Clerk's Office), to open Oct. 5.
Henry J. Austin Center – 321 N. Warren St., Trenton, to open Oct. 5.
Trenton Central High School – 400 Chambers St., Trenton, open Oct. 5.
West Windsor Municipal Building – 271 Clarksville Road, West Windsor, to open Oct. 5.