In 2015, the Ewing Observer profiled Michelle Hart, a lifelong township resident and then recent graduate of the creative writing program at Rutgers University.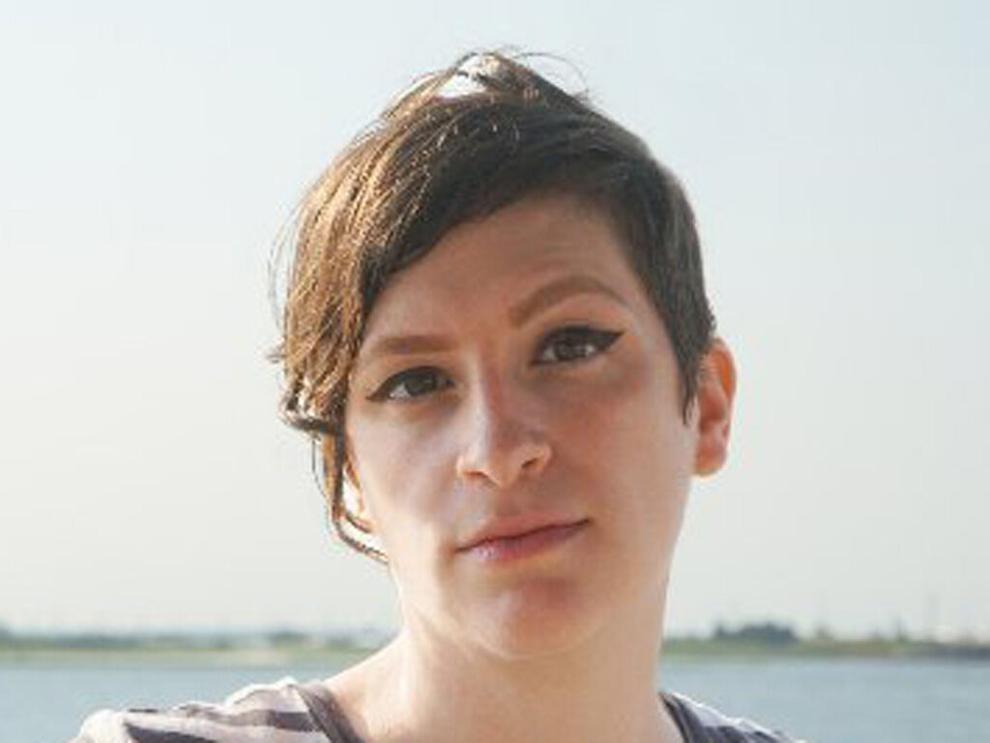 At the time, Hart was hard at work on a literary novel, a "fictional autobiography of sorts," that she had begun when she was an undergrad in college. Over these past seven years, she has continued to hone the novel, hoping to one day see it finished and in print.
On May 3, that dream will finally come true. We Do What We Do in the Dark will be published by Riverhead Books, an imprint of Penguin Random House.
The novel, which received a starred review from Publishers Weekly, tells the story of Mallory, a college freshman whose mother has recently died after a long and painful illness. The story begins as she starts an affair with a married woman, chronicling the effects—positive and negative—of this life-changing, power-unbalanced relationship, through Mallory's college years and beyond.
The tale takes many elements from Hart's life. Hart, like Mallory, is an only child who grew up in New Jersey and attended college on Long Island, at Hofstra University. The book's third chapter offers an intimate look at Mallory's life during and after her mother's death from cancer, while at the same time Mallory is processing her own queer identity. It is a fictionalized rendition of Hart's own experience.
But this is fiction, Hart says, and to help separate author and subject, she gave the story a limited third-person narrator point of view—as opposed to the first-person perspective commonly found in memoir.
"Mallory has many thoughts and experiences that I've never had," she says. "So it became vital to the writing of the book to give it that third-person distance."
Although it took Hart 10 years to write the story, We Do What We Do in the Dark is by no means all that she has been working on in that time. She has held a variety of jobs on the Greater New York literary scene, including working for The New Yorker as a fiction reader, and she spent four years as an assistant books editor at O, the Oprah Magazine. She has been an adjunct instructor for the Rutgers writing program.
But since last July, she has committed fully to the writer's life. After years of living in Manhattan, she has moved back home, purchasing a home in Ewing with her partner. Here she can be closer to her father, David A. Hart, who is also a published author. She is currently writing a second novel, this one set in Bucks County.
The Observer chatted with Hart last month about her novel, life as a writer, what it was like working for Oprah Winfrey, and what comes next in her career. The interview has been lightly edited for length and clarity.
Ewing Observer: You talked to the Observer in 2015 about an autobiographical novel that you were writing, and seven short years later it is in print. What does it feel like to have brought the book to fruition?
Michelle Hart: It's totally surreal. It's literally the same book that I was working on when I talked to you last (in 2015). I was just graduating from my M.F.A. program at Rutgers, and that's when the book started coming together in a serious way and I was talking to agents about it.
For a while after that, I was kind of languishing on the book. It was coming very very slowly, if at all. I started working at O, The Oprah Magazine, as an assistant books editor in 2017, and being around books all the time and reading them all the time it really sparked me into a mindset of, "I can do this, I have to finish it, I want to be part of this world."
Working as a books editor was motivating, but it also came with a bit of impostor syndrome. I was covering books by and meeting authors who I long admired, and reviewing their books and talking to them. All the time thinking, I can do this, and when I do, my name is going to be slotted next to these people whose books are on my shelf.
EO: Was there a point where you thought it might not all come together, or a breakthrough moment where you figured out how to complete it?
MH: There was a lot of time where I didn't think it would happen. I had two stories—one story was of my relationship with my mom and watching her be sick and what that meant to me, and the other was a short story I had originally written for Electric Literature, about this student-teacher affair. I thought both were good, and I didn't want to commit to either of them. And then one day, it clicked into place that it actually made sense that they were the same story. Once I had that breakthrough, it was sort of off to the races.
Endings are notoriously hard, of course, so I was struggling with the ending. And then in 2018, the #MeToo movement happened. I reread what I had written about this student-teacher affair through the lens of this huge cultural shift of #MeToo, and I thought, that's what's at stake here. With that, the entire book fell into place, and soon it was done.
Most of the #MeToo stories, if not all of them, were about a man and a girl, and I sort of felt like my story participated in this conversation in a way that I hadn't seen before, between an older woman and a younger woman. The thing about #MeToo that really fascinated me, and still sort of fascinates me, is the way it recontextualizes a lot of early relationships that young women have with their superiors.
I wouldn't go so far as to call my book a #MeToo book, but I do think it does thematically relate to looking back at a formative relationship and questioning it.
EO: We Do What We Do in the Dark has a very limited point of view—we only rarely get glimpses of how others feel about Mallory, and always filtered through her perspective. How did you come to develop the story's point of view?
MH: I gravitate toward books where characters are incredibly observant, but not at all self aware. It's really fun to write a character that's really aware of certain things, but really unaware of other things.
The first few drafts of it were written in first person. But I started writing this book when I was Mallory's age, when I was 19, and I wrote this book until I was 30, essentially. And by that time, Mallory's first-person narration felt very claustrophobic to me. One of the interesting things about switching it to third-person narration was that I deleted a lot of the introspection and interiority and it made the book move a lot faster.
EO: Mallory pursues a relationship with an older woman, a married professor (known in the story only as "the woman.") Though there is clear imbalance in their relationship, Mallory thinks of the experience as transformative and defining. Are you interested in how the reader processes this relationship?
MH: It was really tricky to do that because in a lot of ways, the relationship is not great. It's quite problematic, the difference in power and station in life of these characters. I don't think anyone would say this relationship was equal, and a lot of it is not on Mallory's terms.
What's interesting to me is to find that gray area. The woman is not evil. I'm not even convinced that she's a bad person. It was important to me to maintain a lot of ambiguity because you could rationalize it: Mallory is overage; she's not the woman's student; she is the one who pursues the woman pretty hard. There are things that Mallory is held accountable for.
The project of the book was to present a really complicated relationship to the reader and say, "What do you think about this?" Those are my favorite books, where the author doesn't tell me how to feel. The author presents evidence one way or the other, and allows me to make my own mind up.
When my editor was writing jacket copy for the book, she had this phrase: "Mallory is forced to consider her time with the woman for better or worse." I really liked that phrase, because there were positive things to come of the relationship. The woman stoked things in Mallory that were important—encouraging her artistically and sensually, making her more confident in being queer. Those are undeniable positives.
EO: As a books editor with O, you reviewed a wide variety of queer fiction. For most of publishing's history, LGBTQ stories have been shunted from the mainstream. How do you feel about the way things are changing in the industry?
MH: When I first started there in 2017, there were some queer books on the market, and the "Big 5" publishers (Penguin Random House, Hachette Book Group, Harper Collins, Macmillan and Simon and Schuster—the largest fiction-publishing conglomerates in the English-language world), were coming out with more. But it was kind of a leaky faucet, a slow drip drip of these stories.
When I first started as an assistant books editor, I worried about rocking the boat. I didn't want to be seen as pushing any agenda. But it became clear, the longer that I was there, that I had a platform. We featured a book in the magazine once about queer people in Mississippi written by Nick White, called Sweet and Low, and I remember thinking that it was a really good book, not just because its characters were queer. The characters were so vibrant and his descriptions of the South were really riveting.
Some time afterward, I went to see the author do a reading, and when I introduced myself to him, he teared up. He had seen the coverage in O and he said, "Michelle, without hyperbole, you changed my life. I never thought a book like mine would be in a magazine like yours."
Obviously it's not mine, it's Oprah's magazine. But hearing what one single small review could mean to somebody was really eye opening, and in the next few years, I started to make the coverage of LGBTQ books a priority.
I don't want to pat myself on the back too much, but I had been told that I was changing things. There weren't really editors like me at renowned publications. I wouldn't have been able to do what I did if I weren't working for Oprah. When I started and I would listen to publicists pitch their books, they would dance around the fact that their books were queer. The more that I became visible in coverage of queer books, the more publishers would be like, "This book is gay as hell!" That wasn't true when I started.
I've noticed a clear uptick in the prevalence of queer voices and it's clear that there's an audience for them. There's always been an audience for it, but that audience is more vocal. LGBT romance novels are flying off the shelf now, and Netflix and Hulu are making more and more original content centered on queer characters. There's a sea change that I think I was a part of.
EO: What did your father say after he read the final manuscript?
MH: My dad has been nothing but supportive, both in terms of my lifestyle and my writing. For the 10 years it took me to finish this book, he didn't read a word of it, and not because he was worried about what he'd read. He just knew that it would be a final product one day. He said, "Michelle, I want to have the experience of being able to crack open your book and read your story."
It was really cool, and one of the things that kept me going was thinking that, as embarrassing as it might be to have my dad read a sex scene I wrote, I've got to give him that experience.
After he first read it, he came over for dinner and he said, "Michelle, this is brilliant." He had specific lines and scenes that he said he was mesmerized by, and he was quoting lines to me. He believed in me the whole time, and he still believes in me.
EO: What's next for you?
MH: I left my job at O in July. It was just time to move on to trying to write full time. The new book is about Bucks County politics and a political scandal that erupts. When Trump won in 2016, I was flabbergasted that Bucks County went for him. The book is set just after the 2016 election, and is sort of about a politician who, as a reaction to her home area voting for Trump, starts on her own political path.
We Do What We Do in the Dark, a novel by Michelle Hart, available May 3 and for pre-order from Barnes and Noble, Amazon and other bookstores.
Hart will be at Books Are Magic in Brooklyn May 9 at 7:30 p.m. to discuss the novel with author Emily Gould. She also plans to be at the Montclair Literary Festival in Montclair on May 7. Web: michellehart.me.