Once the 2020-21 girls basketball season officially began, it took approximately five seconds for Ewing coach Dan Montferrat to realize what he had in freshmen Joi Johnson and Rhian Stokes.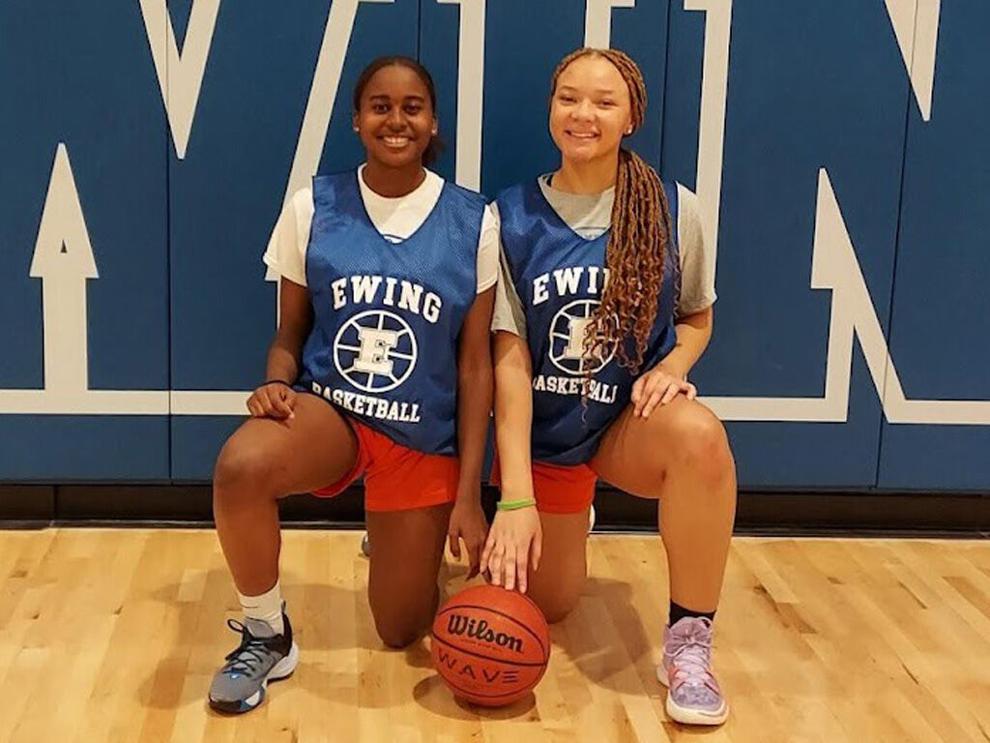 "You knew that they were gonna be something special right from the jump ball in our first game against Hightstown last year," the third-year coach said. "They were setting the tone defensively, offensively. It was the kind of basketball you like to see."
It's the kind the two have been playing since first teaming up in grade school.
"They've always had a great connection on the floor," the coach continued. "When they're on the court together, things are moving seamlessly."
Johnson, a 5-foot-10 post player who can play outside when necessary, led the Blue Devils in scoring (14.1 points per game), rebounding (13.4 per game) and blocked shots (56) last year. Stokes, the team's point guard, was second in scoring (11.8) and led in assists (73) and steals (81).
Their efforts produced a 13-0 record in a Covid 19-shortened season, and they will be asked to do even more with Geneece Boone and Tamia Warner now playing in college.
"You're gonna see these young players have to step up into bigger roles," said Montferrat, whose team opened on Dec. 17 against a talented Allentown squad. "I think they're ready, they were working all summer for it, all preseason for it. I think they're excited to see what they can do right now, in terms of 'What's our limit?' The way practices have been going, the sky's the limit with these guys."
The coach also includes Te'Yala Delfosse and Shawnae Biggs in what he calls his sophomore "Core Four." Delfosse missed some games with a concussion last year and Biggs is a defensive standout.
But it is Johnson and Stokes who will haunt the opposition's scouting report. Their talents are enhanced by a chemistry that has been nine years in the making. It doesn't hurt that they are from athletic families, as Johnson's sisters Ayanna and Leah starred at Pennington, while Stokes' brothers Terrence, Caleb and now Kyle were and are standouts for the Blue Devils boys team.
With their parents being friends, the two girls have known each other forever and began playing together for Ewing Travel in the second grade. They have also played AAU together every step of the way and are currently on the high-powered Philadelphia Belles.
"And outside of basketball she's my best friend," Johnson was quick to note. "We hang out outside of school on the weekends, during week nights. If you see Rhian, you see me."
Being buddies off the court have given them vision into each other on it.
"I feel like she knows what I'm thinking so I don't have to do the motions," Stokes said. "She can kind of read my mind. It comes together pretty well."
Johnson eagerly confirms her friend's observation.
"I know Rhian's next move just from the way she takes off," she said. "The way she holds her body on the court, I know what she's gonna do. With us spending so much time together on and off the court, it allows me to be able to read her body language and know where she wants me without me saying anything. That allows easier, more fluid playing."
Johnson grew up battling in the post, but due to her size she is trying to hone her perimeter skills and has shown the ability to play outside.
"Joi is dominant down low but can stretch it to the outside and shoot over you too," Montferrat said. "It's just pick your poison with her."
"The whole family is post players and I've always been tall so I was taught the post position," Johnson said. "But as I begin to play at higher levels I'm a little short to be a post player. This summer I worked really hard, training every week, all week to work on my outside game to be a better outside player as well as inside."
Stokes is just glad she has Johnson to look for in the paint.
"Joi is a really good post player, and a really good teammate," Stokes said. "With her size and her body, she's able to move quicker than some post players."
Knowing that her older sisters went to Pennington, Montferrat could not have been happier to discover that Johnson would be staying in Ewing for high school.
"I knew her sisters from all the great games they used to play against Ewing," he said. "So when Joi came here we're like 'Hey, we got something, we're cookin' with gas right now.' It's great when local kids stay local. The friends they make and the connections they have with the teachers and people in the community."
Those connections are exactly why Johnson decided to buck the family trend.
"I got accepted to Pennington in sixth grade but I liked the group I was with," she said. "From friendships to basketball, the group I was with was more like family to me. I knew coming into high school we had a really good group of people to be with for basketball and off the court. I just thought Ewing High would be a better fit for me."
And while Montferrat knew about Johnson from her sisters, he knew all about Stokes just from seeing her play youth basketball. He was Shelly Dearden's assistant for the boys team back then, which worked out perfectly when it came to seeing Rhian play.
"Here's all the boys rolling up and down the court and, whether it was Ewing rec or travel, here's little Rhian Stokes, the only girl out there, just whipping up on the boys," Montferrat said. "My sister was a softball player, and for years and years she played baseball so when she got to high school it was easy. Rhian reminded me of that. Running a fullcourt press break by herself, dribbling through everybody. She has great court vision. She does a little bit of everything with the ball in her hand."
Stokes played for Dearden's husband, John, from fourth grade to eighth grade and feels the competition she faced was an invaluable learning tool. .
"I've always been a point guard and began to really develop it around fifth grade," she said. "Playing travel with the boys made my mind think differently because boys are typically stronger than girls. So that helped my game a lot. It was a great experience."
Watching the game move more quickly while playing with the boys has given Stokes an innate ability to easily see things develop during a girls game.
"Her strength is reading the court and seeing the court," Johnson said. "There's a lot of great point guards that have great skill, but Rhian has great skill and she can see the court. Her passes are crazy, and the way she can get steals is unbelievable."
With the two dynamos making each other better, they could not help but burst on the scene as freshmen. The way Johnson looked at it, they had no choice.
"Coming off of middle school season and being undefeated for a while in middle school we had a reputation to uphold," she said. "But to come in and be undefeated and be two of the top freshmen in the state was maybe more than we expected. But we did know we had to come in and produce."
Stokes was not as easily surprised, simply stating "I kind of expected it."
They are expecting even better things this year.
"I'm really excited," Johnson said. "Our schedule is a lot tougher from last year, we have a lot more games. I'm just excited to go out and show that last year is just the beginning of something."