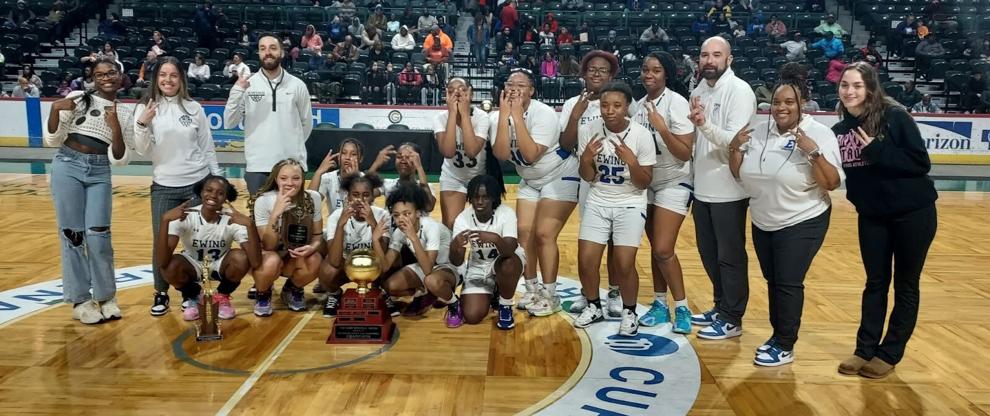 Rhian Stokes prepared for her post-game interview while holding a substantially heavy Mercer County Tournament championship trophy. When asked if she wanted to put the hardware down before speaking, the Ewing High junior declined.
She had no desire to let go of something that meant so much to her.
It meant the same to her teammates, as the Blue Devils girls basketball team won its second straight MCT title at the Cure Arena in Trenton on Feb. 16. As they did against every Colonial Valley Conference team they played this season, the Devils blitzed Hightstown early and took a 53-26 victory in the finals.
On Feb. 20, top-seeded Ewing embarked on what it hopes will be a journey to its first state title since 1999 when it began NJSIAA Central Jersey Group III play against Middletown North on Feb. 20.
But for one night, at least, they wanted to enjoy making history, as it marked the first time Ewing girls basketball won back-to-back MCT titles.
"It's 'herstory,' I love it," coach Dan "Monty" Montferrat said. "These girls may not know the full history of everything that's gone on at Ewing but they're very aware of the tradition that is Ewing basketball. They've come up through it in the rec leagues, they're involved in it, they volunteer their time with the younger kids so they see it. It's infectious and when you can do something that special with this group, it makes you speechless. It's really cool."
Speechless? Well, Joi Johnson, one of four junior starters on the team (along with one sophomore), wasn't at a loss for words.
"This has never been done before in Ewing history; so for us to be so young and making history every year with every game, it's a very big thing for us," Johnson said. "We take pride in winning, no matter what game, no matter where, no matter what. A win is a win and we take pride in winning every game."
Entering the states, Ewing (24-3) had won all but three, and its losses came against state-ranked teams. If anyone thought the Devils were apathetic about winning another MCT after doing it last year, those thoughts disappeared after Ewing ran to a 14-0 lead against Hightstown and built on it from there.
Te'Yala Delfosse earned Most Valuable Player honors after collecting 27 points and 10 rebounds in the final.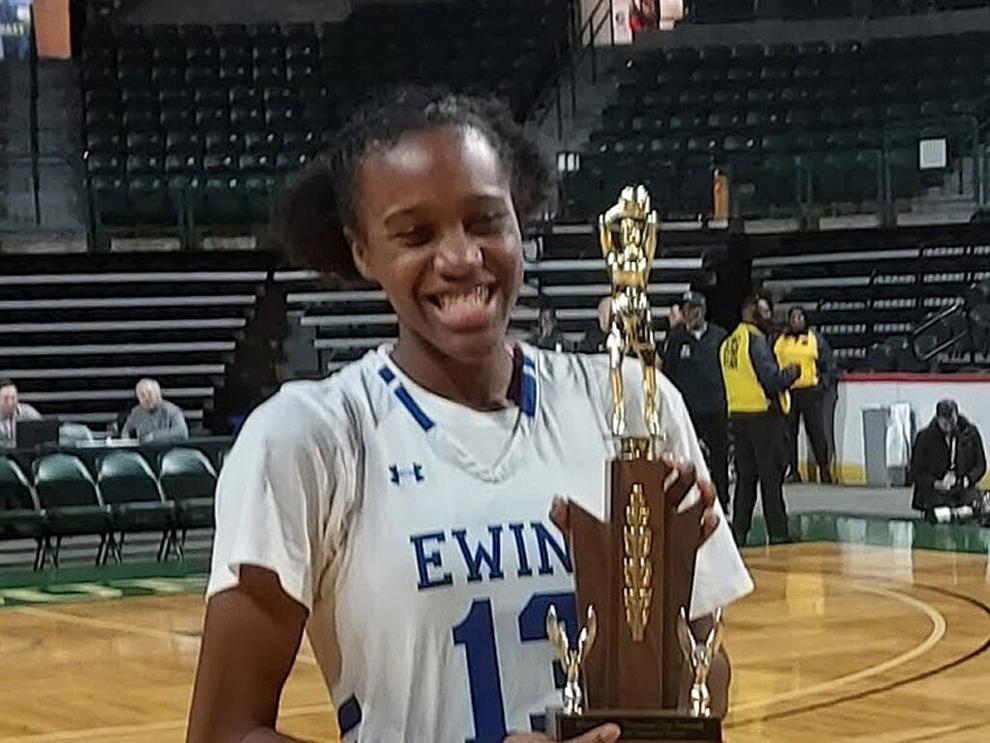 "It feels amazing," she said while clutching the trophy. "It just shows how much I've been working, and makes me want to keep working to keep my confidence and boost my confidence."
Delfosse is one of three Division I recruits in the lineup along with Johnson and Rhian Stokes. Those three, along with junior Shawnae Biggs, have been looking forward to this type of success for a long time.
"Our chemistry is what makes us special," said Stokes, a New Jersey Gatorade Player of the Year nominee. "We've been playing together for a very long time. We know each other and know how each other plays. I'm proud of us. We're doing our thing."
Delfosse concurred; for when asked what put this team ahead of all others, she said, "The bond. The connection we have on the court every game. Our connection just gets stronger. That's the best thing about us."
That connection didn't just happen by accident. Stokes and Johnson have been together since Ewing travel ball in second grade, and Biggs and Delfosse joined them along the way. The lure of going to a non-public school was always present; but the quartet remained united.
"The four of us, we actually talked to each other in middle school, in seventh grade." Delfosse said. "We said 'We gotta stick together, we gotta go to the same school. This bond is too strong. We can really wreck it on the floor with this bond."
The CVC was indeed wrecked against the Blue Devils, who outscored their conference foes by an average of 39 points in 16 games. But Monferrat knew that to get his team toughened for a state run, it had to play strong outside foes.
Ewing's losses came to SJV, Rutgers Prep and St. Rose, ranked 1st, 3rd and 15th in New Jersey entering states. The Devils have wins over Top-20 ranked Manasquan, Union City and St. Thomas Aquinas. They entered state play ranked No. 7 in the state and were the No. 1 ranked public school team.
Despite their success over the last two years, Stokes says "We definitely live with a chip on our shoulder," when it comes to playing other ranked teams.
Johnson backed that statement up emphatically.
"We're always looking to better ourselves; and one thing about our team, we go into every game knowing we're the underdog; Knowing that some people don't know who Ewing High is," she said. "We come into every game knowing we have something to prove. With these bigger tougher games coming up, we just want to prove ourselves even more. We want the test, that's what we're here for. We want to test ourselves and we want to win. So these (upcoming state) games are really important."
Ewing definitely has the weapons to go to war with.
Delfosse has already been offered scholarships by seven Division I schools with more to come, Stokes has been offered by eight D-I programs and Johnson is starting to receive ample D-I interest. Biggs is a soccer player at heart but is always in the middle of plays that make a difference on both ends of the court.
Sophomore Kyla Durham is the fifth starter and averages 8.0 points, 5.2 rebounds and 2.3 steals per game. Malayah Miller, CeeCee Brown-U pshur and Taylor Williams provide a strong bench.
It's a group that lives for the game, and for the MCT championships it wins.
"As a team we've been working so hard in these practices, day and night," Delfosse said. "After practices, staying another hour it just feels amazing for us and our team as hard as we worked to achieve this again."
Ewing's work ethic is reflected at the defensive end of the floor, where the Blue Devils take no prisoners. It was a philosophy Montferrat has lived by since playing under "Doctor" Don Hess at Hightstown High School.
"That's just a culture thing for me," Monty said. "Coming up and playing it was always 'Defense, defense, defense.' When I got into coaching it was something I always wanted to hang my hat on. When I had a program I wanted to create that culture of defense around the clock because defense wins championships. We've proven that formula to be very successful so far."
What makes it easier to instill that culture is that the players actually want to play defense. That's sometimes hard to get a young, offensive-minded star to do.
"Defense wins games and that's what we go by every single time," Johnson said. "Shawnae is our defensive threat, our defense feeds off her. We come in knowing that our defense is what stops team. If we play good defense it's a win."
The Devils realize they must up their defensive intensity as they try to defend their sectional championship and get to the Group III state final after losing by four points to Mainland in last year's semifinal.
"That was one of our only (two) losses the whole season," Johnson said. "It showed us how tough a loss can be; especially when you're in the game and it's taken from you like that. That loss fueled us (in the off-season) and we're coming in stronger than ever because we want that state championship after what happened last year. We're coming for everything."
Delfosse added that the loss "stuck with us for a long time. People remind us during practice, saying 'Look you all gotta work hard, you all lost by four. At first we wanted to forget about it, but we said 'You know what, let's use this to fuel us for states so we could dominate.'"
They have dominated for the most part, and will attempt to continue to do so as the stakes get higher. Montferrat prepared his team for the grind with a grueling non-conference schedule. He takes pride that his girls "wear that hard-working Ewing mentality every single day."
Stokes summed up what needs to be done fairly succinctly.
"The goal is just to do us," she said. "Everytime we come out on the court, we're just gonna keep doing us all the time."
And just what is "us"?
"We come out hard, we come out strong," she said. "We just play Ewing basketball."
And these days "Ewing basketball" is a pretty intimidating term.