In 2013, as the moving vans unloaded the furniture into his new Ewing Township home, Dan Montferrat looked over and waved at the young middle school girl dribbling a basketball in the driveway. His new neighbor, Tamia Warner, smiled and waved back.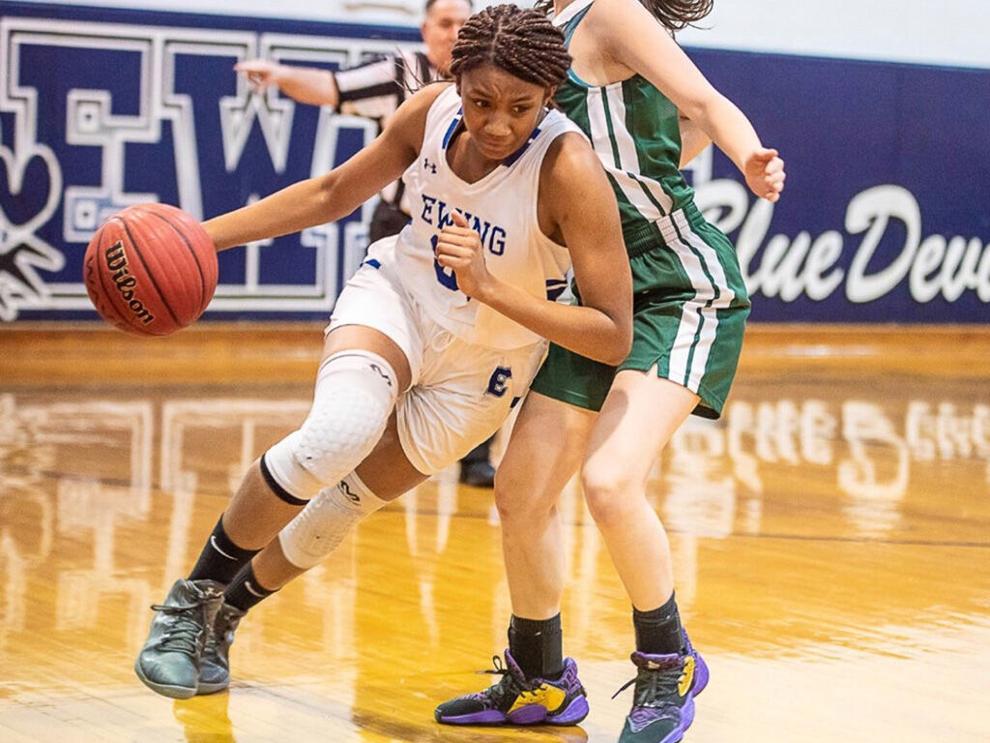 Little did either of them realize that he would be coaching her on the Blue Devils varsity basketball team six years later.
"I didn't know he was a coach at the time," Warner said. "When I reached high school and my brother had a class with him, we figured out 'Oh, he lives next door to us.' But I didn't know he'd be coaching me."
"Did I ever think I'd be coaching her?" Montferrat said. "No way. It's funny, when (her mother) Tammy drives up to the games she'll yell out 'Hey neighbor!' That's nice, it creates the community."
Warner is always anxious to get on the court. Especially this season, as the Devils become "her team" along with fellow senior Geneece Boone.
As a junior, Warner averaged a team-leading 12 points per game, led the Devils in 3-pointers (37) and blocked shots (21); was second in steals (57) and assists (42); and was fourth in rebounds (84). It was her third varsity season, but first under Montferrat, who was the boys' assistant for the previous six years.
During her first three seasons, Ewing always had senior All-County players to take the pressure off Warner. It was Mya Grimes her freshman year, when she played sparingly; Jaycee Lowe and MyAsia Jackson as a sophomore; and Jentle Sheridan and Aaliyah Lewis last year.
This season, all eyes will be on Warner—especially those of opposing defenses. Tamia is not worried, and quick to point out she has help.
"There's a lot on my back right now, but how I see it is, I have a team at the end of the day," she said. "It's not about me; it's about the team working together."
Still, a team needs someone to lead it, and Montferrat feels Tamia is ready to accept that role.
"She's had to learn (leadership) over the course of time. She had kids like Maya, Jaycee and Jentle. You really have to pull a little bit from those kids who really know Ewing basketball, who have that bleed blue tradition in them. I think that's coming around in her, too."
Warner has bled basketball ever since she started in the third grade. Tamara went to an open gym run by former Mercer County Community College/Boston College star Mel Weldon, who was the JUCO Player of the Year at MCCC and went on to coach at Trenton Catholic.
Tamara was pleasantly surprised to discover hoops and her belonged together.
"When I first started playing, I was pretty good," Warner said. "I just kept hitting shots and hitting shots, and my dribbling was pretty good too. Coach Mel was like a father figure to everyone there, and my mom saw some potential in me."
Warner began to take her fun seriously in the Ewing travel program the following year. She debuted with the Mavericks, coached by Devils assistant Sharon Conover, and eventually moved to AAU where she played for several teams. The most recent was with the renowned Jersey Cardinals out of Rutgers Prep. Tamia also played three years for Fisher Middle School.
As a freshman, she made a star studded-varsity team and played in 12 games. The following season Warner was one of just two players to see time in all 25 games and averaged 5 points while hitting 19 3-pointers. She became an impact player last year as witnessed by her stat–stuffing performance.
Warner credits her all-around ability to the fact she played every position growing up. Last year she alternated between shooting guard and point guard, and hopes the arrival of freshman point guard Ryan Stokes will free her up offensively.
Warner is more than just a shooter, however, as she helps get Ewing's running game going with her defense.
"She plays the top of the press pretty well," Montferrat said. "She's really improved on being active, creating those tipped balls, those opportunities for a teammate to steal it and then look ahead to her. I would say her motor is what really elevates her."
Warner has developed her game to the point where Division III colleges are reaching out to her, as Rutgers-Camden, Rowan and Manor College in Pennsylvania have shown interest. She is weighing her options and is thrilled to have the opportunity. "I've always wanted to play college basketball, ever since I was young," she said.
When she isn't hooping, Warner enjoys drawing portraits from images. Her work is stellar enough that it was displayed in a gallery at the high school.
"I would just draw random people unless someone asks me to draw them," Warner said. "It relaxes me; it can take my mind off certain things."
Rest assured, one of those things is not basketball; as she loves having that on her mind.
Just ask her neighbor.