She has absolutely nothing left to prove. She doesn't have to deal with overbearing parents, or discipline problems, or players' academic issues, or bad refs, or late nights that turn into sleepless nights after tough losses.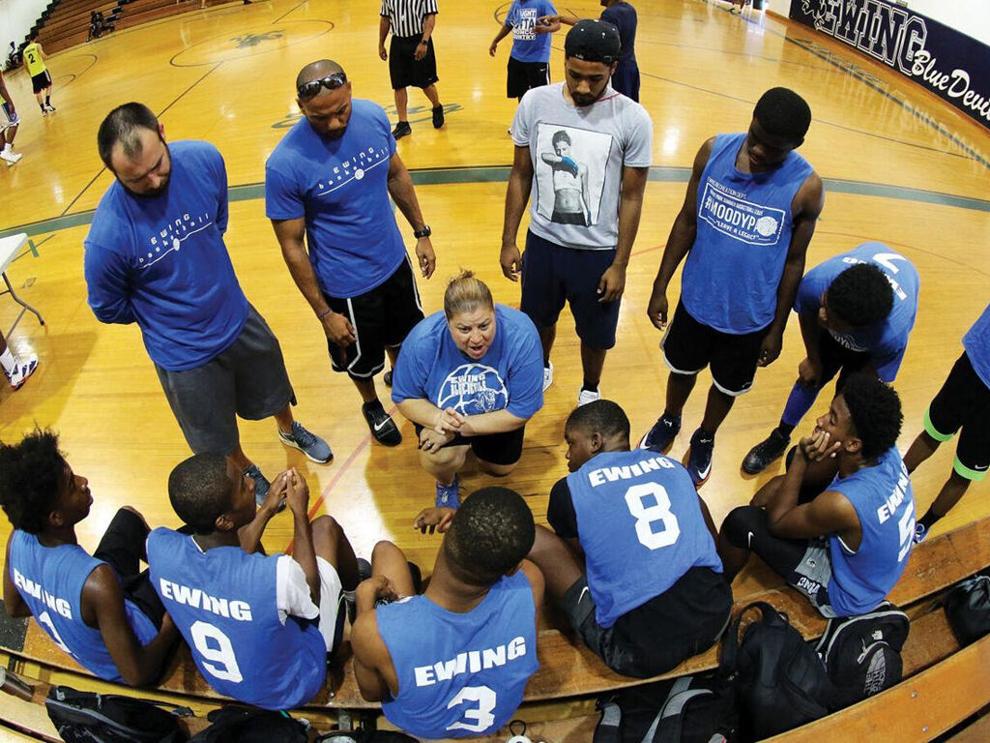 But that can't keep Shelly Dearden away from coaching. She is ready for a dose of all of that once again.
On Oct. 26, the Mercer County legend was approved by the school board to take over the Ewing High basketball team for a second time.
And that can only be a good thing for the Colonial Valley Conference in particular and New Jersey basketball in general.
The 1981 EHS graduate has won state championships in three different sports—girls soccer and girls and boys basketball. She has burned out twice in her 36-year career and taken two years off both times, only to return both times.
Having won all there is to win, what is this magnet that pulls her back?
"I just want to be with the kids," said Dearden, who began tryouts Nov. 22. "I always loved and enjoyed coaching them, so it was just wanting them to come back and be with the kids again. You enjoy being with them and you enjoy their success when they move on, whether it's in sports or in life.
"I still keep in touch with so many alumni and they tell me what they're doing; if they're married or having kids, or getting promoted in their jobs. A lot of them come back and watch the games. They enjoy the traditions we instilled here and they want to see the traditions continue."
OK, so it's the kids. But there is also the intangible of "I have kids, your team has kids, let's see whose kids are better."
"It's also the competition," Dearden continued. "I'm competitive with everything I do. The competition is definitely a plus when it comes to coaching."
And oh how Dearden competes. She did it as a player and she does it as a coach.
While attending Ewing, Dearden played soccer, basketball and softball. She was a 1,000-point scorer in hoops and All-State in basketball and soccer. She moved on to Trenton State College (now The College of New Jersey) where she scored 1,000 points and won a national title in softball.
After extremely successful softball and soccer coaching stints at Mercer County Community College, she became the Blue Devils girls' soccer coach in 1989. In seven years, she won seven CVC titles, four NJSIAA sectional championships and one state title.
By then she was already head girls basketball coach and in 14 years she produced nine 1,000-point scorers, five CVC crowns, three Mercer County Tournament champs, four sectional titles and 1999 state title.
She stepped down after the 2002 season to recharge the batteries. Two years later, players and parents asked her to apply for the boys job. She did, and despite questions about a woman coaching boys, Dearden continued to grind out champs.
From 2004 to 2019, she molded four more 1,000-point scorers, won an MCT title and six state sectionals. In 2012, she became the only coach in the nation to win state championships in three different sports, and the first woman to win a girls and boys state championship.
If Dearden is not the symbol of Ewing High athletics, she is certainly prominent on its Mount Rushmore.
And while all her success is fun to experience, the work it takes to get there takes its toll and Dearden retired from teaching and coaching in 2019.
"I was very tired; I was exhausted," Dearden said. "You go pretty much all year-round, seven days a week, 24 hours a day for 15 years, I was just exhausted. I did the same thing with the girls and just needed a rest.
"I was going seven days a week. In the off-season, that's where you get better, so you gotta put your time in then. That was every day. I'd take one week off in August to spend time with my family, that's the only time I turned off my phone to not talk about basketball. You're going 51 weeks of basketball, basketball, basketball."
Dearden and her husband, John, moved to their condo in north Florida and Dearden climbed into a no-hoops bubble.
"I didn't even watch basketball the first year I gave it up," she said. "I didn't want to hear basketball, talk basketball; nothing. I know it sounds funny but I didn't really do anything pertaining to basketball. I'm talking about any level -- college, NBA, high school. I just shut it off for at least a year."
Nothing lasts forever, and after a while Dearden began to watch again. She would call Ewing girls coach Dan Montferrat to see how his team was doing (quite well, in fact), and would watch the live video stream broadcasts of boys games provided by Pennsylvania radio station WBCB.
Slowly, exhaustion turned to anxiousness.
"You get that itch, and that's where I'm at," Dearden said. "I got the itch and here I am."
No one is happier she scratched that itch than Trey Lowe, one of Dearden's assistants along with Brian Dudeck. Lowe is one of Ewing's all-time greats and the CVC's career scoring leader, and Dudeck coached formerly at Ewing and Princeton Day School.
"Shelly coming back is a big thing," Lowe assured. "Bringing her back is like re-running the history we had.
"She's a great coach who brings along a great philosophy and knowledge to the game. These new players will be in for something special and exciting."
Dearde feels the same way about Lowe, who was headed for a nice career at Temple University until an auto accident derailed him.
"It's really nice to have him back, he's very enthusiastic and can't wait for the season to start," Dearden said. "We'll see what he brings to the table when games and practices get here. I'm sure he's already talking to the kids that they have to have that shirt and tie and dress pants (on game day); that looking sharp kind of thing. He knows what it takes to put the work and time in, he's been doing it his whole life. It's just gonna be on the other side of the line now."
The coaching staff inherits a program that has struggled since Dearden's departure. After going 15-10 her last season, the Devils dropped to 4-15 and 4-10 the past two years. The new coach is familiar with several of the seniors and juniors that are returning, but with little to go on other than what she saw on a few video stream games, everyone is starting fresh.
"They all have a clean slate and a shot at making the team," Dearden said.
And whoever is on the team, she will work hard to make sure they improve.
"Everybody thinks Ewing has so much talent and Ewing has this and that," Dearden said. "They are correct. We do have a lot of talent. But you also have to mold role players and basketball players. You have to get them on the same page you're on, trying to get across the philosophies you believe in and make them believe in them."
Dearden does all of that well. She knows the time and energy it takes to get it done.
It's what caused her to retire.
And it's what brought her back.