Ewing football coach Matt Dalessio is the first to admit he lost a few good players to other schools this year but he won't dwell on it. Mainly because he is sincerely excited about a returning nucleus that has been together since they were kids.
"Out of 25 seniors right now, probably 20 of them played together in Blue and White (youth football)," the third-year head coach said. "There's a core group of them, Kenric (NuNu) Davis, whose dad was actually the coach, Tytus Toliver, Tyreek (Poodie) Rollins, Kyle Stokes, Tariq McKinney. They've all just been coming up since they were in elementary school and middle school together. The continuity between the kids is so tight. They just work so well together its amazing."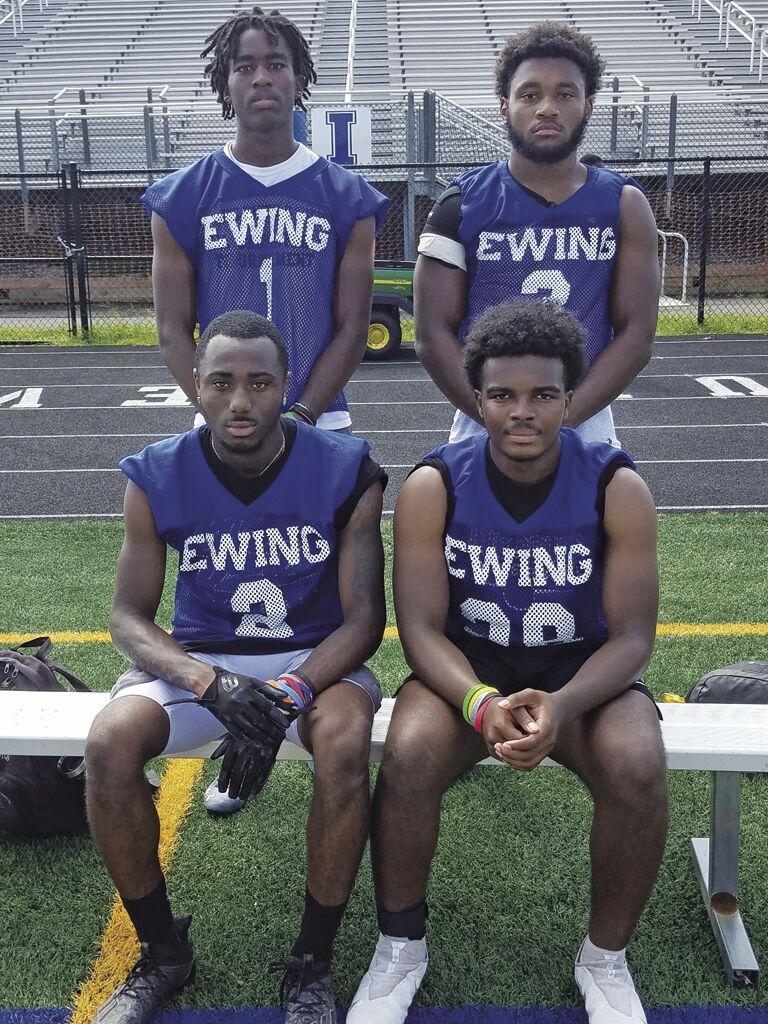 What's really amazing is that they remained loyal to each other for this long.
"You don't see groups that size stay together and grow through the system together," Dalessio said. "Blue and White has kids from other areas but that group from Ewing came in as freshmen and went undefeated. We made the decision their sophomore year to start a lot of them, they battled through that year and really took a step last year together. Being a senior group, they're ready to go out there and perform."
And within that group of 20 lurks the aforementioned nucleus, of which only Stokes did not play with as he played Pop Warner in Trenton. But he has been with the Blue Devils since his freshman year.
"I'd say we've been together since eight or nine," said Davis, who is returning from a broken foot that sidelined him last year. "We're very tight. We've been playing baseball since we were three-years-old playing T-ball. The chemistry is very good. We played every sport together."
The group won numerous championships coming up through youth football and talked amongst themselves about making it happen at EHS.
"Not the whole team came with us to high school, but most of them did, and I'm grateful for that," Toliver said. "That was the plan. Back in the day it was so much fun, we had the same coaches for a long time, we stayed together. We'd have some seasons where we'd lose but next season we'd win the championship. We had a good coach, he kept all of us together doing the right thing.
"So now it's exciting. We've been preparing for this year for all those years. It's exciting to see what we can do."
Davis agreed, saying "Everybody lived in the township. We've been planning to do this since we were little, to stay together and win a state championship together. That was a big plan for us."
The plan got off to a rough start when the team went 1-9 their sophomore year. Last year the Blue Devils improved to 3-2 during a campaign cut back by Covid-19. This season, with McKinney returning for his third year as starting quarterback, Ewing is in good shape at the sport's most important position. After throwing the ball a combined 28 times as a freshman and sophomore, he completed 24 of 44 passes for 456 yards and six touchdowns with just two interceptions last year.
"He knows the offense as well as we do," Dalessio said. "He probably has the best arm I've seen since (2013 grad) Darryl Griffin. He's starting to get that role where he's mentoring the younger guys and helping the younger guys. It's a huge benefit. He'll take you through the play exactly; and his reads and what he's doing. He gotten more comfortable in the running game, he's seeing the gaps better already. He's made strides there."
McKinney's top target will be Rollins, who caught six passes for 181 yards and three TDs last year.
"Poodie is dynamic," Dalessio said. "He gets open and catches the ball and has a nice swagger about him. Stokes will jump on the offensive side of the ball and play outside receiver. His size, speed and athleticism will do some good things for us. Stokes is like a silent assassin. He doesn't say much but he's gonna have a special year."
Toliver will be the featured running back after rushing for 33 yards on just seven carries last year.
"Titus is stepping into that role and he's a freak athlete, he's special," Dalessio said during a break in preseason practice. "I could call him over here to do flips for you right now and he'll do it with a smile on his face. I'm excited to see his explosion in the backfield this year."
Davis will be a slot receiver and outside linebacker and Dalessio thinks he has inherited his dad's coaching ability.
"I envision him as kind of the voice, and the one that holds them all together," Dalessio said.
The coach is also confident in Ewing's offensive line and is excited about several returning players on defense. Dan "The Man" Bernoski will once again handle the defense while Dan "The Other Man" Czepiga returns after a stint at Chatham High to take over the offense.
Both players and coaches are filled with optimism.
"We're a great team all around; offense, defense, special teams," Toliver said. "We work together. We might not be the biggest or strongest but we're all heart."
"I think we can do really good things," Stokes said. "We have a lot of talent. We just have to put the pieces together."
They also have cohesiveness to go along with that talent.
"Our chemistry and our friendship are our strengths," Davis said. "It's a strong team, we know what we're doing."
Which makes things that much easier for the coaching staff.
"It's unfortunate, some kids moved on to address changes," Dalessio said. "But these guys are together and they love each other. We're as close as a family could be out on a football field. They all want to have fun together and they all want to compete against each other.
"It's special. That's why a lot of times when you see me come out to practice I'll have a smile on my face because as much as they have fun together, I also like joking around with these guys, seeing them out there just messing around a lot."
When the games start, the messing around will stop as the Blue Devils core players try to make a lifelong state championship dream come true.
"We're all very close with each other and help each other out to get better," Rollins said. "The off-season we all worked together, we're all ready for the year. It will be a great season."