During a rough, one-win season in 2021, the Ewing High boys' soccer team scored just 12 goals as only four players found the back of the net.
But one of those guys is someone a team can build around, as then-sophomore Robbie Yates tallied seven times, with all but one goal being unassisted.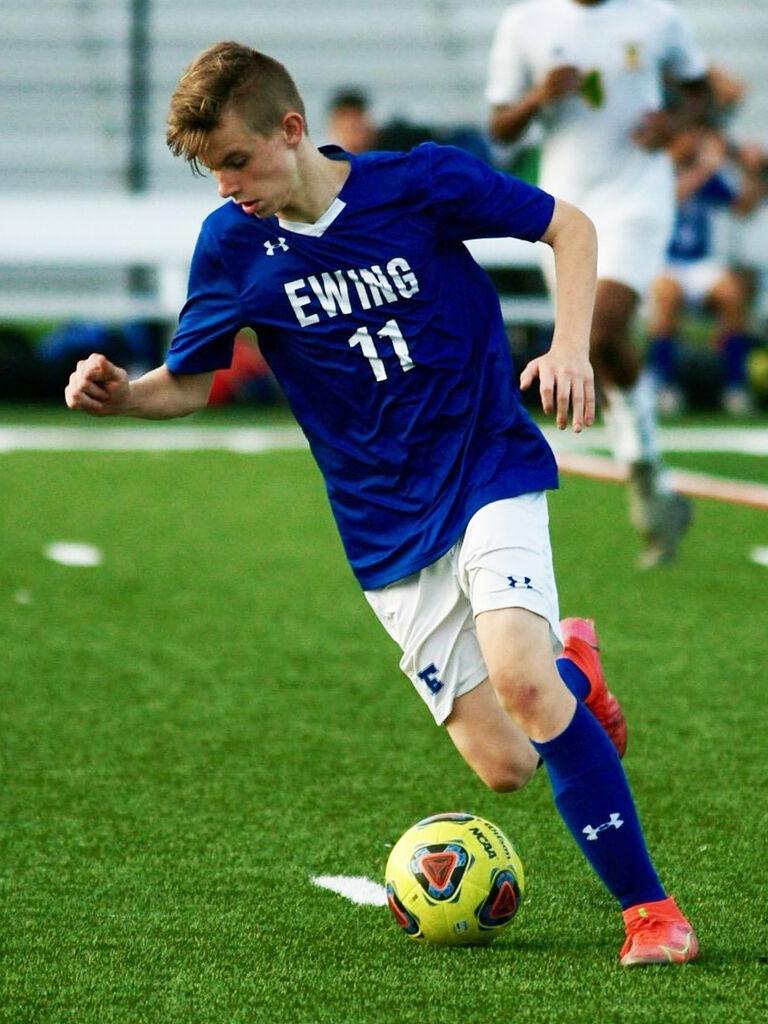 Yates returns as a junior along with numerous other classmates who saw action and endured growing pains last fall. Coach Dave Angebranndt feels the experience can do nothing but help in what he feels will be an improved 2022 campaign.
Especially with Yates leading the way.
"When you have a team that's filled with 15-year-olds who are playing against 18-year-olds, it's gonna be hard," said Angebranndt, who enjoyed his highest turnout of players this fall since taking over the program four years ago. "Strength is an issue, body size is an issue. We were getting beat off the ball a lot from a pure physical standpoint.
"But Robbie didn't play like a true sophomore. He's aggressive physically and mentally. He's always the first to the ball. He was one of our bright spots finishing on a team that really didn't finish."
Although Yates' goal total was hardly near the top of the list in the Colonial Valley Conference, it certainly stood out to opposing coaches as the season went on. While Yates said he didn't notice extra attention from defenders, his coach said it was there.
"People started to understand who our scorer was when they saw in the paper that Ewing lost 5-1 and Robie Yates had the goal, and Ewing lost 7-1 and Robbie Yates had the goal," Angebranndt said. "Then it got harder for us to get him the ball because if he's getting double teamed in transition, who else is gonna get the ball?
"He still seemed to do a really good job. Even if he wasn't scoring, he was distributing and creating chances. It was just, when he's the one creating chances nobody else was putting the ball away."
Both coach and player feel that the situation may improve this year with so many players having been through the wars.  
"I think we'll definitely be much improved from last season since we got varsity experience last year, Yates said. "It was very frustrating last year.  We just had a lot of games where we could have won but we didn't take our chances and we weren't good enough. But I think we have solid players up there who can also do stuff to help the team."
Angebranndt felt that if other players watched what Yates did and maintained it within their minds, they would be better off when it came to scoring.
"I think he leads by example because all the kids could see that shooting the ball, scoring the ball comes easier to him," the coach said. "I think guys will see that and start to emulate his mindset. They'll start to see he's able to do certain things with the ball at his foot that maybe they will be able to do or at least aspire to do."
Yates started his career as a defender for the Ewing Force at age six, and most of his teammates from back then are still with him on the Blue Devils. His play in the back did not last long, however, as he moved up within two years.
"I think I was pretty good on defense," Yates said. "But as time went on I think I realized I could be pretty good at scoring goals. I don't remember exactly how it happened but at around eight or nine I was moved up."  
Yates has usually been his team's leading scorer at every level he's played. He and most of his teammates moved on to the Next Level Soccer Academy (NLSA) in Pennington.
After playing for the Ewing JV as a freshman, Yates made varsity last year and showed his potential by scoring a hat trick against Nottingham in a September contest. He went on to score in four other games but, ironically, the Devils lone win came without him scoring as Thomas Buecker and Dan Armstrong tallied in a 2-1 win over Pennsauken.  
 "I think guys like Buecker and Armstrong and Tony Genovesi are going to have a few more opportunities to score this year just because they're older," Angebranndt said. "They're all juniors now. There were seven or eight sophomores in the starting lineup last year. All those kids will be starting again. They're all NLSA kids, they'll bring another spring and summer of club ball to the program.
"A few of the guys will have to step up. Some will be in different positions from last year based off what we lost but my core program is gonna be the same."
As for Yates, he will likely fill the same role as last season as he is up top on the left side, which would be just fine with him.
"The majority of last season I was on the wing for pretty much the whole season," Yates said. "The last few games he put me up top but out wide. I'm more comfortable on the wing for sure. I've always played on the wing and when I play striker I don't feel as comfortable for some reason, I don't know why."  
Angebranndt noted that "I had Robbie on the left side because he's left footed. I played more of a 4-3-3 and had him as a triple headed offensive guy.
"I wanted to put him in the middle of the field," the coach continued. "But I had nobody on the left side, I had no left foot. I was in a situation where I'd rather have him up top and be put in the mix more and I moved him to my center striker. He played a little better with his back to a defender receiving a ball from the midfielder. Once I moved him he became even more of an offensive threat, even though he was from the left side."
Although Yates plays competitive soccer with NLSA, he finds one of the things that help his skills most is playing by himself.
"I just go in my backyard and do my stuff," he said. "I have a goal out there, I can shoot, dribble around, whatever. It definitely does help. If you're not touching the ball for a long amount of time you might lose the touch of it. So just to get out there and get touches definitely helps."
Asked to evaluate himself, Yates said, "I think that my best attribute would be my dribbling, I'm good in tight places and can get past people. I think once I'm in position to score, I can. I can score from far out and I think I'm pretty fast."
Angebranndt agrees with Yates' summation of his skills.
"He's probably one of the faster kids we have and just the sheer power he has in his foot is definitely something impressive for a junior," the coach said.
The coach feels one of Robbie's biggest assets is his desire to score.
"You gotta have the hunger," Angebranndt said. "You could be the quickest guy in the world, you could have the best footwork. But if you can't put the ball in the back of the net there's no point in putting you up top. You gotta be that guy who can fight, make moves around guys or just keep the ball in open space
"As a 14, 15 year old kid he has that desire to get into open space and put the ball in the net.  He just shoots the ball more. He's  25, 30 yards out and he'll shoot it, where other guys have to start getting into that mindset that you don't have to be within the 18 yard line to score. Take it 20 yards out and put the ball on net and see what happens when the goalkeeper fumbles it. They all want that ESPN Top-10 Upper 90 goal where they dribble it around 15 guys. Just put the ball on the net."
Yates says his urge to score just comes from wanting to contribute to the cause.
"Whenever I go out there I try to give my all and want to help the team," he said. "That's what drives me to score and do better.  I'm confident in my ability. The confidence has probably grown with me as I've gone on."
It was an attitude he needed on last year's young team.
"I wasn't surprised at what I did," Yates said. "We didn't have many upperclassmen, so I thought if we were gonna do something someone had to step up."
As this season approaches, Yates looks to step up even further, and feels the rest of his teammates are ready to do likewise.  
"There's no point giving up," he said. "I know over the years we're gonna improve. The majority of us were in 10th grade last year and were playing 18 year olds so I just know it's gonna get better."