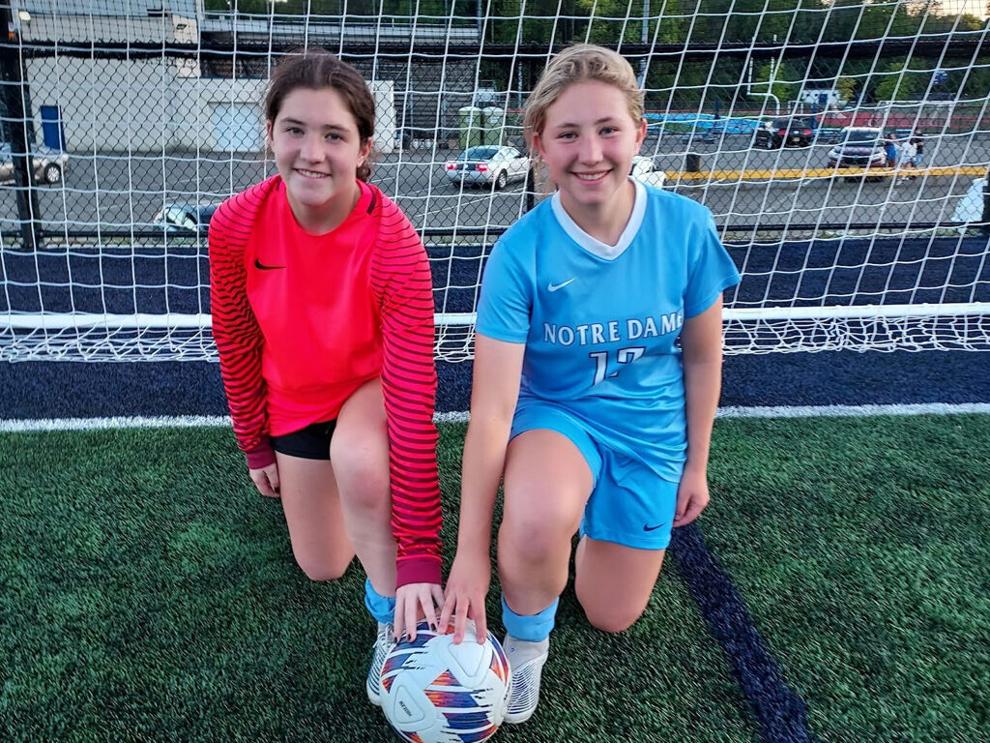 Delaney Zeidman knew she was not going to get much playing for the Notre Dame High girls' soccer team this year, but that did not deter her from giving every ounce of effort to make the Irish varsity. Afterall, it was her one chance to form a sisterly bond on the pitch with freshman sibling Leah.
"I cried when I found out she made the team," Delaney said. "I had never played soccer with my little sister on the same team so it's nice I get to do so in my final year."
It is especially nice for Notre Dame, which was in need of a goalie after graduating All-State performer Olivia Bodmer (now at Rutgers). Leah Zeidman won the job and much of her confidence came from having big sister on the team.
Thus, in one way or another, the Ewing residents are making an impact on the Irish. Delaney gives Leah assurance, meaning a secure Leah gives Notre Dame good goaltending.
"You're always more comfortable when you have your sibling with you," Irish coach Lauren Diaz said. "The two of them have a great relationship and it only builds Leah's confidence with Delaney always there encouraging her. Especially for a freshman, it's hard to get that confidence as a goalie. But Delaney does that for everyone. She's just an ultimate teammate who gives her teammates confidence."
The coach feels that her keeper might not be quite as poised were it not for the older Zeidman, and Leah agrees.
"Definitely; considering she has friends who are upperclassmen," the 9th-grader said. "I would talk to them, which would get me talking to more kids. I love having my sister on the team. She's been here for three years so it's nice having someone who knows the program so well; so I don't feel out of it. She's always someone who's there to talk to."
Between the two, Leah is the soccer player in the family. Delaney played as a youngster, gave it up, then came back to the sport when her sister began playing. Even then, Leah was always putting soccer first, while Delaney had other interests.
"I started when I was around seven or eight just playing recreation soccer and from there I started playing travel and now I play club (for RUSH)," Leah said. "When I started, it was mostly like 'I want to just try goalie to see if I like it.' My dad got me this cheap pair of gloves, so I tried it and really liked it, so I just stuck with it."
In her first five varsity games, Zeidman made 23 saves and allowed five goals in a 2-2-1 start. That's a bit misleading, as four of the goals came in one game, as she recorded three shutouts.
And while her skills have always been there, a goalie's biggest attribute can often be how she controls her box and maneuvers her defenders in order to short circuit scoring chances before they start.
"At first I was terrified to say anything," Leah said. "There are seniors and juniors in front of me, I don't want to mess with them. But I got to know the team better, the coaches helped me and so now I'm more confident to speak up and be vocal."
Much of the credit goes to her sister, who provided the necessary pep talks.
"I have tried to give her a little bit of advice at times," Delaney said. "When she started out she was too scared to talk to the girls on the field and tell them what to do. But I told her she has to be confident because she made the team and she's out there for a reason."
"But," Zeidman added, "I think she already has a better understanding of things than I do. I still feel lost at times."
Delaney understands that in this, her lone season on the varsity, her role is to be more of a teammate than anything else. When she does play, it's usually up top at forward. She would like to see more time on the pitch, but is still enjoying the ride.
"It's been a little hard," she said. "I never did travel soccer like most of these girls, so I had to work a little extra harder sometimes. I had to get a trainer over the summer and just try my hardest to make the team and get some playing time. Every minute of playing time is a reward. I don't care how much it is."
Diaz feels gratified to have someone like Delaney, whose presence is positive no matter how many minutes she gets.
"I think it's an example of the type of person she is," the coach said. "We love having her as part of our program. We feel she is the ultimate teammate and that's someone you want around. Regardless of whether they play 80 minutes or play zero minutes, it's all about building a good culture."
There is a reason Delaney never played travel soccer. She was focusing on her first love, which is performing arts. The actor was hungry for lead roles in Notre Dame's school shows, and knew the only way that would happen would be to attend rehearsals. Thus, soccer was on the backburner.
It paid off, as Zeidman got the female lead of Kim McAfee in Bye Bye Birdie, and the supporting female lead of Eulalie McKechnie Shinn in The Music Man. In looking toward the future, Delaney's "dream school" is AMDA – the American Musical and Dramatic Academy of New York and Los Angeles.
"I would love to go there and pursue an acting career," she said. "If I don't get in, I plan on doing a double major in acting and English and I'll see where it goes from there."
She will try out for Notre Dame's spring play but will skip the autumn production in order to enjoy herself in athletics.
"I love playing soccer," she said. "Even though it's not my top interest, it keeps me active. I love doing it, I love being on the team. I do it for fun."
Part of that fun is watching her sister improve in goal, which is something the Irish need this year after losing Bodmer. The coaching staff never put pressure on the ninth-grader that she had to immediately be as good as her predecessor.
"We have a fresh slate where we have different expectations and goals for her," Diaz said. "Each game she continues to find her confidence and her voice. We're trying to let her know it's about only focusing on what Leah can do to get better."
Although she is not the tallest of keepers, Zeidman makes up for it in other areas.
According to Diaz, "She reads the game very well. She takes very good angles. She also knows times she can catch it, or when she'll just have to hit it over because she's fun size, as we like to call her. She knows her decision making very well."
The freshman fully understands that the mental game is as important as the physical.
"My positioning has to be on point," Leah said. "That's probably the most important thing. If you're out of position, it makes it so much easier for the offense. If you're in position, it cuts off angles and gives them less amount to shoot at."
And while she is just starting her journey in varsity soccer; Leah's progress is evident to her biggest fan.
"I've definitely seen improvement over the years," Delaney said. "She tries really hard, she works really hard when it comes to soccer. Even now in the couple practices and games we've had, I've seen so much in her."
And for one season, at least, Delaney is happy to have a front row seat to watch her sister grow on the field.