When the name "Lowe" is thrown around Ewing athletic circles, it usually means a basketball isn't far behind considering EHS grads Trey Lowe and his sister Jaycee were both stars on the hardwood.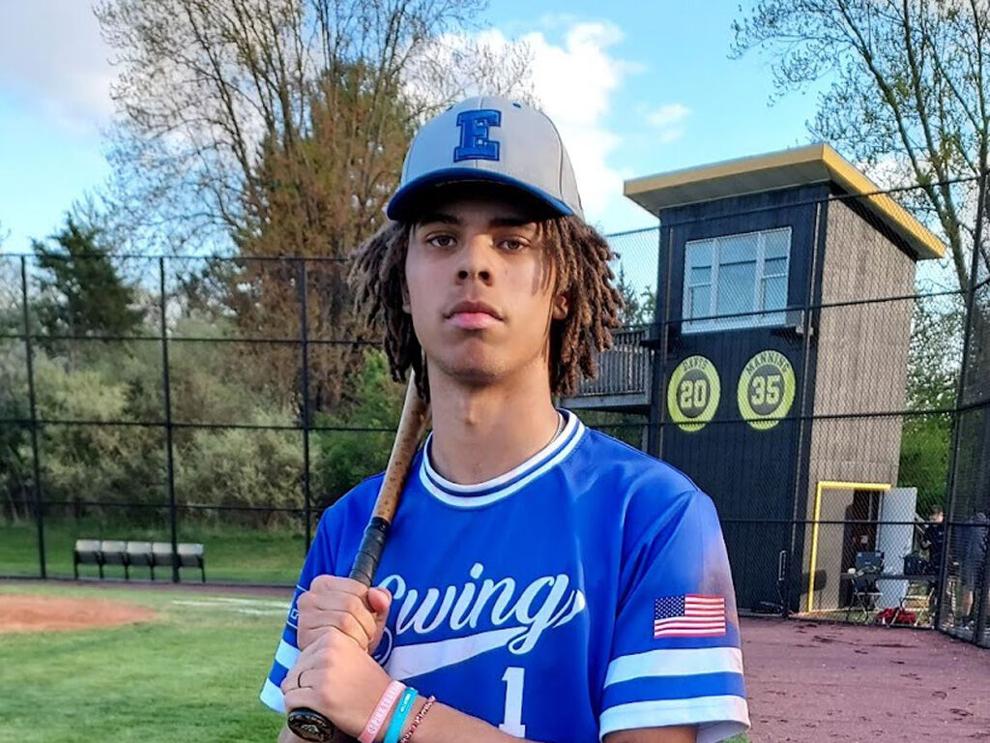 But a new breed is on the Blue Devils scene, as senior Zaire Lowe is also turning heads in athletics.
Any relation?
"I wish, I wish, but no!" Zaire said with a big grin. "I get asked that like, 100 times a year. I like to say they're my cousins."
Actually, this non-basketball Lowe is making a nice name for himself in both football and baseball.
He never stepped on the gridiron until his sophomore year at EHS, but as a receiver/defensive back Zaire was good enough this past fall to receive a scholarship offer from Keystone College in Pennsylvania to play receiver for the Division III program.
Through the Devils first seven baseball games this spring, Lowe was hitting a team-high .407 with five stolen bases and seven runs scored out of the leadoff spot. He was also among the best defensive centerfielders in the Colonial Valley Conference, using his speed to track down well-hit balls to the outfield.
"He's an awesome kid," said baseball coach Dave Angebranndt, who needed the veteran to guide his young squad this spring. "He just does what he needs to do. He's a great leader on the football team and baseball team, he takes the younger players under his wing. He's your prototypical coach's dream kind of kid."
Football coach Ross Maddalon was in full agreement.
"He's a great kid," Maddalon said. "Extremely likable and very respectful. He is a good athlete who does the right thing and has great integrity. He played slot for us on offense and defensive back and also played on most special teams. He had a very productive senior year and served as one of our team captains."
The fact he has been recruited after playing just three years impressed Maddalon.
"Absolutely," he said. "I don't have much to go off of besides Hudl tape, based on his sophomore and junior years since I just came in July. But based on my (numerous) years of experience in coaching, he's definitely done well for only playing the game since his sophomore year. "
It's a different story in baseball, as Lowe began with the Ewing Little League at age 9. He was a shortstop in seventh grade before Fisher coach Darren Basich saw his skill as an outfielder.
"Coach Basich—I love that guy – moved me to right field and it became natural," Lowe said. "I'm very quick so I use that to my advantage. I think I'm very instinctual, I have a good IQ for the game; I could still learn a lot more, that's what I like to take from Angebranndt. He's teaching me a lot more every day. The game comes very easy to me, but I take practice very seriously. I'm very hard on myself."
Lowe made varsity as a sophomore but only mustered one hit in 17 at-bats while playing right field. Last year he improved to .279 while still playing in right; and this year he has blossomed at the plate and defensively in center.
"I wasn't expecting him to be as aggressive in the outfield," Angebranndt said. "The game he played at Notre Dame was unbelievable. He caught eight balls as our centerfielder but none of them were in center. One was in shallow left-center, one was shallow right-center, one was in deep left-center one was in deep right-center."
Angebranndt feels that playing safety in football helps Lowe track down fly balls.
"I think the movements with the hips and opening up and drop stepping gives him an advantage," the coach said. "It's basically the same as being an outfielder. You're judging the ball based on where it's at. Picking up the ball is the same as watching a wide receiver and the ball come out in football.
"It's muscle memory. You're opening up your hips, you're side saddling in football when you're seeing the ball thrown. It's the same thing in the outfield.You gotta open your hips and see the ball hit, drop step and put your body in position. Him being able to do that in football the last few years has really kind of fine tuned his outfield skills; being able to get great jumps on balls for that reason. Any time a ball is hit in center field or that vicinity, I'm very comfortable the ball will be caught."
Lowe is just thankful Basich saw him as an outfielder.
"I love it," he said. "I get to see everything. I get a little sun tan when nothing's coming my way. I get to run around, you can't ask for anything better."
Offensively, Lowe has found his footing this year after scuffling his first two seasons.
"My sophomore year I didn't do too hot, junior year I started to pick it up," he said. "Now, I'm the only senior, I gotta do something. I gotta lead the team."
He did his research on how to pick it up at the plate.
"I'm seeing the ball out of the pitcher's hand a lot more," Lowe said. "Over the off-season I really focused on the strike zone, getting down the nine squares. So I know the strike zone pretty well, almost like the back of my hand."
"I could be an umpire for myself," he continued, echoing the dream of every hitter in the history of the game. "I know balls I should swing at and balls I shouldn't. You just make the adjustment."
Angebranndt feels his improvement stems from taking a simpler approach. Rather than analyze what pitch he guesses he might see, which makes Lowe too passive, the coach wants him to just be in attack mode and react to whatever is thrown.
"When he stops thinking he starts to have a lot better approach at the plate and he puts better contact on the ball," Angebranndt said. "He wanted to know what things he had to improve on. I said 'You take some pretty crappy swings and you take some really good swings. When you take really good swings it's because you go after the ball and you're not thinking about certain things. When you take crappy swings it's because you're analyzing this and that. You just gotta react to the baseball. See the baseball and hit it."
When he follows that formula, Lowe becomes more disciplined at the plate as well. And as he noted, Zaire has developed a firm knowledge of the strike zone that keeps him from chasing bad pitches. That has helped him swing more consistently this year as Lowe hit safely in six of Ewing's first seven games.
He is also a threat on the base paths and is usually given the green light.
"It's testament to his education of the game," Angebranndt said. "He's taking what I'm giving him and he's running with it. You're talking about reading pitchers, looking at tendencies, how many looks the guy gives you, how long it takes the guy to go to the plate.
"It might take him a couple minutes to figure it out, but once he figures it out, he's able to get great jumps, because he's able to educate himself about the pitcher on the mound."
Lowe educates himself well in the classroom as well, sporting a 3.2 grade point average.
"I'm not complaining," he said. "Some people have a 4.0, but I'm OK with it. I have very good street smarts. I know when to not do something stupid. I stick to the books and I like to put in the work."
He also likes helping special education children with the Unified Club.
"I love that to death," Lowe said. "I'm very big on Autism Awareness. It makes me very happy. My family has a history of helping special-ed kids. I never got told to do it, it was just something I picked up in sixth grade. I just love it."
He also loves being a two-sport athlete, and hopes he can continue that in college. Zaire hasn't received any baseball offers yet, but said if he goes to Keystone – a perennial baseball power in the Colonial States Athletic Conference — he might try and walk on.
"If you asked me last year, I'd say I'm a baseball player who happened to play football," Lowe said. "But now I consider myself both. I'd want to play both. I love both sports."
And he excels at both at Ewing. So although he is not related to the basketball Lowes, he is doing their name proud in other sports.