Jaden Leggett is fast, but even he couldn't outrun the COVID shutdowns in the spring of 2020.
Which is why Notre Dame High track & field coach Joe McLaughlin has no idea what to expect of his sprinter from Ewing this season. He knows the potential is there; however, so hopes are high Leggett can have some success.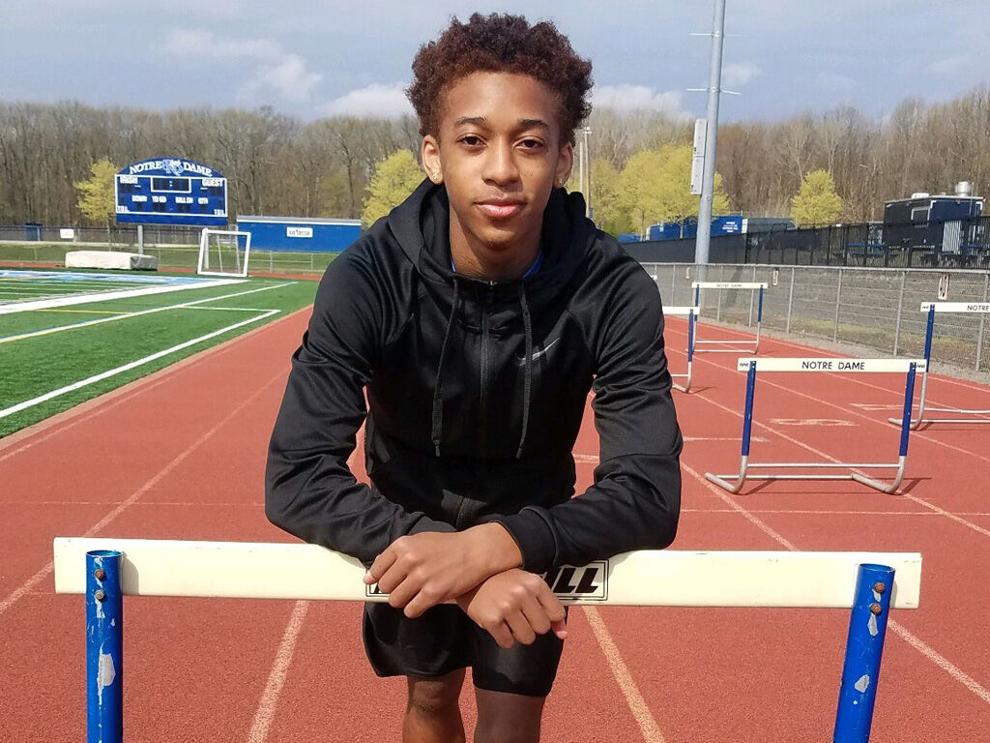 "I don't know what to think," McLaughlin said. "It's such a difference from sophomore to junior year and we never saw that junior year."
That being said, McLaughlin assured that the Irish would have been counting heavily on Leggett last year, and the same is true for this season.
"All our best guys are in his group," the coach said. "The Chambers boys (Ean and Ethan, also from Ewing), John Liedtka, Jaden Holmes, that's our core group, they just all happen to be in the hurdles."
Leggett does more than just the hurdles. He is capable of doing the 100 and 200 meters, all three jumping events and the 400 and 100 relays. His athleticism is evident in the fact that he did not go out for football until midway through his junior year, and is now entertaining offers from Division III schools to play receiver.
On the track, he actually loves doing the 4×400 relay and McLaughlin is quick to note that coaches usually have to beg guys to run that race.
"He asked to do it," McLaughlin said. "As a coach, you love to hear that."
Leggett is just ready to start running again.
"It's gonna take a while to get back into it but I can't wait for all the events, especially the four-by-four and the hurdles," he said. "Four-by-four is definitely one of the toughest events. It takes a lot of hard work, you've gotta put all your effort into it. It takes a lot of guts, so you just gotta do it. I started freshman year and I've been doing it ever since."
Leggett was always fast as a kid, and decided to channel his running into something constructive upon entering the Princeton Academy in middle school. Encouraged by his mom, Leggett went out for cross country in sixth grade.
"She knew my potential for running, she said to just go try it and see if I liked it," he said. "I tried it; I became the leader of my team. I was running two-plus miles in a pretty good time. I won the Battle of Princeton race against five other (Princeton middle) schools. So it was a natural and gradual transition when I came to track."
It was a big transition as well, as he went from distances to running sprints and hurdles.
"I've always been one of the faster guys," he said. "Sprinting just came natural. They were looking at me and they said 'OK we want you for the team' and sure enough they put me in the 400 and four-by-four and I just kept doing it."
As a freshman, Leggett was part of ND's third-place 4×400 relay team at the NJCTC freshman-sophomore championship, running 3:54.7 along with Malachi Tucker, Ethan Chambers and Jaden Holmes. That same spring he was fifth in the 400 hurdles at the NJCTC meet and sixth in the Mercer County Freshman-Sophomore meet.
In the spring of his sophomore year, the 4×400 took second at the NJCTC meet in a time of 3:46.69, with Jayden Wilkie replacing Tucker in the group. Leggett was fourth in the 400 hurdles in the Steinert Spartans Frosh-Soph meet in 1:04.63, and one day later he took third at the NJCTC event in a personal record (PR) 1:01.78. He also ran a PR 17.37 in taking second in the 110 hurdles at NJCTC's.
Doing winter track for the first time as a junior; Leggett was part of a second-place 4×55 shuttle hurdle relay team in the CVC Relays, and ran on 4th- and 6th-place 4×400 teams in the Non-Public A Relay Championships and Non-Public A Group Championships, respectively.
And then came the shutdown.
"It was very hard, especially knowing that junior year is when all the colleges are looking at you," Leggett said. "Knowing our junior year was taken away from us like that, it hurt because I had so much more to prove."
He will try and prove it this year, and McLaughlin realizes he has the capabilities to bust out. But with so many unknowns throughout the state due to last year's shutdown, he can't make any bold assertions.
"We didn't really have a true winter season," the coach said. "But I do know that sophomore year, he was probably the second or third best sophomore out of all those guys, this year he's the best. He's surpassed all of them all. What that means in terms of how he will do, I'm not sure.
"I know he's got some heart. When he's going up against some better kids, he doesn't quit. He goes after it. I do know he'll be a key guy on our four-by-four team. And he's also a very polite kid, which is nice to see these days."
And while Leggett was upset that he missed his junior year in track, it turned into a case of one window opening when another closed. He had longed to play football but like so many mothers in America, his own mom was worried about injuries. She finally relented during his junior year, and in his senior season he caught 11 passes for 210 yards and three touchdowns, including two big TD grabs in a win at Trenton.
"He came out of nowhere for them," McLaughlin said. "Last year he really did nothing and this year he was one of the big go-to guys."
Which is something that makes the coach happy.
"I've always encouraged our kids, if they're not doing a sport for me, they should be doing another sport. I love seeing a three-sport athletes. Some of our best guys—Tiquan Underwood, Rich Gunnell—were football, basketball and track. There's not too many three-sport athletes anymore."
At 5-10, 160, Leggett wants to bulk up a little before heading to college. He is currently being looked at by Montclair, Ithaca, Plymouth and Western Connecticut, and has been working with ND strength and conditioning coach John McKenna to get bigger.
Before then, he has one last track season to look forward to. Leggett hopes to run the 400 between 52 and 53 seconds, is looking to get below 60 in the 400 hurdles and drop to 15 seconds in the 110 high hurdles.
"That's why losing last year hurt," Leggett said. "I know I could have run a 58 in the 400 hurdles. Now I have to try to get back in shape."
Leggett was also disappointed the Penn Relays got cancelled, but hopes to fare well in this year's state meet, and several conference meets the Colonial Valley Conference has set up (there is no county meet). And since they will not be keeping score in CVC dual meets this year, McLaughlin can experiment with his athletes in various events to see what clicks.
"There's no pressure to win a dual meet, so I'll be able to worry about what's best for the athletes," he said. "I'll try to get some PRs for them and some variety in there for them."
How everything shakes out remains to be seen. It's the great unknown, and Leggett can't wait.
"Yeah," he said while strolling toward a hurdle. "I'm really looking forward to getting back out here."