When Dario Doelatip walked his stepson into Curtis Lanes at age 6, he had no idea the impact it would make.
"He opened up a new world for me," Kenny Romero said. "It was an amazing experience. I threw there for the first time and loved it. Since then I've joined the Junior League and I've been there ever since."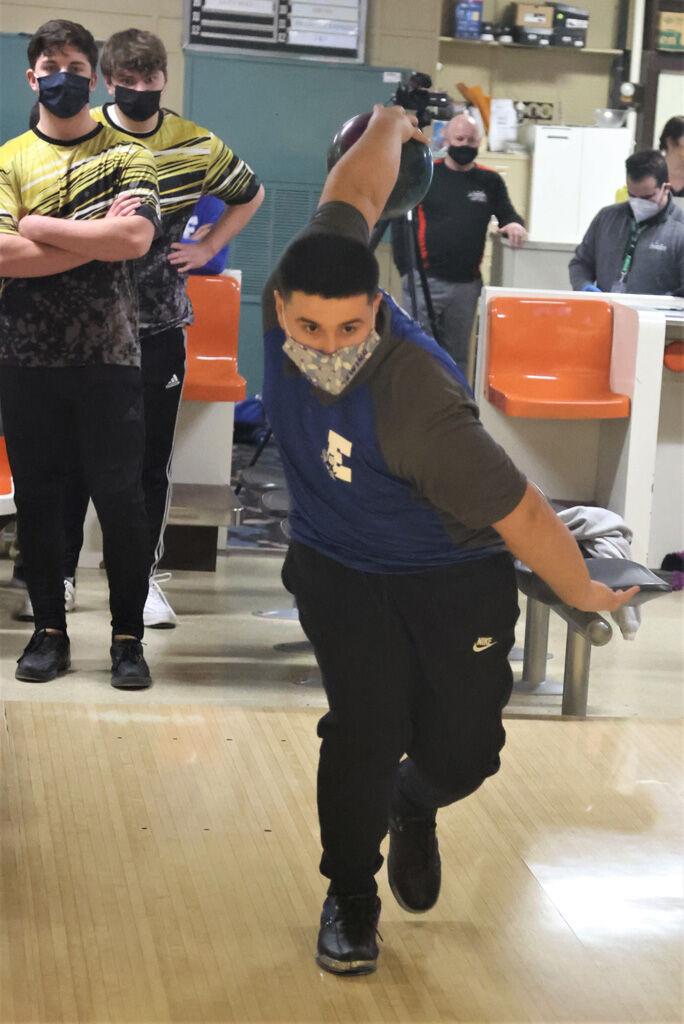 The sophomore also just completed a standout season for the Ewing High team, helping the Blue Devils to a 6-1 record and the Burlington County Scholastic League championship in what was an abbreviated season due to the pandemic.
Bolstered and nurtured by coach Dave Angebranndt and a group of talented upperclassmen, Romero averaged 182.5 in 20 games, with a high game of 240 and high set of 582. He rolled five games of 200 or better.
That came on the heels of a freshman season in which he averaged a 178 (in 53 games) with a high game of 277 and high set of 674. He had another set of 667 and collected 14 games of 200 or better.
"He was a very quiet kid as a freshman," Angebranndt said. "He's still quiet but he's definitely matured as a person and as a bowler. He's practiced extremely hard over the last year to kind of hone in on what he needs to do well in order to be successful at the sport.
"I commend him, he grinded all summer long, but obviously with Covid coming into play, he had a couple weeks and months he couldn't bowl. All of a sudden, once the Junior League started up, he was a different person from last year."
The coach noted that one of the major changes is that Romero learned how to put a bad ball behind him and focus on the next one.
"You just have to shake it off," Romero said. "Not everybody's perfect. Even the best bowlers get the worst shots and they don't qualify for certain things. But they just keep getting better and better throughout the months and years."
Another big improvement came in Romero's knowledge of how to bowl. Much like a baseball pitcher who goes from just trying to blow people away with his fastball to establishing a plan of how to pitch, Romero has gone from a thrower to a bowler.
"You see a kid transform from someone who just throws a bowl, to a kid who knows how to bowl," Angebranndt said. "He's still kind of the same bowler he was, very fundamentally sound, but he just tightened up some small technical things, and he blossomed this year.
"He knew how to throw his equipment this year, that's a huge thing in bowling, to understand your equipment. All the balls are different. He knew when to make a ball change, he knew what to use when he had to."
And with that progress, came confidence.
"He knew what adjustments he had to make as opposed to last year, where it was like 'Oh crap, what did I do? What do I need to do to fix it?'" Angebranndt said. "He got to the point where he knew what he needed to do."
Romero credited senior teammate Mike Franks, "who really helped me out throughout the season and even before it," and was also grateful to Aiden Reid, the Devils' other senior.
"I enjoyed every moment bowling with our seniors," he said. "They really had an impact on me."
One of Romero's biggest influences was Doelatip, who was a high school teammate of Angebranndt's at Ewing.
"He was a really good bowler," the coach said.
"In the beginning, when I felt I wasn't good enough," Romero recalled, "he always told me 'You're gonna progress, you don't have to put so much pressure on yourself as a kid.' He said to just have fun with what you're doing. Every time we went bowling he always figured out something to help me improve."
It has been a series of non-stop improvements for Romero. Two other noted differences in his game this year were the ability to hit his mark, and a penchant for picking up spares more frequently.
"A lot of people will throw with break on their ball, and you have to understand where the ball is going to start to hook," Angebranndt said. "If you have a ball that's gonna hook a lot you have to know that you can't throw the ball into that area where there's no oil. He can consistently hit an area on the lane that he needs to."
As for Romero's spare shooting, Angebranndt said "He's improved 100 percent from last year to this year. I've told my guys from the start it's more important to convert spares than to throw strikes.
"Anyone can throw a ball down the lane and then strike. It takes a little more skill and concentration to make spares and I think he's getting to that point."
While Romero was dismayed that Ewing was only able to bowl seven matches due to the pandemic, he did take pride in the fact the Blue Devils were able to win the virtual BCSL Tournament.
"That meant a lot," he said. "We're just confident every time we go against teams. We give respect to each other and just keep lifting each other up even through bad frames, bad games."
And while the Devils will graduate Franks and Reid, they do return a solid core with Romero and juniors Kyle Delutis and Nick Canavera. Delutis led the team with a 189 average and Canavera checked in at 180.
"That's exciting," Romero said.
"It gives me a solid core group of guys who have been there before," Angebranndt added. "They have experience, they know what to expect. It's definitely a satisfying feeling to know they're coming back."