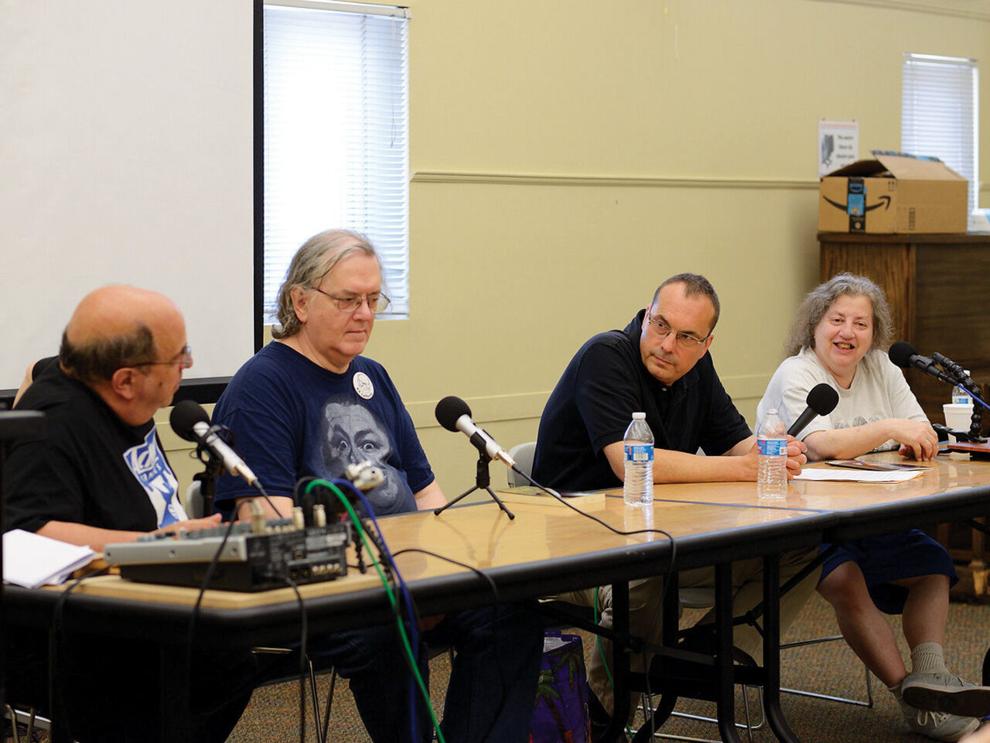 For people outside the world of science fiction aficionados, the idea of a yearly conference on an obscure writer R. A. (Raphael Aloysius) Lafferty may be difficult to understand. To tantalize the uninitiated, two organizers of the fourth Laffcon conference at the Lawrence library try to capture the uniqueness of Lafferty's work.
Laffcon4, the world's only conference dedicated to Lafferty, takes place Saturday, June 8, from 10 a.m. to 6 p.m., at the Lawrence Library. The free conference, cosponsored by the library and the Northeast Lafferty League, includes a pizza lunch and a convention booklet for each attendee.
Robert Bee offers a summary of Lafferty's novel Past Master, which demonstrates both Lafferty's approach and his devout Catholicism. People living in a future world that is a struggling utopia decide to bring Sir Thomas More, author of the sixteenth-century work Utopia, back from the past to become the ruler who they hope will fix their problems.
"More," Bee said, "is a historic figure who is a Catholic saint. He was martyred in the time of Henry VIII because he stood up for the church when Henry was bringing about the Protestant Reformation—so he is a Catholic hero."
"The moral message in Past Master is that in this future world the problem is that people have given up on religion are nihilistic and don't have any moral values," Bee said. And indeed, More is again martyred in this future world as he was in the past.
Sam Tomaino, president of the science fiction club Prydonians of Prynceton that meets monthly at the library, chooses as his Lafferty example the short story "The Sound of Thunder," where "you step on a butterfly in the prehistoric past and change the present."
Lafferty also created "Bagarthach verse" in his novel The Reefs of Earth, where alien immigrants to earth occasionally speak in verse that follows an unusual set of rules: it must be funny or clever, but mean spirited; one quatrain long; with syllables in each line 8-9-8-9 or occasionally 8-8-8-8; and rhymed a-b-a-b. Laffcon sponsors a Bagarthach verse contest, and the three winning quatrains among the 30 submitted will appear in the convention booklet.
The idea for the conference grew out of the Facebook page East of Laughter: An Appreciation of R. A. Lafferty, which Bee, a Ewing resident, says is "in effect the Lafferty Fan Club." Some group members had read an article Bee wrote on Lafferty and wanted to republish it. The ensuing conversation sparked the idea for the first Laffcon in 2016. Explaining the motivation for the conference, Bee says, "Although Lafferty does have a devoted cult following, he is not as widely known as many of us would like him to be."
Laffcon is organized mostly via email by a four-person committee, which this year includes Bee; Tomaino, who now lives in Newark, Delaware; Anthony Rhodes, from Florida; and Kevin Cheek of Seattle, Washington. All four co-chairs served as judges in the poetry contest. Last year Tomaino was on a panel about the Lafferty novel Fourth Mansions, and this year he will be on a panel titled "High Purpose of the Gallant Band: The Reefs of Earth."
Organizing has mostly involved approaching potential unpaid speakers. Proximity to New York and Philadelphia makes the task somewhat easier, Bee says. Committee members take on other responsibilities, like editing the Laffcon booklet and organizing the conference art show, which this year includes three artists, Anthony Rhodes, Lissanne Lake, and Yakov Varganov, exhibiting about 25 items.
Bee, who calls Lafferty "a writer's writer," says his first taste of the author was in the 1990s reading the novel Past Master. "I think part of what originally attracted me to Lafferty is that I'd start laughing out loud at various passages and occurrences," Bee said.
Describing Lafferty's work as "a combination of science fiction, tall tales, and an almost oral fiction, with an element of Mark Twain," Bee says he was drawn to "the imagination of it, the uniqueness of it."
Lafferty, born in 1914, began writing in his 40s and published his first story in 1960. "He was a prominent part of the science fiction new wave in the 1960s and 1970s," Bee says. Earlier science fiction had been "written very clearly and plainly, in a matter of fact language and tone—it was written to communicate, with no effort to make the language stylistic."
In the 1960s science fiction authors, taking their cues from writers like William Faulkner and James Joyce, "started to incorporate linguistic experimentation" as part of the "new modernism."
In Lafferty's work, Bee says, "there would be puns, literary references, and plays on words. Rather than just being simply or clearly written, there is a lot of literary experimentation with language."
For Tomaino, who generally prefers "a story plainly told," Lafferty's writing has an unusual style that he says "I wouldn't even tolerate for other writers." Lafferty's stories wander, he says, and "you're not quite sure what he means—you really have to think about it."
In Lafferty stories people, and especially children, act bizarrely. "Lafferty's children are the very definition of precocious and have seriously strange viewpoints," Tomaino says. In the short story "Seven Day Terror," strange events in a town are connected to a young girl. When the mayor convinces her to fix the problems, she insists that part of the process involves smashing the mayor's watch. Later the girl proclaims that the strange events would have ended naturally. In response, the mayor asks why she destroyed his watch. Her reason? "Well, that was for dramatic effect."
Each year the conference, which has attracted people from as far as Europe and Japan, focuses on a different novel, the choice this year being The Reefs of Earth. Events include a talk by Andrew Ferguson, a PhD candidate in English at the University of Virginia who has an upcoming biography of Lafferty, speaking on "Virtue Forever Green: Twelve Years on the Trail of R. A. Lafferty"; one by Matt about Lafferty in New York, focusing on his relationships with publishers; and a panel on strategies for interpreting and understanding Lafferty's fiction. A Gene Wolf podcast, focusing on the short story "Narrow Valley," will be broadcast live from the convention.
Tomaino, who discovered Ray Bradbury in middle school in Point Pleasant Beach, organized a science fiction club at the University of Delaware, where he graduated in 1970, and that's where he first heard about R. A. Lafferty.
After earning a bachelor's degree in secondary education, with the goal of becoming a math teacher, Tomaino earned a master's at Indiana University in college student personnel administration, with the goal of becoming a college administrator. During graduate school, he also organized a science fiction club.
But because he was unable to find a college administration job, he briefly taught part time in his hometown in the late 1970s, but then turned to computer science. Having done mathematical work one summer for Ocean County, he was hired later to program their new IBM 5100 minicomputer, based on his having taken an undergraduate programming course.
After being laid off Tomaino got a job programming business applications for what was then Central Jersey Bank & Trust in Freehold. He moved to Plainsboro in 1989 after his employer, Continental Insurance, moved to Cranbury. After CNA bought Continental, he moved to Highlands Insurance in Lawrenceville. When that company went belly up, he was laid off and moved to Brick to become his father's caregiver. After his father's death he moved to Delaware because it was less expensive than New Jersey and he still had friends nearby.
Bee grew up in Monroe, Louisiana, a town of about 50,000, where his mother was a secretary and his father worked in a warehouse. He graduated from University of Louisiana at Monroe with a bachelor's degree in English. He earned a master's in English and a few years later a master's in library science, both at Rutgers University. He says he chose library science because "it seemed like a good career for someone really focused on reading."
Bee taught English at St. Mary's Catholic High School, now closed, in South Amboy, from 2000 to 2001, at Roselle High School from 2001 to 2002, and at Holmdel High School from 2002 to 2004. After earning his library degree, Bee managed the East Trenton Public Library from 2007 to 2011, then moved to the Mercer County Library system. From 2011 to 2019, he taught computer classes and did reference work at the Lawrence branch and has been manager of the West Windsor branch since December. Aside from science fiction, which he says is his "principal hobby," Bee enjoys micro-brewed beer and in particular River Horse in Ewing, which is right around the corner from his house.
For readers curious about the R. A. Lafferty phenomenon, Tomaino suggests starting with the short story collection Nine Hundred Grandmothers and novels like Past Master and Fourth Mansions. Although Lafferty's work was out of print for many years, it has recently started appearing back on shelves.