The COVID-19 pandemic has had a strong impact on municipalities over the past two years, and Ewing Township is no exception.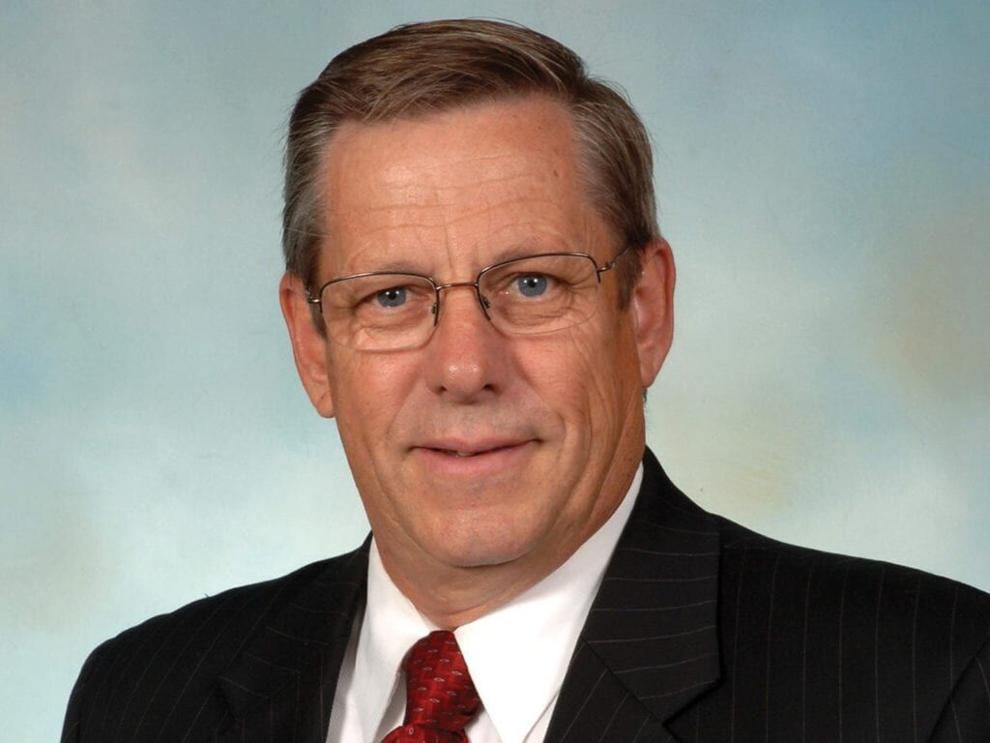 Commercial and residential property values, township revenues and expenditures, development and township operations are all areas that have been affected by the pandemic.
The Observer recently sat down with Ewing Mayor Bert Steinmann to talk about these issues and a number of other things going on in Ewing Township.
Below is the first part of a Q&A based on the interview with Steinmann. It has been edited for length and clarity. The second part will run in next month's issue.
The interview starts with a topic that has become the subject of some controversy in recent months—the change in the township's leaf and brush collection policy.
* * *
Ewing Observer: It seems that a township resident kicked a hornet's nest in a letter to the editor in The Observer last month regarding leaf and brush collection. I'd say there's some concern out there about what the township did in terms of changes to its collection policies. Did you see the letter?
Bert Steinmann: I saw the letter. We have talked with the individual. Obviously, she is of the mindset that whatever explanation that you give is not good enough.
When we approached this, it wasn't a spur-of-the-moment decision that we were going to implement this particular process. It was over time. I conferred with individuals on Council, who agreed with us that we should do something.
And so the alternative was to bag it and/or containerize it in some way where you don't have to put it in a bag. You can also put it in the garbage bucket, and then we would come the day after your normal garbage collection and pick it up.
And we would do that all year round. So, everybody's got a chance 52 weeks out of the year for collection, whether it's grass or leaves or other things. And we would be by every week.
I would say, according to my Public Works director, that we're around 73 or 74% compliant. We have certainly had complaints, and in some cases, I can clearly understand why.
But we started this process about six months ago. We advertised it very well. We had an ad in the Ewing Observer at least six times.
And then I still get calls from individuals saying, "Well, you never advertised. You never did that."
But we did. We also put it on the website, the whole nine yards, so it wasn't like people should have been caught by complete surprise.
As I said, we conferred with members of council who voted unanimously for this, and the problem that we had is not so much the of the raking of the leaves into the street. It was the fact that the state Department of Environmental Protection has a rules as far as how long the leaves can sit out there. It's usually seven days from the time they get in. And with our manpower situation, we can't comply with that. So that leaves the town open to fines.
Now to be quite honest with you, we haven't had a situation like that, but I don't want to get into that situation either. What was happening is that because the leaves were being raked into the streets, the runoff was getting into the storm drains and we got to a point in some sections of town where the storm drains were so clogged, we couldn't even run a Roto-Rooter through there to the clean it out.
We had to dig up to the storm drains and replace them. And we replaced almost 2,000 feet of storm drains through various parts of town and that's very expensive. That's when we came up with the change. We said, "Let's try to do it this way."
The other part was that we would come through the town and pick up with the loader, but the very next day, if we came through a section of town, people would be raking leaves back into the street. It was a continuous situation.
With the bags we don't have that. Right now, when people bag their leaves and or containerize them, we go through there every week. When you drive through town, you can see how much cleaner it is.
But, we will look at it again. We will try to tweak it to work. We will make it a little bit more convenient for individuals.
We're going to reach out to certain groups—Cub Scouts or even the college and some other organizations to help our senior population.
We have ordered a new vacuum truck, but the problem with the truck is not that we can't do it. We can. The problem is what people throw into the leaf pile. That's what happened with the last machine that we had. People were throwing away stuff like pumpkins, bricks and construction debris and then covering it up with leaves.
We were sucking up this stuff and it's getting jammed, and it's damaging the cutters to a point where we just totally demolished one of the vacuum machines that we had.
We'll take another look at the situation and see what we what we can do. But, I encourage people to have a little bit of patience while we work through this. Again, like I said, we've got at least 70%-plus compliance with people doing it. And I've been getting compliments from individuals saying, "Hey, this is great, and I can put a bag out, and the very next day it disappears."
So we're happy about that, but there's always going to be those individuals that it because it's a change, its difficult.
EO: One of the responses to the letter was from someone who was complaining that the township should be more vigilant about dealing with people who are not compliant. What are the consequences when someone violates the rule?
BS: So basically what we're doing, is we have code enforcement that drives through the town and they issue a letter saying, "Hey, you rake the leaves into the street and that's not allowed. Would you please containerize them or bag them," and we give them a certain amount of time.
I think it's 10 or 15 days to clear up the situation. After that, we kind of re-evaluate it. I don't honestly believe that we gave anybody a summons. We may have, but yeah, we have given people warnings.
It's not our intent to fine people and do the whole nine yards. We just like people to comply. Now I mean, if this continues and the same individuals just keep doing what they're doing, then yeah, there will be a strong possibility where they're going to get a fine. But some people just ignore it.
EO: It's like when people ignore seat belts and speed limit.
BS: That's correct. Exactly.
EO: So how different is what you're asking? Does containerizing mean that somebody should put all their leaves into a plastic garbage pail and then put that out at the curb?
BS: Yes. So basically, get a garbage can, put the leaves or grass or whatever in there, and then we come and dump it into the truck, put the garbage bucket back. And they can do it again the next week.
The best thing about this is the fact is that, once the leaves fall, you don't have to containerize everything all at once. You can go over a period of time, do five bags, do 10 bags, do five buckets, do whatever, right? Put it out there, and then the following week when you feel up to it, do a couple more and put it out there.
It's not like we say, "Okay leaves are falling. You need to get everything off your lawn." In fact, we encourage people to mulch it. Now, some people don't like mulching leaves because it takes a little bit longer for the leaves to disappear, and some individuals are very meticulous about their lawns. So it's a problem for those individuals.
But again, it's not like you have to do it all in one time, all in one day, because we go through town every week after your garbage day to pick up the bags and/or containers that has leaves in them.
EO: Previously pick up was done on a schedule, right?
BS: We would start sometime in October and then go through like January, but it was a mess.
Like I said, we would go through the town get all the leaves, but then the very next day you'd have the same amount of leaves back out there because people just kept ignoring the schedule.
Back in the day, at one point we had 80-some employees that were in public works. Currently we have, I believe, 44 or 45, but even that's misleading.
We've got four mechanics. They're not out there cleaning. We have two people that work at town hall, two people that work at the community center just for General cleanup and clean the offices, and taking care of the garbage.
So they're not part of that mix. The reality is, the number of people that we actually have working out on the street is probably around 30. It's difficult to keep up.
We're in the process of hiring individuals. We've posted for a lot of jobs, but people for some reason or other are not gravitating towards those jobs, and we have a situation where any new person that gets hired, we require that they be vaccinated or at least have the program started, and there's a lot of individuals that say, "No, I don't want to work for you because I don't want to get vaccinated."
So those are the situations that you run into. The town's tries everything to try to be responsive, but it doesn't always work out the way you'd like it to work out.
EO: That brings up the subject of the pandemic. Let's talk a little bit about the difficulties that COVID imposed on the township over the past year. You mentioned some employment issues. Difficulty hiring people just seems to be one of the offshoots.
I know there's increased costs, inflation and things like that. Can you talk a little bit about some of the things that you are wrestling with?
BS: Well, those are exactly the things that we're wrestling with. Fuel costs are up about 15 to 20% over where they were last year. That has a direct implication on street paving, because petroleum products that go into asphalt and blacktop cost more.
We test people for COVID and so we're addressing those types of things when you walk into this building. We take your temperature, make sure that you wear your mask. But even amongst our employees, and they're all very good people, but there are some employees that are of same belief as other people saying that, "It's my body. It's my right. I don't want to get vaccinated."
It does put a strain on the town when those individuals get sick and then we end up having to isolate one, two or three people. And that has an effect on the department and getting work done. Especially in construction or even in the tax office when people get sick.
So things start to backup and then we get situations where those individuals that are still able to work are now working a lot of overtime to keep up. So yeah, it's been a very stressful situation.
I think we're kind of working through it. It's getting to be a little bit better. In fact, we're looking at the mask mandate for the town, probably to try to tie it in the same time as the governor is lifting his ban. So sometime in March, we're looking to do that.
I do think that registration— people coming into the building having to give their name­—I think we're going to continue to do that because that has helped us. I think that's probably something that will continue. But again, we're re-evaluating.
EO: What is the purpose of the sign-in? Is that for contact tracing?
BS: It's for contact tracing, and it makes it a lot easier for us and for the individuals that are doing it.
Our nursing staff downstairs, who do 90% of the contact tracing, have done a tremendous job. They've been very busy and they're making house calls. So yeah, hats off to every employee. Everybody really stepped up. They really went above and beyond.
EO: Can you talk a little bit about how the how the health department has really stepped up and helped the township in dealing with the situation?
BS: Basically we had one individual that retired from the Health Department. We have hired another individual who has kind of run the department—Director of Health and Welfare/Nursing Supervisor Stephanie Mendelsohn.
She's doing a really great job under the circumstances. Before we were really short handed and we finally were able to hire at least one more person so that has helped. We are in the process of hiring another individual to help with inspections, but the individuals when they were doing the COVID tracing, and all that stuff, they went above and beyond what they had to do.
Nobody complained about it. They worked on weekends. They worked on Sundays. They worked day and night.
They did visits for home-bound individuals and gave them shots. The did the clinics that we were running, although we also had a lot of help from The College of New Jersey, from their nursing staffs—the ones that were starting to graduate. They helped us tremendously.
We inoculated probably three or four thousand people in the last seven months, eight months since we started this and we continue to do that.
We've also had some help from Penn Medicine and from Capital Health who come out here. But again, it's all coordinated through the health department. So again, they did a fantastic job.
EO: Do you have a vaccination mandate for township employees? What happens if somebody doesn't want to get a vaccination?
BS: We are currently working on that, and we're getting mixed ideas as to how we should approach it.
We are trying to obviously follow, the state guidelines, which we are doing. And then also follow what the county guidelines are.
The county guidelines as far as testing and things like that are a little vague, so we're trying to get to a point where we can be reasonably sure that we're doing the right thing and we want to do the right thing by all our employees.
So it's been taking a little bit longer to come up with a clear-cut guideline that we're going to do. So, we're not quite there yet. We've talked about individuals that weren't vaccinated, that they get tested once every seven days or once a week, and we're still talking about that.
We haven't really said one way or the other. But again, we're waiting for some guidance from outside agencies to see where we go for individuals that have been tested or have been getting their flu shots, it's just a little bit different.
It's a matter of how we approach COVID shots that they had. Initially, we were under the impression that two shots was sufficient, but it isn't. So now, in order to be considered fully immunized you need to have your three shots, including your booster shot.
EO: So right now employees don't have to provide proof of vaccination or anything like that?
BS: We started to do that, but some people are complying and some people aren't complying. So in that situation, what do we do if you don't comply? We want to try to be as fair as we possibly can. But again, we want to have guidance from the state and we want to have guidance from the county on exactly what their approach is.
In the municipal building we separated a lot of the people working together by putting hard plastic dividers between them.
People have to wear masks while they're walking through the hallways and in the bathrooms.
EO: How is town's budget coming along? I guess there's probably some specific challenges this year that you might not have seen in past years. Can you tell me some of the good things and bad things you're seeing in this year's budget?
BS: We're always working towards minimizing the impact on our taxpayers. As for what the budget is going to look like, I don't have preliminary numbers yet because I don't have the numbers from our tax assessor's office to see exactly where we stand. Once we get those numbers we'll see where we are. We will determine what we're going to be looking at. I mean the obvious thing that we want to do is have no increases.
But I can only talk about our portion of it. I can't talk about what the school will be doing, what the county and everyone else is going to be doing.
People look at the overall tax bill and they look at the bottom line, but really most people—not everybody— but most people don't look in between those lines. So, basically, if you go down, they'll see that out of the total amount of money that we collect, or are obligated to collect Ewing Township only keeps 25 cents out of every dollar that is spent.
I think 55 cents of the dollar goes to the schools and 25 or 26 cents goes to the county for open space library, and their situation then the rest is us, which is around 25 cents.
From that, we have to provide police service, fire service, EMT service, garbage collections, cleaning our parks and doing all of the other stuff that comes along with it. We have a lot of expenses. But again, I think for the overall money that Ewing Township collects and that situation, we do pretty well.