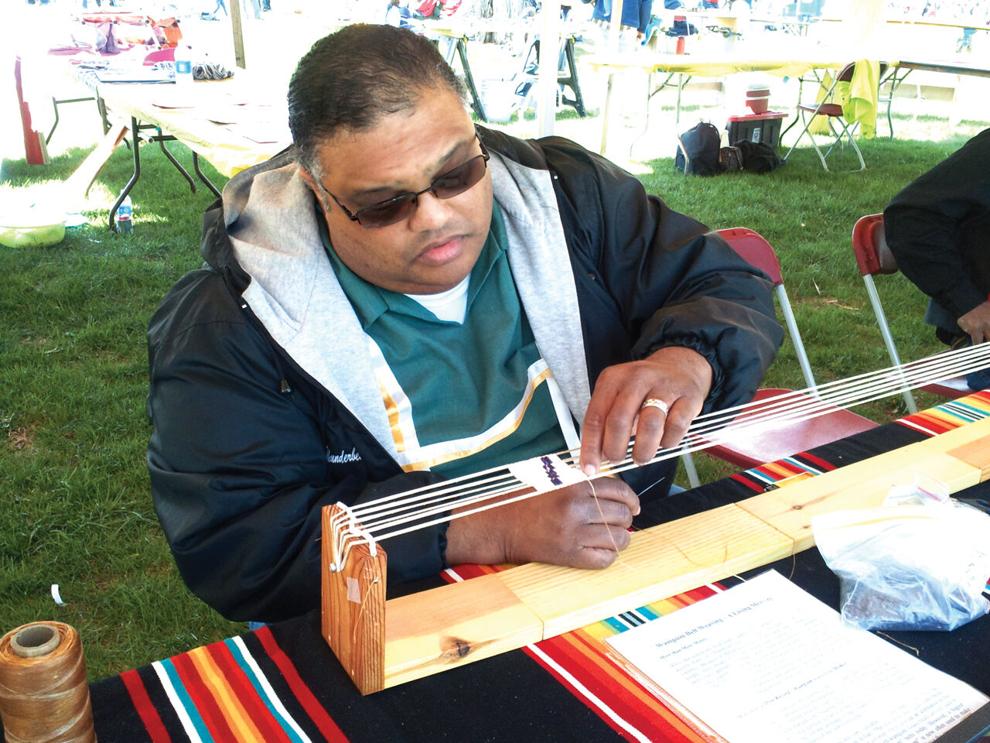 Rev. Dr. J.R. Norwood bridges two cultures. As founding pastor he has served the Ujima Village Christian Church of Ewing, an independent, community based, Christian congregation, for 25 years.
At the same time he is minister to the Tribal Christian Prayer Circle Ministry of his tribe, the Nanticoke Lenni-Lenape Tribal Nation, which calls itself "a fellowship of believers in Jesus Christ who gather for prayer, biblical discussion, spiritual formation, and the sharing of the Lord's Supper within a tribal cultural context."
For Norwood, the two will come together in a program titled "Building Greater Understanding about Native American History: Sharing Truth, Expanding Knowledge, Creating Awareness" on Thursday, Nov. 16, 7 p.m. at Ujima Village Church, 1001 Pennington Rd.
Presenting is Arla Patch, an ally who works to protect Native American interests. Norwood and members of his family will be there. The free event is cosponsored by Kidsbridge Tolerance Center, New Jersey Council for the Humanities, Not in Our Town: Princeton, and the Historical Society of Princeton.
Norwood notes that that all religions adapt and change some of their practices based on the larger cultural context, adding, "Sadly, for those cultures that were colonized, the ability to [interpret and celebrate the essentials of their faith] was suppressed."
Norwood has been dealing with the fact that New Jersey no longer recognizes the three Indian tribes within its boundaries.
But that has hardly been the only problem Native Americans have faced in New Jersey. There have been issues around land ownership, expulsion and suppression of Native American identity.
Norwood is a tribal activist (an elected tribal councilman and first principal justice of the Tribal Supreme Court), a delegate to regional and national organizations and president of the economic development initiative Nanticoke-Lenape Tribal Enterprises.
As such, he has been dealing with the fact that New Jersey no longer recognizes the three Indian tribes within its boundaries, which means they are denied protections and benefits that would flow from that status. For example, they can be denied scholarships set aside for different racial groups.
Due to fears of Indians developing casinos, the State of New Jersey, which in the 1980s had recognized three American Indian tribes within its boundaries, began to change its position, Norwood says.
The Division of Gaming Enforcement—without informing the Commission on Indian Affairs, who should have been the responsible party—maintained that, with regard to selling arts and crafts as American Indian made, there were no recognized tribes in New Jersey.
Then in 2012, he says, the Christie administration, in response to an investigation by the General Accounting Office in regard to state-recognized tribes and the benefits they had received over the years, said there are no Indians in New Jersey.
"They unwrote history; they said they were never recognized," says Norwood, who began investigating his own Indian heritage as he got older.
In 2015 the Nanticoke Lenni-Lenape, one of three New Jersey tribes (the others are the Ramapough Lenape Nation and the Powhatan Renape Nation), took the state to federal and state court, in a suit that has not yet been resolved.
"It is a repeating of history that a promise has been broken to indigenous people," Norwood says. "Over 400 treaties between the colonial era and the modern day have been made between the original colonial powers and the federal government and American Indian tribes across the U.S. Not one of them has been kept, and New Jersey has continued that history."
Having grown up in Moorestown, outside of tribal territories, Norwood nonetheless remembers stories about strong connections to tribes in Delaware and cousins in New Jersey.
Due to fear of persecution, a tribe's stories, lore, crafts and ceremonies were kept within families. Because these cultural practices are tied to Native American spiritual traditions, Norwood says, "there was great fear in practicing them openly or even talking about them."
"In my father's generation, the sharing of that information was done very carefully and cautiously for fear of persecution. If you have an admixture—we have African American ancestry—you take that identity," Norwood says.
Norwood says most Americans do not realize that persecution of Native Americans continued long after the Indian wars were over.
"There were elders in living memory of our tribe that remember the last removal; it happened in 1924 in Salem, New Jersey. The army came and took some of our people out west to a reservation."
Before passage of the American Indian Religious Freedom Act in 1978, many practices and gatherings were considered illegal.
As he started to investigate his Native American heritage, Norwood learned how closely related he was and how prominent his family is among the tribes in New Jersey and Delaware.
To be a tribal member requires meeting a minimum of 25 percent blood quantum from the historic core families of the tribe. After acceptance of his application with his birth, death and marriage records, Norwood became a tribal activist.
He also learned how the Norwood name came into Native American genealogy. The first Norwood was a British officer who with his company was abandoned and starving in the Delmarva Peninsula's tribal area.
The Nanticoke chief arranged for transport of the Brits to the Jamestown Colony. "The military officer sent his military coat back to the Nanticoke chief who had treated him kindly and saved his life," Norwood says, noting stories he had heard of this chief showing up in a British military jacket to deal with the Maryland Colony.
Reverend Norwood descends from three Nanticoke and Lenni-Lenape communities, including the Nanticoke Indian Tribe out of Millsboro in Suffolk County, Delaware; the Lenape Indian Tribe of Delaware in Cheswold in Dover County; and the Nanticoke Lenni-Lenape organization of New Jersey out of Bridgeton in Cumberland County.
"All three are the same families; we are all cousins, and the same family names repeat over and over again," he says.
Reverend Norwood was raised as a Christian, and after a conversion experience became a lay preacher in his teens. Christianity, he explains, is not new to the Indian experience. Whereas in ancient times family clans were matrilineal, after "contact and colonization," changes were pressed on Native Americans in order to survive and maintain their ancestral lands.
Although most of the Nanticoke and Lenni-Lenape were forced out in what is called the "breakup" in about 1740, those who remained were able to stay in their communities because they adapted.
Their first change was conversion to Christianity, which was accompanied by bestowal of European-style names, which were also necessary for land deeds.
"Land that originally was ours was taken, and to be able to take it or reclaim it and have it deeded in your name, you had to have an identity that colonial governments acknowledged," Norwood says.
In New Jersey, the Quakers in Cumberland and Salem Counties had protected lands dedicated as "Indian fields" or "Indian towns," allowing tribal people "to continue to live there in the old ways without being molested or disturbed," Norwood says.
Because Indians couldn't own land under colonial rule, the Quakers would buy the land and eventually turn it over to the Native Americans. In fact, many families from those early periods are still on those same plots of land.
During the breakup, where so many Native Americans left, remnants of all three Native American communities in New Jersey remained and were dubbed "keepers of the land." The ones who left went to Canada and Oklahoma, but continued to be pushed north and west "usually because of westward expansion by colonists," Norwood says.
Those who chose to stay in New Jersey focused on farming and craftsmanship; and each of the communities, Norwood says, "wound up having a church where the tribal government was continued for over a century. The church was the tribe."
This was very common among Eastern tribes, where the church was the central communal organization, allowing tribal communities to live "without being persecuted because you were announcing your native identity or behaving in what would have been considered an illegal manner."
For example, having an Indian gathering was considered to be a potential threat to the colonial government and subsequently to the state government.
"The more we on the outside behaved like the immigrants, the less persecuted we were," Norwood says.
The community-based churches changed over time, often in response to attempts to merge with the broader community, which meant the loss of Native American identity.
'…if it wasn't for the core churches we probably wouldn't exist as a people today.'
In the late 1960s in New Jersey, in order to protect tribal identity and governance, the tribes reorganized with an elected council separate from the church leadership.
Norwood's father was a barber, and his mother both a homemaker and an employee of RCA. Now she's 94 and just finished working in a seniors program for the Social Security Administration in the mailroom. She retired in June after working there for 19 years.
Norwood earned a BA in philosophy from Howard University, a master of divinity at Princeton Theological Seminary, and a PhD in missiology (the theology of missions) from North-West University Potchefstroom, South Africa.
He was ordained as a Methodist, but in the early 1990s became part of the World Reformed Fellowship. He was associate minister of Methodist churches in Washington, DC, and Pennsauken, then was senior minister senior pastor at Bethel AME Church in Pennington and Grant Chapel AME Church in Trenton.
While pastoring at Iwifima, he has also served as a reserve army chaplain and a chaplain for the Mercer County Correction Center.
He is also a tribal historian, cultural presenter, writer, drummer and craftsman; has represented his tribe nationally and internationally; and has published articles and research papers about his Native American heritage and history.
Within his own tribal community, Norwood does incorporate Native American cultural tradition and practices that are consistent with the Christian faith. While services he conducts at Ujima Village Christian Church and the Tribal Christian Prayer Circle Ministry both include sharing communion, scripture, and prayer, the tribal services include elements of Indian culture.
Prior to the call to worship, which is in the Lenape language and is sung with a rattle or drum, is a ceremony called smudging, where natural medicine, sage, cedar, sweet grass, or tobacco is burned to create smoke that "wafts over individuals as a form of blessing and preparation," Norwood says. The service closes with a fellowship dance in a circle to the rattle or drum with the tribal song, sometimes sung in English and sometimes not.
Not all members of his tribe are Christian. "For some traditionalists, Christianity is a foreign religion brought to oppress us," Norwood says, noting that some of these neotraditionalists have revived ancient spiritual practices, particularly in the sweat lodge. But others see it differently: "While Christians oppressed us, the faith itself did not; the faith liberated us spiritually and strengthened us internally; and if it wasn't for the core churches we probably wouldn't exist as a people today."