When Adrienne Allison was informed that she would be moving from outside back to center back for the Notre Dame High girls' soccer team this fall, she came pretty close to catching a tornado to Oz and approaching the Wizard for a batch of courage.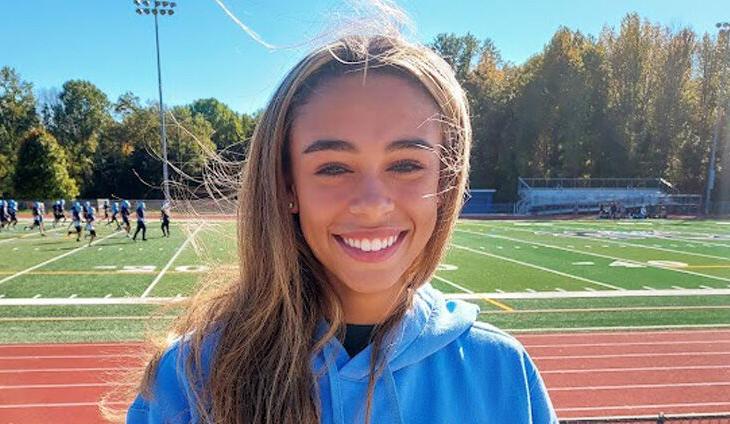 "I was actually petrified," the senior from Ewing said. "I had always said my entire soccer career I would not play in the center because of how much pressure that is. Everything goes down the center. When they moved me to center back in preseason, I was like 'Oh my gosh, I can't do this position.'"
Ahhh, but she could. And well!
"Once she got the hang of it, it came second nature," first-year Irish coach Lauren Diaz said. "When there are changes with a new coach, when there's a new formation, they're always a little timid. They're afraid to make a mistake or do something wrong. Once we gave her that confidence, she's been doing phenomenal."
It took a while, especially since ND had switched from a three-back system to a flat-back four. But the fact Adrienne was teamed with fellow senior Ella Grace helped make things easier. The two run together on the Irish 4x400 relay team in spring track, and Graves helps calm Allison down prior to races.
"I get very nervous for things, extremely nervous before meets and she's always been there for me," Allison said. "That helps give us a really good chemistry on the field.
"I mean, it was hard the first couple games. Ella and I always have to have a mark so one of us has to be back. It was just tough adjusting to that but as time has gone on, we've played a lot of different teams that play a lot of different formations we were able to adjust. It doesn't get any easier. I'm still scared to play every game and make a mistake but I think I've gotten more confident in my playing ability."
Good players turn negatives into positives, and Allison makes that fear work for her as it raises her adrenaline and unleashes an aggressive, hard-nosed and seemingly confident player. Anyone watching Adrienne play would never know it's the same friendly girl who waits tables at Fedora Bistro Cafe in Lawrenceville.
"She definitely is very sweet off the field but will definitely step up big when she's on the field," Diaz said. "She's our vocal leader in the back. She's great with providing her teammates instruction to help them do well in different scenarios."
Entering ND's Oct. 25 MCT semifinal game with Pennington, neither Allison or Grace could be found on the stat sheet with either a goal or assist. But their work in front of Rutgers-bound goalie Olivia Bodmer could be seen in the team stats, as the Irish had allowed just eight goals and produced eight shutouts in forging a 10-2-2 record.
"It's definitely been a blessing in terms of being able to keep us in very close games," Diaz said. "We don't have one big scorer but the one thing we do well is have different people scoring. But the defense has done a phenomenal job of keeping it a 1-0 game in most scenarios."
Allison gives the new coaching staff -- which she can't praise enough -- credit for switching the alignment.
"Last year we wanted to play four backs but our coach didn't think it was the right move for us," she said. "Playing three backs was definitely a difficult and challenging thing for us, and then coach Diaz and coach Fitz (Beth Fitzpatrick) asked us if we wanted to try four backs and we thought that was a really good idea. It seemed to work."
It has worked thanks to the emergence of newcomers like outside back Ryan Carr and the ability of Allison to become a central defender despite her concerns.
It was yet another new stop in her journey all around the soccer field. When she played travel for the Ewing Overdrive, Adrienne was a midfielder "always running up and down the wings." She eventually moved to NLSA, which put her at outside back.
On the Notre Dame freshman team "I was a striker, I don't even know how that happened." During her sophomore year on the JV team, coach Lorenzo Chia switched Allison to outside back, and that's where she played for varsity as a junior. She credited Chia for teaching her a lot about defending.
"I was kind of honored to be able to play so many different positions," Allison said. "But I definitely love playing defense. I think I"m good back there, I can read the ball pretty well."
There were, however, some changes that were necessary. Adrienne no longer had the freedom to roam the field.
"I think it definitely was staying back," she said of the biggest adjustment. "As a midfielder you're always running up and down the sidelines. So when I was moved to outside back, it was hard for me to stay back there and keep that one position. It definitely took me some time to focus on adjusting to when I should be going up and when I should be staying back. But it seemed to work there."
It has worked even better with her at center back, as her ability and intelligence far surpassed her nervousness.
"Her soccer IQ is what makes her solid," Diaz said. "She anticipates very well and uses angles as a center back well, whether it's to slow down a forward or give them less of an opportunity to shoot. I think all of our backs are very good with that. She's great at containing and stepping up, especially when those forwards are attacking."
Allison feels that vision and instincts are both crucial in being able to defend.
"You have to be able to anticipate the ball when people are coming right down the center of the field," she said. "You have to know which steps they're going to take. Because if you get beat all you have is the goalkeeper behind you. But you also have to be able to see the field, you have to see everything in front of you and direct everyone else because you're basically their eyes."
Allison's smarts are not just reserved for the pitch. With a GPA of 94.5 (equivalent to a 4.0), she is a member of the National Honor Society and Spanish Honor Society. She made the tough decision to stop playing travel soccer for NLSA after her junior year because she began taking honors and advanced placement courses, which took up much of her time along with her waitressing job.
Adrienne is waiting to hear back from Boston University, which is her top college choice, and has also applied to Florida, George Washington, Ohio State and Miami.
"My mom is like 'Aren't you gonna try to find a school in New Jersey,' and I'm like "Aaahhhh, I don't think so,'" Adrienne said with a laugh.
She is going back and forth on a career path. Some days she wants to be a physician's assistant, other days she wants to actually be a doctor. Fortunately, she has some time to figure that out.
"It may depend on where I go to school," she said.
Allison, who dates Tom Iadanza of the ND boys soccer team and proudly wears his PDA hoodie, is also popular amongst her fellow students as she was part of this year's Homecoming Court.
"I didn't want to be queen at first, but I did want after I saw the crown," she said with a grin. "That crown was pretty. I was actually just really surprised that I made the court and I was honored to go out there."
She is also honored to play for this year's Irish team, which has been outstanding in all aspects.
"It's so exciting," Allison said. "Last year was very different obviously. We barely had a season because of Covid, we didn't have MCT or states. We were only allowed to play one game each week because of contact tracing. To have a whole new coaching staff and to be able to start fresh this year has been amazing."
And she didn't even have to fly to Oz to be able to enjoy it.