It was a simple, high chop grounder toward second base, and Ryan Leary unwittingly turned it into his college baseball future.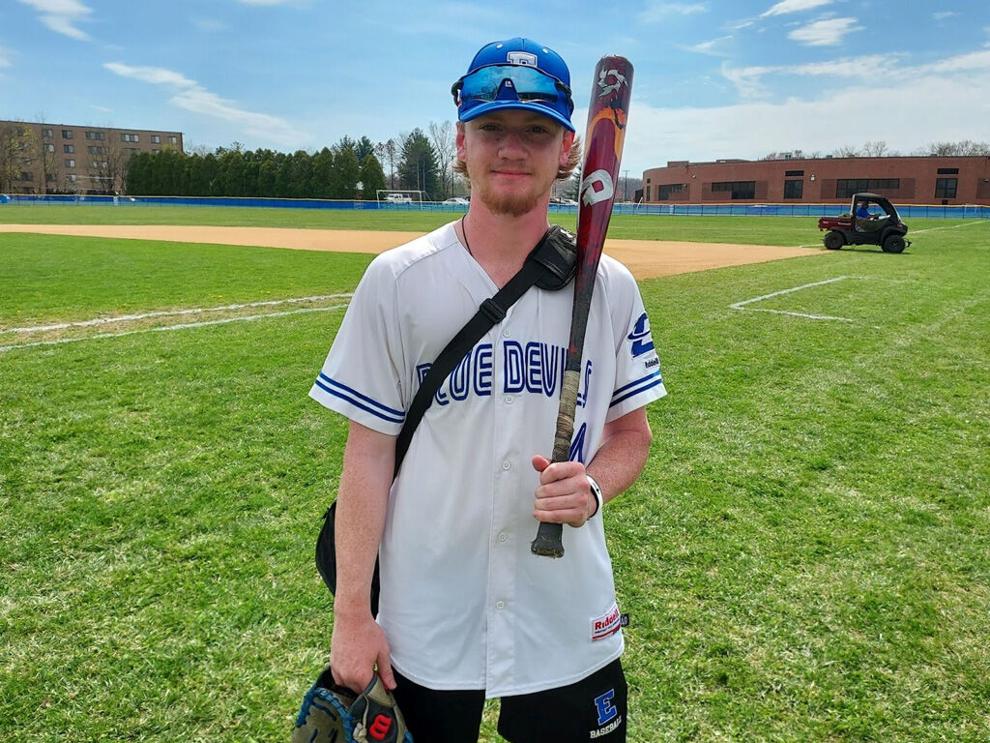 "It's crazy," the Ewing High senior shortstop said. "I was at a Showcase Tournament and there was a ground ball up the middle. It was a little slow roller, I think it bounced off the pitcher's mound. I came in pretty quick with my hands and chucked it over to first. It was the first play of the game."
And it showed one spectator all he needed to see.
"The infield coach at Wagner, Andrew Turner, saw me make it," Leary continued. "He went up to one of my coaches and said 'Who's that?' A month later I was with Wagner."
Leary did not jump right to Staten Island, as he checked out some Division II schools in Pennsylvania and some Division III programs in New Jersey.
"It was pretty stressful," he said.
But the lure of Division I baseball proved too great to resist, making that grounder one of the most important in Leary's career. Ewing coach Dave Angebranndt feels his shortstop has what it takes to play at the next level.  
"He's a great player," Dave Angebranndt said. "(Mike) Salvatore was a great defensive shortstop (who graduated in 2015) and to have a guy like this come in a couple of years later and solidify that role in the field is good for us. He struggled a little early in his career, but he got mentally tough, matured. And he was able to become a very successful shortstop in the county."
He and Dominic Yancey, who is headed for New Jersey City State, are the glue that holds an improved Ewing team together.
"It all starts with the mentality of wanting to play; with him and Dom playing next year," Angebranndt. "Just to have Ryan come out and be the leader on the field at shortstop the last four years; it has been incredible that I can rely on that kind of play every day."
Leary played basketball, soccer and baseball growing up. He started in the Ewing Little League but quickly jumped to Dave Gallagher travel ball and decided to solely focus on baseball. For a while he played all over the field, including pitcher and catcher. He found his position while playing with the Gallagher at Newtown organization.
"One of the infield guys said 'Why don't you just try shortstop for a little bit?' and we've been training there ever since then," Leary said. "I had played it before but I was mainly a second baseman. I just started to realize how much power I had in my arm; and I move efficiently."
It would take more than that to become a stellar middle infielder. Once Leary was plugged in at short, he did everything possible to improve himself.
"Range is hard to come by," he said. "It's just strength training in the gym, getting stronger, getting faster. In order to get better, you take a massive, massive amount of ground balls. And then there are all the different drills that you can take from any D 1 college or professional ball. Just invest in it. Go on YouTube."
During the winter, Leary goes to the Gallaghter facility and takes nearly 1,000 ground balls during each session.
"I tend not to throw during the winter to save my arm," he said. "I go for a month without throwing and then I start to work my way back up to long ball."
Leary always had a good glove; and this year his bat has heated up as well. Through the Blue Devils 3-4 start, Ryan was hitting .385 with three doubles, two triples, four walks and a team-high six runs scored.
"He is hitting the ball better; I think he found himself a better approach," Angebranndt said. "He's seeing balls that he can hit in the gaps better; and he's taking swings on balls he can hit in the gap better; rather than trying to just protect himself and swing if it's a strike."
Leary also made a few technical adjustments.
"I actually changed a lot of stuff in my swing," he said. "I've relaxed my shoulders a lot. I'm out a little wider, I'm getting more of my back hip in it."
As a freshman, Ryan hit .269 in 26 at-bats, scored three runs and had four walks. After Covid-19 wiped out his sophomore year, Leary batted .250 last season with six RBI, 11 runs scored, five doubles, a triple and nine walks.
With his penchant for finding the gaps, Leary was moved to the three-hole this season. He feels that has made a positive impact.
"I was always a leadoff guy, so this is a little different with the three-hole," he said. "At leadoff you kind of want to work pitches, see pitches. Any way to get on. The three-hole you kind of get a rest, you get to see what pitches you're getting, and drive your pitch pretty much. I just try to hit the ball hard."
Angebranndt feels one of the biggest differences in Leary's bat this year is that he is not swinging at balls just because they are over the plate. He is swinging with a purpose.
"You get to a certain point where you don't just want a kid swinging at strikes; you want them swinging at pitches they can drive," the coach said. "When they get to that level where they're that experienced as a hitter, they can kind of dial in where they're gonna hit the ball and where they're not. So he's doing a better job of pitch selection, getting himself pitches he can drive."
Much of Leary's improvement can be traced back to how much he loves baseball and how hard he wants to work at it. He puts as much mental work into it as physical.
"From a baseball standpoint, the IQ that he brings is just that of a kid who's got  experience," Angebranndt said. "He's come a long way in four years, from a little freshman who was starting on the varsity program to now being that guy who we rely on. He'll have days where things don't go his way, but his ability to bounce back and maintain his positivity is what is gonna make him successful at the next level."
Leary is just happy to be playing at the next level, as baseball is something he truly cherishes.
"I don't know what it is, but it's exciting," he said. "Some minutes you're up, sometimes you're down. But one little play can change that and you're back in the game."
Just as one little play can change a baseball future for the better.