Serving up hot coffee and vocational skills, Chuck's Place, a Wawa-like store in Mercer High School, is an opportunity for students who work there to gain valuable occupational experience.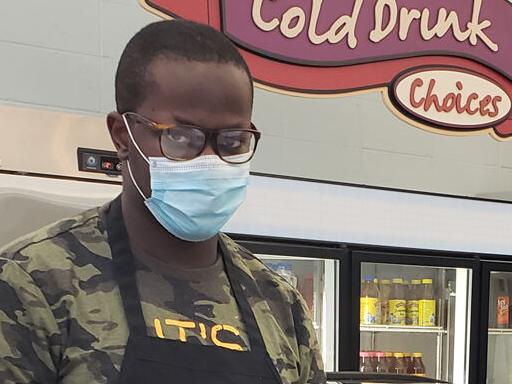 "It's our very own Wawa," Elijah Cruhigger, a student from Trenton, said. With a storefront that mirrors the East Coast convenience chain known across New Jersey, students like Cruhigger are able to acquire real-world expertise outside of the classroom.
"I learned to be a bit more flexible, a bit more independent, and definitely learn the skills I need to advance on my own when that time comes," he said. "I like to work with others, and just help people out and make them happy."
Chuck's Place is one of several work environments offered through Mercer County Special Services School District.
The MCSSSD serves children with special needs living in Mercer County and the surrounding area. It provides instructional, vocational and therapeutic programs designed for each student's unique needs, interests and characteristics. The programs serve preschool, primary, elementary and secondary age populations.
"MCSSSD programs are designed to teach multi-disabled, autistic and emotionally disturbed students," states the MCSSSD website. "We also have special projects that provide services to infants, graduates, parents and other agencies."
"Our district continues to set best practice standards in our special education programs," the website says. "Our primary goal is to assure each student reaches their full potential as productive and self-sufficient members of society through quality teaching by our dedicated teachers and staff."
The MCSSSD campus, which is made up of the Joseph F. Cappello School (students ages 3 to 7), Mercer Elementary School (grades K to 8) and Mercer High School (grades 9 to 12), is located in Hamilton Township on Old Trenton Road.
At Chuck's Place, students from a number of Mercer County communities take on a myriad of tasks like stocking shelves, preparing food, cleaning and other important responsibilities that all keep Chuck's Place running as smoothly as possible.
Accessible throughout the district, Chuck's Place has fresh bagels, muffins and coffee all day. The yogurt parfait station turns into a salad bar for lunchtime, with both students, as well as staff, able to order food for their midday meal. Eventually, they plan to include sandwiches, burgers and other hot food items available as specials during the week.
Julie Ryan supervises Chuck's Place. Originally hired as a computer teacher, the 33-year veteran moved to a homeroom position, during which Chuck's Place was already in operation. When the former head of the store retired, Ryan stepped in as instructor.
"I really like working in Chuck's Place because we work on functional skills, and we see results every day with the work that we do is tangible. There's not pencil and paper, or reading, or anything. Our philosophy in Chuck's Place is everybody can do something," she said.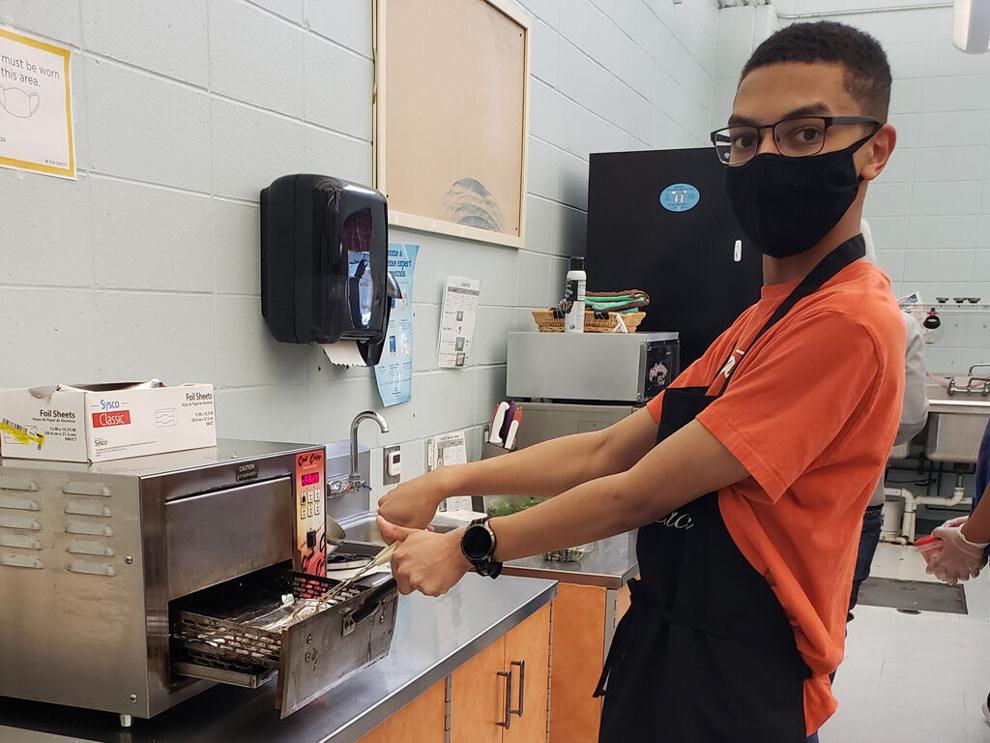 Chuck's Place employs a wide range of students, such as those with cognitive impairments, autism, and other conditions that may affect social cues or development.
"A lot of kids don't like coming to math class or having U.S. history, but they always will like coming to Chuck's Place," Ryan said. She enjoys Chuck's Place because she can work alongside students to see results, and not just with the ones assigned to her homeroom.
Chuck's Place was named after Charles "Chuck" Murray, the superintendent who was in charge of the MCSSSD when the program was created.
"When you walk in, it doesn't look like a classroom, it looks like a Wawa. It looks like a retail marketing facility, so it was a lot to get started," Ryan said. "Without Dr. Murray, it never would have been, so they named it in honor of him. He has since passed away, so the name will never change."
As part of helping them start Chuck's Place, Wawa even donated signs that are now visible throughout the store.
Diamon Bethea, a student from Trenton, expressed what her favorite aspect of Chuck's Place is.
"It's just a good place," she said. "You can learn a lot of different skills, and then learn them with different kids with different abilities to do different things."
Ryan said that for younger children in the district, coming to Chuck's Place is like entering the outside community. The students can walk down to Mercer High School, make purchases of their own volition, and learn to behave in public.
Students have the ability to earn 'Mercer Money' at the intermediate and high schools, a currency that is able to be spent in locations such as Chuck's Place. Typically rewarded for good behavior, the money gives students an incentive to visit the Wawa-like storefront.
Since Chuck's Place is shared throughout the whole district, it's a resource for everyone, not just those at the high school level, Ryan said.
Prior to the constraints of COVID, those who showed great promise were able to work with a job coach in the community at locations such as Red Robin and Walgreens. Two students from Chuck's Place had made such progress that they were going to begin working at Red Robin at the end of March 2020.
Unfortunately, the school closed on March 13, and the pandemic put a halt to the beginnings of their respective careers.
"Hopefully, we'll get back to that, and then also for students who aren't gonna work in the community, we still work on those behaviors. You need to follow directions, you need to be appropriate, you need to work with other people, you need to sometimes do non-preferred things," Ryan said.
Currently, in place of that experience, students are given the opportunity to work in the school cafeteria run by Sodexo. There, they work with a completely different staff, not just their fellow students. It is essentially a job, but on campus.
"We can monitor and see how successful they are, [and] what support they need," Ryan continued.
By regularly rotating participants in the program through every position, MCSSSD ensures that equal time is divided among the responsibilities for career, as well as life, readiness.
Out of all the jobs available at Chuck's Place, Nicholas Zoltanski of Hamilton said his personal favorite is washing the dishes. Uchenna Ugorji, also from Hamilton, feels a similar passion for the task.
"I like to wash dishes and I like to clean the glasses," Ugorji said. "I've learned to make orders."
While so many of the students enjoy that specific responsibility, Ryan said, one of the main skills they learn is that regardless of preference, diligent workers must do whatever duty their employers ask of them.
The instructor also conveyed that while nonverbal students, those in wheelchairs, and others could not be interviewed for this article, they are all "very capable workers" who enhance the program through their dedication.
Mathew Rambo, who lives in East Windsor, has been working at Chuck's Place since he was a sophomore. His preference is to be at the checkout, always eager to run the cash register.
"Chuck's Place is a really good place to work," he said. "I also get to do deliveries, too."
Each of the students interviewed said that they would recommend working in Chuck's Place to someone else, a resounding 'yes' or 'absolutely' part of their feedback.
In episode 9 of The Superintendent's Corner, a YouTube series from MCSSSD that features Interim Assistant Superintendent Brian Bittings and Interim Superintendent Dr. James Fazzone, Ryan said that Chuck's Place is trying to bounce back from the effects of the COVID-19 pandemic.
"[The students] learn to work with other people, they learn to build their endurance and be able to work for longer periods of time, all those things that you need to be successful in the world, they learn at Chuck's Place," Ryan insisted in the video. "Nothing that happens in Chuck's Place happens without the students. If the students can't do it, it does not get done."