Sydney Smith has the 'It Factor.'
As in, she wants "it."
"She has the one thing I can't coach, and that's heart," Ewing High girls' soccer coach Shannon Pedersen said. "She runs through the ball without any reservation. She lays literally her entire body out. And she does it with a smile on her face. That's something you can't coach. You can't coach someone's ability to want it more than the player across from her. And that's Syd."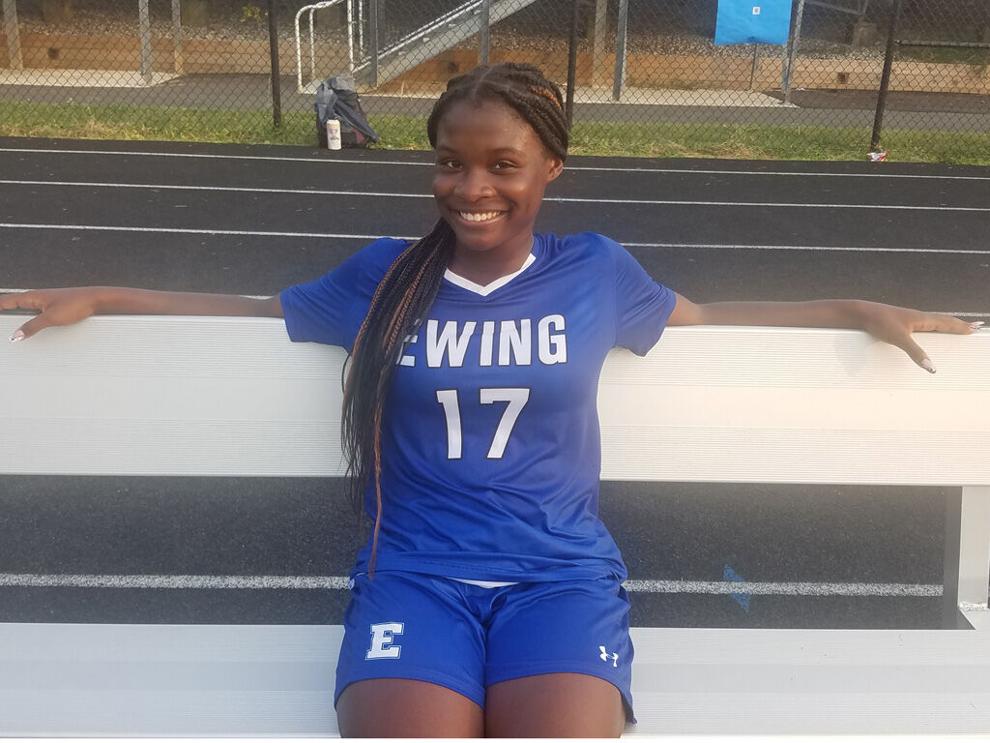 Smith does wear a perpetual smile that lights up her surroundings in a joyful way. And she has a lot to smile about.
For one thing, the junior's weighted GPA is an eye-popping 4.6. As a member of the Blue Devils track & field team, she finished third in the triple jump at last spring's NJSIAA Central Jersey Group III meet. And on the soccer field, she was Ewing's leading goal scorer in each of her first two seasons.
"I've always been a scorer," Smith said. "I just got better over the years. It took a lot of practice and mentoring by my coaches."
Smith roared on to the varsity scene by scoring eight goals as a freshman, including three two-goal games. She was quick to cite her upperclassmen teammates for their support.
"A lot of the players on the team definitely helped me with getting used to things; especially being a freshman on the team and not knowing what I was doing," Smith said. "I just wanted to play. I didn't think I'd start every game, that's for sure."
During last year's COVID 19-shortened season, Smith had four goals. She had been held scoreless in Ewing's first four games this year, but the Devils started against teams with a combined record of 14-2-1 over that period.
And it's not like she hadn't had chances, as Smith remained dangerous in the front and her presence opened things up for her teammates.
"I think she's finding this year she's now getting surrounded by multiple players that have ability as well and I think that's really cool too," Pedersen said. "She's now able to delegate her power up top. She can kind of draw attention and then just continue to surprise. That's something she's really started to do well and she's also taking on the captain position as a junior and has risen to the occasion."
What makes Smith's production somewhat surprising, is that she has never honed her skills in travel soccer. She began playing for Ewing rec at age 7, and then joined Fisher's Middle School team.
"Since I do track also, I didn't want to strain my body too much while handling so many sports and still maintain my other extra circulars," Smith said. "Of course I work on soccer outside of school when I'm not doing track. I think it's important to keep practicing my trade."
In what way?
"Anything I can," Smith continued. "Just put a ball on my foot. I go to any soccer field, usually with some friends, stuff like that."
Pedersen first saw Smith during a Fisher game and was immediately impressed by her speed. "But," she added, "I never knew the great addition I was going to get with her coming up."
The forward showed her coach exactly what she would be getting three games into her freshman year, when she scored twice in a 4-1 win over Hamilton West.
"The first one surprised me," Pedersen said. "When she had that speed and just took off, there's no one getting her. She's going, she's going, and there it goes. And then it just became, not an expectation but you just knew if there was one person on the field that was gonna put it in the back of the net when you needed one, it was Syd. She's really reliable."
Smith is the first to admit her speed gives her a natural advantage, and also realizes there is more to soccer than just going fast.
"It definitely helps," she said. "But I've gotten better over the years with my technical work and I'm still working on that. But my speed definitely helps me get there."
Pedersen confirmed that Smith is no longer living by quickness alone.
"The one thing she's gotten really good at is her technical ability," the coach said. "She came in very frustrated in the beginning because she would always take this large, leading touch, and that's something she kind of refined over the years and it shows. Her technical ability is improving game by game."
Which is what happens when a player puts her heart and soul into improving. In Smith's case, it's just an extension of everyday life.
"She's dedicated in the class too," Pedersen said. "She's an all-around person. She plays multi-sports, takes honors classes and advanced placement courses. I think her grades and her play speak to her character. She's a committed player all the way around."
In honing her technical skills, Smith has developed several ways of putting the ball in the back of the net other than just running on to the ball and scoring on a breakaway. But, she does realize that type of play presents her best opportunities.
"I think I can score in a lot of different ways," she said. "Definitely when someone chips it over and I just run at it, that's a really good one for me. But I've definitely gotten better doing some technical work and creating shots for myself too."
One other factor Smith has up front is what every forward needs – a fierce desire to score. When the ball is in the box, it becomes a war as to who wants it more.
"I always want to look for opportunities to score unless somebody else can score," Pedersen said. "I think that hunger and that want for it is really important. You gotta be selfish."
Exactly. That is the one place on the field where being selfish can create good things.
"I think having that competitive edge and that position is really helping Syd as well," Pedersen said.
In assessing her game, Smith feels she still needs to work on her shooting and ball handling. Despite the fact she was a state qualifer in track & field, Smith labels soccer as her number one sport. She is still toying with joining a travel team, but wonders if that might make high school soccer less fun.
"I definitely have thought about it and I think it's still a possibility," Smith said. "I just feel I enjoy school soccer and it gives me that break in between track seasons, so I just enjoy it a lot this way." spederson
Smith thinks about playing in college as well. One thing is certain, wherever she plays and whatever level it's at, she will be a coach's dream.
"Not only is she smart but she's coachable," Pedersen said. "She adapts to different teams, different scenarios. And she does it with class and positivity too.
"She always comes off the field and always looks to be reassured that she does a good job. That just shows how much she cares as a player. She wants to impress people, she wants to do well. She wants to continue to have the game of her life every day and I think that's what makes her better every day."