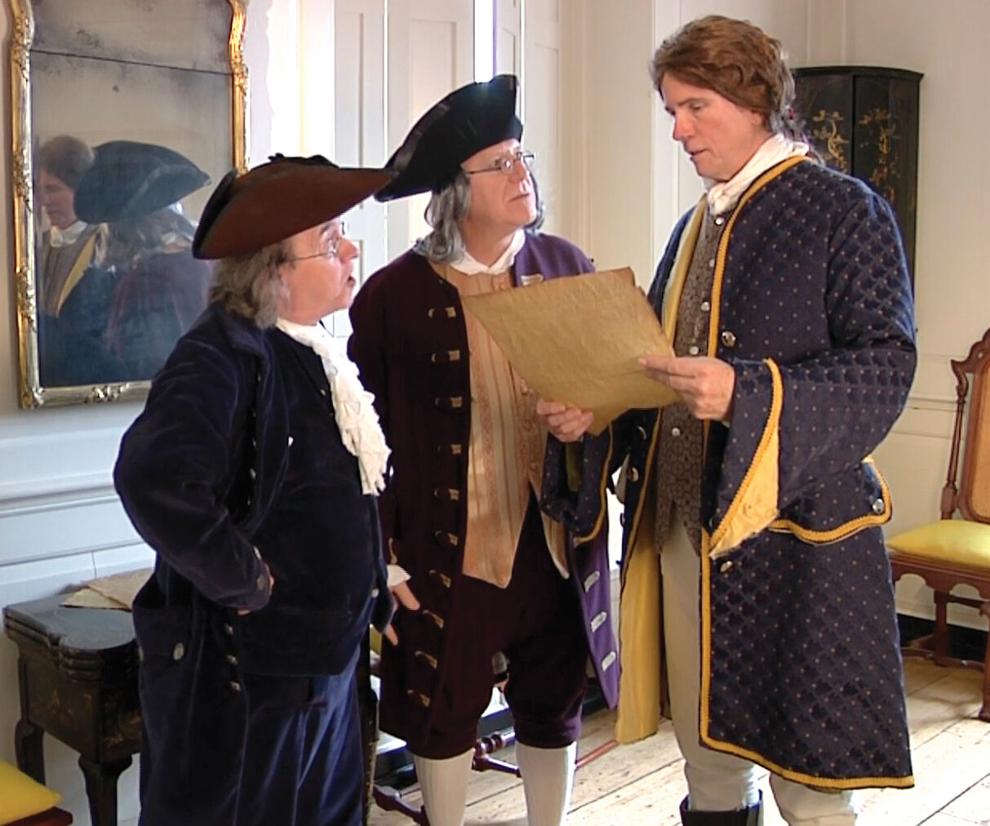 David Hart arrives at a cafe in Lawrenceville to talk about his historically important ancestor, Declaration of Independence signer John Hart. The 63-year-old co-author of the 2010 novel "Trenton" points across the street to whitewashed Presbyterian Church and smiles. That is where his ancestor, a life-long Hopewell resident, was baptized in 1713.
David Hart then marvels how John Hart's presence seems to be everywhere — Trenton, Princeton, Hopewell — especially since the modern Hart's new documentary, "John Hart: Portrait of a Patriot," is moving toward its world premiere on Thursday, December 28, at the New Jersey State Museum, part of the annual Patriots Week.
"Most people see (John Hart) as a farmer, but he was more than that," the West Trenton-based Hart says. "He was the largest landowner in Hunterdon County, which Hopewell was part of. He owned 600 acres of land. He was also a mill owner, raised race horses, had a plethora of royal judgeships, and was a legislator in both the colonial and the state legislatures. But he had some of the core values that farmers had: wedded to the soil, family values, trustworthiness."
A regular presence in Trenton, John Hart was known as "honest John."
But Hart says his ancestor suffers from a lack of recognition for several reasons. John Hart did not write much about himself, did not leave behind volumes of correspondence, and there was no biography written about him.
Hart says most of what people know about his ancestor is through the inaccurate oral traditions that move into the realm of myths and legends. "That's what we're trying to rectify now," says Hart about his self-financed film endeavor.
And similar to his legacy today, Hart says his ancestor "was everywhere in the early part of the Revolution." That included 1776 Philadelphia after John Hart was elected as one of the five New Jersey delegates to attend the Second Continental Congress to vote for independence. The other four were Abraham Clark from Elizabeth, Francis Hopkinson of Bordentown, and Richard Stockton and John Witherspoon from Princeton.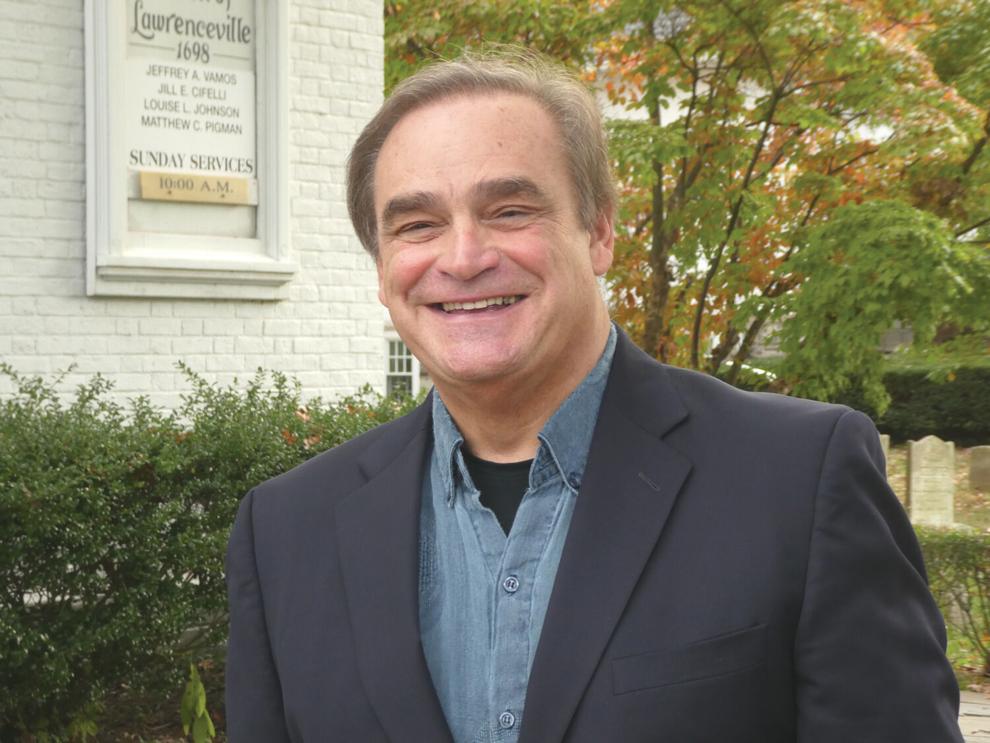 Then, Hart says, his 63-year-old ancestor faced personal and political trials. First his wife, Deborah, died on October 7 — as the state assembly was meeting in Princeton.
Meanwhile, he says, "the British assault on New York had started. The British come in with their fleet and the Continental Army is in ruins and retreating across New Jersey. When the British get (to Hopewell) on December 8, Hart goes into hiding in a cave in the Sourland Mountains."
Hart then puts his ancestor's choice in perspective. "He had options. He could have signed protection papers (with the British). Or he had friends who could hide him. But he decided he would go it alone to protect them and stayed in the mountains by himself, in December."
Hart says there are several problems related to getting John Hart's full history. "No one wrote his history back then," he says. "(Then) the only thing you could find was a brief biographical sketch. It wasn't until 1977 when a book by Cleon Hammond came out. He was a retired lieutenant colonel with the New Jersey State Police and lived in the Hart House." That house still stands in Hopewell and is a private residence.
Hart continues, "When the realtor took him around the realtor told him (the house) was historic. Hammond did research and found misinformation and like the biographers before him released the information as if were factual. When he found out that it was faulty he wrote another book in 1977, 'John Hart: Signer of the Declaration of the Independence.' It's the only full biography. It's not scholarly or annotated, but he did his work."
While Hart says he used Hammond's work for both the John Hart film and the John Hart portion of the "Trenton" novel, he was informed by another, unexpected source.
"It begins with bicentennial year, March, 1976, at the funeral for my father, my estranged father," says Hart in storytelling fashion." My mother and father divorced when I was eight. I was 21 or 22, and I was a senior at Rider College.
"I had little connection with my father and didn't know much of his side of the family. Now I'm at the funeral and see this man walks in, and he is the spitting image of my father. He is my father's uncle, Landrick Hart. After the services, we get together. That's the first time I found out that I'm related to John Hart, the signer of the Declaration of Independence."
Then there was another coincidence. "I'm in my senior year, a history and political science major, and I'm being pressured to do a history project but don't have a subject," says Hart.
Then, during a meeting with his great uncle, Hart says he "pulls out a genealogy that he did when he was a student at Rutgers in the 1940s. He did the genealogy to the present day. He then lands the bombshell. Uncle Landrick has two daughters and he is looking for someone to carry on the Hart name, and he entrusts me with the family genealogy."
Hart, who is actually a direct descendant of John Hart's brother, says he used his family's history for his history thesis, received with honors, and found a personal calling. "I've been working on this for 40 years. And every step of the way I feel I've been guided."
And while he says the momentum of the project seems to be leading him, he was also guided by another: his mother, Mary Hart, nee Morabito. "I was born in Trenton, 1954," says Hart. "I went to Incarnation (grammar school), Notre Dame High School, and graduated from Rider," where in addition to the B.A. he received a master's in public administration.
"My mother worked at Westinghouse in Trenton. She did factory work. She worked hard all her life and sacrificed for her three kids and made sure we got an education. We were her cause.
"I am grateful to be surrounded by strong women, my mother, my wife (who is deceased), my sister who still feeds me and cooks like my mother, and my daughter, Michelle, she's a writer. She lives in New York City and just got a job with Oprah's 'O' magazine. She's written for the Ewing Observer. I've got terrific women who have been supporting me all my life."
About himself, he says, "I worked at New Jersey Manufactures for 40 years. I started as a file clerk, became assistant vice president, mailroom to boardroom. I retired in 2013 because I could and wanted to pursue these endeavors. The creative side of me wouldn't rest."
That creative side includes writing songs, screenplays, and fiction. "I always enjoyed expressing myself in written form. In the early days it was writing poems." Songwriting followed in 1981 when he met area musician Frank Pinto. Then in 1985 he met Trenton writer John Calu with whom he co-authored the books "Adventures Along the Jersey Shore" and "Trenton," called a "regional best seller" by its publisher, Plexus Publishing.
Linking that historic fiction novel with the film, Hart says, "The first part (of the novel) is based on John Hart, but then it fast forwards to Trenton and introduces a mystery that is resolved in contemporary Trenton. A lot of people liked the first part. People came up to me to say I should expand that part in to a full book. But I didn't want to rewrite a book and wanted to put it into in a medium that would reach a lot more people."
The result is the 90-minute high definition video documentary using narration spoken over historic reenactment and archival images.
"I have three objectives," says Hart. "First, I wanted to pay homage to this vital and underappreciated patriot. I want to put him in the context of his times, with his illustrious contemporaries: Benjamin Franklin, John Adams, and George Washington.
"Second was to make the story factual and authentic. I wanted to make it as our budget could allow. Hearsay or oral traditions were left out.
"And third, I wanted it to be a homegrown Trenton product. We used places, people, and events of the greater Trenton area. We filmed at the Old Barracks, Trent House, Benjamin Temple house (in Ewing), and Princeton." The Trenton Historical Society is sponsoring the premiere.
'I wanted it to be a homegrown Trenton product. We used places, people, and events of the greater Trenton area.'
Hart is the producer, writer, and director of the self-financed documentary. Calu is the associate producer. Cinematography and editing was provided by Kirk Jarvis and the Tuckerton, New Jersey-based Jarvis Video Productions. The company has done promotional work for commercial businesses and nonprofits, ranging from Toyota to the Wheaton Arts. Frank Pinto created the music.
Other individuals and groups were involved in the film: Princeton-based actor and disc jockey Tim Anderson plays John Hart and narrates, Old Barracks Museum docent Gloria (Nikki) Bell plays Deborah Hart, Actors' Net Theater in Morrisville's Joe Doyle appears as John Adams, Hamilton-based community activist and Patriots Week volunteer Jim Carlucci is Benjamin Franklin, retired Trenton Central High School history teacher Sam Davis plays George Washington, and Lawrence actor James Cordingley plays Samuel Tucker, Hart's friend and political rival. Theater To Go playwright Mark Viola contributed to the script.
Other roles are performed by Old Barracks re-enactors Algernon Ward, Fred Minus, James Bevan, and David Niescior, and Ewing Historical Society members Judy and James People and Carol Hill. Old Barracks executive director Richard Patterson and noted state historian Larry Kidder provide additional narrative — and have vetted the script and supported the project.
"It really came together once I talked to Richard Patterson," says Hart. "He gave me carte blanche to use the Old Barracks, put me in touch with the network of re-enactors, and agreed to be on the camera."
Looking back over the two years needed to create the work, Hart feels he has been true to his goals. "I think we really did justice to the realism of the time and making it a Trenton project. There's nothing outside the Greater Trenton area."
Thinking about his ancestor, the producer says John Hart probably wouldn't stop to tell his own story, "but he would probably be grateful to have his story told."
John Hart: Portrait of a Patriot, New Jersey State Museum, 205 West State Street. Thursday, December 28, 7 p.m. Visit johnhartpatriot.com/HART/John_Hart.html