December will be a crucial month for Trenton Water Works, with two long-awaited, major initiatives starting before the end of 2019.
First, on Dec. 3, TWW will start to add orthophosphate to its water in an effort to prevent lead in its system from reaching its 225,000 customers across Mercer County. Lead reacts with orthophosphate to form scale, which can prevent lead in corroding pipes and fixtures from leaching into water. Orthophosphate does not get rid of lead, however, and merely masks the problem.
The only way to ensure lead has been removed from the water is to eliminate lead from the system itself, which is where the second, larger TWW undertaking comes in.
After nearly two years of advertising its service line replacement program, TWW will start replacing lines soon. Work begins in Hamilton and Lawrence in December, with Ewing and Trenton following in January. Service lines are the pipes that run from the curb to a home or business, connecting it to the TWW system. Currently, TWW estimates it will take five years and $200 million to replace 35,000 lead service lines in its service area.
Hopewell Township—the fifth municipality served by TWW—does not have any lead pipes because it joined the utility after lead was banned as a plumbing material in 1986.
The start dates of both projects were first reported by Community News last month. But Trenton Water Works interim director Steven Picco provided more details during a Nov. 13 panel at Rider University.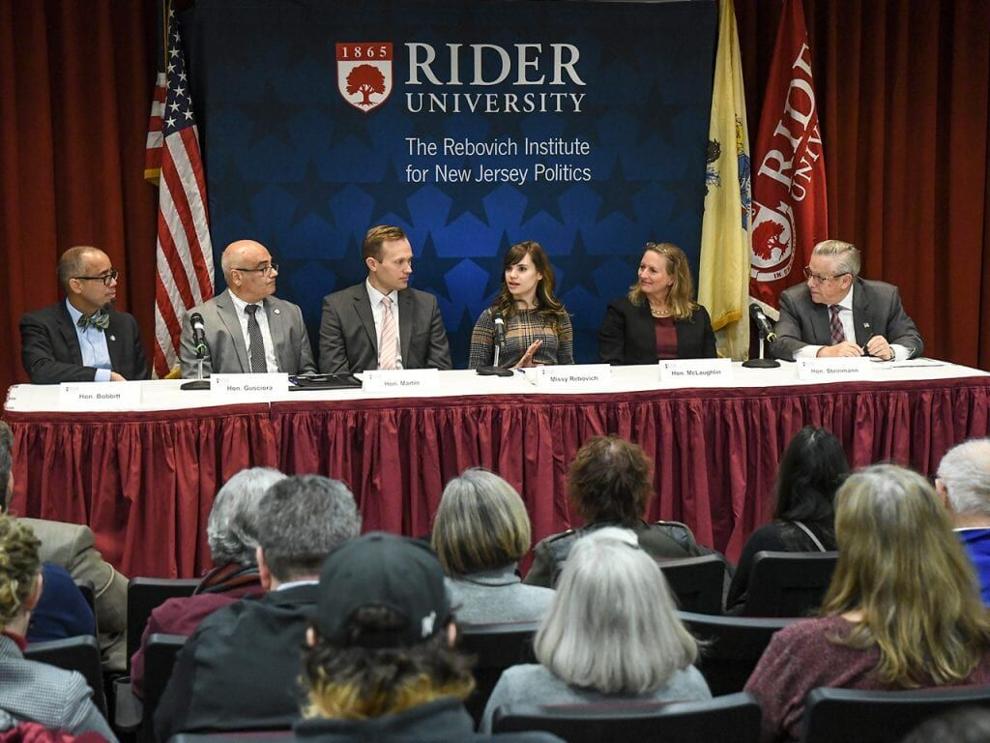 Hosted by Rider's Rebovich Institute for New Jersey Politics and moderated by New Jersey Future's Missy Rebovich, the panel featured mayors from the five municipalities in the Trenton Water Works service area. But, often, it involved Picco stepping to the front of the room to clear the air or explain a topic in greater nuance.
Like many in Mercer County, the staff, students and faculty at Rider have taken interest in the ongoing issues at the water utility because they happen to live or work in the TWW service area. University administration has installed filters on every drinking faucet at Rider, at "significant expense," Rebovich Institute director Micah Rasmussen said during the event's introduction.
Institutions—and even individual residents—have taken such measures because lead is a neurotoxin, and the human body cannot process it. Instead, it is absorbed by teeth, bones and body tissue. Doctors, researchers and government agencies agree that there is no safe level of lead for human consumption.
Lead-in-water issues burst into the public consciousness in 2015 after dangerous water in Flint, Michigan, created a public health crisis the city continues to deal with today. A number of books have been written about the Flint water crisis, including Anna Clark's "The Poisoned City," which served as Rider University's "shared read" for 2019 and the Rebovich Institute's tie-in for the Nov. 13 event.
Rasmussen said he had trouble convincing the mayors to participate at first because they shied away from the association with Flint. Trenton Mayor Reed Gusciora reiterated that point during his opening statement, saying Trenton never has had as many issues as Flint or even Newark, which has dealt with its own widespread and dangerous lead issue the last few years.
"We are not Flint, and we aren't Newark," he said.
Gusciora suggested Trenton gets lumped into that group due to the "politics of water," and pointed to the prominent role TWW played in the Hamilton mayoral election this year. Hamilton Mayor Kelly Yaede has routinely made demands of Trenton Water Works during the last two years, often publicly releasing letters she sends to TWW if the utility's response isn't to her liking. 
Her challenger and the eventual winner of the mayoral election, Jeff Martin, repeatedly has said providing clean, safe drinking water is one of his top priorities when he takes office in January. Martin sat on the Rider panel in lieu of Yaede, who declined an invitation because she was on vacation.
Gusciora said that testing has shown Trenton's water has met all standards since December 2018, with no exceedances in a year. The New Jersey Department of Environmental Protection has issued TWW eight violations in 2019, with only one having to do with the quality of the water itself. (TWW lead testing for the second half of 2018 exceeded standards.) The eight violations would be TWW's best year since 2016.
Gusciora credited former TWW director Shing-Fu Hsueh for turning around the agency. Hsueh resigned from the role in September after 18 months on the job.
As for why the issues existed in the first place, Gusciora attributed many of TWW's problems to the age of the system itself.
"Trenton is the second oldest water utility in the nation, so we do have old pipes, and we recognize that," Gusciora said. 
TWW introduced the concept of a service line replacement program in 2018 as a way to deal with the old lead pipes in its system. The program has proved to be complex, with TWW needing to coordinate with customers, municipalities and the state government. Since not every home has a lead service line, TWW had to identify where lead lines were likely based on the construction date of the buildings. It then had to convince property owners to sign up for the voluntary program.
Meanwhile, TWW had been going back and forth with the state Department of Community Affairs on its plan for the project. DCA required its approval on the program before TWW could go ahead with work, and the DCA rejected a number of drafts before recently approving one, Ewing Mayor Bert Steinmann said.
Lawrence Mayor Christopher Bobbitt said there are also delays created on the municipal end since every service line replacement requires a permit from the government. The municipalities also requested TWW cooperation in not digging up streets that had been paved recently, Bobbitt said.
Municipal requests may be a consideration, but Picco said the order of work will occur primarily based on a DEP priority list. TWW will first replace lines in areas where many people have opted into the program, as well as areas with a lot of children. The date a customer signed up will not be a factor, he said.
This voluntary, opt-in approach will mean that TWW will often have to replace lines in a patchwork fashion, much to the chagrin of the mayors on the panel.
"One house at a time is not a very satisfying way to solve a public health problem," Hopewell Township Mayor Kristin McLaughlin said.
"One house at a time is not a very satisfying way to solve a public health problem."
The delays have frustrated residents, too, including some who stood up at the Rider event to ask what has held up progress. Many signed up for the program in 2018, lured by TWW's promise that its customers would pay no more than $2,500 for the work. Such a repair often costs twice that amount.
Since then, TWW has secured a deal with the New Jersey Infrastructure Bank (NJIB) that would limit consumer costs to $1,000. TWW would foot the rest of the bill.
Picco said the financing agreement with the NJIB, while generally favorable, requires both the piecemeal approach of work and the need to charge customers a fee. Both could go by the wayside in 2020, he said, if he is successful in finding an alternative funding source.
Newark has started to replace all of its lead service lines free of charge, thanks to funding it received from the local improvement authority. A similar agreement in Trenton would allow TWW to offer the lead service line replacement at no cost to the ratepayer. Anyone who already had paid to have their line replaced would receive "recompense" from TWW, Picco said.
With an alternative funding source, TWW and the towns in its service area could also make replacement mandatory, Picco said. This would allow the project to get done much faster than the five years TWW projects currently. Picco said he will know if this is a possibility within the next year.
Relief could also come in the form of government funding. Water utilities across New Jersey—from Newark to Hackensack to Trenton to Bordentown—have grappled with lead issues in recent years, and in October, Gov. Phil Murphy pledged $500M in state money to eliminate the lead-in-water issues in New Jersey. Gusciora projected the state money won't become available until 2021 at the earliest.
There are also federal funds at play, thanks to a bill introduced by Sen. Cory Booker—the former mayor of Newark—and signed into law by President Donald Trump in September. The law would allow states to move certain federal funds into use to fix broken drinking water systems. New Jersey has $100M in such funding, and Picco said Trenton should be No. 2 on the list for money, after Newark.
In the meantime, TWW continues to try to clean up its image as it cleans up its system. TWW has started a newsletter to send regular updates to its ratepayers. It has hosted a number of public forums in its service area, and Martin said he met with Picco in early November to request TWW host another public forum in Hamilton soon. Martin said, in an email to Community News after the event, that Picco committed to holding a forum in Hamilton but has not set a date yet.
This outreach is important because the mayors admitted the whole business of drinking water often confuses them, too, and they are learning about the science behind water quality along with their residents. The complexity of the subject often creates the opportunity for misunderstanding or even unnecessary fear, they said.
Steinmann said he has "a beef" with DEP for requiring technical language in water utilities' communication with its customers. This means notices sent to ratepayers after a DEP violation often contain scientific language that—while correct—can seem frightening or more serious than it is in reality.
"This is the tricky part about a chemical system," McLaughlin said. "It's making information accessible to people who don't have a Ph.D."
Bobbitt said part of the issue stems from the fact that the phrase "Trenton Water Works" has gained a negative connotation, which then leads every TWW issue to become a cause for panic. But he admitted that the DEP notices have made it "nerve-wracking" for him, too, to serve someone a glass of water or make dinner for his children with Trenton water. Gusicora, as a rebuttal, said no one has anything to worry about since his 19-year-old cat drinks Trenton tap water every day and is healthy.
Toward the end of the forum, Martin had heads in the audience nodding when he said he couldn't blame residents for feeling nervous. TWW has had 30 DEP violations in the last three years. The water has tested high for several disinfectant byproducts and lead on multiple occasions, not to mention chronic issues with low staffing and a failure to properly monitor the system. Due to the frequency and range of problems, TWW customers have lost faith in the utility, he said.
"People are getting hit with all these letters where they just see the initials 'TWW,'" Martin said. "It creates a level of anxiety, 'What is it today?' If it was just the lead issue, it would be a different discussion…Once you lose someone's trust, it's hard to get it back."
"People are getting hit with all these letters where they just see the initials 'TWW.' It creates a level of anxiety, 'What is it today?'…Once you lose someone's trust, it's hard to get it back."
Steinmann defended Gusciora, saying that Gusciora's administration has focused heavily on solving TWW's ailments. Communication between Trenton and the governments of TWW's suburban service area has improved drastically since Gusciora became mayor in mid-2018, Steinmann said.
The concern for all four suburban mayors, however, is that the efforts have solely been attributable to a will from the Gusciora administration, not due to any improvement in Trenton's processes or procedures. They worry that their residents ultimately are beholden to the city's politics, since the utility belongs to the City of Trenton. The suburban municipalities have no say in how TWW operates.
As an example of what could go wrong, Gusciora said that Hsueh, the former TWW director, went to Trenton's council upon his appointment in 2018, and laid out the case for the immediate purchase of 13 critical system upgrades. Trenton council slowed down the process, despite Hsueh's insistence that council act fast in the interest of the public health.
Local representatives introduced legislation at the state level that would have taken care of that issue by creating an oversight board to manage TWW. The suburban mayors all agreed that it wouldn't be a good thing to add more bureaucracy, but all said their towns should have at least an advisory role in what goes on at TWW, if not an oversight one.
Steinmann said even a couple meetings a year between the mayors of Ewing, Hamilton, Hopewell Township, and Lawrence and Trenton's administration would ease concern at TWW backsliding in the future. Martin echoed that sentiment, summing up the theme of the Nov. 13. panel in two sentences.
"We're looking to the future," Martin said. "[Trenton Water Works] can't ever go backwards."