When Zyon Howell was growing up, she performed in plays, sang in her church choir and did some dancing. A career in athletics didn't quite seem to be on the radar.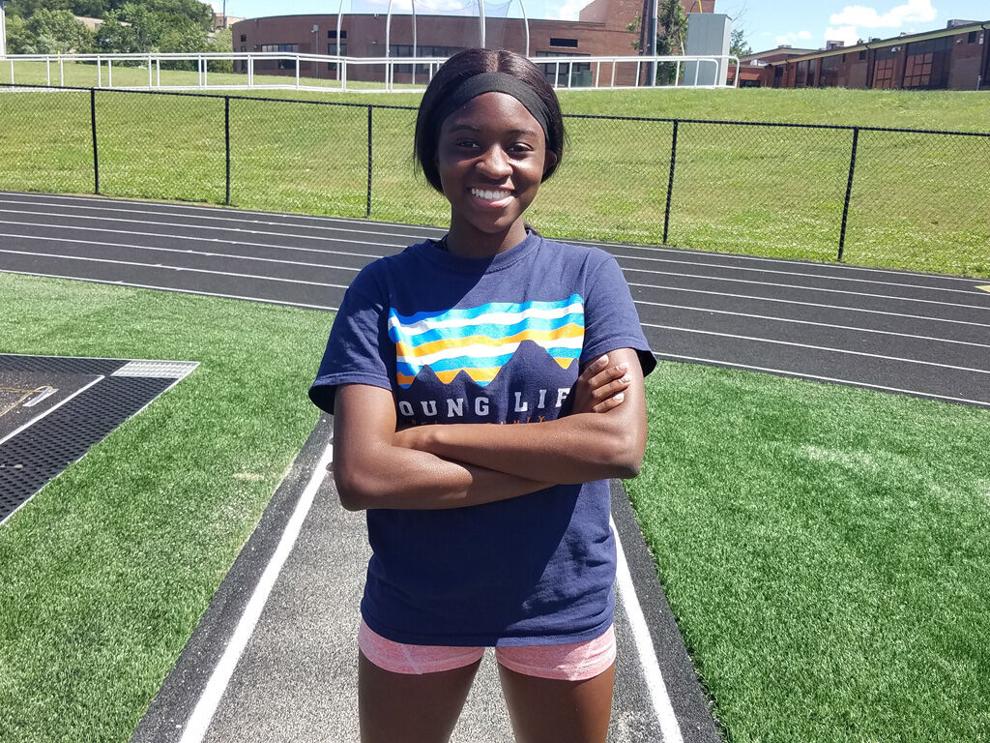 "I'm pretty skinny," the Ewing High senior said with a laugh. "I was known as the scrawny sibling out of all my siblings."
That didn't stop her from trying soccer, which led to track & field, which led to Howell's appearance in the NJSIAA Meet of Champions in both the triple jump and long jump on June 20.
It was her second MOC appearance, as she qualified for the triple jump during the 2020 indoor season. Things were looking good that year until COVID-19 hit.
Howell refused to slow down during the shutdown. She worked on sprints—which she also does— and jumps; doing home workouts when everything was closed and heading to The College of New Jersey for workouts.
"It's a little harder doing training by myself, but I did get through it," she said. "It actually helped out my motivation a lot. I felt if I did take that break throughout COVID without training, I probably would have lost motivation. But I kept myself up and I just kept going."
Howell was initially a reluctant track performer. From fifth through seventh grade, her friend pleaded that she go out for the sport, and her reply was always "Everybody's bigger than me, I don't want to do it."
But she began playing soccer in fourth grade and with each passing year, her speed on the pitch became more noticeable.
"I knew I always had the gift and the talent to do track because the speed in soccer made me stick out," she said. "That's when I took it to the track. Once I finally put my foot on the track I've been in love with it ever since."
Howell planned on being solely a sprinter until her 8th-grade coach noticed that most of her body seemed to be her long legs.
"My coach looked at me and said 'We need somebody to do long jump,'"Howell said. "She looked at my legs and said 'You're doing long jumps.'
"It was interesting to me because it was a new event. I was only used to doing short sprints. So when I was introduced to the sand and running on the runway it felt like a new experience and new atmosphere."
After only doing sprints and relays during her freshman winter season, she got back to long jumping during the spring season and was also given another event.
"Coach Monty (jumps coach Dan Montferrat ) introduced me to the triple jump," she said. "I remember we were going through the phases and I was a little intimidated because the phases looked confusing when you're watching it. But I hung out with the other teammates who did the triple jump. They helped me out, I got the hang of it, and I started building up to where I am now."
Montferrat could see immediately that Howell had both the intellect and athletic prowess to handle the complicated triple jump. "As daunting an event as it is, it takes a special kind of kid to do it," the coach said. "I've been blessed to have some really good kids come through here to show the young guys and young girls the ropes. We put her in the triple jump her freshman year at Jackson Liberty for the sectionals and she popped like a 35 (35-3¾) and just missed going to the group meet, finishing in seventh place. We saw that and said 'This is gonna be big, man.' She was just building momentum as a freshman."
Highlights of her sophomore indoor season included a second in triple jump and fourth in long jump at the Princeton Invitational Series, while the outdoor campaign featured fourth in triple jump at the Mercer County Relays.
During last year's indoor season, Howell reached the Meet of Champions in triple jump by earning a wild card berth. She jumped a then-personal best 35-10 to finish 11th in the state. She also took fourth in the triple and sixth in the long jump at the Mercer County Meet, and finished fourth in the 55 meters in the sectional championships.
After the spring shutdown, Howell began working her way back into form this past winter under indoor coach Meg Soltysik, who is also the girls head outdoor coach.
"She was full steam ahead when she got back," Montferrat said. "Coach Soltysik got her ready; got her in gear so by the time we were ready to get rolling in the spring, she was ready. You didn't really have any jumping showcases this spring, you had the CVC showdowns that were all track based. To have limited opportunity to get her jumps in and to get things right is just a credit to her work ethic.
"She's smart, she's a hard worker, she does what she needs to get her body warmed up. She's in here with our trainer 20 minutes before anybody else is here for practice, doing her walk-throughs, her balances. She's just a phenomenal kid to be around and work with. It makes my job easy to work with a kid like that."
Just what fuels Howell? The answer is pretty simple—herself.
"I'm very hard on myself and I'm always in my head," she said. "That's the negative thing about it but the one good thing about that is I'm able to put it into my performance and know that even though it may be hard to get to a certain spot, I'm going to do it. That ambition comes from me being hard on myself and that determination gets me where I need to be."
Howell's efforts earned her both the Ewing High Female Athlete of the Year and Female Athlete of the Spring.
Howell sparkled in the triple jump this spring, taking first in the CVC Valley Division qualifier with a PR of 36-0 (she fouled out in the finals), winning the Central Jersey Group III meet and finishing fourth in the Group III meet.
She was equally impressive in the long jump, winning the Valley qualifier and taking third in the Valley championships, finishing sixth in the CJ III meet and going fifth in the Group III meet with a PR of 16-11.
The jumper surprised herself with her performance.
"It means a lot (to reach MOC)," she said. "It was a little unexpected to me because I feel I have a lot more to work on as far as technical stuff. But at the same time I am proud of where I'm at right now and I'm proud of what I've done during the season and where it's gotten me."
The technical stuff she spoke of is especially prevalent in the triple jump, which requires a sharp mind. With a 3.5 overall grade point average (4.0 this year), Howell has what it takes upstairs.
"She's a great thinker," Montferrat said. "Sometimes she's an overthinker but that's all of us. With jumping there's that fine line between it, and she always is right on that line. It's a good microcosm for her using the board because we want to use all that board for every inch you can get on that jump."
Entering the MOC, Howell was hoping to reach PRs in both events and hopefully get a medal, but was unfortunately unable to accomplish that, as she finished 20th in the long jump in 15-10¼ and 28th in the triple in 33-6¼.
Although her high school season is ended, she has a Division I college career to look forward to as Monmouth University recruited Howell for both sprints and jumps. The Hawks are gaining more than just an athlete, as she enjoys painting both people and abstracts. Howell plans on majoring in psychology and minoring in health sciences or entrepreneurship.
"I plan on helping other athletes and guiding them in their careers," she said. "I believe psychology does play a part in that and studying a young person's mind; and being a young adult and learning the developmental stages of going from a teenager into a adult. That's where entrepreneurship also comes into play, creating my own facility."
If Howell realizes her dream but would still like a side job, Montferrat has just the thing.
"She's phenomenal in every aspect of the word," he said. "Someday down the line if she wants to walk back into all this, she can have a job with us for sure."
Which just goes to show how far the "scrawny sibling" has come.