It may be hard for the casual fan to notice her—which is usually not the case with a forward—but opponents certainly know that Aine DelleGrotti is there.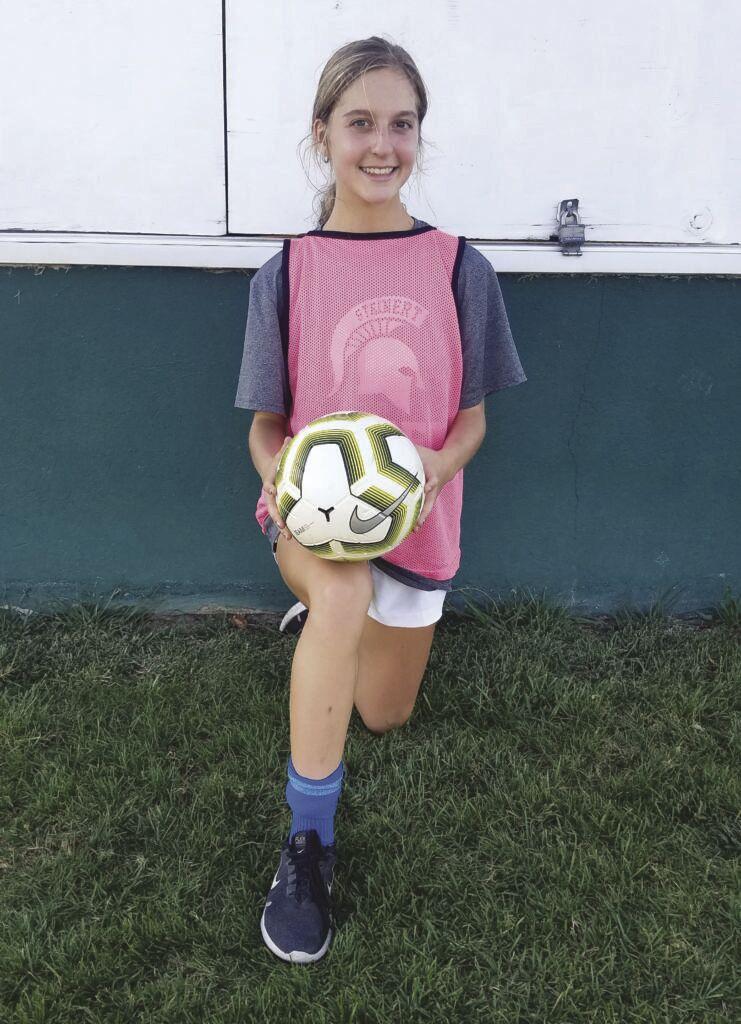 The Steinert High senior can play anywhere on the soccer field, but at the outset of this season Spartans coach Mike Hastings had her in the unglamorous role of holding forward. Basically, teammates feed her the ball in the middle, and she quickly sends it back out to someone and gets ready to defend.
"We play into her a lot, get other people involved and it's worked out pretty well so far," Hastings said after the Spartans weird 0-1-3 start. "And she does play defense. The crazy thing is, she plays forward, and in one of our games, it was in double-overtime and she's back at her own 18 clearing the ball out. That's the kind of player you're talking about."
It's the kind of player who definitely needs to be in shape.
"It's a lot of running," DelleGrotti said after a recent practice. "It's just being able to check to the ball for your center-mid and your defense and being able to switch the field; looking up, looking for your outside mids, looking for your high forward. Honestly, it's all about vision."
DelleGrotti is blessed with great vision that gives her the opportunity to see the entire field. Some of her savvy also comes from just playing the game. She has developed an awareness of what is happening around her, giving her the ability to make the right play to the right player.
"She understands where she needs to be all the time and she also knows where people around her need to be all the time," Hastings said. "She's a very vocal player, she directs the play around her, and makes people around her better.
"She can score a goal but she's more of an assist person. She gets people involved. She times her passes perfectly; she sets people up and is just a very unselfish player."
In essence, holding forward is the perfect spot for DelleGrotti.
"Being in the center is my favorite place to be," she said. "I feel like I'm more in control there and I can see the field better. I love playing the ball out wide and getting players through."
DelleGrotti has been all over the field since starting in the Hamilton rec leagues at age 6. By the time she reached 11, her coaches felt she should advance to travel ball, so she joined the New Jersey Rush with coach Bruce Engel (whose daughter Brianna plays for Steinert). She recently moved to the PDA South club in Westhampton.
"(Engel) really put a lot of faith in me at a young age," DelleGrotti said. "The PDA coaches have done a good job progressing me as a player and getting me ready for college soccer."
Upon arriving at Steinert, DelleGrotti played for the freshman team in ninth grade and was on JV as a sophomore. Despite taking two years to reach varsity, DelleGrotti felt the process was rewarding.
"Instead of getting frustrated I used it as a learning experience," she said. "I was very glad I did play JV sophomore year because I got coached by (former Spartan standout Chelsea) Pitonyak and she's an amazing coach. She helped me so much and it was just a good learning experience."
Pitonyak labeled DelleGrotti a chameleon, since she can change her look to play any position on the pitch. When she arrived on varsity, Hastings took advantage of that flexibility.
"Ever since I was in middle school I used to play defense and they'd switch me off to offense," DelleGrotti said. "I played anywhere on the field that they really needed me at the moment. The past couple of years
I've been playing mostly the central positions. At Steinert I've been playing center mid, last year he had me at outside mid, this year he has me at holding forward.
"Center mid is definitely my favorite position. But where we are right now as a team, I love playing the holding forward. I prefer that right now."
The fact that DelleGrotti is so versatile gives Hastings a huge benefit when figuring out his lineup.
"We can mold our team around a player like her," the coach said. "She's such a team player. It's like 'Hey I need you to play here,' and she won't even bat an eye. She'll just get out there and play."
And the more she plays, the more she improves.
"She's just gotten better and better at everything," Hastings said. "She's worked on fitness, she's worked on everything. Every year she's gotten better and every day she's out here she's getting better. She's fun to watch. On the ball she's technically savvy. She's cutting people up all day. I can't say enough good things about the kid. She's an awesome kid."
DelleGrotti is pretty awesome off the field as well. In the classroom she has a grade point average over 4.0, and she also finds time to serve pizzas at Mannino's 3 in Hamilton Square. She's becoming typecast, though, as DelleGrotti was previously at Brother's on Route 33.
"Yeah, I'm doing the Hamilton pizza tour," she said with a laugh. "I go to Mannino's three nights during the week so everybody here gets to see me sprint off the field after practice and just get there as fast as I can."
Her shift lasts until 9:30, and then it's back home to do homework into the night before beginning another busy day.
"That's the kind of kid you're talking about," Hastings said. "She's a hard worker. She's dedicated. On the field she's a workhorse, an unselfish player. "
DelleGrotti has recently been working with her cousin, former Steinert star Aiden Sheehan, who's now with Rowan.
"These past two years she's been helping get me ready for college soccer and she's been training me a couple times," DelleGrotti said. "I'm talking to a few coaches now, seeing where that leads me. My recruitment season really got cut off this year because of COVID. Now I'm using high school and whatever I have left of travel to reach out to coaches and see what I can get."
One thing is certain. Whoever gets her will obtain a player that gives the coach plenty of options in figuring out a lineup.