In the summer of 1972, one of his Hamilton Square neighborhood buddies asked Dave Searles if his Babe Ruth Hamilton Nationals 13-year-old district all-star team had a chance to do much in tournament play.
"I told him I didn't think we would go far," Searles said. "Most of the kids I played with in Nottingham Little League were in the American League, so I felt like the two Hamilton teams were diluted. I had no thoughts of winning it all. I just hoped we could survive the district."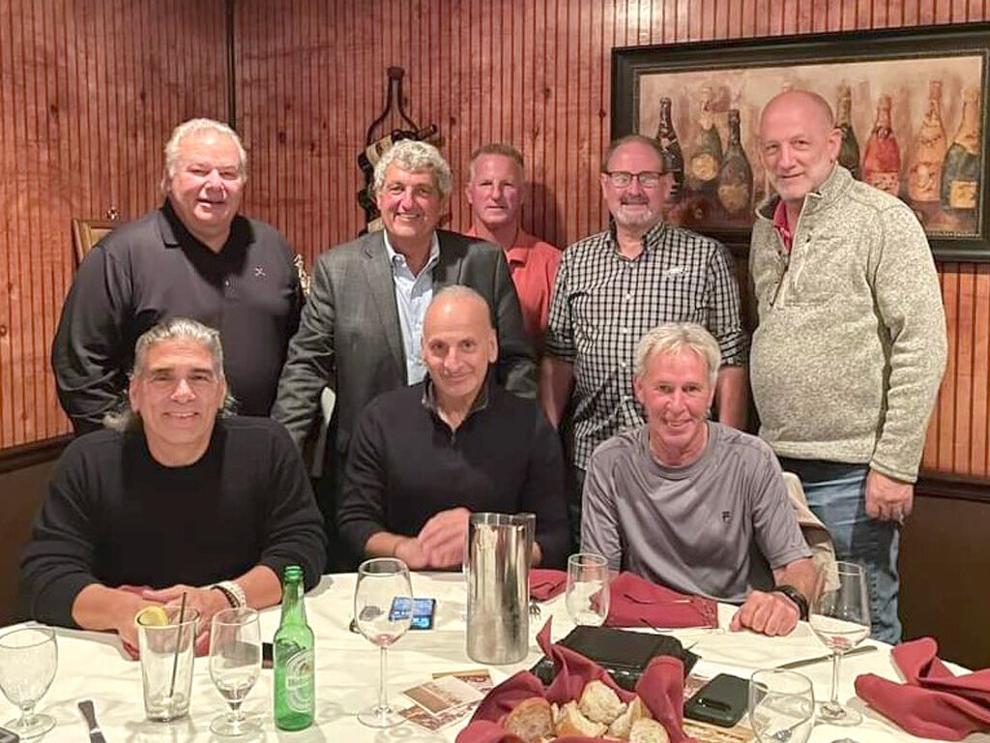 They not only survived, but 50 years later, on Oct. 1, Searles and several of his teammates gathered for a reunion celebrating their Mid-Atlantic Regional championship. In those days, there was no 13-year-old World Series, so the region title was the biggest prize available for that age group.
The reunion was put together by Lenny Gadsby, a former Hamilton Police Officer now working security at Hamilton West. Eight former players met at the Stone Terrace Tavern to reflect on what was a memorable run to this day.
They were the glory days of Babe Ruth baseball. Switlik Park was jammed every night with parents, high school coaches, and friends of players either to watch a game or just hang out. It was the place to be in Yardville on a summer night.
Hamilton, however, was not there for the big moments of the tournament run. It had to win three straight tournaments on the road, and do it by winning each double-elimination event in the "if" game.
The roster included included infielder John Carmignani, leftfielder Gary Baggaley, second baseman Mark Massiello, outfielder Toby Hankins, infielder/outfielder Larry Hewitt (deceased), pitcher/outfielder Searles, third baseman/pitcher Kevin Bixby, shortstop/pitcher Joe Puhalski, first baseman Marc Graziano, outfielder/pitcher Walt Sawka, outfielder/pitcher Gadsby, outfielder/catcher Jim Puhalski (deceased), infielder Chuck DeAngelo, catcher Jack Porcelli and first baseman/outfielder Tony Cammiso.
The manager was Don Deem and his coaches were Charlie James, Jack Mrazik and Lou Chiarello. All are deceased.
The team consisted of players who mostly went on to star in baseball or some other sport in high school, either at Hamilton, Steinert, Notre Dame, St. Anthony's (now Trenton Catholic) or Hun. But, as Gadsby pointed out, despite their later success in sports or in life, this remains special.
"I didn't realize it, I thought it was just me being sentimental, but all of them felt the same way at the reunion," Gadsby said. "Even the guys that didn't play as much, everybody still thinks it's like a major achievement in their careers. A lot of them went on to play high school ball and had good careers."
Take Carmignani, who won a state soccer title at Hamilton and is in the Mercer County Soccer Hall of Fame for his playing and officiating.
"He still thinks of this as one of his great achievements," Gadsby said.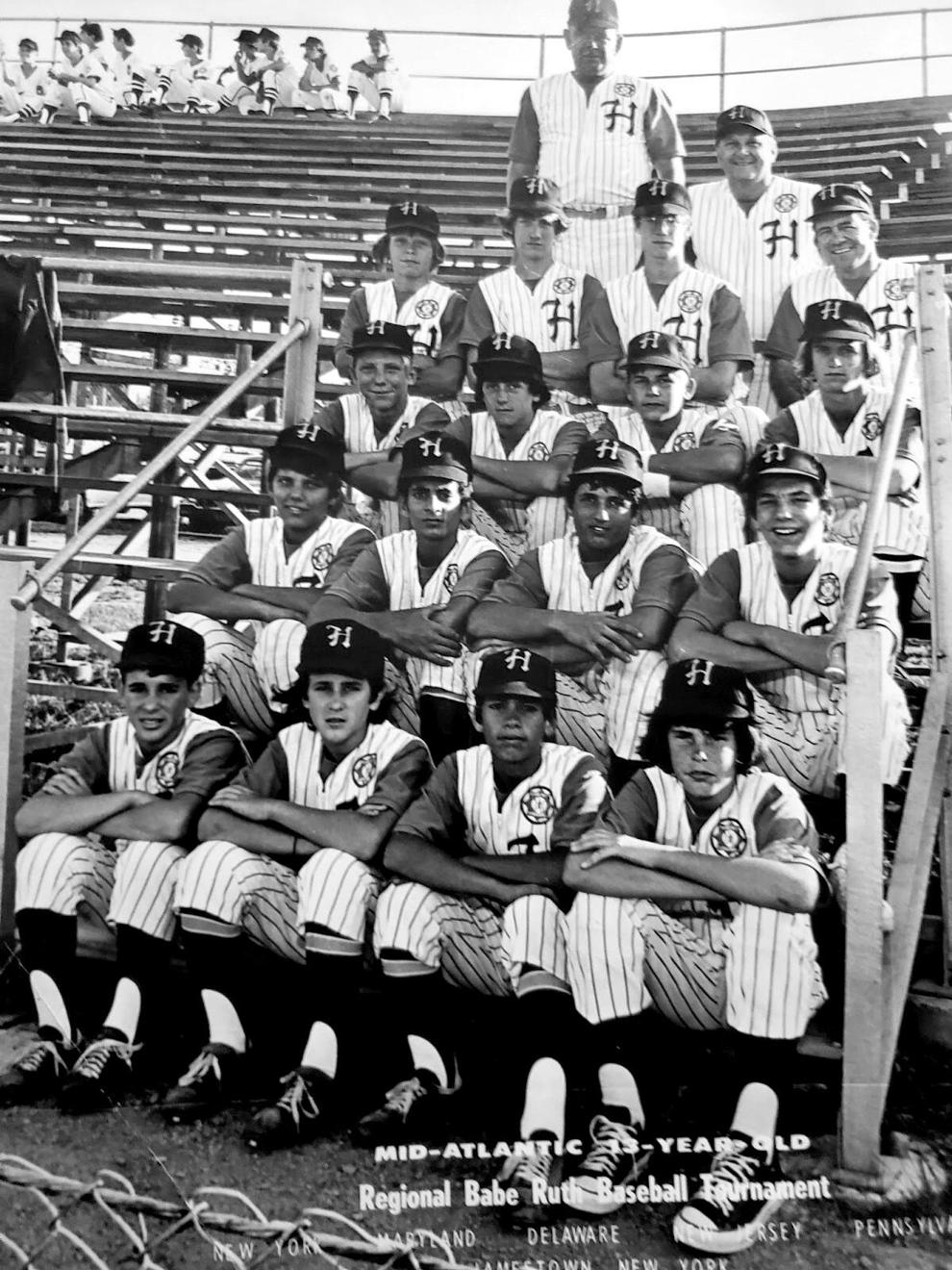 Gadsby and Carmignani attended the reunion along with Sawka, Porcelli, Baggaley, Searles, Massiello and DeAngelo. The stories were many and, oddly enough, Gadsby said many had to do with where they were housed in New York.
"We all stayed with different families," he said. "I didn't get along with the umpires very well and I stayed with an umpire. He was a very good guy, he put up with me. He actually did the very last game I pitched against Pennsylvania."
Much of the talk, of course, was about the games themselves. Hamilton almost proved Searles correct in the districts, as it had to dig itself out of a hole to beat Hopewell twice in the double-elimination bracket. After that, the future Spartan had a different outlook.
"By then I got to know the abilities of the players on our team and I felt like we had a really good team," Searles said. "Lenny Gadsby was a consistent clutch pitcher. The Puhalski twins were both great players offensively and defensively. Joe had a great arm from shortstop for a 13-year-old."
And although Searles would go on to win MVP honors at the regionals, he felt there might not have been a title without one particular player.
"Jack Porcelli was probably the most important player on that team," he said. "At 13 years old, having a catcher who consistently threw runners out, differentiated us from most other teams. He also had so many big hits and he played fantastic in Jamestown."
Winning the districts put the Nats in the sectional tournament. After losing to Willingboro early in the tournament, the Nats won the "if" game against the 'Boro. Searles had two hits and was the winning pitcher.
It was the same script in the states, as Hamilton lost to Pennsville to drop into the loser's bracket, only to come back and beat the hosts 6-2 in the "if" game. Joe Puhalski had two hits. Gadsby hurled the win.
Then came the trip to the regionals, which were relatively new in Babe Ruth Baseball for 13-year-old teams. Unlike the previous three tournaments, Hamilton would not taste defeat.
And it would look a bit more like a team of solidarity than it had up to that point.
"We didn't even have uniforms," Gadsby said with a laugh "We had to wear our regular league uniforms. We just had hats. Once the 15s got knocked out we wore their uniforms to Jamestown. I guess nobody expected us to go that far or they would have gotten us uniforms."
The Nats opened in Jamestown on Aug. 19, 1972 with a 4-3 win over Northern New Jersey champ Morristown. Gadsby fired the win while Searles and Joe Puhalski collected two hits each. Three days later, Hamilton topped Port Charles, Del., 8-3, behind the pitching of Searles. Next was a 9-5 win over Freeland, Pa., as Porcelli collected two hits and Gadsby got the win.
It all culminated on Aug. 26 in the game of the tournament. Searles notched the win as the Nats defeated Prince George County, Md., 2-1. It was a game in which Porcelli, a future Hun star, showed just how cool he could be under fire.
Hamilton carried a 2-0 lead into the sixth inning against what Searles called "a really good team."
The MVP was on the mound when Maryland got one run back and put runners on second and third in the sixth inning. The batter hit a sharp grounder to third that Bixby handled cleanly and short-hopped a throw to Porcelli at the plate.
"The runner slid hard into home, and the throw beat the runner," Searles recalled. "There was a cloud of dust so thick I couldn't see Jack, I could only see the face of the runner. The ump also couldn't see so there was a delay of a few seconds before he made a call."
And?
"Jack lifted his bare hand in the air with the ball and the ump made an emphatic out call, it was like a climactic scene in a movie," Searles continued. "Jack came to the mound, handed me the ball and he was smiling from ear to ear. He said the ball was on the ground, he had to feel around for it, pick it up and show it to the ump. The dust was so thick even the runner was unaware the ball was on the ground! That play saved the game."
Actually, it was a non-play, since no real tag was ever made. But it did save the game and championship, and also showed the grit possessed by Hamilton.
"I think I remember that play so vividly because it was emblematic of the type of team we had – tough, resilient and baseball savvy that belied our age," Searles said. "Like most championship teams, everybody contributed. We had great depth and a lot of heart.
"In that championship game, Gary Baggaley was playing with a 101 fever. He had to go to the hospital the night before but nothing was going to keep him from playing. It was serendipity that he caught the last out of the game in left field. I have so many memories but whenever I think of that team, those are my first thoughts."
Gadsby finished 7-1 on the mound that summer while Searles was 7-2. Both went 2-0 in the regionals. Upon their return, the boys received a hero's welcome.
"We had parades around here," Gadsby said. "The state troopers got us off the bus, a bunch of people were waiting for us when we got back. We were the first (Hamilton) team to win in a while. The 15s won it a few years earlier, but for the 13s this was kind of new."
The one thing that bothers Gadsby is that they didn't come back to win it as 15s. (There was no 14-year-old tournament at the time). The team ran into a Ewing buzzsaw that featured future San Diego Padres player Gerry Davis and lost in the districts.
"Everybody's still mad about that," Gadsby said. "We went undefeated before districts. I just read the clipping. Our coach said going into the districts that 'Nobody's gonna beat us twice.'"
Things may not have worked out that year, but the team still embraces warm memories of that 13-year-old run five decades earlier.
"My mind can't believe that it has been 50 years since we played together," Searles said. "But my body certainly believes it."