She has rubbed shoulders with Nathan Detroit, Sky Masterson, Willy Wonka and Adam the Beast. She has been Mary Poppins and Rosie Alvarez.
And the audience roared.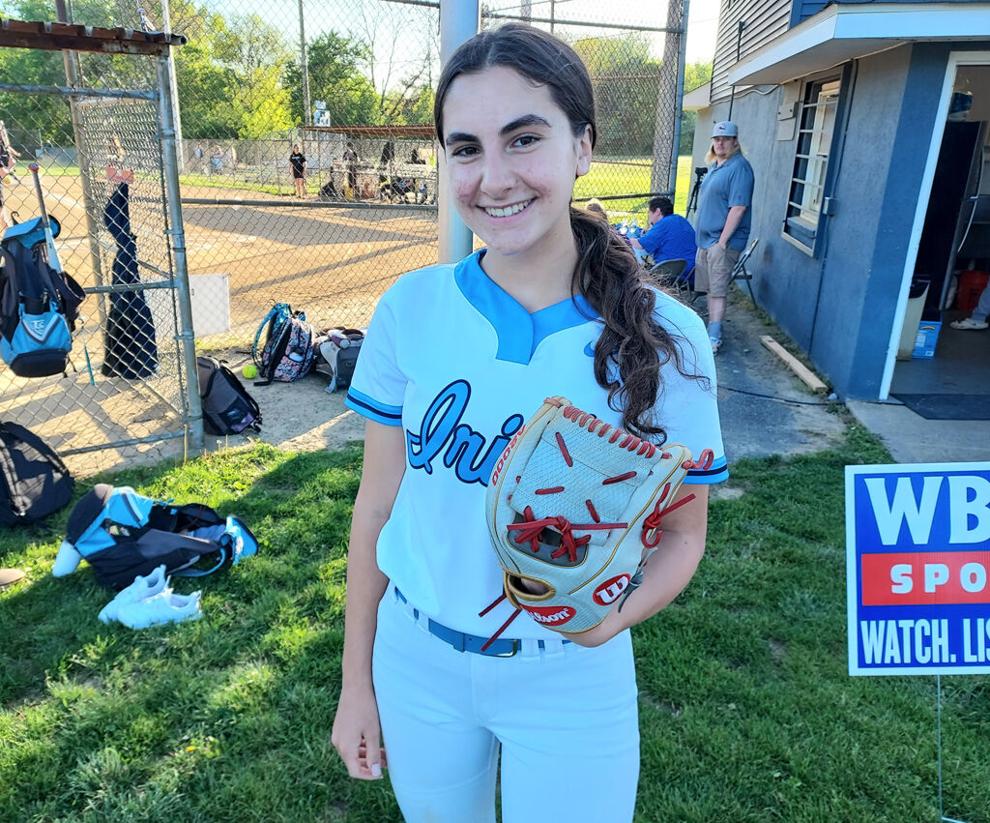 But it's when she is playing the real-life role of a softball standout that Christa Andrusiewicz really draws rave reviews.
The Notre Dame High senior has been out of her mind at the plate this year. As of May 19, through Notre Dame's 18-4 start, the Hamilton resident was batting .493 with nine doubles, a triple, a home run, 27 RBI, 17 runs scored and 10 stolen bases. She had a slugging percentage of .710.
"Christa is crushing it this year," ND coach Marty Schafer said. "Every game she comes up with a big hit, usually with two strikes. She has taken the county by storm. She's a tremendous actress as well, and has a beautiful voice too."
Ah yes, the acting. It seems like one of the county's best hitters is also one of its finest thespians.
While attending St. Gregory the Great elementary and middle schools, Andrusiewicz had the lead in Mary Poppins and was also in Willy Wonka and the Chocolate Factory and Into the Woods. At Notre Dame, she had parts in Guys and Dolls, Beauty and the Beast and Godspell. This past March, she earned the lead in Bye Bye Birdie as Alvarez, Albert Peterson's faithful secretary.
"Bye Birdie was my last show I think," said Andrusiewicz, who is also in the school choir and had four years of singing lessons. "But I might come back to performing at some time in my life. I have so much fun doing it."
She's having fun in softball as well. After getting just 17 at-bats (with eight hits) as a junior, Andrusiewicz was 34-for-69 in ND's 18-4 start this year. She had 11 multihit games.
"Last year was definitely frustrating at times, but it served as motivation for this season," Andrusiewicz said. "I told myself that I was going to be the best I could possibly be and prove everyone wrong that ever doubted me. I knew that I could contribute so much more to the success of the team than what I did my junior year and I made it my goal to do so in my senior season."
She has reached that goal not only with her performance, but her leadership. A captain who leads by example, Andrusiewicz has worked well with the Irish's younger players (and there are many in the starting lineup).
"She works very hard and has an outstanding attitude and approach," Schafer said. "She always has a smile and a positive attitude that energizes us."
After trying — and becoming bored by — soccer and gymnastics, Andrusiewicz began playing softball with the Hamilton Girls Softball Association at age 7. She was coaxed into it by a St. Greg's friend, and never looked back.
After two years of rec ball, she made the 10U Hurricanes travel team, and eventually moved on to the NJ Cheetahs, West Windsor Ninjas and NJ Ruthless. She is currently on the NJ TNT Premier team.
"liked how softball was more of a mental game where smarts, quick thinking and a high softball IQ could set you apart. I was not a fan of running a lot, which is why soccer was definitely not my forte and softball was," she says.
Now there's honesty for you. But her passion for the game goes deeper than avoiding non-stop sprinting.
"What I truly loved the most was the relationships I had formed over the years with my teammates," Christa said. "Those memories and bonds created will be what I remember most about softball and why I've enjoyed it as much as I have."
She also has a relationship with a great player who she never played with. Andrusiewicz's cousin is Dana Sensi, a former Rider University standout and one of the greatest players to ever wear an Allentown High softball uniform. Although there is an age gap between the two, Christa learned from her older cousin.
"I would say she definitely had an influence on me and my softball career," Andrusiewicz said. "I can recall her one time years ago helping me with my throwing form because I had a little side-arm hook going on at the time. She would always give me tips and pointers on how to improve my game. I also would attend her Rider games and look up to her."
Ironically, Christa's uncle Joe Sensi, who is Dana's father, has also done some acting and recently starred in a local playhouse original production entitled "Head Rush at the Ballpark." While Joe didn't influence Christa's acting career like his daughter did her softball career, the title of his play is appropriate as ND fans do get a rush when watching Andrusiewicz perform at the ballpark.
She feels her improvement has come from working in the off-season with Ryan Bischoff, who "really got my swing in tune and instilled this confidence into me. He is a great coach and is always positive and uplifting. I really do owe most of my success over this season to him."
Schaefer, however, feels Andrusiewicz deserves a little credit as well.
"I expected good things from Christa, but the season she is having is truly amazing and I couldn't be happier for her. She earned it," he said.
Andrusiewicz began her career on the Irish JV team as a freshman, which gave her hope she would be on varsity as a sophomore. Once Covid shut everything down, there was nothing to do but wait and think about what she had once taken for granted.
"It was so hard not being able to play the sport I love but I got through it," Andrusiewicz said. "It just made the sport so much more enjoyable when I was finally able to get back to it."
Andrusiewicz is not surprised at her success, saying, "I always knew I had it in me. What I'm most surprised about is the attention and recognition I'm getting from it. I was always overlooked throughout my whole softball career because of my size, I used to be a very tiny kid."
Her play has stood tall enough to gain Christa a spot on the Ursinus College team this fall. Her decision came late, as she wasn't sure about playing in college.
"Right before my senior year I decided I wasn't quite ready to give up softball yet," said Andrusiewicz, who is also ND's vice-president of the Performing Arts Department, and a member of the National Honor Society, Spanish Honor Society and Peer Leadership. "I'm so excited for what is to come. I'm planning on majoring in neuroscience, and hope to go to medical school after undergrad."
Neuroscience!
It sounds like Andrusiewicz is preparing for her most impressive role yet.