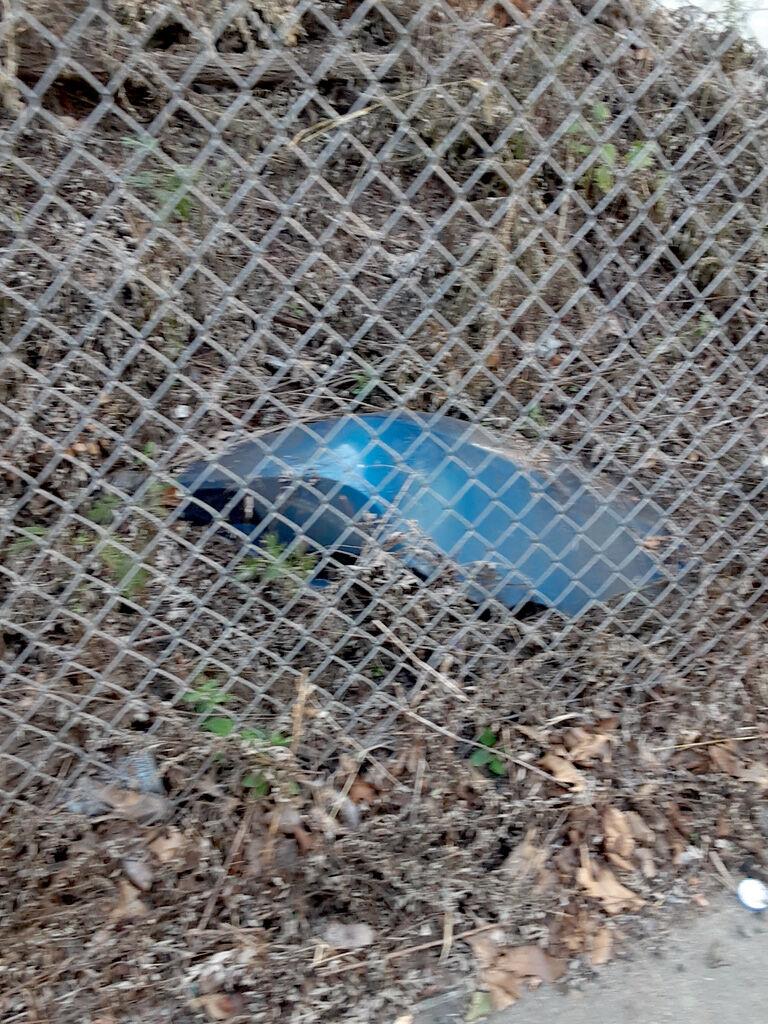 About once a week, my dogwalking routine takes me under the overpass for I-195 at Exit 2, South Broad Street/Arena Drive. It's an area that's often strewn with litter, including bits of broken glass. At one time, a garbage can was situated in the area, which at least presented a target for patrons of the nearby 7-11 and drivers passing by.
But that garbage can was removed long ago, and the area became a hazard to dog paws and bicycle tires, a no man's land adorned with a half-standing chain-link fence of unclear purpose.
I've seen worse in other places, but the lack of maintenance definitely sent a message that no one cared enough to keep it clean. Which, ipso facto, gave tacit approval to those on-the-cusp about littering, even some who would never think to do it elsewhere.
I decided to do something about it. In April, I went to Hamilton Township's Hamstat website and requested a cleanup, along with a garbage can for the area, or at least a schedule of regular ongoing maintenance. In addition, I asked that the fence be either repaired or taken down and removed.
In contrast to other service requests I've made on the website, which were handled directly by Hamilton's Public Works Department, the reply to this one offered a DOT tracking number and a note: "NJDOT notified via website submission for clean up." Apparently, the areas around highway exit and entrance ramps are not the responsibility of the township, but rather the Department of Transportation. Satisfied with my small act of community improvement, I waited for results.
It wasn't until July that I noted nothing had been done. Taking the direct approach this time, I found a website to report problems directly to the DOT: njdotproblemreporting.com. A banner at the top of the page read: "Department of Transportation - For testing purposes Only (Click here to report real problem)."
Since this was not, from my perspective, a mere training exercise, I clicked on the "real problem" link and was led to the same exact website with the same "testing purposes only" disclaimer at the top. This perpetual loop might have been the brainchild of a web designer with more than a passing fancy for the surreal bureaucratic frustrations of Franz Kafka, or maybe I just caught the department on a bad day. But it sure seemed like they were messing with me, and now, the game was on.
The complaint website has a neat Google Maps-powered system for locating the exact area in need of service, which would seem to eliminate any possibility of miscommunication. I painstakingly tracked to the correct spot, then selected the problem from a list of possibilities, including "cracked/exposed rebar/tension cable on bridge," which I hope is not the sort of thing we're now relying on citizen watchdogs to notice. Wondering briefly about the need for separate "Dead Deer" and "Animal Carcass" listings, I submitted my request, then sat back with a sense of skepticism and not quite the amount of satisfaction I'd hoped for.
The next day, I was surprised to see an e-mail informing me that my "problem request" had been completed. Such a quick turnaround seemed too good to be true, and a few days later I walked past the area in question to find that sure enough, it was.
Annoyed but generous in my interpretation, I assumed there'd been some mistake with the prototype web page. I submitted a new request, pointing out the error. This time, a response claiming completion took three weeks to come, but another walk confirmed that again, no progress had been made. It seemed that someone, somewhere, had made the decision to say, "Yes, I did that." But what exactly did they do?
In September, I submitted a third complaint through the website, summarizing the previous unsuccessful attempts. I also found an email address for the DOT commissioner's office. I sent near-identical photos from before and after the most recent "service completion" date, proof that someone, somewhere, was not doing his or her job.
I was assured by an intermediary that my e-mail and photos would be "shared with the appropriate staff," and driving by the site a week later I finally saw some activity—a crew of independent contractors, working on the fence. I got a notice, again, that the problem had been resolved, and I looked forward to my next walk through the area.
That visit revealed that the fence had been repaired and now stood completely upright. However, no garbage had been removed, and much of it, including part of a car, was now trapped behind the fence, kept from easy reach and winds that might at least blow some of it elsewhere.
The area had taken on the appearance of an outdoor museum exhibit available exclusively to pedestrians and drivers: "Preserved garbage on display, look but don't touch." Meanwhile, other litter and debris, some old, some fresh, lay on the sidewalk and against the curb, along with wire clippings and jagged bits of left-behind fencing equipment.
Was this a willing failure of the DOT staff to fully address the problem, or a simple case of "That's not my job" in which designated non-fence specialists would be dispatched separately to address the garbage issue? I once despaired at such egregious failures of initiative and/or common sense, but having gained familiarity with the workings of state government during my 25 years as a resident, I've kind of gotten used to it.
After a few weeks' time, no further progress had been made. I sent more photos at the beginning of October, and was assured that "clean-up is scheduled to be completed once we're pass [sic] the inclement weather we're experiencing." I followed up again two weeks later, after a week of quite clement weather and no results.
By now, I was thoroughly frustrated. I remembered halcyon days when convicts in orange jumpsuits patrolled the area with garbage bags and trash picker tools, in a DOT partnership with the Department of Corrections. According to a May 2021 press release, that program has resumed after a pandemic-induced hiatus, but alas, there is no way to specifically request prisoners to an area.
You'll note that in the title of this column, I used "v." instead of "vs." to shorten "versus." Generally speaking, "v." is used in legal documents while "vs." is preferred in sports and other casual settings, and although this all seemed pretty casual at first, on Oct. 10 I received an official letter from the Deputy Chief of Staff of the DOT that seemed to steer us into legal, rather than casual territory. Using the information I'd submitted on the complaint website, the letter proudly—and formally—apprised me of the Highway Operations Crew's removal of debris and litter on Sept. 9, and the aforementioned fence repairs on Sept. 11. (The letter never indicated how much was removed. So their claim could be truthful, even though I noticed no improvement.)
"V." also rhymes nicely with "Me" and "DOT," but more importantly, avoiding "vs." might be a small step toward reducing the problem of many people (including, but not limited to, poorly read children and teenagers) reading "vs." as "verse" instead of "versus." When proposing a sporting contest or other one-on-one challenge, these individuals often utter the words "I'll verse you," which sounds like a warning the opponent is about to be dropped via song lyric, rap battle, or poetry slam. The latter had me ready to reply to the DOT's letter via U.S. mail with a simple hard-copy haiku:
beyond the chain links
orphan garbage amasses
as home values shrink
But I resisted the temptation.
Looking to avoid the cliché, "I pay taxes for this," I instead invoked the (rather limited) power of the press, informing the DOT staff that I planned a column recounting this saga, and that, much like a Choose Your Own Adventure book, the ending might be a happy one or a sad one, depending on the choices they made.
Just before I submitted this column for publication, I saw a news alert that a ramp on I-195 westbound would be closing for a few hours for litter clean-up. Alas, it was a mile down the road, at the entrance to I-295 southbound (Exit 1A). But maybe this is an indication that plans are underway; if you have any desire to see the "fenced garbage" exhibit, put it on your agenda quickly—it won't be there forever.
But then again, it might.