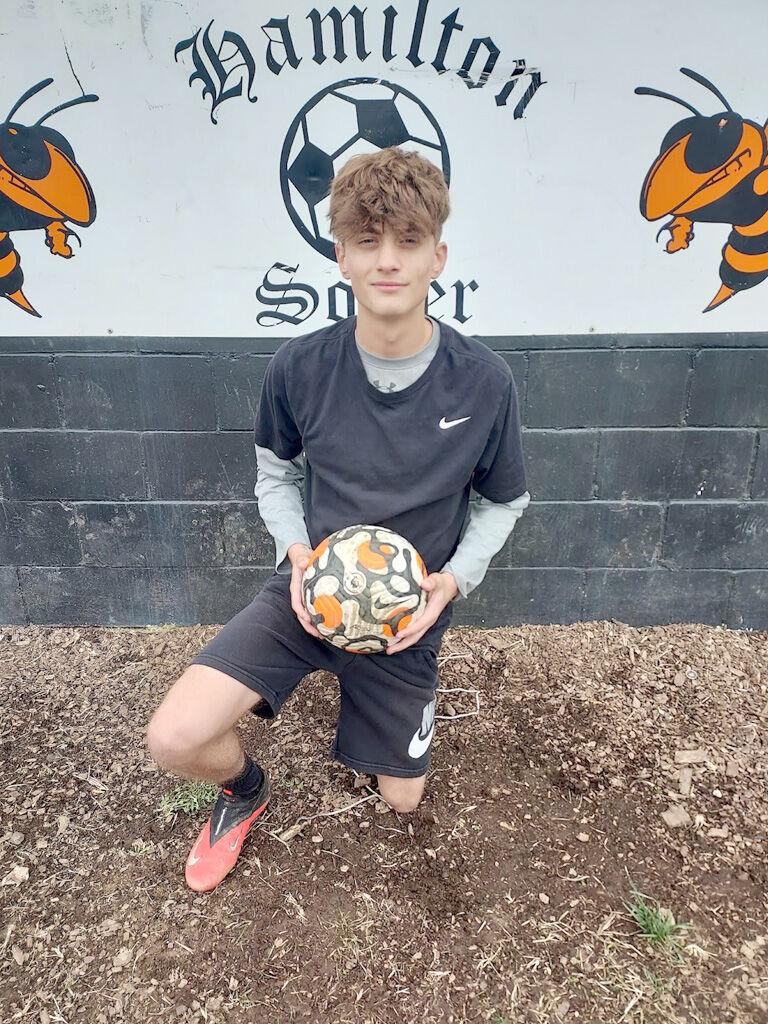 A person being put up against a firing squad has usually done something wrong. But when Sonny Panfili is put in that position two or three times a week, he feels like it's something right.
Panfili is the junior goalkeeper for the Hamilton West boys soccer team. And every game, he is being fired at, with shots coming from all directions. He let in quite a few, but averaged over 10 saves per game and kept the 4-13 Hornets in a number of contests.
"I think Sonny's been having a really good year," coach Simon LaPointe said. "I know on the stat sheet you really can't tell because we gave up a lot of goals, but he's been playing fearless the entire year, taking a beating in games, getting 20 shots fired at him so it's kind of relentless there."
And yet, Panfili doesn't mind the relentlessness. He figures that's why he's there, and he loves the workload.
"I welcome all the action," he said. "It's about the team, I love playing with these guys, so I'll take it for them. It'd be nice to win a couple games every now and then, and get a little less shots. But I'm always doing my job for the boys. Making sure the team is organized, doing everything I can."
Panfili stands just 5-foot-8, but will not back down from anyone or any situation. It's pretty much his trademark.
"One of the most important attributes he has is he's fearless," LaPointe said. "He comes out off his line and challenges a lot of guys and makes big tackles for us, even playing outside the 18. So it's his fearlessness that's his biggest quality."
That courage is something Panfili has had all his life, ever since beginning in Hamilton Recreation soccer.
"It had to be around seven years old when I started soccer," he said. "They throw you into all these different positions, and I was put in as keeper and I did pretty well."
After rec play, Panfili moved on to United SC travel, where he has been for the last six years.
"We've had success, we've been pretty good the past two years," he said. "Last year they didn't allow me to play because I wanted to play the high school season. I was so excited to play in high school.
"Coming into high school my brother (Dominick) played with these guys and it was so fun to watch. The chemistry, the team. I wanted to do it, that's all I wanted to do. His freshman year was my eighth grade year. They had a pretty good keeper and watching him was inspiring, almost. You'd watch him and these older guys and how they play, it's good to watch."
When Panfiili got to West, he was the JV starter as a freshman, which didn't bother him.
"You start with the young guys and you grow with the young guys, I'm OK with that," he said. "The team gets stronger and stronger every year."
As a sophomore, Panfili earned the starting varsity job. Despite being "jittery and nervous" entering the game, Sal did a nice job with six saves in a 2-0 loss to West Windsor-Plainsboro South. He went on to record 130 saves and post one shutout in a four-win season.
"I was the freshman coach last year and watched him play all his varsity games," LaPointe said. "I was real excited to be coaching him this year."
One of the biggest boosts Panfili got came from coach Pat Snyder, who lasted just one year at West. Snyder went from a non-believer to a fan of Sal's after that West Windsor game.
"Pat Snyder didn't believe in me that much, he didn't think I was that good," Panfili said. "After that game he told me 'You're good.' That 100 percent gave me confidence. He was a big part of my confidence; and so is Simon. I played basketball last year and he was my coach. He's one of the favorite coaches I've ever had. He puts confidence in me, he lets me know if I mess up. That makes me want to get better and better. I have a lot of work to do, but I love to do it."
This year, Panfili had seven games with 10 saves or more. He made 14 in a 2-0 loss to Lawrence, 13 in a 4-3 setback to Allentown and 10 in a 3-2 defeat to Trenton. In each game, he kept the Hornets in it.
"It's a very good feeling to know you have a person like that where he's gonna give you a fighting chance," LaPointe said. "After a lot of games I get compliments from coaches about his play and how he gives us a fighting chance."
Panfili agrees with his coach, that his fearlessness is probably his biggest attribute (along with his leaping ability, which helps offset his lack of height).
"I never felt the fear," he said. "I'm not the biggest guy, but I feel like the biggest guy out there. I make them think I'm the biggest guy out there. I throw myself around, I feel I can get to every ball. I'm athletic, but mostly it's not being afraid. If you've got that mindset, you can do anything.
My family calls it crazy taking all these hits, but I love it. I love being aggressive."
Sometimes, however, being aggressive can be costly.
"I've been burned, it hurts, but I learn from it and say the next time I won't get burned in that same game I promise you," Panfili said. "If it happens early, it won't happen again."
LaPointe feels that Sal still needs to improve on commanding the box a little better, but noted that he has been working hard to keep the backs organized. It's not the only thing he works hard at.
"His work ethic is unmatched," the coach said. "He puts a lot of time in. We had a summer league team and he always showed up. And another good thing about him is, if he does something wrong, he'll listen to you. He did have a yellow card this year getting frustrated in a game. Normally he keeps his composure. I had one talk with him. One talk and he corrects his play and keeps his composure. He has a real positive mind."
As the losses mount up and the shots keep coming at him, it can be hard to remain positive. But Panfili doesn't let it get to him. His love of soccer allows him to enjoy the game, no matter what the outcome.
"You want to keep your team up, keep your team in the game, and it starts with me in the back," he said. "Playing this game means everything. I love the guys, I love the team. You wouldn't think we're a 4-13 team if you came and watched one of our practices. We're all so happy. We love to be together, losing never hurts us. That's what it's all about. I could talk about my individual game all day, but at the end of the day all that matters is the team."